Titanic (1997)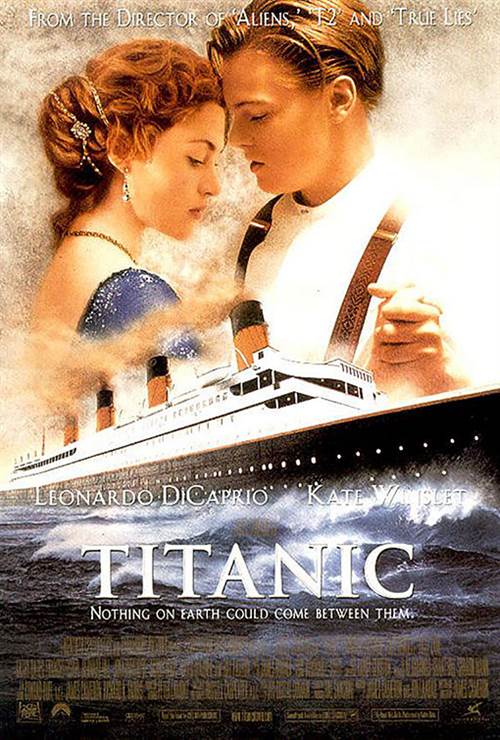 Share this:
| | |
| --- | --- |
| Director: | |
| Writers: | James Cameron |
| Cast: | |
| Released: | Friday, December 19, 1997 |
| Length: | 195 minutes |
| Studio: | Paramount Pictures |
| Genre: | Drama |
| Rating: | Some material may be inappropriate for children under 13. |
Synopsis
Winner of 11 Oscars, director James Cameron's effects-filled blockbuster weds the historical tale of the doomed ocean liner with a fictional romance between two of the ship's ill-fated passengers -- putting a human face on a tragedy of epic proportions. Society girl Rose Dewitt Bukater (Kate Winslet) and penniless artist Jack Dawson (Leonardo DiCaprio) struggle to survive both the sinking ship and the wrath of Rose's wealthy fiancé (Billy Zane).
Purchase DVD/Blu-ray/4K physical copy of Titanic today at
Download Titanic in Digital HD/4K from the iTunes store.
Titanic images are © Paramount Pictures. All Rights Reserved.


James Cameron's Ghosts Of The Abyss 3D Blu-ray Remembers Septemb...
9/11/2012 9:09 AM EST
Take Us To Titanic, Mr. Cameron James Cameron's love fest with Titanic goes to deeper depths with "Ghosts of the Abyss 3D" a creative documentation of the shipwreck's remains. James Cameron once again takes us to Titanic, but this time we get transported more than twelve thousand feet down to the ocean's floor to see what is left of the disintegrating ship. Much like the newer 3D release of the fi...
More>>
Titanic 3D To Set Sail For Limited Engagment in Select IMAX Thea...
3/15/2012 3:00 PM EST
Los Angeles, CA - Mar. 15, 2012 - IMAX Corporation (NYSE: IMAX; TSX: IMX), Paramount Pictures and 20th Century Fox announced today that James Cameron's Oscar®-winning film, Titanic will be digitally re-mastered into the immersive IMAX® 3D format and released for a limited engagement in 149 select IMAX® theatres worldwide.  Titanic will open in 79 domestic IMAX theatres simultaneous with the film's...
More>>
Fans Crash Servers For Early Preview of Screenings of Titanic In 3D
2/1/2012 4:52 PM EST
HOLLYWOOD, CA (February 1, 2012) - Fans the world over rushed the web in the last 24-hours - crashing multiple servers in the process - to tickets for secure advance the now sold-out February 14th preview screenings of TITANIC in 3D, Paramount Pictures and Twentieth Century Fox International jointly announced today. In a matter of hours, sell-out screenings were reported throughout the United Stat...
More>>
Paramount Pictures, Twentieth Century Fox, and Lightstorm Entert...
5/19/2011 3:37 PM EST
HOLLYWOOD, CA (May 19, 2011) - Paramount Pictures, Twentieth Century Fox and Lightstorm Entertainment jointly announced today that James Cameron's "TITANIC" will be re-released worldwide on April 6, 2012.  The release, which marks the 100th anniversary of the Titanic setting sail (April 10th), will present the film in 3D for the first time ever. Written, directed and produced by Cameron, "TITANIC"...
More>>
Titanic Blu-ray Review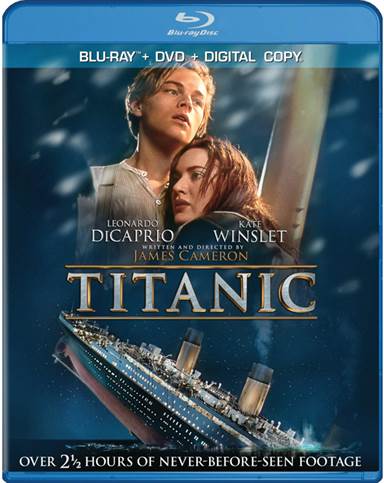 One of my most beloved romance movies Titanic has come to video in a Blu-ray, DVD combo pack with all the bells and whistles for your complete home entertainment enjoyment. Available in High Definition for the first time, this romantic adventure gives an extraordinary presentation on your Blu-ray player. Whether you missed it at the movies when it was released or just want to relive it again this combo pack comes as close as you can get to the movie theater experience.

Most everyone knows the story of Jack (Leonardo DiCaprio) and Rose (Kate Winslet) who met on the mighty ship Titanic that was making its maiden voyage. Their love grew as Rose became enamored with the daring young vagabond and artist who came from a very different station in life, showed a vibrant personality and expressed dreams of a new beginning. Accompanying her wealthy parents, Rose kept to the upper class decks with third-class passenger Jack taking chances mingling with the wealthy. It was a whirlwind affair that saw the two meeting as much as they could whether it on deck at night, dancing with gypsies in lower class or in the very low levels where cargo was kept. But their love for each other would have another fate that wasn't as enchanting in the form of one of the world's most incredible disasters, the sinking of the Titanic.

The chemistry between DiCaprio and Winslet burns the screen in this amazing adventure that follows the star-crossed lovers from Titanic's port of debarkation to the watery grave in the depths of the sea. The most memorable scene shows the two at the front of the ship, Rose with outstretched arms seemingly flying in the wind while Jack holds her. Not many films can hold a candle to this love affair written by James Cameron, and under his direction the two actors do it justice.

The cinematography and special effects that capture the voyage and love affair make the film one of the all time greats. The dancing, liveliness, and excitement aboard the Titanic and then the chaos, courageousness and sinking of the huge ship are caught in the many cameras used under the fine direction of Oscar winner Russell Carpenter (True Lies, Charlie's Angels). Using special visual effects from ILM (Industrial Light and Magic) under the supervision of Dave Carson (Star Wars), additional effects lead by Donald Pennington (Ghost Busters), intricate sets from designer Peter Francis (Harry Potter, Batman Begins) and Academy Award winning sound effects designer Christopher Boyes (Pirates of the Caribbean, The Avengers) Cameron puts his audience into the merriment, conflicts and destruction of the super cruiser.

I would be remiss if I didn't mention the Academy Award winning haunting love song sung by Celine Dion, "My Heart Will Go On" and the score lead by music supervisor Randy Gerston (True Lies). The music ties the film together giving it the enchantment that makes Titanic memorable and in DTS HD it enhances the entertainment value.

The complete experience of watching this huge ship sink into the sea while the band plays, the chaotic scene of people running for their lives to insufficient life boats, water filling the lower levels trapping passengers and crew and the splitting of the ship are amazingly presented by the filmmakers. Winner of 11 Academy Awards in 1998 including Best Picture, Best Cinematography and James Cameron – Best Director, the movie went on to be the highest box office grosser of all time amassing $2,185,372,302 (includes the 2012 re-release totals).

The Visual Quality of the Blu-ray is quite amazing. Bright and clear, it's like being there amidst the adventure and the disaster. Presented in 1080p high definition for the first time in home using your Blu-ray player, Titanic will live on for repetitive viewing.

The Sound Quality depends on you entertainment system with the availability of 5.1 DTS-HD Master Audio incorporated into the Blu-ray disc. If you have a surround system, ramp it up for the disaster scenes and the clarity of sound will frighten even the hardnosed viewers as they listen to the breaking of the ship, screams of the passengers and rushing of the water into the state rooms and over the decks.

If the movie isn't enough then check out the 2 ½ hours of special features packed into the 4 disc box set. You will be treated to two new documentary features "Reflections on Titanic" and "Titanic: The Final Word with James Cameron" along with 60 behind the scenes documentaries, and 30 Deleted Scenes. See the following for a complete breakdown of the 4 discs in the box set.

Four-Disc Blu-ray/DVD Combo Pack Special Features, Bonuses and Documentaries are as follows:

Disc 1 (Blu-ray):
Feature film in high definition
Commentary by director James Cameron
Cast and Crew Commentary
Historical Commentary by Don Lynch and Ken Marschall

Disc 2 (DVD):
Feature film in standard definition (Part 1)

Disc 3 (DVD):
Feature film in standard definition (Part 2)

Disc 4 (Blu-ray):
Documentaries
Reflections on Titanic—NEW!
Titanic: The Final Word with James Cameron—NEW!
30 Deleted Scenes with commentary by James Cameron
Behind-the-Scenes Featurettes
Construction Timelapse
Deep Dive Presentation—Narrated by James Cameron
$200,000,001: A Ship's Odyssey—the Titanic Crew Video
Videomatics
Visual Effects
Music Video—"My Heart Will Go On" by Celine Dion
Other Content
Trailers
TV Spots
Still Galleries
Titanic Scriptment by James Cameron
Storyboard Sequences
Production Artwork
Photographs
Ken Marshall's Painting Gallery
Concept Posters and One-Sheets
By the Numbers
Bibliography
Titanic Parodies
MTV's 1998 Movie Awards skit
Saturday Night Live skit
Titanic in 30 Seconds

FINAL ANALYSIS: A breathtaking film submerged in clarity and quality. (A)

Specifications and additional film information:
Cast: Leonardo DiCaprio, Kate Winslet
Directed by: James Cameron
MPAA Rating: PG-13 for disaster related peril and violence, nudity, sensuality and brief
Genre: Drama
Running Time: 194 minutes
Street Date: September 10, 2012
Original Theatrical Release Date: December 17, 1997
Language: English, French, and Spanish
Aspect Ratio: 1.85:1
Format: Blu-ray, DVD, Digital Copy, also available in 3D
Audio: 5.1 DTS HD Master Audio, Surround Sound
Video: HD Widescreen Enhanced for 16X9 Televisions
Subtitles: English SDH, French, Spanish
Number of Discs: 4 discs in the Blu-ray+DVD+Digital box set
Distributed by: Paramount Pictures

-- John Delia
For more reviews please visit our film/television review section.
Winner of 11 Oscars, director James Cameron's effects-filled blockbuster weds the historical ta...
SPONSORED LINKS