North by Northwest (1959)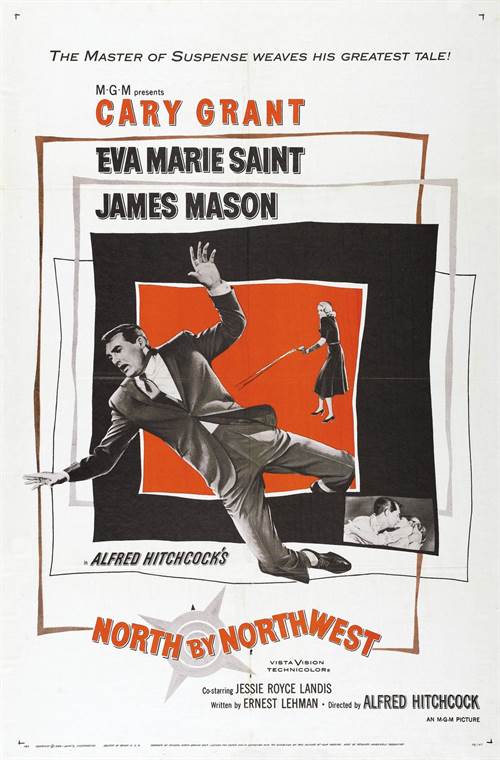 | | |
| --- | --- |
| Director: | |
| Writers: | |
| Cast: | |
| Released: | Tuesday, July 28, 1959 |
| Length: | 136 minutes |
| Studio: | MGM Studios |
| Genre: | Drama |
| Rating: | |
North by Northwest Synopsis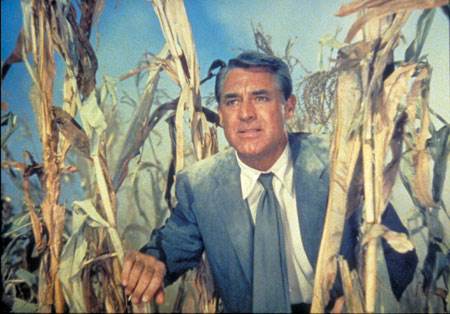 Self-assured Madison Avenue ad exec Roger Thornhill (Grant) inadvertently gets involved with international spies when they mistake him for someone else. His problems are compounded when he's framed for murder and winds up on a cross-country train trip with pretty Eve Kendall (Saint) who offers her help.

Purchase DVD/Blu-ray/4K UHD physical copy of North by Northwest today at Amazon.com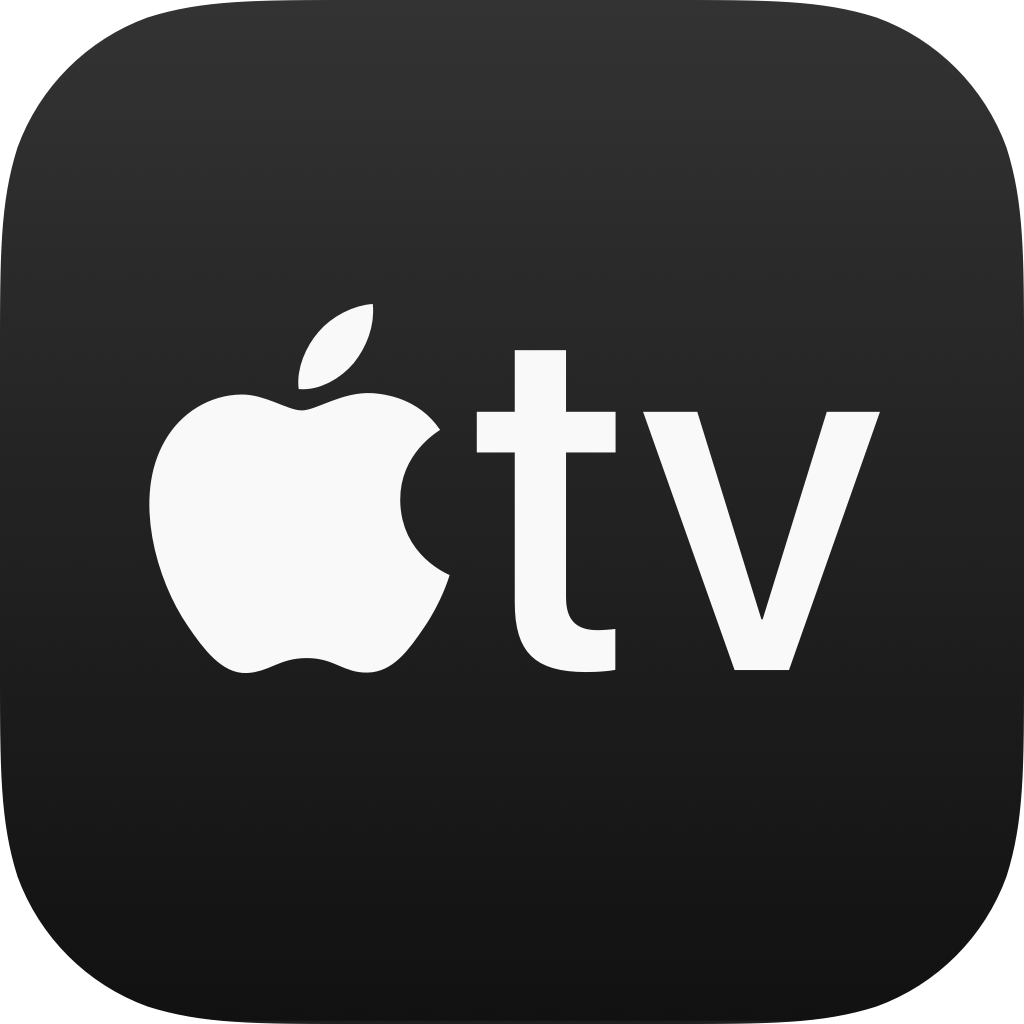 Stream North by Northwest in Digital HD/4K from the AppleTV store.
Listen to the North by Northwest soundtrack on Apple Music.
North by Northwest images are © MGM Studios. All Rights Reserved.
North by Northwest Theatrical Review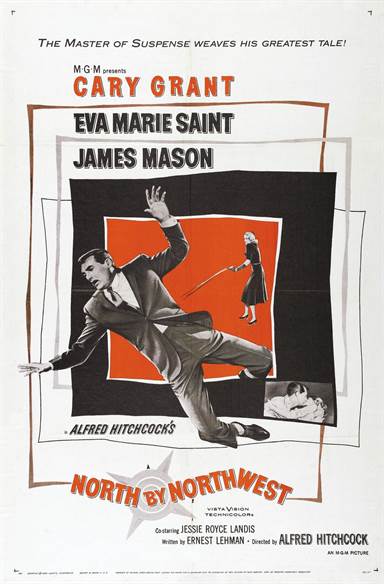 Alfred Hitchcock was a master of directing. His films, like the man, are legendary. He could evoke emotion with one subtle take and a testament to his brilliance is how his films have stood the test of time. Fathom Events recognizes his genius and brought his classic thriller North by Northwest back to theaters for a one-week event.

As with most Fathom Events, be sure to get to the theater a good 20 minutes or so early to play some movie trivia specifically made for the film you are about to see. For example, do you know what Cary Grant's character, Roger O. Thornhill, middle initial stand for? If you don't, don't worry we will get to that later on. So, where were we? Let's see... we covered the movie trivia….Cary Grant. Oh yes, the introduction. Before the movie rolls, the audience gets one more treat - an introduction by TCM (Turner Classic Movies) as to some of the thrills we are about to witness for the next two hours.

North By Northwest is considered one of Alfred Hitchcock's top masterpieces, one of cinema's finest and first spy thrillers in movie-making history. In a case of mistaken identity, advertising executive, Roger O. Thornhill (Cary Grant; Notorious), is mistaken to be a top master spy by cold war agent, Phillip Vandamm (James Mason; A Star Is Born), whose henchmen included a very young Martin Landau (Ed Wood). Throughout Roger's mistaken identity journey, he gets involved in a car chase, a murder with a knife, a love session on a train with lady Eva Marie Saint (On the Waterfront), being chased by a crop duster, and, of course, a famous chase on the faces of Mount Rushmore.

Cary Grant was one of the great leading men of the time and his performance in this film is one of the many reasons why. He does action and drama beautifully and he has some great comedic lines that he delivers like a pro. Of course, it also speaks to the writing that he was given such excellent material to work with. Eva Marie Saint is a great pairing for Grant, as the two had electric chemistry. It was also nice to see her play something other than the typical "damsel in distress". She held her own as a contemporary to Thornhill rather than waiting for him to save her. Special note should also be made for Matin Landau, as he would easily give any James Bond henchman a run for their money.

The score is amazing, which is no surprise as it was written by the same man who wrote the score for Psycho, Bernard Herrmann. It provided the tension needed in some scenes in order to captivate the audience and keep them engaged. Adding to that, the special effects were outstanding and could rival much of what is offered today. They didn't look dated even on the big screen. Hitchcock's directing is down-right amazing. To this day, it is hard to find a director that comes close to the level of craftsmanship that he commanded. This film, as well as the one that followed, Psycho, are true testaments to his genius and well worth viewing over and over again.

With North By Northwest truly being one of Alfred Hitchcock's best films, it was a pleasure to finally see it the way Hitchcock intended, on the big screen. If you missed the early week showing of this film, there is still a chance to see the Fathom Event, Wednesday, April 5th, 2017. This way, you will get the answer to Roger O. Thornhill's middle name (See I told you I would bring it up again :) ) Check out fathomevents.com for advance tickets and times.

Grade: A+
Read More North by Northwest Reviews
For more reviews please visit our film/television review section.
SPONSORED LINKS