Kick-Ass (2010)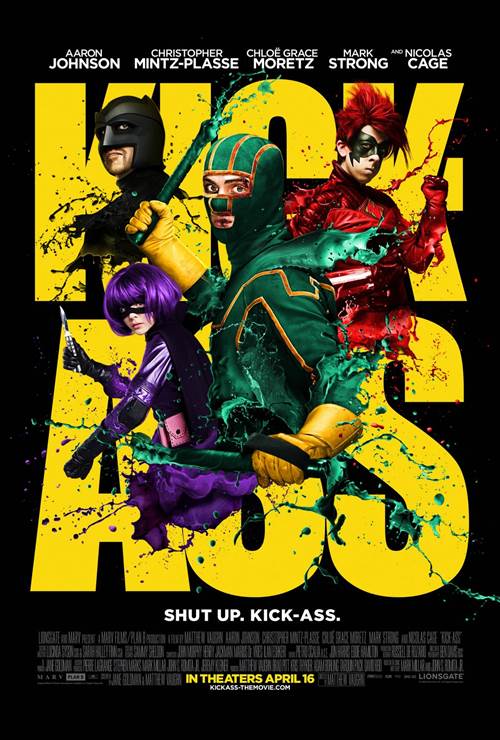 Share this:
| | |
| --- | --- |
| Director: | |
| Writers: | Matthew Vaughn, Jane Goldman |
| Cast: | |
| Released: | Friday, April 16, 2010 |
| Length: | 117 minutes |
| Studio: | Lionsgate |
| Genre: | Comedy, Action/Adventure |
| Rating: | Under 17 requires accompanying parent or adult guardian. |
Synopsis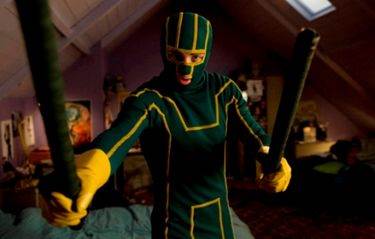 KICK-ASS tells the story of average teenager Dave Lizewski (Aaron Johnson), a comic-book fanboy who decides to take his obsession as inspiration to become a real-life superhero. As any good superhero would, he chooses a new name -- Kick-Ass -- assembles a suit and mask to wear, and gets to work fighting crime. There's only one problem standing in his way: Kick-Ass has absolutely no superpowers. His life is forever changed as he inspires a subculture of copy cats, meets up with a pair of crazed vigilantes -- including an 11-year-old sword-wielding dynamo, Hit Girl (Chloë Moretz) and her father, Big Daddy (Nicolas Cage) -- and forges a friendship with another fledgling superhero, Red Mist (Christopher Mintz-Plasse). But thanks to the scheming of a local mob boss Frank D'Amico (Mark Strong), that new alliance will be put to the test.
Purchase DVD/Blu-ray/4K physical copy of Kick-Ass today at
Download Kick-Ass in Digital HD/4K from the iTunes store.
Kick-Ass images are © Lionsgate. All Rights Reserved.


Kick-Ass Character Hit Girl to Get Stand Alone Film
6/18/2015 11:20 AM EDT
Matthew Vaughn has announced that he wants to make a Hit Girl film, in hopes to jumpstart interest in more Kick-Ass films.  He says he was "not happily done with the franchise".Vaughn said, "We're working on an idea for a prequel of how did Hit Girl and Big Daddy become Hit Girl and Big Daddy. If we make that, hopefully that will be the sorbet for the people that didn't like Kick-Ass 2 and then we...
More>>
Kick-Ass 2: Balls To The Wall Production Update
5/10/2012 8:37 AM EDT
There has been much talk over the last two years regarding Kick-Ass 2, and fans of the original movie must be wondering will it or will it not ever happen. So when Matthew Vaughn and Jane Goldman revealed that they are too busy to get on board with a second adventure for Dave Lizewski a.k.a. Kick-Ass played by Aaron Johnson, thing weren't looking good.Well fans, worry-not, as it seems Universal ha...
More>>
Kick-Ass Squeezes To Top of Box Office
4/19/2010 4:07 PM EDT
Well the final numbers are in. "Kick-Ass" has lived up to its name and did just that at the box office. It was originally reported that "How to Train Your Dragon" had taken the number one spot. The two were neck-and-neck up until this afternoon. "Kick-Ass" grossed $19.8 million and "How to Train Your Dragon" grossed $19.6 million. While it is rare for the Number One spot to change on a Monday afte...
More>>
Kick-Ass Theatrical Review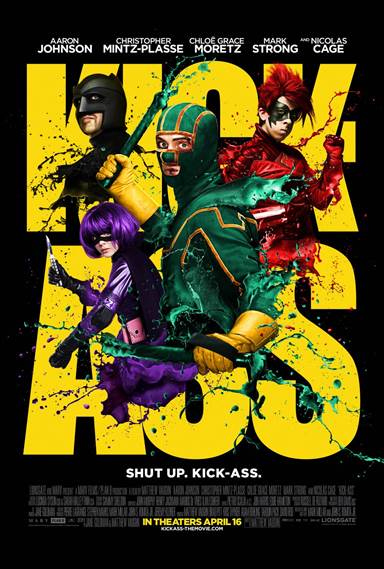 "All that is necessary for the triumph of evil is for good men to do nothing." Edmund Burke's quote is all that is necessary to summarize this movie. An unusual blend of teen angst, action and comic book-brought-to-the-screen movies, Kick-Ass is something different. I went into this movie not completely understanding what to expect. What I got was more than you normally get during a movie.
Our protagonist is Dave Lizewski (played by Aaron Johnson, The Illusionist), a "geek" (or a wimpy kid. Not that wimpy kid, but later you'll get the one link to that movie) who isn't a "mathnerd" is trudging through high school, trying to find his meaning in life. At first it seemed a little hard to empathize with him, but as the story progresses you will. After getting mugged for his lunch money, and noticing that a nearby resident did nothing, Dave asks why there aren't superheroes in real life....someone who stands up to evil. Then he decides to do it - become a real life superhero - an ordinary one. And Kick-Ass (the name of his superhero alter-ego) is born.
At the same time we are introduced to the subplot of this movie: the existence of another masked vigilante "duo" of father and daughter, with a humorous scene of the father, Damon Macready (played by Nicolas Cage, Raising Arizona, The Sorcerer's Apprentice) teaching his daughter, Mindy (played by Chloe Grace Moretz, Diary of a Wimpy Kid) what it feels like to be shot. If you have or had kids of your own, you will laugh out loud during this scene.
Story/Script/Plot Development (A): This was not your usual run of the mill teen angst, action or comic book movie. One of only three movies penned by Matthew Vaughn, I would classify this movie as an indie in that respect, mainly because it doesn't follow the traditional story lines of any of those three classes of movies. And that rates it very highly in my book. Some of the lines were cheesy, but it goes with the characters - you'll understand when you watch it. Now Mindy's alter-ego, Hit-Girl, has an unbelievable amount of adult language lines that may have you shaking your head due to her age, but it works with this movie.
Because this movie is unique, the various plots begin separately, and eventually weave their way together - and it works without any noticeable hiccups along the way.
Cinematography (A): This movie contains the best fight scenes I've seen since the Matrix. And while the Matrix achieved that by altering reality, these fight scenes, even though they are highly improbable, do occur in the "real" world. And there is one constant with these fight scenes: Hit-Girl. Her character is the leader for these scenes, and in one, they use a FPS point of view that actually works really well.
Acting/Chemistry (A): It is hard to find significant faults with the acting in this movie, but I'll begin with the lower quality ones. Mark Strong (Sherlock Holmes) plays Frank D'Amico, our main antagonist of this movie - a crime boss. While his character is evil, I don't feel the evil coming through the character - and I'm not sure how much of this shortcoming is from the acting versus the script. Christopher Mintz-Plasse plays his son, Chris, and unfortunately Christopher seems to be playing a very similar character to his breakout role in Superbad. It took a long time into the movie to tell if he was playing the equivalent of Scott Evil or Luke Skywalker.
Aaron Johnson, on the other hand, was excellent in his dual role. He performs the switch between characters flawlessly and appropriately for this movie. Nicolas Cage, who has been stuck in an apparent rut lately, does an excellent job - mainly when he is playing his alter-ego, Big Daddy. Occasionally, when he is Big-Daddy, he channels Batman. Not the modern Batman mind you. But the Batman portrayed by Adam West. And it works, exceptionally well. Hopefully he'll continue that kind of exceptional performance in The Sorcerer's Apprentice. But *the* star of this movie has to be Chloe Grace Moretz. Not a newcomer to acting, but she's having a breakout year because of Diary of a Wimpy Kid and Kick-Ass. Her performance (especially as Hit-Girl) really pulls this movie up from being an above-average film to an excellent one. While I doubt she'll be nominated for any awards for her role, she should be. But I don't really think the Academy will be able to look past her character's....potty mouth.
Use of locations/Costumes/Special Effects (A): New York City, nothing special there. The costumes are cheesy, but this is supposed to be "real-life superheroes", not Bruce "I have too much money" Wayne. The special effects with the fight scenes, and especially during the one FPS scene take the cake for this one. Just enough CGI to make it work without going obviously overboard.
Movie Score (C): I had to knock the score here. During the fight scenes the score came out to play, but otherwise I couldn't tell that there was a score. But the fight scenes helped keep this grade from getting any lower. Apparently the score is lifted from several other movies (properly credited of course), which can work in some instances, but this movie needs a score of its' own.
Final Grade (A): Early on in the movie I wasn't sure if mainstream audiences would be able to connect with all of the various plots and directions, but by the end of the movie I think almost anyone who can look past an 11 year old girl swearing (so much that I think sailors would blush) and gratuitous graphic violence will enjoy this movie. Is it a contender for Best Picture? No. But it has an excellent thought-line and is able to hammer home that message. Then, at the same time, to have an acceptable resolution like any regular action movie has, even though losses occur along the way. This movie will have you laughing out loud at certain times and also cheering for the heroes, especially Hit-Girl and the way she delivers justice to the evil doers in the city. Edmund Burke would be proud of her.
Read More Kick-Ass Reviews
For more reviews please visit our film/television review section.
SPONSORED LINKS
Comments

Courtesy of
Movie Hype App
ampayne71
Forgot how good this was
8/29/2013 2:11 PM EDT