Harry Potter and the Deathly Hallows: Part 1 (2010)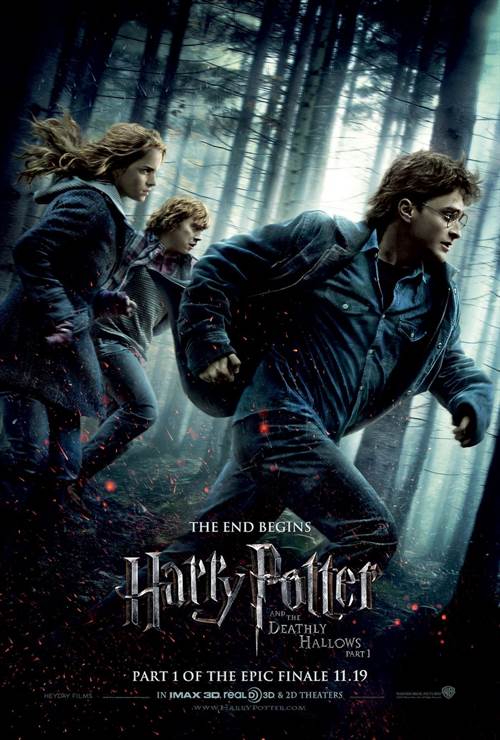 Share this:
| | |
| --- | --- |
| Director: | |
| Cast: | |
| Released: | Friday, November 19, 2010 |
| Length: | 147 minutes |
| Studio: | Warner Bros. |
| Genre: | Sci-Fi/Fantasy, Family |
| Rating: | Some material may be inappropriate for children under 13. |
Synopsis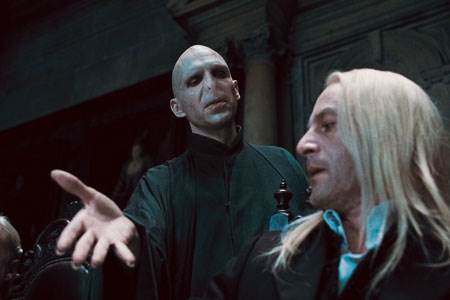 Without the guidance and protection of their professors, Harry (Daniel Radcliffe), Ron (Rupert Grint) and Hermione (Emma Watson) begin a mission to destroy the Horcruxes, the sources of Voldemort's immortality. Though they must rely on one another more than ever, dark forces threaten to tear them apart. Voldemort's Death Eaters have seized control of the Ministry of Magic and Hogwarts, and they are searching for Harry -- even as he and his friends prepare for the ultimate showdown.

Purchase DVD/Blu-ray/4K UHD physical copy of Harry Potter and the Deathly Hallows: Part 1 today at Amazon.com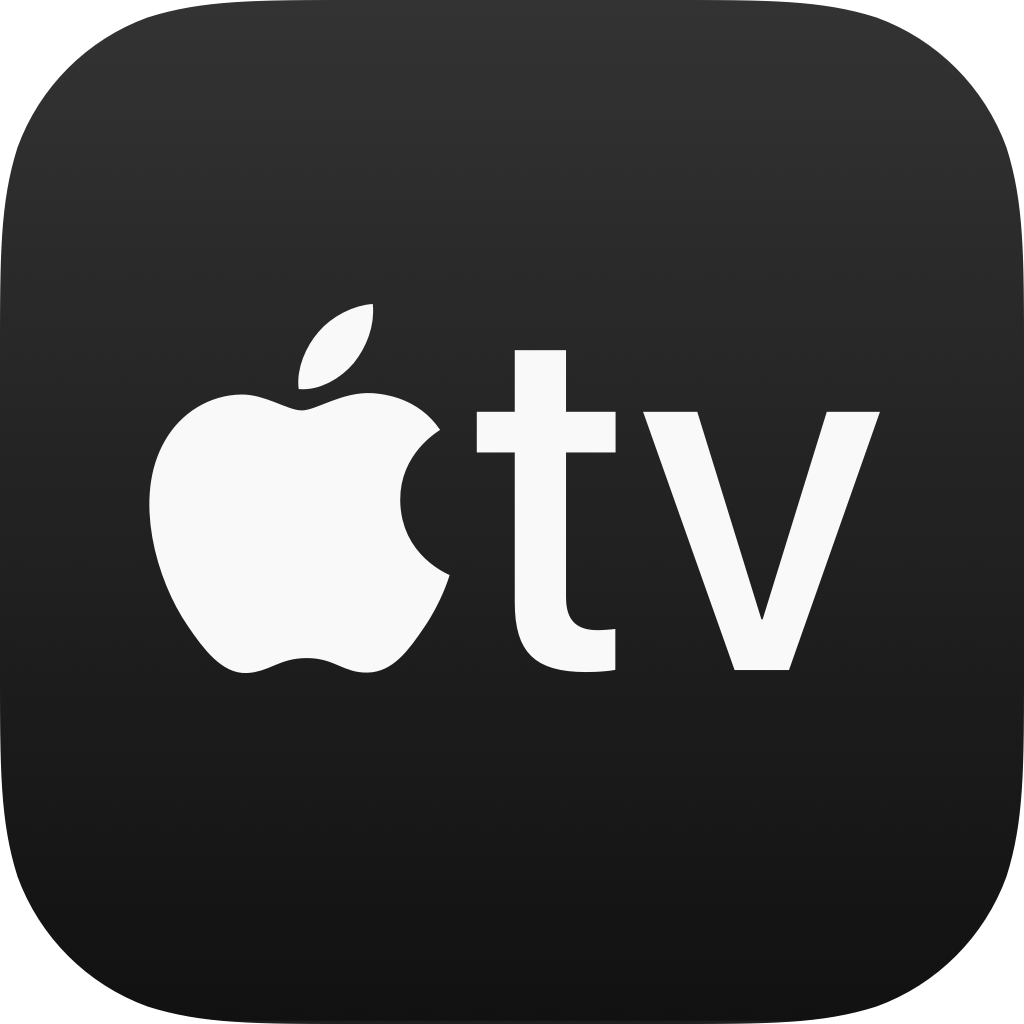 Download Harry Potter and the Deathly Hallows: Part 1 in Digital HD/4K from the iTunes store.
Harry Potter and the Deathly Hallows: Part 1 images are © Warner Bros.. All Rights Reserved.
Harry Potter Limited Series and Special in the Works to Commemor...
5/19/2021 12:13 PM EST
WarnerMedia has partnered with Wizarding World to commemorate the 20th anniversary of the first film of the Harry Potter franchise by creating two commemorative unscripted specials."To celebrate the dedicated fans old and new who have passionately kept the Wizarding World magic alive in so many forms for decades, these exciting specials will celebrate their Harry Potter fandom in a must-see multip...
More>>
Peacock and Harry Potter's Tom Felton Host Harry Potter Watch Party
3/3/2021 10:07 PM EST
Last night, Tom Felton, aka Draco Malfoy from the Harry Potter film franchise, teamed up with Peacock for a special watch party on Peacock's Tiktok. The party featured Felton watching  "Harry Potter and the Sorcerer's Stone" in its entirety with fans across the United States.During the event, fans asked Felton questions and he answered! Someone asked him what he did for fun on the set and he told ...
More>>
Fantastic Beasts 3 Halts Production After Coronavirus Case
2/4/2021 2:23 PM EST
Production for "Fantastic Beasts 3" has been put on hold after a "team member" has tested positive for coronavirus.Deadline was sent the following statement from Warner Bros.:"A team member from Fantastic Beasts 3 has tested positive for COVID-19. The diagnosis was confirmed as a result of required and ongoing testing that all production employees receive, and the team member is currently in isola...
More>>
Harry Potter Series in the Works at HBO Max
1/25/2021 3:01 PM EST
It's being reported that a "Harry Potter" series is currently in the early stages of development at HBO Max. According to Variety, the story was confirmed via multiple sources; however, Warner Bros. and HBO Max told the publication that "There are no Harry Potter series in development at the studio or on the streaming platform."It's said that writers have been approached about the project, but the...
More>>
Warner Bros. Tom Ascheim in Charge of Harry Potter Properties
1/21/2021 4:13 PM EST
It has been announced that Warner Bros. executive Tom Ascheim will now be in charge of overseeing the "Harry Potter" and "Wizarding World" properties. Ascheim, who is also the president of kids, young adults, and classics at Warners, will now be the chief representative of WarnerMedia when dealing with J.K. Rowling, her agent Neil Blair, and Blair Partnership Chief Creative Officer James McKnight....
More>>
Take a Behind the Scenes Look at the Creation of Hagrid's Magica...
9/4/2019 2:19 PM EST
 Hagrid's Magical Creatures Motorbike Adventure debuted this summer at The Wizarding World of Harry Potter at Universal Orlando and, now, Harry Potter fans and fans of the ride can take a behind-the-scenes look on the creation of the world's first "story coaster" during the NBC primetime broadcast of "Harry Potter and the Deathly Hallows - Part 2" on Saturday, September 7 at 8 p.m. EDT.viewers wil...
More>>
Win a Dream Vacation to The Wizarding World of Harry Potter!
8/29/2019 3:35 PM EST
Universal Orlando Resort has launched an exciting sweepstakes for Harry Potter fans! The social media sweepstakes will reward two lucky participants with an unforgettable trip to The Wizarding World of Harry Potter.To enter the contest, fans must take to one of their social media channels to showcase their passion for the Wizarding World showing what they'd wear on their visit to the incredibly-im...
More>>
New Experience in The Wizarding World of Harry Potter
2/21/2019 3:51 PM EST
Today, Universal Orlando Resort announced the new attraction coming to The Wizarding World of Harry Potter this summer.The new ride will be called Hagrid's Magical Creatures Motorbike Adventure and will open on June 13, 2019. It will be their most highly themed coaster to date.  For the first time ever, guests will fly with Hagrid on a thrilling roller coaster ride that plunges into the path of so...
More>>
Fantastic Beasts 3 Production Pushed Until Fall
1/21/2019 1:06 PM EST
Warner Bros. has decided to push back the production start date for the upcoming third Fantastic Beasts film. The film was supposed to begin production this July but will be put off until the fall.A spinoff of Harry Potter, the Fantastic Beasts franchise has earned over $1.4 billion dollars so far. It is comprised of Fantastic Beasts and Where to Find Them and Fantastic Beasts: The Crimes of Grind...
More>>
Harry Potter Gets The Jelly Belly Treatment
10/12/2018 11:24 PM EST
Jelly Belly sets the standard for jellybeans worldwide.  With a multitude of flavors (some delicious, some disgusting) they offer the unique alongside the tried and true to the delight of fans of the gummy confections.  To complement their distinctive brand, Jelly Belly once again commissioned artist Kristen Cumings to create works of art using their signature candy.  FlickDirect caught up with he...
More>>
Wizards, Witches and Muggles Alike Gathered Once Again at Univer...
1/29/2018 2:41 PM EST
If you are a huge Harry Potter fan and have never been to Universal Orlando Resort A Celebration of Harry Potter, you must make it a point to go. If you have been before, you need to go again as every year offers something new and exciting. Regardless, the annual event is a unique experience that should be on the top of any Harry Potter fan's list.Now in its fifth year, A Celebration of Harry Pott...
More>>
Fantastic Beasts Films Will Travel the Globe
1/27/2018 10:39 AM EST
Director David Yates has revealed that the five upcoming Fantastic Beast films will all take place in different cities.The first film took place in New York, and the second will be taking place in Paris. We don't yet know where the next three film will take place but Yates said, "This is a global story, ultimately. And given that there's a global audience for this, it's all the more delightful to ...
More>>
Harry Potter and the Deathly Hallows: Part 1 Blu-ray Review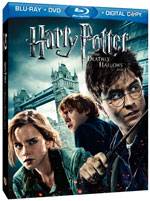 It has been a long road for Harry Potter fans. Since the first book was adapted into a movie, fans have been clamoring for each chapter in the saga of the "boy who lived". Now finally after many years of waiting, we have started down the road to our ultimate destination -- Harry pitted against Voldermort.

When we had left our heroes at the end of the Half Blood Prince, Dumbledore had died at the hands of Snape; and now Harry was faced with the task of tracking down the horcruxes that Voldermort had placed in remote locations around the world. As the film opens, Harry is spending his last night amongst the Dursley's before the spell of protection created by his mother in her final act of defending his life as a baby, wears off. As the Dursley's make their way out for the evening, a group of Harry's closest allies arrive to assist in moving Harry before Voldermort's disciples' come to finish Harry off.

Each of the members drinks a potion to disguise themselves as Harry to confuse their attackers so they won't know where they are taking Harry. Along the way, Voldermort's cohorts assail them with a volley of spells, trying their best to take Harry out. In the midst of all the chaos, Harry's pet owl, Hedwig, is killed. There is no time for Harry to deal with this as they are still being assaulted. After some harrowing close calls, Harry and Hagrid finally arrive at the Weasley's home. Once all the other members of the Order reconvene, they learn that they also lost Alastair Moody in the fray.

These deaths are signs not only to the characters in this story, but the members of the audience that no one is safe. Not all things are dark and sad; there is some brightness to these dark times. One of the Weasley children, Bill, is about to be married to Fleur Delacour. The wedding takes place without a hitch; and during the reception, some new information is learned from an old face. It seems there is a myth about something called the Deathly Hallows. What they are and what it means is a mystery; but regardless, it pique's all three of our leads' interests. The joy of celebration is interrupted when a message arrives that Death Eaters are on their way to arrest everyone at the party.

With only seconds to get away, Harry, Hermione and Ron escape to the house of Sirius Black. There they take refuge while trying to devise a plan for their next move. They decide to make an attempt to break into the Ministry of Magic and acquire one of the horcruxes being worn by none other than Dolores Umbridge. After some close calls, they are able to get the necklace and just barely escape before almost being captured. They escape to the wilderness where they make camp and attempt to figure out how to destroy a horcrux.

Unfortunately, it is easier said than done; and while trying to figure it out, each member of the group takes turns wearing it. Things go badly though as Ron, who begins to suffer side effects from wearing it, berates his friends; and in a fit of anger, abandons them. Heartbroken at this new turn of events, Harry and Hermione are now more stressed than ever. They are unable to have a decent conversation with one another without becoming upset. Harry decides to visit Godric's Hollow, the Village where his parents were killed.

He believes if he can find a woman named, Bathilda Bagshot, he can learn some of the truth about Dumbledore and possibly more about the horcruxes themselves. Unfortunately, this too goes badly, as Bagshot has been dead for some time, while Voldermort has used magic to keep her body animated in an attempt to both lure and kill Harry. With luck, Hermione is able to whisk them away before either is harmed, but Harry's wand is damaged in the process. That night, while on watch, Harry sees a patronus of a doe and thinks it might be a sign from Dumbledore. He follows it into the woods where he finds a pond; and at the bottom of the pond, is the Sword of Gryffindor. This is a magical weapon that is powerful enough to destroy the horcrux. As Harry attempts to retrieve the sword from the bottom of the pond, the necklace goes berserk and almost drowns him. Out of nowhere, Ron appears and pulls Harry out along with the sword. Harry asks Ron to destroy the horcrux, but when Harry opens the necklace, a black cloud erupts, showing Ron dark and terrible visions. Incised, Ron angrily lashes out and destroys the necklace, putting an end to another horcrux.

When they return, instead of being happy, Hermione throws a fit at Ron for abandoning them. Regardless, Ron has returned to the group and now the trio makes their way to Luna Lovegood's house. They hope to find out about the symbol they keep seeing which refers the Deathly Hallows. When they arrive, Luna is not there; but her father invites them in. Once inside they ask him about the Hallows and what they mean. He informs them that they are part of a very old tale involving the spirit of Death itself. The Hallows are in fact, three individual items: an invincible Elder Wand, a Resurrecting Stone, and an Invisibility Cloak. The items were once owned by three brothers but have been lost through the ages.

When the three friends attempt to leave, Mr. Lovegood stops them and informs them that his daughter has been taken hostage and the only way he can get her back is if he gives them up to the Death Eaters, who are already on their way. The three friends try to escape, but are captured in the process. Some quick spell casting by Hermione alters Harry's face so their enemies do not realize who he is. They are taken to the home of the Malfoy's. There they encounter Bellatrix who is unaware that she has Harry Potter in her clutches. But she does find the Sword of Gryffindor amongst their possessions. In a fit of rage, she imprisons Ron and Harry, keeping Hermione to be tortured.

In the dungeon, they encounter Luna Lovegood, Ollivander the wand maker, and a goblin. With some help from their old friend Dobby who secretly teleports in, they break free of the dungeon and fight their way out. In the midst of all the confusion, Harry is able to acquire Draco's wand, but Dobby gets stabbed by Bellatrix. When the friend's teleport away, they find themselves on a beach with their dead friend in Harry's arms; meanwhile miles away, we see Voldermort approaching Dumbledore's tomb. He opens the tomb and takes the Elder Wand from the Professor's dead hands.

It is here that the movie ends; since the book was so long and had such intricate detail this time around, it was necessary to split the book into two movies. In that way, the film makers could retain the entire story. The film does a great job of bringing the final book to life while still retaining the core messages that are at the heart of the book. That is what made the books so successful, not that they were so appealing to children, but they matured just like their readers. As the characters in the books grew up, so did the stories in which they were involved in, and that is what makes for a successful book.

Warner Bros has spared no expense of the home entertainment release Harry Potter and the Deathly Hallows: Part 1 on Blu-ray/DVD combo pack. The films dark and dreary tone perfectly transfers over to the home entertainment medium. The video encoded with the latest AVC codec perfectly pulls in the dark and dreary tone of that David Yates used for the film. The audio transfer used in this release is as with most Warner Home Entertainment releases – amazing! Presented in DTS-HD Master Audio 5.1 surround track, it truly shines through and brings the film home. During the opening action sequence, you might find yourself inadvertently ducking from death eaters in your living room.

If you had to pinpoint one area lacking on this release, it would be on the special features located on the second Blu-ray disc in the set. The Maximum Movie Mode, Focus Point Featurettes, and Behind the Story Featurettes give a nice look behind the scenes of the making of the film and life on the set of the Harry Potter films; however, it feels like Warner Bros is holding back a bit; and we will have to probably wait until the "ultimate edition" Blu-rays get the complete set of features. On a brighter side, the film includes a sneak peak Harry Potter and the Deathly Hallows: Part 2. However, since this feature was not available on the press review copy of the film, we are unable to give you any glimpse of what is going to happen this July to Mr. Potter and gang.

Harry Potter and the Deathly Hallows: Part 1 is an amazing film, and its debut into the home entertainment market is an eventful mark as well. It is, however, a bittersweet entry since unfortunately, the saga of one of the best series ever put on film will be over this year.

Read More Harry Potter and the Deathly Hallows: Part 1 Reviews
For more reviews please visit our film/television review section.
SPONSORED LINKS