Priest (2011)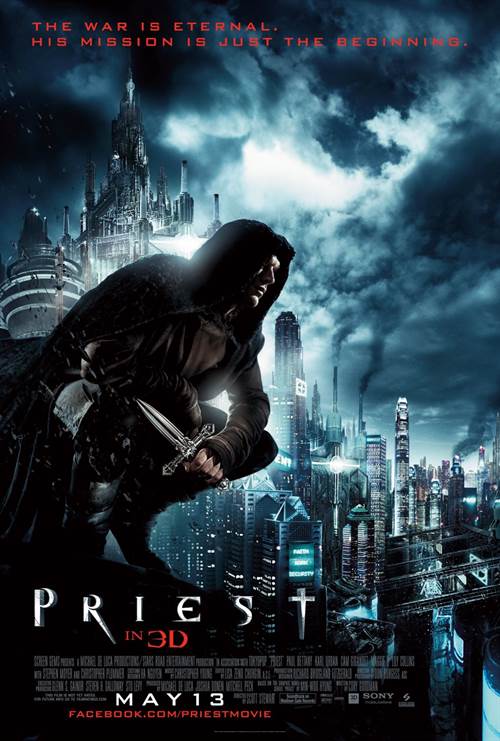 | | |
| --- | --- |
| Director: | |
| Writers: | |
| Cast: | |
| Released: | Friday, May 13, 2011 |
| Length: | 87 minutes |
| Studio: | Screen Gems |
| Genre: | Horror, Sci-Fi/Fantasy |
| Rating: | Some material may be inappropriate for children under 13. |
Priest Synopsis
Priest, a post-apocalyptic action thriller, is set in an alternate world -- one ravaged by centuries of war between man and vampires. The story revolves around a legendary Warrior Priest (Paul Bettany) from the last Vampire War who now lives in obscurity among the other downtrodden human inhabitants in walled-in dystopian cities ruled by the Church. When his niece (Lily Collins) is abducted by a murderous pack of vampires, Priest breaks his sacred vows to venture out on an obsessive quest to find her before they turn her into one of them. He is joined on his crusade by his niece's boyfriend (Cam Gigandet), a trigger-fingered young wasteland sheriff, and a former Warrior Priestess (Maggie Q) who possesses otherworldly fighting skills.

Purchase DVD/Blu-ray/4K UHD physical copy of Priest today at Amazon.com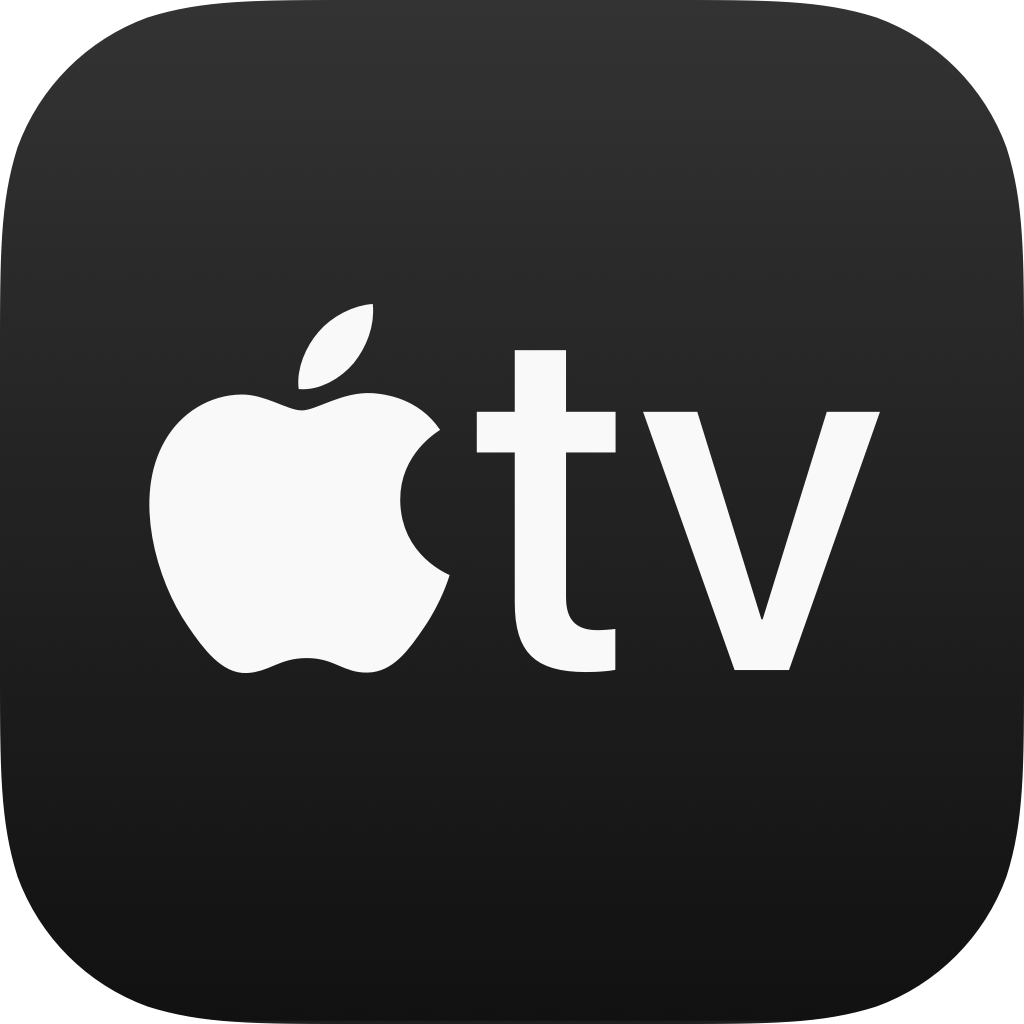 Stream Priest in Digital HD/4K from the AppleTV store.
Priest images are © Screen Gems. All Rights Reserved.
Priest Theatrical Review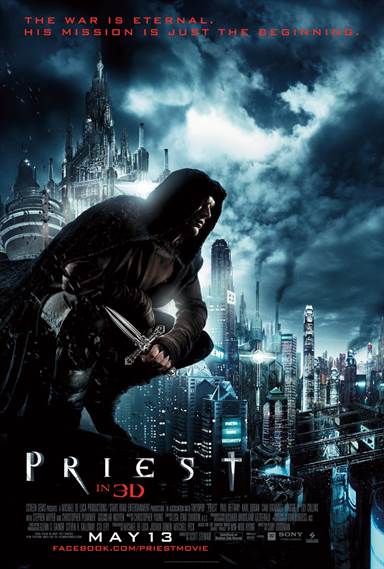 Lately there has been an influx of vampire related media. It seems like everywhere you turn there is another TV show or film popping up somewhere. The latest in this series is Priest starring Paul Bettany so as a lone warrior determined to end the vampire invasion for one of the last free human civilizations.

The film opens with a botched mission by a group of warrior priests looking to exterminate the last vampire nest and its queen. We learn that in this world humans never got the chance to evolve the way we did. It seems vampires have always existed, as a race of eyeless ravenous monsters constantly plaguing the world of man. Through the years the battles escalated, from medieval times to modern warfare. Finally hope sprung when a select people began displaying heightened skills of speed and strength. The church began recruiting these people as soldiers and calling them Priests.

The final nest was eventually destroyed thanks to the work of these warriors and with no enemies left to fight they were re-assimilated into society. Apparently the fallout from so many wars has left the land scarred and broken; many people who live outside the cities live like something out of the old west. Things don't stay so peaceful when one night a family is attacked by a pack of vampires. The local sheriff seeks out the help of a Priest (Bettany) whom he has heard tales of. The Priest refuses to help at first, though seeks guidance from the ruling bishops. They insist that the vampire menace has been wiped clean and will not allow him to investigate into the matter; any action to do so will be considered an act of treason.

Of course the Priest goes anyway and discovers that the sheriff was correct, the family was attacked by vampires and their daughter was kidnapped as well. The sheriff insists on tagging along not knowing the dangers he will be facing. They eventually discover that a train carrying an army of vampires is headed straight for the largest city and since the sun no longer shines above, the vampires will have free reign to wipe all the humans there. Now it is up to the Priest, a Priestess and the sheriff to board the train find the girl and somehow stop it. Unbeknownst to them though there is something new and terrifying awaiting them.

Considering the premise Priest does a good job of rehashing the vampire legend, there are a few plot holes and the action doesn't really kick in until the final act of the film so for audiences who are expecting a non-stop thrill ride, you may wish to look elsewhere. The film is mainly a set-up for a sequel, introducing you to the history of these characters, what motivates them and the rules of the world in which they exist. Bettany does a good job of playing a detached man, who has no other purpose but to fight. The other actors don't really bring much to the table, but that is mostly because they have nothing to do but react to every situation that arises while Bettany's Priest does all the real work.

With TV and film being saturated with vampire lore right now one wonders where it can really go before the whole notion becomes stale and it's possible that Priest is the signal to that decline. Perhaps a sequel will get made to this movie and maybe it will be better but it is unlikely that it would change the fact that the vampire trend will eventually run its course and people will look for a new genre to latch on to.
For more reviews please visit our film/television review section.
SPONSORED LINKS