Highlander (1986)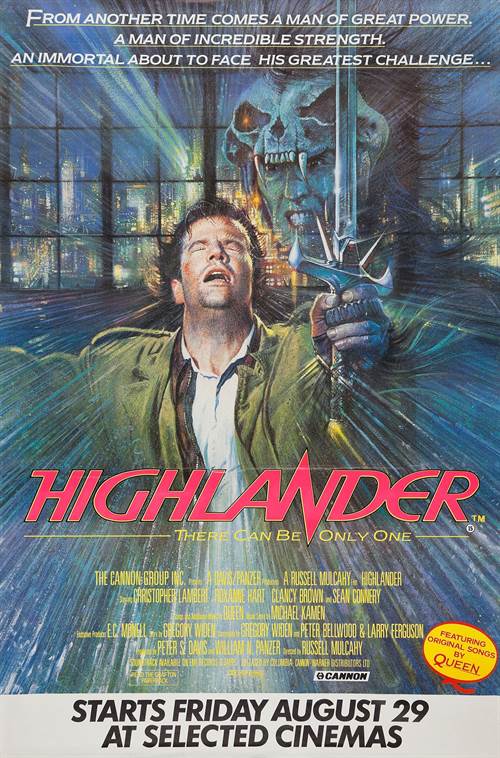 Share this:
| | |
| --- | --- |
| Director: | |
| Writers: | |
| Cast: | |
| Released: | Friday, March 7, 1986 |
| Length: | 110 minutes |
| Studio: | Lionsgate |
| Genre: | Sci-Fi/Fantasy, Action/Adventure |
| Rating: | Under 17 requires accompanying parent or adult guardian. |
Synopsis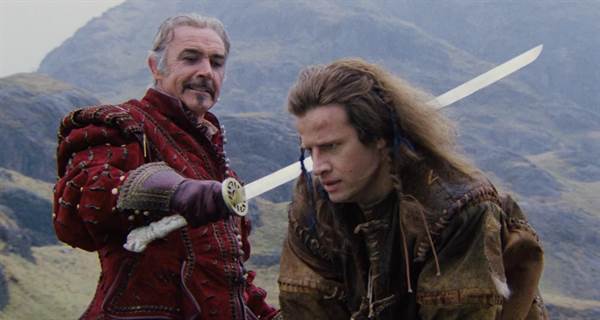 Director Russell Mulcahy's film became a paragon of modern action fantasy, giving rise to legions of warrior fans who follow the story of Connor MacLeod (Christopher Lambert),one of the few surviving members of a clan of immortals who've been battling for centuries. The evil Kurgan (Clancy Brown) wants to kill a forlorn but determined Connor for good in modern-day New York, but an immortal mentor (Sean Connery) provides help in flashbacks.

Purchase DVD/Blu-ray/4K UHD physical copy of Highlander today at Amazon.com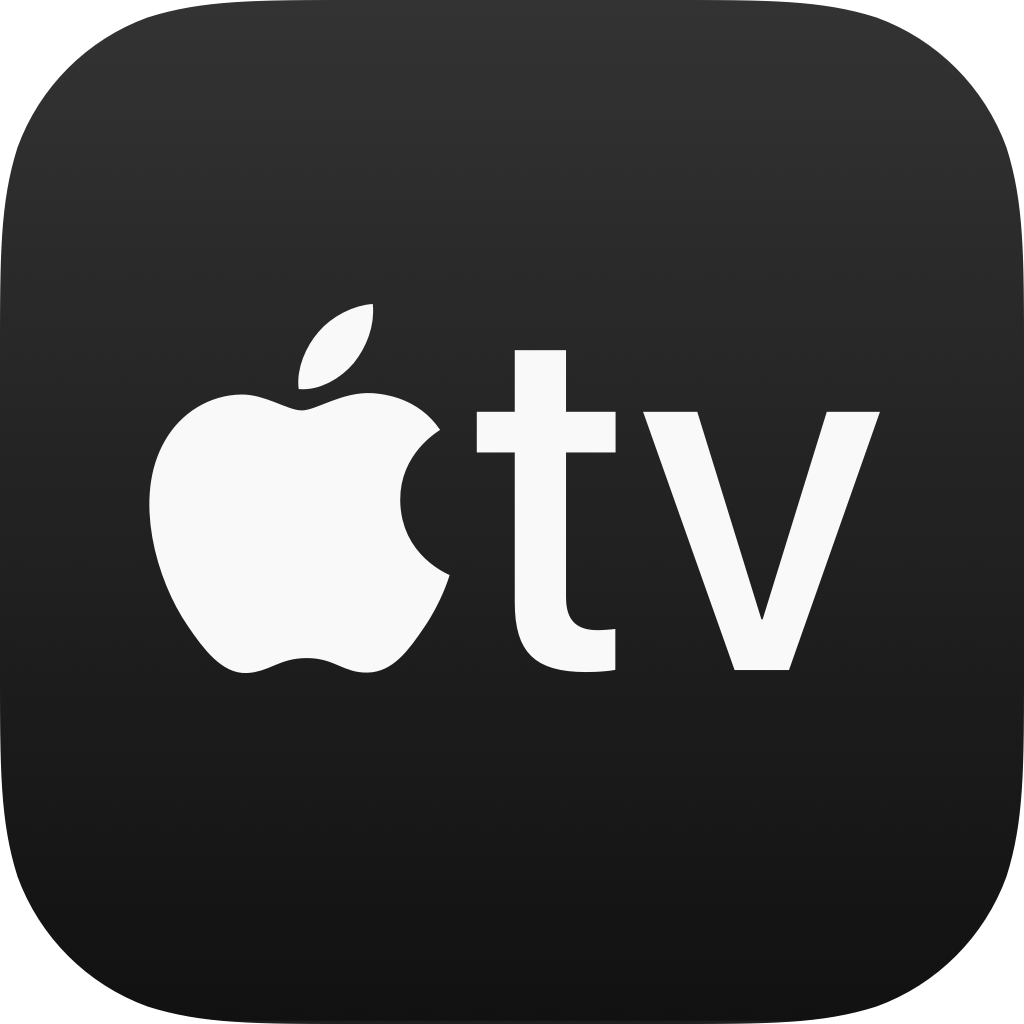 Download Highlander in Digital HD/4K from the iTunes store.
Listen to the Highlander soundtrack on Apple Music.
Highlander images are © Lionsgate. All Rights Reserved.
Henry Cavill in Talks to Join New Highlander Film
5/21/2021 4:28 PM EST
It's being reported that Henry Cavill (Man of Steel) is currently in talks to join the next Highlander film. There's no word yet on what Cavill's role would be.The 1986 original film starred Christopher Lambert as Connor MacLeod, a Scottish warrior who, after killed in battle, finds out that he is an immortal. He is mentored by Juan Sánchez-Villalobos Ramírez , played by Sean Connery, and must lea...
More>>
Ryan Reynolds To Star as Highlander's Connor MacLeod?
5/21/2012 4:21 PM EST
Word is that Lionsgate, through its subsidiary, Summit, are doing more than talking about a possible reboot of the 1980 movie "Highlander".Until now, all we have really known is that "28 Weeks Later" director Juan Carlos Fresnadillio has been hired to direct the movie and very little else.Though now, Variety is reporting that the role of  Connor MacLeod/Russell Edwin Nash, made famous by Christoph...
More>>
Highlander : 30th Anniversary DVD Review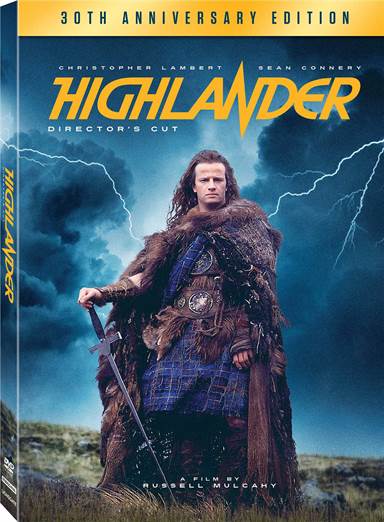 I am Connor MacLeod of the Clan MacLeod. I was born in 1518 in the village of Glenfinnan on the shores of Loch Shiel. And I am immortal. —
With that phrase uttered in 1986, a cult classic was born that would spawn several sequel movies and a television show.
That film, Highlander, is now celebrating its 30th Anniversary. To commemorate the occasion, Lionsgate Home Video has released the Highlander 30th Anniversary Edition – Director's Cut on both Blu-ray and DVD.
Highlander tells the story of Connor MacCleod (Christopher Lambert; Mortal Kombat), an immortal from the 1500s, living in the modern era. For four hundred years, Connor has been living a secret life with other immortals until the time of The Gathering. When that occurs, they will all feel a pull to a distant land (aka New York City) to compete for the prize, and to be the only one left still alive.
If you started humming Queen's Princes of the Universe while reading the above synopsis, you already have a very good idea what the film is about. To those who are now even more confused than when you started reading this review, let me try to light your way... Mirroring today's comic book fascination, the early to mid 80's was dominated by swords and sorce. Ever year, a film came out that had to do with the subject. Most eventually were forgotten but Highlander didn't suffer that fate. With a strong cast, including Sean Connery (James Bond), Clancy Brown (Starship Troopers), and Roxanne Hart (Chicago Hope), the film had everything action/science fiction fans clamored for. A story that took itself seriously, dialog and cast that delivered fantastic performances, great action and swords fights, and a pulse pounding rock soundtrack from Queen meshed to make for a classic movie.
Since it's theatrical release, Highlander has seen many incarnations in the home theater format, including VHS, Laserdisc, DVD, Blu-ray, Digital HD and, now, the 30th Anniversary edition (on Blu-ray and DVD). Instead of just being the usual one disc release, both the DVD and Blu-ray includes a plethora of extras (The DVD contains an additional disc) including:
● The Making of Highlander documentary - A 2-hour Four-part documentary. Part I: The Legend Begins; Part II: The Visual Style; Part III: A Strong Woman; and Part IV: The Producer's Point of View.
● Deleted Scenes - This extra is comprised of 5 different deleted scenes from the film.
● Interviews with Director Russell Mulcahy and Actor Christopher Lambert - Both men discuss their personal experiences with the making of the film.
● Archival Interview with Actor Christopher Lambert - An interview with the star of the film, in French.
● Trailer - The original theatrical trailer for the film.
With Highlander's 30th Anniversary edition being released on both DVD and Blu-ray, it is only a matter of time before it is released in 4K UHD, which is what I am personally waiting for. Highlander is an amazing film, but it is a shame the series faltered after the original film's release. If you are a fan of the film and never owned it, then this might be a good stop-gap purchase for you. If you do already own this classic film, hold off until the 4K scan is released.
Film: Grade A
Format: Grade C
Final Grade: B
For more reviews please visit our film/television review section.
In the end...there can only be one! Director Russell Mulcahy's film became a paragon of modern actio...
Connor MacLeod: I am Connor MacLeod of the Clan MacLeod. I was born in 1518 in the village of Glenfinnan on the shores of Loch Shiel. And I am immortal.
SPONSORED LINKS