Iron Man (2008)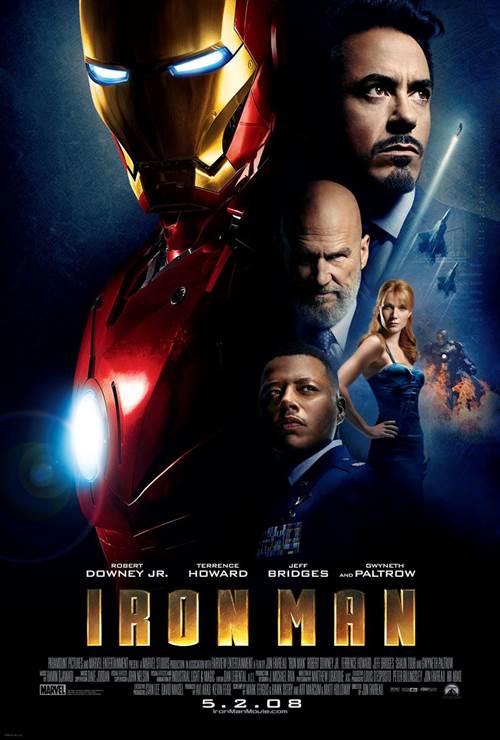 | | |
| --- | --- |
| Director: | |
| Writers: | |
| Cast: | |
| Released: | Thursday, May 1, 2008 |
| Length: | 141 minutes |
| Studio: | Paramount Pictures |
| Genre: | Sci-Fi/Fantasy, Action/Adventure |
| Rating: | Some material may be inappropriate for children under 13. |
This film contains a scene during or after the credits.
Iron Man Synopsis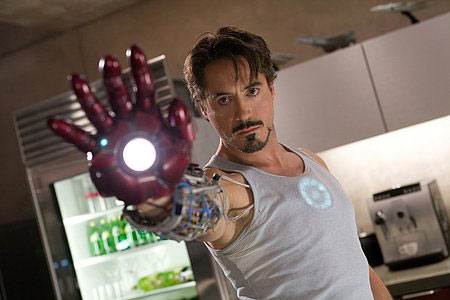 After surviving an unexpected attack in enemy territory, jet-setting industrialist Tony Stark builds a high-tech suit of armor and vows to protect the world as Iron Man. Straight from the pages of the legendary comic book, Iron Man is a hero who is built - not born - to be unlike any other.

Purchase DVD/Blu-ray/4K UHD physical copy of Iron Man today at Amazon.com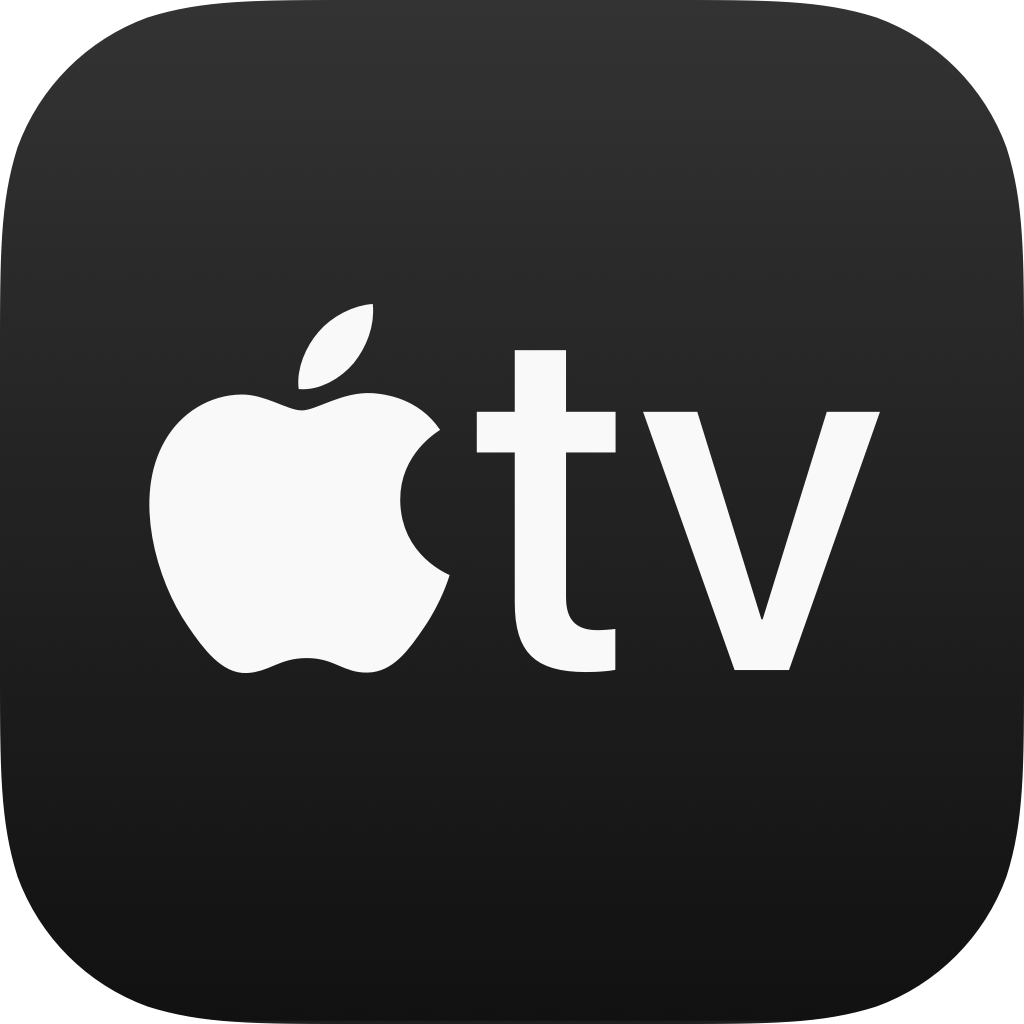 Download Iron Man in Digital HD/4K from the iTunes store.
Listen to the Iron Man soundtrack on Apple Music.
Iron Man images are © Paramount Pictures. All Rights Reserved.
Doctor Strange in the Multiverse of Madness Opens to Huge Box Of...
5/9/2022 2:00 PM EST
Marvel Studios and Disney's "Doctor Strange in the Multiverse of Madness" made a great start at the box office this weekend. The film, which stars Benedict Cumberbatch, has grossed $187 million domestically for its opening weekend, which brings the global earnings to $449.4 million.These numbers make the Sam Raimi directed film the 11th biggest domestic opening in history and the 7th biggest openi...
More>>
Disney Announces Launch Date for Ms. Marvel Series
3/15/2022 10:19 AM EST
Disney+ has released the trailer and poster for the upcoming Marvel Studios' series "Ms. Marvel". They also announced that the series will be released exclusively on the streaming service on June 8.Marvel Studios' "Ms. Marvel" is a new, original series that introduces Kamala Khan, a Muslim American teenager growing up in Jersey City. An avid gamer and a voracious fan-fiction scribe, Kamala is a Su...
More>>
Marvel Releases Love Letter To The MCU and Teases Phase Four
5/3/2021 3:39 PM EST
Today, Marvel Studios released a sizzle reel, narrated by Stan Lee, that gives fans a look back at what has happened in the Marvel Cinematic Universe as well as what's to come in phase four.Aside from the trailers that have already been released in the recent weeks for the Marvel Cinematic Universe, viewers are also treated to their first look at footage from Eternals starring Angelina Jolie (whic...
More>>
Daredevil Season Three Release Date Announced
9/21/2018 12:01 PM EST
Fans of Marvel/Netflix's series Daredevil finally got the news they have been waiting for - a release date for Season Three. The new season will premier on October 19, 2018.Season 2 debuted in March of 2016, so fans have been anxiously awaiting this new release date for the Charlie Cox led drama. The latest teaser trailer was released yesterday showing a bloodied Matt Murdock with a voice-over say...
More>>
Iron Man Deleted Scene Online at Access Hollywood
8/15/2008 9:28 AM EST
Access Hollywood has posted a deleted scene from the summer blockbuster, Iron Man. Iron Man makes it's way to DVD this September 30th. Click here to view the cut clip....
More>>
Iron Man Headed to DVD and Blu-ray this September
7/22/2008 3:13 PM EST
The smash hit, "Iron man" has a confirmed release date for the DVD and Blu-ray Discs.  According to Video Business, it will be released on September 30.  Fans can pre-order the film at Amazon.com, and will be able to choose from three different versions: a Two-Disc Special Collector's Edition, a Special Collector's Edition Blu-ray Disc and a Single-Disc Edition.A sneak peak of the DVD will be hand...
More>>
Samuel L. Jackson's Iron Man Cameo Still Shown In Theaters World...
5/2/2008 2:54 PM EST
Fans upset that Samuel L. Jackson's cameo in Iron Man had been deleted have a reason to be happy again. Patient fans that sit through the end credits will be awarded with the coveted scene that has been the buzz online in recent weeks.While this cameo didn't show up in the version of the film that critics viewed, it has begun to show up in release prints across the globe. Samuel L. Jackson's cameo...
More>>
Can Iron Man and Grand Theft Auto Co-Exist?
4/29/2008 1:28 PM EST
Grand Theft Auto IV is being released today, and is expected to be one of the biggest video game releases to date.  Many are even speculating that Hollywood itself is shaking in its boots, seeing how people may choose to get the game and play it over going out and seeing what is the summer's first big film release, "Iron Man".  "This will be the first major release in what is considered Hollywood'...
More>>
Iron Man Theatrical Review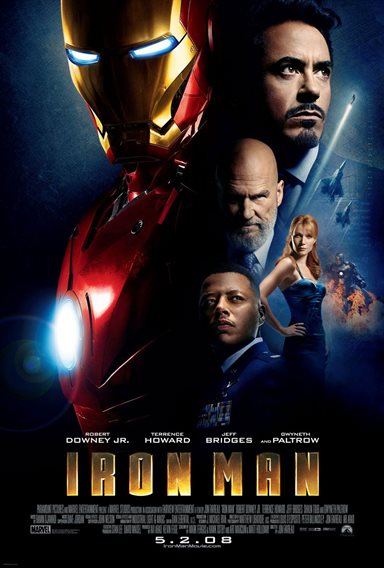 The Marvel Iron Man started in Vietnam where he was forced to construct his first version of the armor with the help of a Chinese genius. Later it was the Gulf War--and now Afghanistan. In the story Tony Stark, genius weapons-designer is captured and forced to build a super weapon for the bad guys. Instead, to escape, he builds a suit of armor and although his ally dies in the process, he escapes with the knowledge that he can become something greater: Iron Man--the super hero.
The Iron Man suit makes him incredibly strong, able to sustain massive damage, and gives him weapons (repulsor force-beams) he can use to fly or strike with. As the character develops he becomes an alcoholic at times--a cripple. Sometimes he gets his heart broken. Iron Man, despite having an unbreakable shell to fight in, is anything but invincible.
In the movie the first stroke of genius is, as we've seen before, in the casting. Robert Downey Jr. has made a life out of being likable enough to stay out of jail despite multiple convictions for cocaine. He's mastered the heart-melting puppy-dog eyes--and it's easy to believe he can be ruthless when it comes to getting his way. As Stark, he's
perfect
.
According to sources he improvised a lot of the dialog including the "I prefer the weapon you only have to fire
once
" line from the trailer. Downey also had a hand in the writing process, moving in next door to director Jon Favreau. Downey is a huge fan of the Marvel character and said he'd make a bunch more movies if he could. Not all the characters in the show get such a good ride though.
The unfortunately named Pepper Pots, played by Gwyneth Paltrow is Stark's secretary and assistant who has a crush on her playboy boss--but he takes her for granted. He also takes his Air Force liaison Jim Rhodes (Terrence Howard) for granted as he ignores awards ceremonies, and relies on him when the chips are down. If anything,
Iron Man
becomes a study in how people with power, money, and charisma can get by in life on the shoulders of others--who often suffer for it. This definitely applies to the fictional Stark. I found myself wondering, as I watched, how much it applied to Downey.
Despite this, however, the movie is not grim. For a superhero movie it's remarkably upbeat: the characters look like they're having
fun
in their roles--while no one is flying for real, whatever was going on with the sets made me think they were actually doing something close to "practical" with the special effects. Certainly Downey really did wear the suit (he discussed how hard it was to get in and out of it--and a great deal of work was made on the transitions from practical to CGI).
The movie is envisioned as part of a trilogy (at least) and the next installments will give us Tony's alcoholism, a love triangle with Paltrow's character, and so on--but for now the story is white hot action-adventure with enough heart and soul under the titanium shell to keep you watching.
Iron Man
is high octane superhero fun and it's polished so well it metaphorically sparkles (another two viewers found it almost
too
polished).
A few things for Marvel fans:
You can see the rough-cut of the War Machine armor that Howard will wear in future films.
This post attempts to tackle the question: Was Black Sabbath's Iron Man based on the Marvel character... or not?
-- Marco Chacon
For more reviews please visit our film/television review section.
SPONSORED LINKS