Iron Man (2008)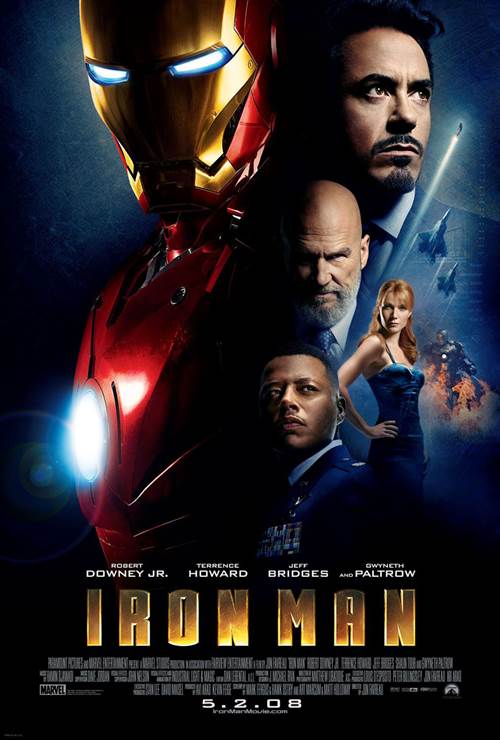 | | |
| --- | --- |
| Director: | |
| Writers: | |
| Cast: | |
| Released: | Thursday, May 1, 2008 |
| Length: | 141 minutes |
| Studio: | Paramount Pictures |
| Genre: | Sci-Fi/Fantasy, Action/Adventure |
| Rating: | Some material may be inappropriate for children under 13. |
This film contains a scene during or after the credits.
Iron Man Synopsis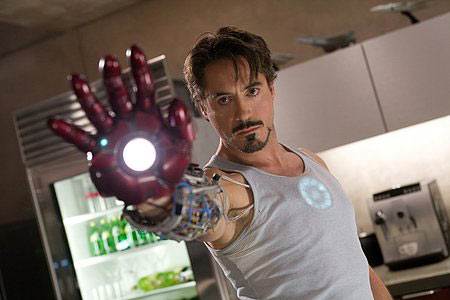 After surviving an unexpected attack in enemy territory, jet-setting industrialist Tony Stark builds a high-tech suit of armor and vows to protect the world as Iron Man. Straight from the pages of the legendary comic book, Iron Man is a hero who is built - not born - to be unlike any other.
Iron Man images are © Paramount Pictures. All Rights Reserved.
Get Ready for Action: Early Screening of Ant-Man and the Wasp: Q...
2/9/2023 7:13 PM EST
Eight years ago, Marvel Studios added another iconic character to its Marvel Cinematic Universe (MCU) with the release of the film "Ant-Man." Three years later, fans were treated to the sequel, "Ant-Man and The Wasp." After facing production delays d...
| Full Article
See an Advance Screening of BLACK PANTHER: WAKANDA FOREVER in Fl...
11/2/2022 11:10 AM EST
The passing of Chadwick Boseman two years left a question mark at Marvel Studios as to how to proceed with the Black Panther Films.  When it was announced there would still be a sequel, BLACK PANTHER: WAKANDA FOREVER, fans wondered how they would mak...
| Full Article
Marvel Makes Exciting Announcements at Comic-Con
7/24/2022 8:17 PM EST
Yesterday at San Diego Comic-Con, Marvel made some exciting announcements about their upcoming releases. Kevin Feige, president of Marvel Studios and chief creative officer of Marvel, was joined by moderator Ash Crossan to deliver Marvel Studios' lon...
| Full Article
Jack Schreier Set to Direct Marvel's Thunderbolts
6/10/2022 2:29 PM EST
Jack Schreier has been tapped to direct the upcoming Marvel film "Thunderbolts". Schreier directed the Sundance favorite  "Robot & Frank", as well as "Paper Towns", and the upcoming Netflix series  "Beef". He also worked on music videos for Kanye Wes...
| Full Article
Doctor Strange in the Multiverse of Madness Opens to Huge Box Of...
5/9/2022 2:00 PM EST
Marvel Studios and Disney's "Doctor Strange in the Multiverse of Madness" made a great start at the box office this weekend. The film, which stars Benedict Cumberbatch, has grossed $187 million domestically for its opening weekend, which brings the g...
| Full Article
Disney Announces Launch Date for Ms. Marvel Series
3/15/2022 10:19 AM EST
Disney+ has released the trailer and poster for the upcoming Marvel Studios' series "Ms. Marvel". They also announced that the series will be released exclusively on the streaming service on June 8.Marvel Studios' "Ms. Marvel" is a new, original seri...
| Full Article
Marvel Releases Love Letter To The MCU and Teases Phase Four
5/3/2021 3:39 PM EST
Today, Marvel Studios released a sizzle reel, narrated by Stan Lee, that gives fans a look back at what has happened in the Marvel Cinematic Universe as well as what's to come in phase four.Aside from the trailers that have already been released in t...
| Full Article
An Evening With Black Panther Director, Ryan Coogler
11/28/2018 1:47 PM EST
This past Tuesday, November 27th, 2018, Black Panther returned to theaters for a special screening for Giving Tuesday at nonprofit art-house theaters nationwide. This release was presented by Film Comment, a publication of the Film Society of Lincoln...
| Full Article
Daredevil Season 3 Gets New Villain
10/4/2018 1:24 PM EST
Netflix revealed their trailer for the third season of Marvel's Daredevil today, and we get to see a new villain thrown into the mix. Bullseye, who will be played by Wilson Bethel, made an appearance in the trailer for the upcoming season which launc...
| Full Article
Daredevil Season Three Release Date Announced
9/21/2018 12:01 PM EST
Fans of Marvel/Netflix's series Daredevil finally got the news they have been waiting for - a release date for Season Three. The new season will premier on October 19, 2018.Season 2 debuted in March of 2016, so fans have been anxiously awaiting this ...
| Full Article
Iron Man Deleted Scene Online at Access Hollywood
8/15/2008 9:28 AM EST
Access Hollywood has posted a deleted scene from the summer blockbuster, Iron Man. Iron Man makes it's way to DVD this September 30th. Click here to view the cut clip....
| Full Article
Iron Man Headed to DVD and Blu-ray this September
7/22/2008 3:13 PM EST
The smash hit, "Iron man" has a confirmed release date for the DVD and Blu-ray Discs.  According to Video Business, it will be released on September 30.  Fans can pre-order the film at Amazon.com, and will be able to choose from three different versi...
| Full Article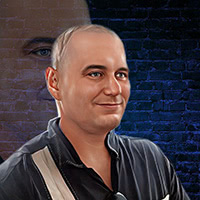 Movie / Film Review
The Marvel Iron Man started in Vietnam where he was forced to construct his first version of the armor with the help of a Chinese genius. Later it was the Gulf War--and now Afghanistan. In the story Tony Stark, genius weapons-designer is captured and forced to build a super weapon for the bad guys. ...
SPONSORED LINKS