Bill & Ted Face the Music (2020)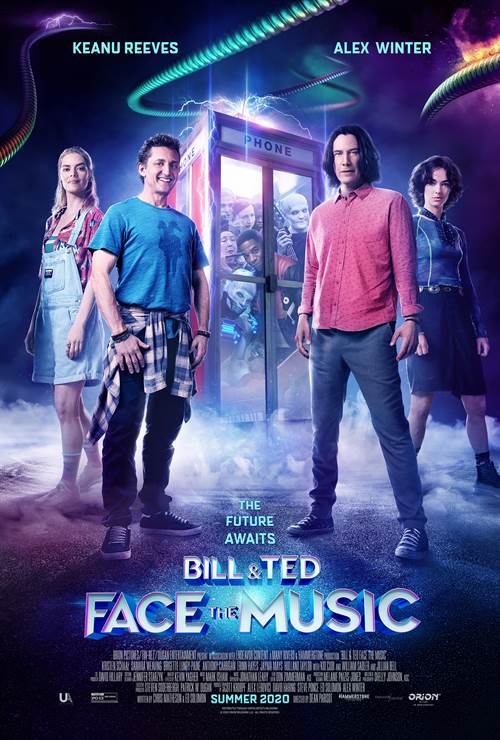 Share this:
| | |
| --- | --- |
| Director: | |
| Writers: | |
| Cast: | |
| Released: | Friday, August 28, 2020 |
| Length: | 92 minutes |
| Studio: | Orion Pictures |
| Genre: | Comedy, Sci-Fi/Fantasy |
| Rating: | Some material may be inappropriate for children under 13. |
Synopsis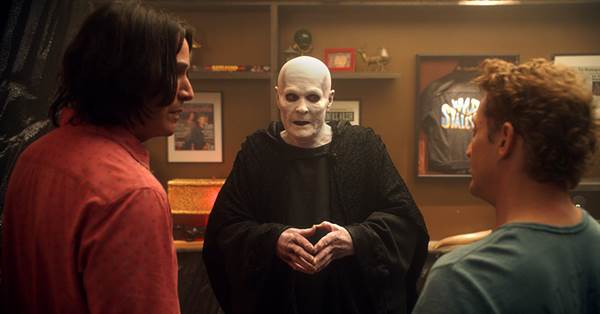 The stakes are higher than ever for the time-traveling exploits of William "Bill" S. Preston Esq. and Theodore "Ted" Logan. Yet to fulfill their rock and roll destiny, the now middle aged best friends set out on a new adventure when a visitor from the future warns them that only their song can save life as we know it. Along the way, they will be helped by their daughters, a new batch of historical figures, and a few music legends - to seek the song that will set their world right and bring harmony in the universe.

Purchase DVD/Blu-ray/4K UHD physical copy of Bill & Ted Face the Music today at Amazon.com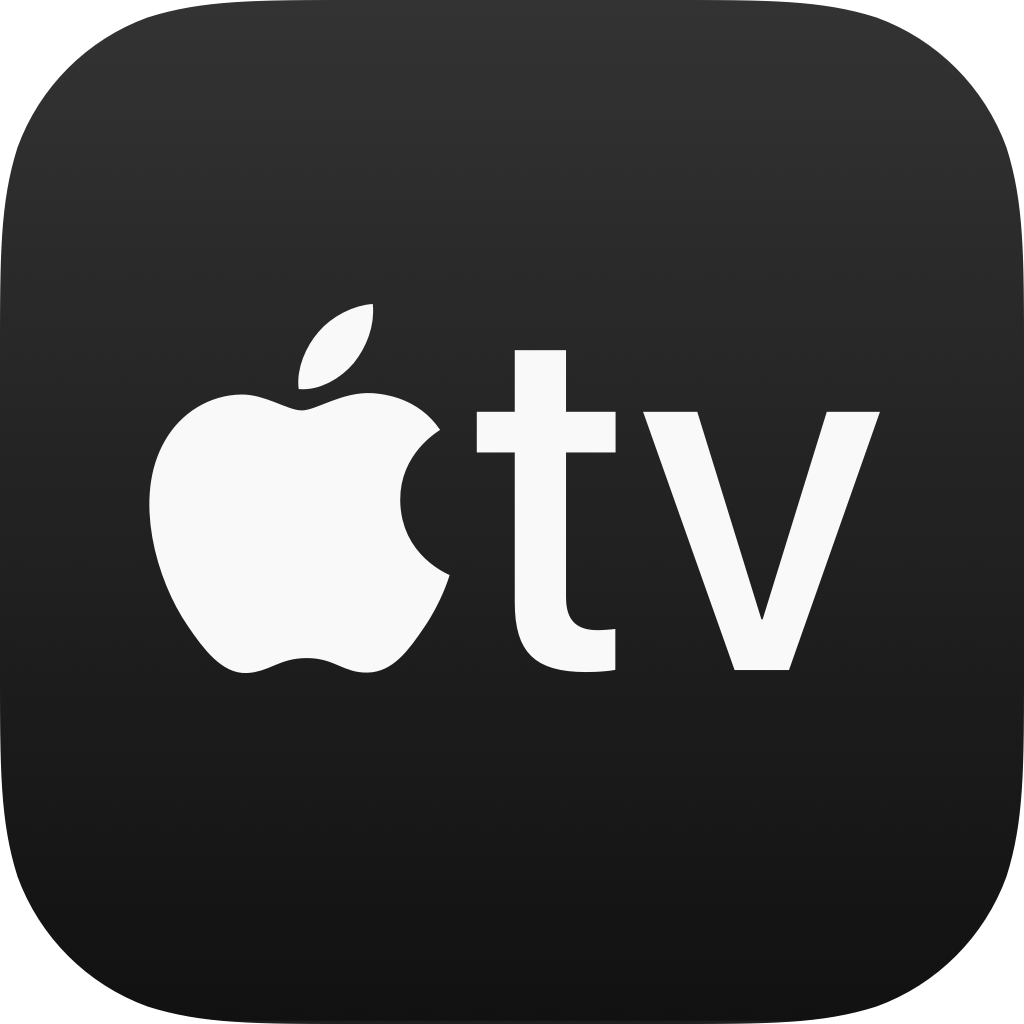 Download Bill & Ted Face the Music in Digital HD/4K from the iTunes store.
Listen to the Bill & Ted Face the Music soundtrack on Apple Music.
Bill & Ted Face the Music images are © Orion Pictures. All Rights Reserved.


Bill and Ted Face the Music to Be Released Both in Cinemas and O...
7/23/2020 2:53 PM EDT
Due to the ongoing COVID-19 pandemic, many studios have had to face some unprecedented decisions (just like many others). In light of the issues that are still arising, Orion has decided to release "Bill & Ted Face the Music" in both cinemas as well as on-demand. The release date for both will be on September 1.While a theatrical release would normally be the big earner, these days things are quit...
More>>
Fans Can Party On With Bill and Ted for the Upcoming Face the Mu...
5/15/2020 10:53 AM EDT
The producers of "Bill & Ted Face the Music" would like to invite you to take part in their film!Fans can head over to partyonwithbillandted.com , listen to the music demo, and create their very own video that would be featured in the film. Get creative with it and have the whole family join in! After creating your masterpiece, send it in by May 20.To get in on this most excellent opportunity, hea...
More>>
Bill & Ted Face the Music to Begin Production January 2019
6/7/2018 2:08 PM EDT
Bill & Ted Face the Music, the third film in the Bill & Ted franchise, is slated to begin production on January 10th 2019 according to reports.Original Bill & Ted creators Chris Matheson and Ed Solomon penned the script, which will be directed by Dean Parisot.In the film, we will see the duo, now middle-aged and dealing with normal adult responsibilities, getting a visit from someone in the future...
More>>
Keanu Reeves and Alex Winter Confirmed to Reprise Roles for Bill...
5/8/2018 2:30 PM EDT
The news that all Bill & Ted fans have been waiting to hear has finally come to fruition. It has been confirmed that Keanu Reeves and Alex Winter will be reprising their roles for a third film, Bill & Ted Face The Music."We couldn't be more excited to get the whole band back together again. Chris and Ed wrote an amazing script, and with Dean at the helm we've got a dream team!", said Reeves and Wi...
More>>
Bill & Ted's Reaper, William Sadler, Looking Forward to Face the...
2/19/2018 5:34 PM EDT
Bill & Ted creator and writer Chris Matheson gave an interview recently and discussed where they are at with the third film in the franchise, Bill & Ted Face the Music. It appears that not only are fans excited about this prospect but actors from the franchise are as well.William Sadler, who played the Grim Reaper in Bill & Ted's Bogus Journey, took to Twitter to comment about the interview, sayin...
More>>
Bill & Ted 3 Script Confirmed by Keanu Reeves
10/6/2017 3:03 PM EDT
While attending New York Comic-Con to promote the upcoming film "Replicas", Keanu Reeves confirmed that they are plugging away trying to get the next installment of "Bill & Ted 3" made."It's called Bill & Ted Face the Music. We're just trying to get it made," Reeves said. "Show business is tough. It's a cautionary tale." He also said that the film will feature the duo, who are now older and have f...
More>>
Bill & Ted's Third Adventure On Its Way!
3/6/2012 9:49 AM EDT
The third "Bill & Ted" film is getting even closer to becoming a reality.  Both stars of the film, Alex Winter and Keanu Reeves, have confirmed that the script is done.Keanu was quoted as saying, "Yeah, we have a script. We're trying to put it together. It's a good script too." Meanwhile, Alex took to his twitter account to talk about it. " Script done? Check. -We love it? Check. -Green light? Wor...
More>>
Bill & Ted Face the Music Review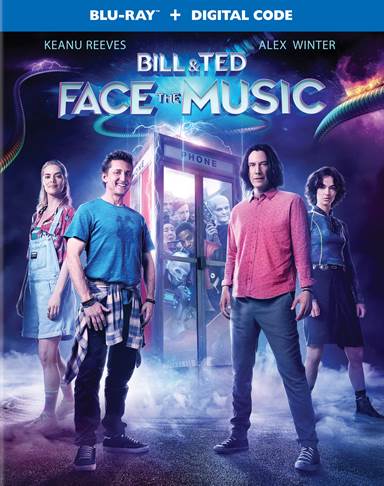 The year was 1989 and two young actors, one twenty-four and the other twenty-five years-old took on the roles of high school best friends and bandmates in Bill & Ted's Excellent Adventure. Keanu Reeves (The John Wick Trilogy) and Alex Winter (Robot Chicken - voice) had no idea when they agreed to be in the movie how it would change their lives but thirty-one years later they are reprising their roles for the highly anticipated third installment called Bill &Ted Face the Music. Now, middle-aged dads, they must once again travel through time and take up the quest to save the world.
William "Bill" Preston, Esq. (Winter) and Theodore "Ted" Logan (Reeves) were once part of one of the top bands in the world. Wyld Stallyns played to huge crowds and sold lots of records. Over time though, their careers diminished and now, they find themselves playing at weddings and local gatherings. They are married to their two princesses, Elizabeth (Erinn Hayes; They Came Together) and Joanna (Jayma Mays; Glee), and each has a teenage daughter. When they receive an unexpected visit from Rufus' Daughter, Kelly (Kristen Schaal; The Last Man on Earth), they must once again time travel to the future where they are told they have seventy-eight hours to write the song that will bring peace and solidarity and save the world.
Unsure of where to begin, they decide to travel to the future to "steal" the song from their older selves. However, the further forward they go, the more they dislike what they see. They are singing at open mic nights, or are in jail, and their wives have left them. Meanwhile, a robot from the future has been programmed to kill them. When their daughters find out, they travel back in time to create the greatest band ever to back Bill and Ted on the song that will save the world. As time runs out, Bill and Ted finally realize what they need to do in order to unite the people and save the world.
Winters has barely aged in the twenty-nine years since Bill and Ted's Bogus Journey was released but Reeves no longer fits the role of Ted very well. He has become too serious and barely cracks a smile – which is important for a serious character like John Wick – but which doesn't work for the free-spirited guy who is one half of Wyld Stallyns. If you look back at the first two films Reeves smiles often and has a lighthearted vibe about him but today, he is the exact opposite – fairly tightly wound and serious. The actor himself has been through some hard times and those events seem to have bled through to his acting style…again, great for the John Wick character but not for Ted. Mays and Hayes are terrific compliments to the two men and Shaal, Samara Weaving (Ready or Not) as Bill's daughter and Brigette Lundy- Paine (Bombshell) as Ted's daughter all add a fun element to the film.
Expectations for this sequel were high but unfortunately, I can't say the movie lives up to those expectations. The cast is good and the plot is decent so I'm not sure where the breakdown occurred; perhaps a combination of the directing and the script. Bill and Ted Face the Music starts slow and picks up a little by the second act but it definitely is not "most excellent".
Bill and Ted fans will either like it simply because it is Bill and Ted or they will hate it because it doesn't stand up to the first two films (and that is saying a lot because Bill & Ted's Bogus Journey wasn't all that great either).
I wish I could give this movie a better review but that wouldn't be fair.
Grade: C
Read More Bill & Ted Face the Music Reviews
For more reviews please visit our film/television review section.
Bill and Ted have gone virtual, dudes! Immerse yourself in the world of Bill & Ted Face the Musi...

It takes a most triumphant duo to unite the world! 🤘🎸 Get a behind-the-scenes look at the casting...

Take a tour through Death's crib in this all-new behind the scenes featurette and be sure to rea...
Watch the dudes reunite with Death in this exclusive clip.Be sure to check out our review of Bill &a...

Cast Keanu Reeves, Alex Winter, Samara Weaving, Brigette Lundy-Paine, William Sadler, director Dean...

The stakes are higher than ever for the time-traveling exploits of William "Bill" S. Preston Esq. an...
The stakes are higher than ever for the time-traveling exploits of William "Bill" S. Preston Esq. an...

It's time to save the world, dudes! Keanu Reeves and Alex Winter return in the all-new trailer for B...

Listen now on your favorite streaming service!...
SPONSORED LINKS