Bill & Ted Face the Music (2020)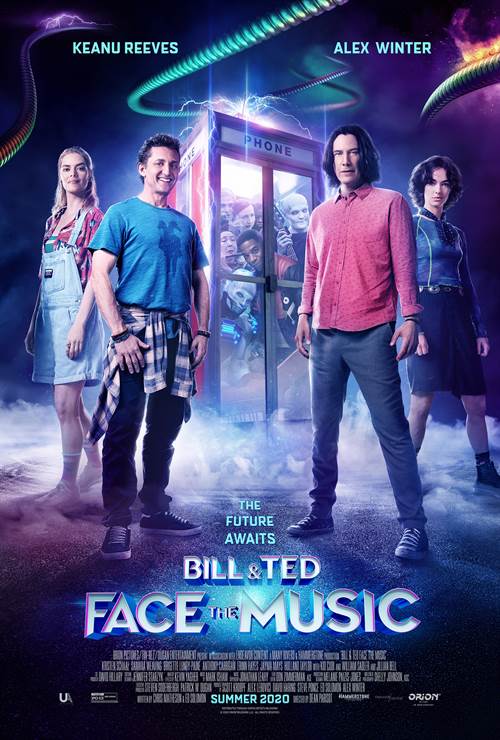 Share this:
| | |
| --- | --- |
| Director: | |
| Writers: | |
| Cast: | |
| Released: | Friday, August 28, 2020 |
| Length: | 92 minutes |
| Studio: | Orion Pictures |
| Genre: | Comedy, Sci-Fi/Fantasy |
| Rating: | Some material may be inappropriate for children under 13. |
Synopsis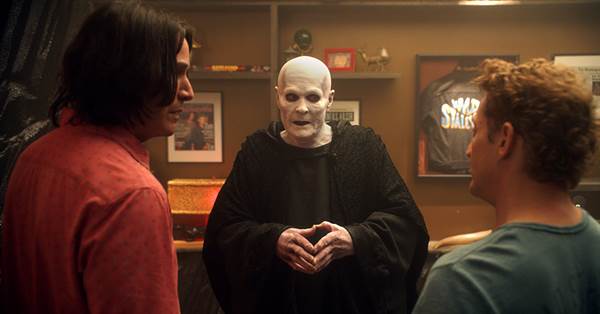 The stakes are higher than ever for the time-traveling exploits of William "Bill" S. Preston Esq. and Theodore "Ted" Logan. Yet to fulfill their rock and roll destiny, the now middle aged best friends set out on a new adventure when a visitor from the future warns them that only their song can save life as we know it. Along the way, they will be helped by their daughters, a new batch of historical figures, and a few music legends - to seek the song that will set their world right and bring harmony in the universe.

Purchase DVD/Blu-ray/4K UHD physical copy of Bill & Ted Face the Music today at Amazon.com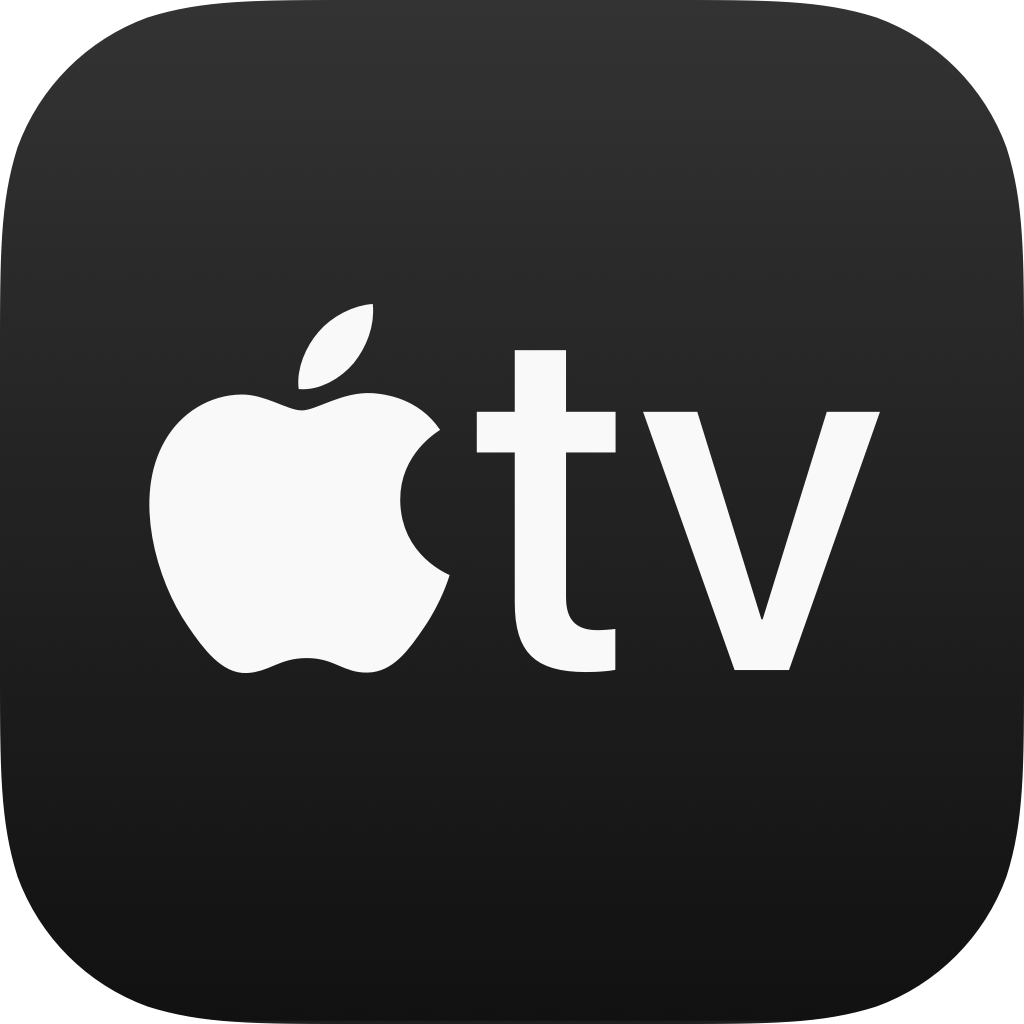 Download Bill & Ted Face the Music in Digital HD/4K from the iTunes store.
Listen to the Bill & Ted Face the Music soundtrack on Apple Music.
Bill & Ted Face the Music images are © Orion Pictures. All Rights Reserved.
Bill and Ted Face the Music to Be Released Both in Cinemas and O...
7/23/2020 2:53 PM EST
Due to the ongoing COVID-19 pandemic, many studios have had to face some unprecedented decisions (just like many others). In light of the issues that are still arising, Orion has decided to release "Bill & Ted Face the Music" in both cinemas as well as on-demand. The release date for both will be on September 1.While a theatrical release would normally be the big earner, these days things are quit...
More>>
Fans Can Party On With Bill and Ted for the Upcoming Face the Mu...
5/15/2020 10:53 AM EST
The producers of "Bill & Ted Face the Music" would like to invite you to take part in their film!Fans can head over to partyonwithbillandted.com , listen to the music demo, and create their very own video that would be featured in the film. Get creative with it and have the whole family join in! After creating your masterpiece, send it in by May 20.To get in on this most excellent opportunity, hea...
More>>
Bill & Ted Face the Music to Begin Production January 2019
6/7/2018 2:08 PM EST
Bill & Ted Face the Music, the third film in the Bill & Ted franchise, is slated to begin production on January 10th 2019 according to reports.Original Bill & Ted creators Chris Matheson and Ed Solomon penned the script, which will be directed by Dean Parisot.In the film, we will see the duo, now middle-aged and dealing with normal adult responsibilities, getting a visit from someone in the future...
More>>
Keanu Reeves and Alex Winter Confirmed to Reprise Roles for Bill...
5/8/2018 2:30 PM EST
The news that all Bill & Ted fans have been waiting to hear has finally come to fruition. It has been confirmed that Keanu Reeves and Alex Winter will be reprising their roles for a third film, Bill & Ted Face The Music."We couldn't be more excited to get the whole band back together again. Chris and Ed wrote an amazing script, and with Dean at the helm we've got a dream team!", said Reeves and Wi...
More>>
Bill & Ted's Reaper, William Sadler, Looking Forward to Face the...
2/19/2018 5:34 PM EST
Bill & Ted creator and writer Chris Matheson gave an interview recently and discussed where they are at with the third film in the franchise, Bill & Ted Face the Music. It appears that not only are fans excited about this prospect but actors from the franchise are as well.William Sadler, who played the Grim Reaper in Bill & Ted's Bogus Journey, took to Twitter to comment about the interview, sayin...
More>>
Bill & Ted 3 Script Confirmed by Keanu Reeves
10/6/2017 3:03 PM EST
While attending New York Comic-Con to promote the upcoming film "Replicas", Keanu Reeves confirmed that they are plugging away trying to get the next installment of "Bill & Ted 3" made."It's called Bill & Ted Face the Music. We're just trying to get it made," Reeves said. "Show business is tough. It's a cautionary tale." He also said that the film will feature the duo, who are now older and have f...
More>>
Bill & Ted's Third Adventure On Its Way!
3/6/2012 9:49 AM EST
The third "Bill & Ted" film is getting even closer to becoming a reality.  Both stars of the film, Alex Winter and Keanu Reeves, have confirmed that the script is done.Keanu was quoted as saying, "Yeah, we have a script. We're trying to put it together. It's a good script too." Meanwhile, Alex took to his twitter account to talk about it. " Script done? Check. -We love it? Check. -Green light? Wor...
More>>
Bill & Ted Face the Music Blu-ray Review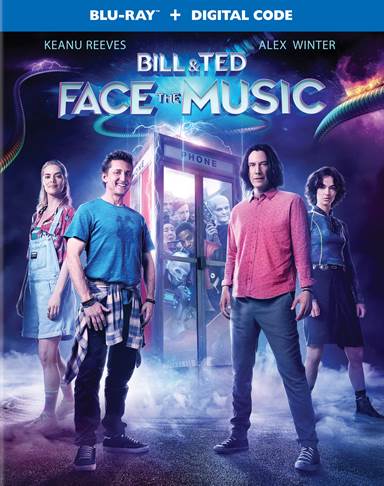 In the mid-1980s Comedians Chris Matheson and Ed Solomon started doing a stand-up routine in which they played two, bodacious dudes called Bill & Ted. The stand-up was such a hit that they went on to create a film in 1989 entitled Bill & Ted's Excellent Adventure, which both kids, teenagers, and teachers alike got behind.
The movie immediately shot William "Bill" S. Preston, Esquire (Alex Winter; The Lost Boys), and Theodore "Ted" Logan (Keanu Reeves; The Matrix) into everyday vernacular and even produced a sequel in 1991 entitled Bill & Ted's Bogus Journey. After the two films, everyone thought Bill & Ted were done, but this year, to help bring some joy to the world during the most tumultuous year in recent history comes a third installment of the popular franchise, Bill & Ted Face the Music.
Continuing the same plot story from the first and second films, Bill & Ted Face the Music starts out with those most excellent dudes still not fulfilling their destiny that they will save the world through their music. While everyone thought that the duo had succeeded in Bill & Ted Bogus Journey it looks like that was just a small blip on the map, and The Wyld Stallyns are still trying to create music that will unite the world (and save reality)
The movie starts off in the present-day (2020). Little Bill (Brigette Lundy-Pain; The Glass Castle) and Little Ted (Samara Weaving; Ready or Not) from Bogus Journey are now 20 something adults who act, sound, and have the same interests as their fathers, find their fathers very depressed that their music has not changed the world yet, while Bill and Ted's princess wives (Jayma Mays; Red Eye, Erinn Hayes; Childrens Hospital) are trying to cope with their husbands' depression. After the duo debut an interesting new song at Ted's younger brother's wedding, the future comes calling, begging them the make one last-ditch effort to unite the world through their music before the entire world ends, later on, that night.
And so starts Bill & Ted's journey to find the perfect song, while their daughters go back in history to find great musicians to fill their band (Death and The Stallyns have had a falling out since 1991). While both groups (joined later on by Bill and Ted's wives as well) travel back and forth through time as the day fades away while they try to save reality. Along the way, a robot named Dennis Caleb McCoy (Anthony Carrigan; Gotham) is sent back to kill the duo, and old friends from the first two films show up throughout the story.
The film as a whole is a story of two different journeys, Thea & Billie following in the same footsteps as their fathers by time traveling to "pick-up" famous figures of the past. While Bill and Ted are trying to come to terms with their age, success, marriages, and disagreements with old friends. Winter and Reeves fall right back into their old schtick and are as great as ever as Bill & Ted. This also holds true for Weaving and Lundy-Pain as they basically portray female, younger versions of the Big & Ted of the past that we fell in love with, and, while the princess are played by new actresses, they do not disappoint. However, as usual, Death (William Sadler; Die Hard 2) is the best part of the film. The entire film culminates in an ending that will put a smile on the face of even the most cynic fans.
While the film will never win an Oscar, it follows the same comedic beats set up by the first two movies, with the script written by the original creators Chris Matheson and Ed Solomon. The key element of all three films is humor that anyone at any age can enjoy with a heartwarming story about a pair of dudes that just want to do the right thing.
The music of the Bill & Ted films has always been a mixture of an amazing score along with some great alternative and rock music. While the second film's soundtrack will always remain my favorite there are three stand out songs on the new soundtrack, Lost In Time (Big Black Delta), That Which Binds Us Through Time: The Chemical, Physical And Biological Nature Of Love; An Exploration Of The Meaning Of Meaning, Part 1 (Wyld Stallyns), and Face the Music (Wyld Stallyns).
Bill & Ted Face the Music was originally planned as a late summer release before Covid-19 struck this year. After some deliberations behind the scenes, it was decided that the film would go "on-demand" on streaming services in August. With everyone depressed and declaring this year the worst on record, this film immediately lifted the spirits of its fans and gave them hope for the future. Succeeding in the goal set, these films have held true since the 1980s and deliver happiness. On a personal note, this film lifted me so much out of my doldrums I probably watched it close to 20-30 times after I purchased the VOD.
Now, this November, Bill & Ted Face The Music, is on a normal studio release cycle and is debuting on Blu-ray and DVD this week. The Blu-ray video is presented in 1080p with sharp images and attention to coloring. While this transfer is amazing by Warner Bros. Blu-ray standards, it is truly a disappointment that a 4K UHD was not released, as they did with the VOD release. The enhancement of 4K and HDR color enhancements do take the film to the next level. Both releases have very solid blacks, but with most of the sets being virtual it does take you out of the film from time to time. The audio is presented in a DTS-HD 5.1 Master Audio mix instead of the Dolby Atmos mix of the digital 4k version, and while the sound does not completely fill the room the way the Dolby Atmos track did, it does a very nice job, with close attention paid to the dialog as well as music and sound effects.
This release also comes with the same extras that the 4k UHD digital copy had which includes, The Official Bill & Ted Face The Music Panel at Comic-Con@Home, Be Excellent to Each Other featurette, A Most Triumphant Duo featurette, Social Piece (Excellence) featurette, and a tour of Death's Crib. While most of these special features are very short in length the Comic-Com@Home panel is about 45 minutes long, and gives new and old fans a great wealth of information on the series and the new film.
With 2020 still being a very tumultuous time for the world, this film certainly could have not come out at a better time. It provides a quick 92 minutes of joy that makes you forget all the troubles of the world and puts a smile on your face. If you do not own this film yet, please do yourself a favor and purchase it, your body's anxiety and stress levels will thank you.
Party On Dudes!
Grade: A
Read More Bill & Ted Face the Music Reviews
For more reviews please visit our film/television review section.
Bill and Ted have gone virtual, dudes! Immerse yourself in the world of Bill & Ted Face the Musi...

It takes a most triumphant duo to unite the world! 🤘🎸 Get a behind-the-scenes look at the casting...

Take a tour through Death's crib in this all-new behind the scenes featurette and be sure to rea...
Watch the dudes reunite with Death in this exclusive clip.Be sure to check out our review of Bill &a...

Cast Keanu Reeves, Alex Winter, Samara Weaving, Brigette Lundy-Paine, William Sadler, director Dean...

The stakes are higher than ever for the time-traveling exploits of William "Bill" S. Preston Esq. an...
The stakes are higher than ever for the time-traveling exploits of William "Bill" S. Preston Esq. an...

It's time to save the world, dudes! Keanu Reeves and Alex Winter return in the all-new trailer for B...

Listen now on your favorite streaming service!...
SPONSORED LINKS