12 Strong (2018)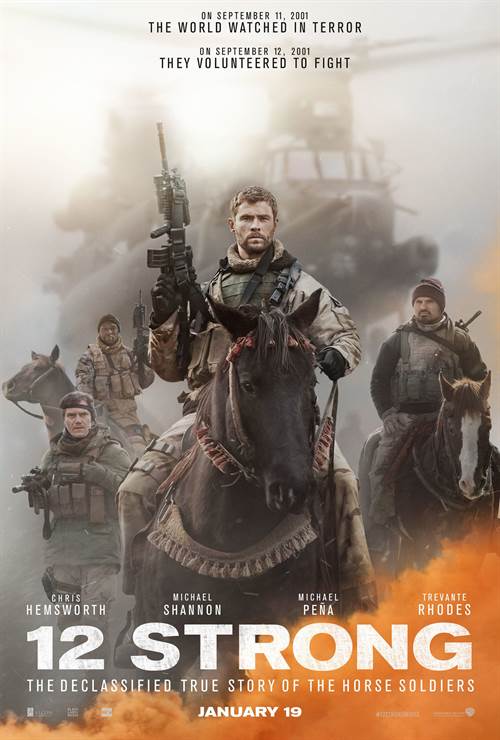 | | |
| --- | --- |
| Director: | |
| Writers: | |
| Cast: | |
| Released: | Friday, January 19, 2018 |
| Length: | 130 minutes |
| Studio: | Warner Bros. |
| Genre: | Action/Adventure |
| Rating: | Under 17 requires accompanying parent or adult guardian. |
12 Strong Synopsis
Chris Hemsworth ("Thor," "The Avengers" films) and Oscar nominee Michael Shannon ("Revolutionary Road," "Nocturnal Animals") star in "12 Strong," a powerful new war drama from Alcon Entertainment, Black Label Media, and Jerry Bruckheimer Films. Based on Doug Stanton's best-selling book, "Horse Soldiers," it is story of heroism based on true events that unfolded a world away in the aftermath of 9/11.

"12 Strong" is set in the harrowing days following 9/11 when a U.S. Special Forces team, led by their new Captain, Mitch Nelson (Chris Hemsworth), is chosen to be the first U.S. troops sent into Afghanistan for an extremely dangerous mission. There, in the rugged mountains, they must convince Northern Alliance General Dostum (Navid Negahban) to join forces with them to fight their common adversary: the Taliban and their Al Qaeda allies. In addition to overcoming mutual distrust and a vast cultural divide, the Americans—accustomed to state-of-the-art warfare—must adopt the rudimentary tactics of the Afghani horse soldiers. But despite their uneasy bond, the new allies face overwhelming odds: outnumbered and outgunned by a ruthless enemy that does not take prisoners.

Purchase DVD/Blu-ray/4K UHD physical copy of 12 Strong today at Amazon.com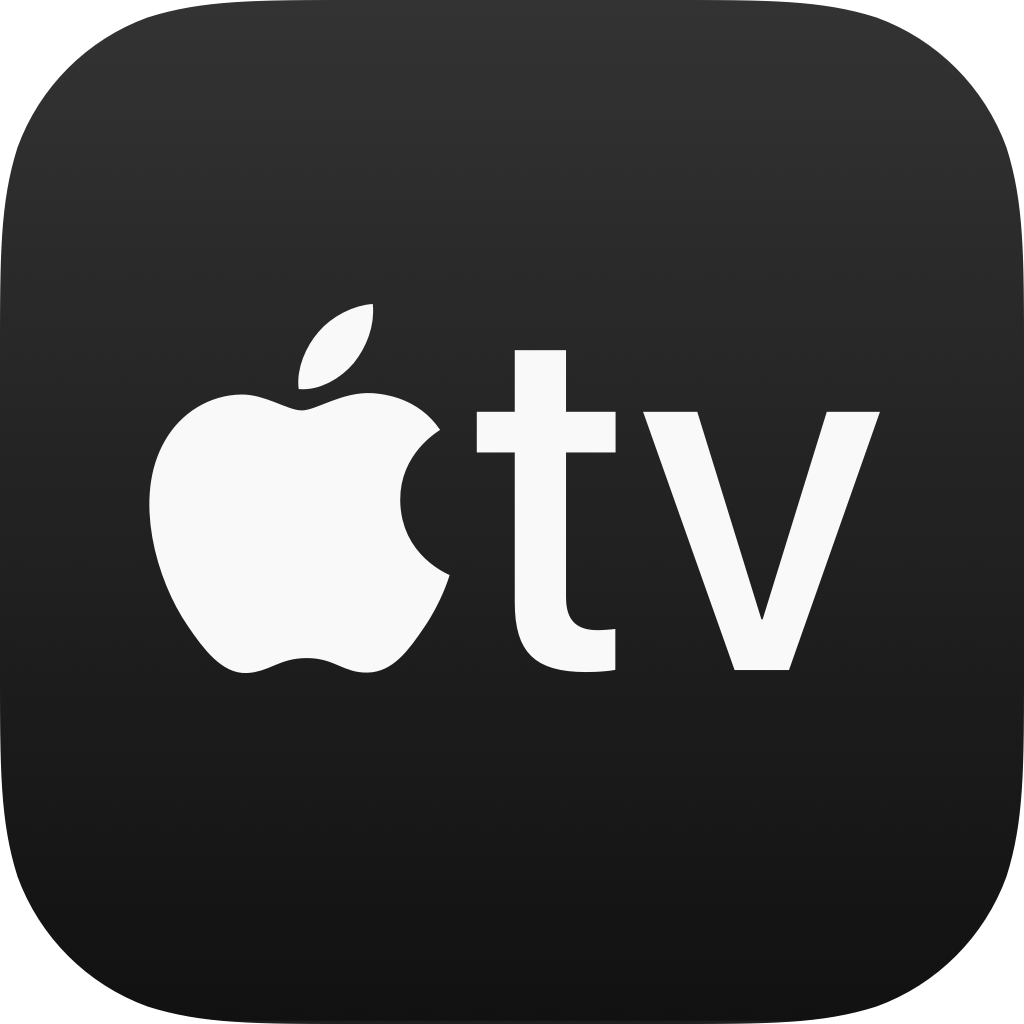 Stream 12 Strong in Digital HD/4K from the AppleTV store.
12 Strong images are © Warner Bros.. All Rights Reserved.
12 Strong Theatrical Review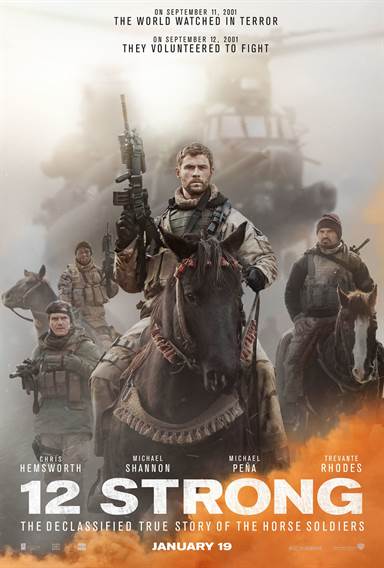 For those who were not alive when Pearl Harbor was attacked, the biggest terrorist attack ever on United States soil happened on September 11, 2001. The Taliban targeted major buildings in the Northeast setting off a wave of panic and patriotism across this country. Of course, this also set our military into action and, unbeknownst to most of us a group of 12 men led an "army" in Afghanistan to defeat the Taliban in an effort to stave off future attacks. Based on true events, 12 Strong tells their story.

Mitch Nelson (Chris Hemsworth; Thor: Ragnarok) is a captain who had just been relegated to a desk job, at his own request. However, on9/11 he decided he wanted "back in" and wants to put his team together and lead an initiative in the Middle East. After some reluctance, he commanding officer agrees and he and his team find themselves on the way to the Afghan border. They are one of five teams waiting for orders regarding what to do next. When Nelson and his team are chosen to go in first they are dropped behind enemy lines with instructions to meet a Warlord named General Dostum (Navid Neghaban; Homeland).

Once they meet up with Dostum they are tasked with using him and his "soldiers" to strategically attack the Taliban in an effort to retake control of the City of Mazar-e Sharif. Nelson, who has never seen actual combat before must gain Dostum's trust and lead this group of untrained men through the mountains and desert armed only with guns and horses and aerial strikes to clear their path. Adding to the tension, Nelson must get Dostum to Mazar-e Sharif before the other warlords of the "Northern Alliance" to solidify his position of power. Amazingly, against incredible odds, Nelson and his team of 11 soldiers manage to take Mazar-e Sharif in only 3 weeks.

Hemsworth is an interesting choice for Nelson but I'm not sure the best one. He is a "pretty boy" with a commanding presence but he lacks some of the acting chops that would have made Nelson more multidimensional. In one particular scene, after his first real taste of combat, Hemsworth shows signs of internal conflict about killing but the angst doesn't quite come across his face. Michael Shannon (Nocturnal Animals), however, as Nelson's chief is amazing. While his dialogue isn't always plentiful his facial expressions speak volumes. Michael Pena is also very good doing what he does best – providing comic relief much of the time.

Director Nicolai Fuglsig (Exfil) does a wonderful job of bringing the war in the Middle East to life. To his credit, he uses very little of the "shaky cam" effect that I typically find rather annoying. His close-ups are poignant and the sweeping vistas of the desert are isolating and magnificent all at the same time. There were only a couple of times I thought the scenery looked fake and only once did I think a battle scene when on too long.

When I first heard about this movie I thought, "Oh another war movie" but this one sets itself apart in a few ways. One is set in the desert of the Middle East, it shows that these soldiers had to be trained in a different way than f they were fighting in a forest. Two, unlike other war films, Nelson and his men seem to be excited and eager to start their mission. This is in stark contrast to movies where young men are nervous and scared to head into battle. This mentality gave me a different view of these brave men and their thought processes (one I will admit I found to be crazy and off "kilter").

12 Strong kept my attention and gave me new insight into what our military was involved in overseas after 9/11. While some will say it "glamorizes" war, it is nonetheless entertaining and informative.

Grade: B-
For more reviews please visit our film/television review section.
SPONSORED LINKS