Deadpool 2 4K Ultra HD Review
By Allison Skornick-Rose,
Aug 21, 2018 09:54 AM EST
If the first Deadpool movie was funny and shocking the second is even more so with raunchier jokes and gags throughout.  The script may not be as good as the original but it is still an enjoyable way to spend a few hours.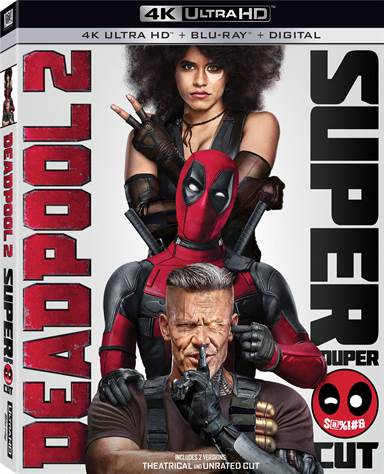 Whether you love him or you hate him…he doesn't really care. He's the Merc with a mouth, the Frozen to your Yentl, the X - Force to your X-Men, the.. well you get the picture. Or do you need me to draw you one? After the incredible worldwide success of
Deadpool
in 2016, you knew it was inevitable that there would be a sequel and we got it in May of 2018. Of course, three months later it's time for the 4k Blu-ray combo pack to make its debut and like everything
Deadpool
, it's supercharged and extra large.
Deadpool 2 - The Super Duper Cut
offers not only extras but 15 extra minutes that weren't in the original theatrical release.
Wade Wilson/Deadpool (Ryan Reynolds; Green Lantern…just kidding - Buried) has really grown into his own as a mercenary in this second installment of what will hopefully be at least a trilogy. As the film opens he is traveling the world killing bad guys for money. However, back home in the United States, he makes a fatal error and the bad guy gets away. This leads to (spoiler alert) Vanessa's (Morena Baccarin; Gotham) death. Thrown into depression and despair, Wade tries every imaginable way to kill himself. Sadly, when nothing works he reluctantly joins the X-Men…trainee program.
That is where he meets the unfortunately named Russell/FireFist (Julian Dennison; Hunt for the Wilderpeople). Russell is a 14-year-old boy who tries to kill the headmaster of the mutant home he lives in because he is being abused by the staff and headmaster. Wade tries to save Russell but they both end up in jail. While there Cable (Josh Brolin; No Country for Old Men) comes to kill Russell before he can become angry and destructive. and wreck havoc in the future. When a turn of events has Deadpool and Cable teaming up, Deadpool convinces Cable to give him 30 seconds to try and stop Russell and save his life.
One would think that Ryan Reynolds would be skeptical to take on another superhero after the less than stellar performance of The Green Lantern but Deadpool is a part he was meant to play. Sarcastic and snarky, Reynolds nails each line giving both films their hilarious undertones. Brolin is well suited to the role of Cable. He is serious and brooding and is a stark contrast to the rest of the humorous laden cast. Dennison is good as the teenager on a rampage and the supporting cast just make the film flow seamlessly with hilarious one-liners throughout.
Twentieth Century Fox Home Entertainment went all out on this combo pack giving fans four different discs and a plethora of extras. Besides the digital code, there is the Blu-ray disc, the extended version lu-ray disc, the 4k version and the 4k extended version with 15 more minutes of footage to enjoy. The 4k discs are 2160p video quality and the upgrade really pays off as you can see every minute detail in sharp clarity. From the fuzz on Wade's sweater to the scars on Cable's face every item can be seen clearly. The Dolby Atmos audio is an excellent complement to the superior video quality. From the eclectic soundtrack and the sound effects to the numerous and fast-paced dialogue, the audio is clean and crisp and envelopes the viewer for a fuller experience. There are also numerous extras to sit through with over an hour of hilarious bits and pieces including made-up trailers and teasers and behind the scenes footage. If I have one complaint about the extended cut it's that they replaced the A-ha classic song Take On Me with some other melodramatic tune.
If the first Deadpool movie was funny and shocking the second is even more so with raunchier jokes and gags throughout. The script may not be as good as the original but it is still an enjoyable way to spend a few hours. For fans, this combo pack is a must have as the extended scenes are woven seamlessly throughout the movie and the extras are worth watching more than once.
Grade: A-
Purchase your copy of Deadpool 2 today at
Download Deadpool 2 from the iTunes Store in Digial HD.
MPAA Rating:
R
Running Time:
119 minutes
Distributed By:
20th Century Fox
For more information about Deadpool 2 visit the FlickDirect Movie Database.
Read More Reviews For Deadpool 2
About Allison Skornick-Rose