Zack and Miri Make A Porno Theatrical Review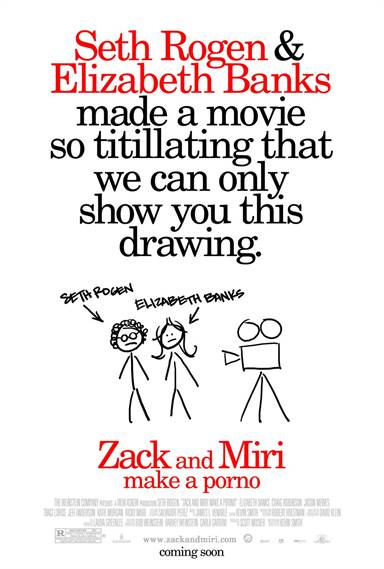 Kevin Smith, one the most creative comedic directors of modern cinema, is at it again with his latest film, "Zack and Miri Make A Porno" -- the story of two friends (Seth Rogan and Elizabeth Banks) who get into the amateur porn business to combat their rising debt, only to realize their underlying feelings for each other while doing so.

While there had been much controversy surrounding the film before its release on October 31, 2008, (some cities banning the movie poster because the word porno was being used), Kevin Smith and the cast and crew of "Zack and Miri Make a Porno" make a movie that works on every level possible.

While normally not a huge fan of Seth Rogan (Zack) or his type of humor, Kevin Smith expertly crafted the role of Zack for him; and he made it work perfectly, from the obnoxious humorous lines, to the underlying caring facade that really defines his character. While not the first choice to play Miri, Elizabeth Banks pulls of her roll perfectly and will definitely be an actress that audiences will see for quite some time lighting up the screen.

Aside from the great casting of the two headliners, the film also boasts the usual Kevin Smith actors such as Jason Mewes, Jeff Anderson, and the new Kevin Smith film actors, Traci Lords, Justin Long, Brandon Routh, Tom Savini, Anne Wade, Ricky Mabe, and Craig Robinson. Every actor was perfectly cast and performed their roles flawlessly.

If you are expecting a comedy with no substance, then this movie is probably not for you; but if you love Kevin Smith and are a fan of his craft to create a very entertaining yet meaningful story, then "Zack and Miri Make a Porno" is the perfect movie for you.

I look forward to the next Kevin Smith, View Askew production and hope it will not be too long in the making.
Purchase your copy of Zack and Miri Make A Porno today at
Download Zack and Miri Make A Porno from the iTunes Store in Digial HD.
About Nathan M Rose
comments powered by

Disqus
Today's iTunes Digital HD Deals