Terminator Salvation Theatrical Review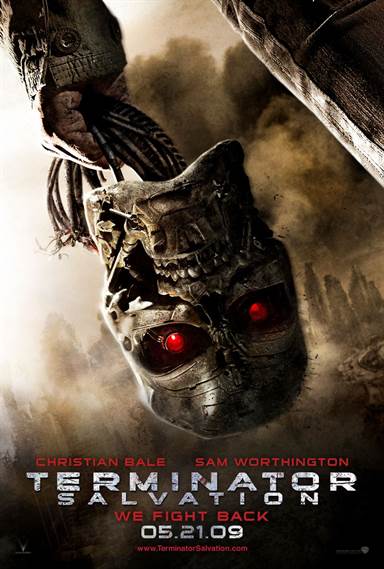 Since 1984, the Terminator franchise has teased us about the war in the future, the war after Judgment Day. Now in 2009, McG and Warner Bros bring that war to light with Terminator: Salvation – where adult John Connor (played by Christian Bale) attempts to organize a human resistance force which could prove to be humankind's last true hope for survival in the war against their intelligent robot overlords.
Is this on par with
Terminator
or
Terminator 2 Judgment Day
? Absolutely not. However given the absence of the series lead (aside from a small cameo), McG created a film set in post apolocalyptic terminator world the best he could -- he achieved this with a few great elements.
The first element is the cast. Instead of settling for "average" or just "above average" actors, McG set out to get the best he could. Christian Bale is perfect as the grown up John Connor, and Sam Worthington makes the absence of
Arnold Schwarzenegger
a little better. The rest of the supporting cast, Moon Bloodgood, Common, Helena Boham Carter, Bryce Dallas Howard, and Michael Ironside help flesh out the world beautifully.
The second element (and in my opinion the one that helped the movie the most) is that McG remembered what made the series the way it is today. McG, like a good student, studied Jim Cameron's work, and made sure that he did everything possible to pay tribute and also follow the story of the first two films (unlike a certain director did in Terminator 3).
Finally McG added a great style to Terminator Salvation. Aside from the great action scenes, and "Road Warrior" typesetting, McG let these great actors give their best performances they could; in fact, things were so tense on set at times they led to certain…flair ups that will remain unnamed. If you are really interested just google Christian Bale Terminator Salvation Blow Up.
After
Terminator 3
, it seemed all hope was lost for the Terminator franchise, and no one except Jim Cameron himself could save it. Luckily McG has a lot of passion and studied Jim's work to at least make a film worthy of being part of the Terminator saga.
Continued below is just a small list of some of the great nods that McG gives to the original films.
Nods to the
James Cameron
Terminator films:
Title Credits at the beginning
Ghetto blaster blaring You Could Be Mine by Guns 'N Roses
Factory setting and certain camera angels in final climatic battle
"No Fate But What We Make" phrase
Arnold inside the "terminator factory"
"I'll Be Back" Catch Phrase
"Come With Me If You Want To Live" catch phrase
18 Wheeler Action Scene
Heating then cooling of a terminator
Terminator factory from Terminator 2: Judgement Day trailer
John Connor's scars scene in the beginning future battle of Terminator 2: Judgment Day
Motorcycle jumping off over-ramp
Reese flipping a shotgun
Reese learning how to attach a sawed off shotgun to his arm
Purchase your copy of Terminator Salvation today at
Download Terminator Salvation from the iTunes Store in Digial HD.
About Nathan M Rose
comments powered by

Disqus
Today's iTunes Digital HD Deals