Terminator Salvation (2009)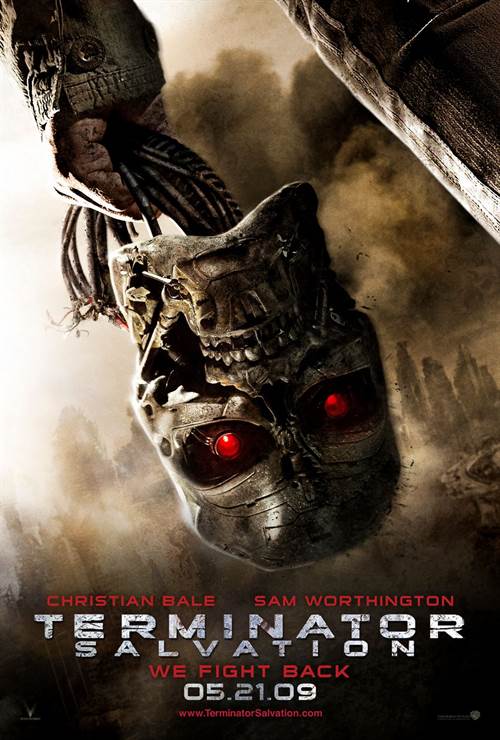 | | |
| --- | --- |
| Director: | |
| Writers: | |
| Cast: | |
| Released: | Thursday, May 21, 2009 |
| Length: | 130 minutes |
| Studio: | Warner Bros. |
| Genre: | Sci-Fi/Fantasy, Action/Adventure |
| Rating: | Some material may be inappropriate for children under 13. |
Terminator Salvation Synopsis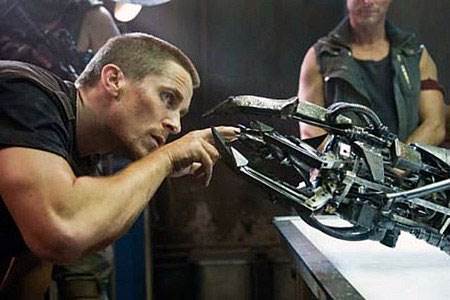 In the fourth installment of the Terminator series, Christian Bale stars as John Connor, the eventual leader of mankind's fight againts the machines. The setting is 2018, focusing on the war between the humans and the computer network Skynet. Anton Yelchin co-stars as soldier Kyle Reese, and Sam Worthington appears as new terminator Marcus Wright.

Purchase DVD/Blu-ray/4K UHD physical copy of Terminator Salvation today at Amazon.com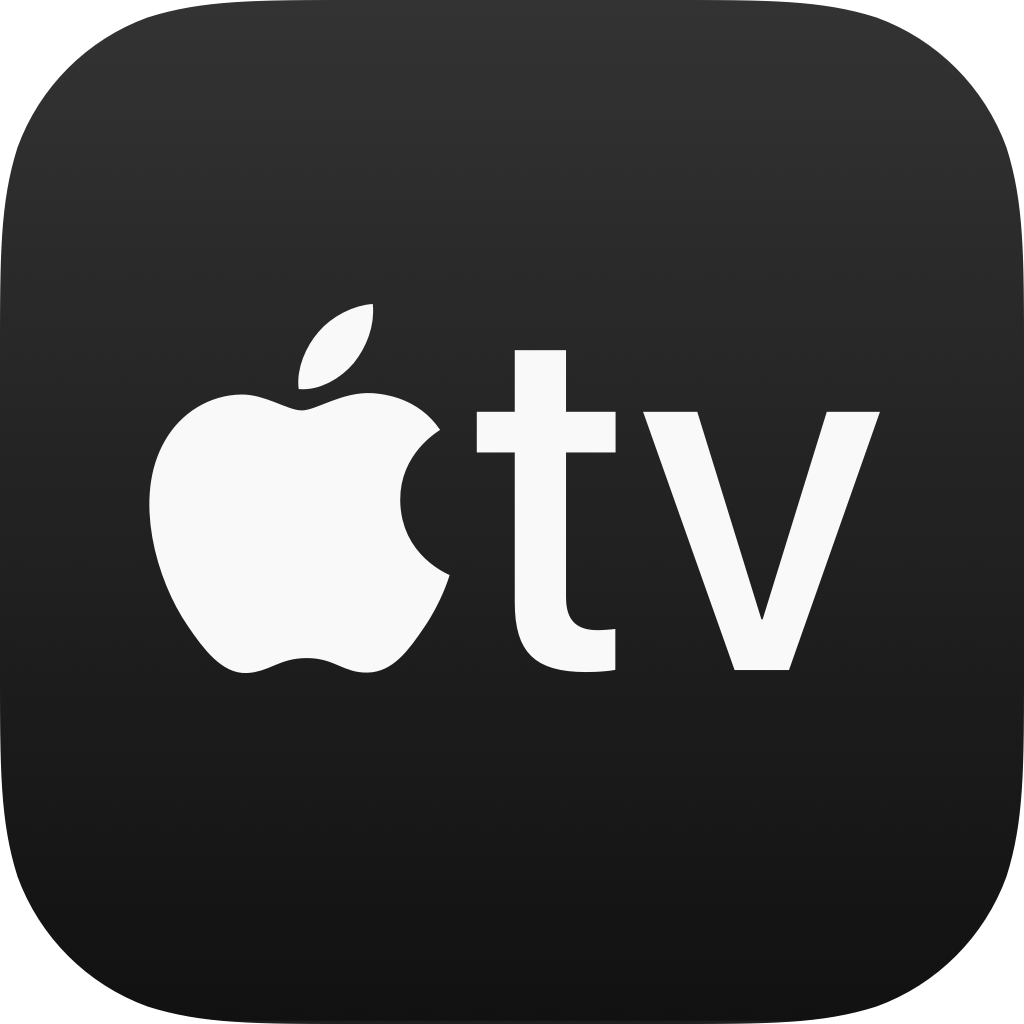 Stream Terminator Salvation in Digital HD/4K from the AppleTV store.
Listen to the Terminator Salvation soundtrack on Apple Music.
Terminator Salvation images are © Warner Bros.. All Rights Reserved.
30th Anniversary Terminator 2 Judgement Day 4K Release Coming in...
10/6/2021 4:32 PM EST
To commemorate the 30th anniversary of "Terminator 2: Judgement Day", Lionsgate is releasing the film on 4K Ultra HD™ Steelbook, exclusively at Best Buy. The set will hit shelves on November 23.The film is set 10 years after the events of the original film, "Terminator". Sarah Connor's ordeal is only just beginning as she struggles to protect her son, John - the future leader of the human resistan...
More>>
Terminator Anime Series in the Works for Netflix
2/26/2021 4:32 PM EST
It's been reported that Netflix has ordered a "terminator" anime series. The project is said to still be in the early stages of development."'Terminator' is one of the most iconic sci-fi stories ever created-and has only grown more relevant to our world over time. The new animated series will explore this universe in a way that has never been done before. We can't wait for fans to experience this ...
More>>
L.A. Premier of Terminator Dark Fate Canceled Due to Wildfires
10/28/2019 3:29 PM EST
The premiere of tonight's "Terminator: Dark Fate" in Losa Angels has been canceled due to the brush fires that have broken out in the area.A spokesperson for Paramount said, "In light of the ongoing, active fires being battled in the area, Paramount Pictures and Skydance have canceled tonight's Los Angeles premiere of 'Terminator: Dark Fate". We will be donating food intended for the after-party t...
More>>
Edward Furlong to Return as John Connor in Terminator Dark Fate
7/18/2019 4:12 PM EST
The "Terminator: Dark Fate" panel was held at Comic-Con today in Hall H and was packed with plenty of news.First off, we learned that Edward Furlong will be back to reprise his role as John Connor. Furlong played the character in 1991's "Terminator 2: Judgment Day" and has since been off the radar after struggling with addiction. The announcement was made by producer James Cameron, who was live vi...
More>>
Cast of Terminator: Dark Fate to Receive CinemaCon's Ensemble Award
3/28/2019 2:19 PM EST
Mitch Neuhauser, Managing Director of CinemaCon, has announced that the cast of Terminator: Dark Fate, Linda Hamilton, Natalia Reyes, Mackenzie Davis, and Gabriel Luna, will receive this year's "CinemaCon® Ensemble Award." The will be presented with the award at CinemaCon on Thursday, April 4."With a cast that includes many familiar faces as well as talented newcomers, the next chapter of this blo...
More>>
Linda Hamilton to Reprise Terminator Role for New Trilogy
9/20/2017 10:17 AM EST
It has been announced that Linda Hamilton, Arnold Schwarzenegger, and James Cameron will all be reunited for more Terminator films; a trilogy, in fact. Hamilton appeared in the original Terminator film as well as Terminator 2: Judgment Day."As meaningful as she was to gender and action stars everywhere back then, it's going to make a huge statement to have that seasoned warrior that she's become r...
More>>
More Terminator Films Expected In Future After Some "Readjustments"
10/7/2015 2:18 PM EST
Terminator:Genysis didn't fare as well as expected, but that doesn't mean we won't be seeing more films for the franchise. However, don't expect them to be released any time soon.Dana Goldberg, Skydance Media's chief creative officer, recently spoke at The Wrap's 6th Annual Media Leadership Conference TheGrill, about the franchise's future."I wouldn't say on hold, so much as re-adjusting", said Go...
More>>
Know Your Terminators Before You Go See Terminator Genisys
6/19/2015 12:59 PM EST
Terminator fans, It's time once again to brush off your best Arnie impersonation in anticipation of the latest release in the Series TERMINATOR: GENYSIS. Coming to Theaters in time for the Fourth of July Holiday weekend, TERMINATOR:GENYSIS once again starts Arnold Schwarzenegger alide Jason Clarke and Emilia Clarke in a battle to save the Human race.  To help you impress your friends and win every...
More>>
The Terminator Takes Over Waze Navigation
6/15/2015 1:49 PM EST
HOLLYWOOD, CA (June 15, 2015) - To celebrate the release of the highly anticipated film "TERMINATOR GENISYS," Paramount Pictures, Skydance Productions, Arnold Schwarzenegger and Waze (www.waze.com), have teamed up to give drivers around the world the ultimate voice navigation machine: Arnold Schwarzenegger as the 'Guardian' Terminator from "TERMINATOR GENISYS."Starting today, users of the world's ...
More>>
Schwarzenegger to Star in Terminator 6
2/25/2015 2:14 PM EST
Terminator Genisys will be released this summer, bringing about a new trilogy for the franchise. Arnold Schwarzenegger will be reprising his role for this year's film, but many wondered if he would make it into the other two. But the Terminator himself has now squashed any further doubt. When asked if he would be filming for Terminator 6, the actor answered, "Yes, of course, next year".  Great new...
More>>
Arnold Schwarzenegger Reveals Latest Terminator Film Title
8/6/2014 3:19 PM EST
Arnold Schwarzenegger has revealed, via Instagram, the title of the latest film in the "Terminator" franchise. Schwarzenegger is sitting in the picture, with the words "Terminator Genisys" emblazoned on the back of his chair. Check out the full pic here.In the post, Schwarzenegger thanked the cast and crew and said it was a "fantastic shoot. It was challenging, it was fun, and it was rewarding."Th...
More>>
Arnold Schwarzenegger On Terminator Genesis Film
3/18/2014 9:49 AM EST
Arnold Schwarzenegger recently spoke about his upcoming film, "Terminator Genesis"; something he has been a bit tight lipped about.  "The way it reads, it has the same feel of Terminator 2. It's big. There's hardcore action and it has some really great visual effects in there, but not over the top. It's not a Thor type of movie, even though it's the same director. It has good special effects, but ...
More>>
Terminator Salvation Theatrical Review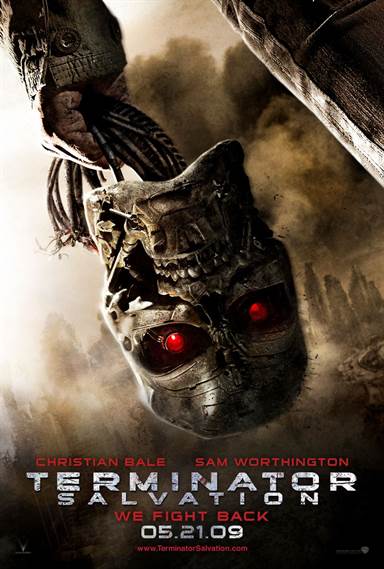 Since 1984, the Terminator franchise has teased us about the war in the future, the war after Judgment Day. Now in 2009, McG and Warner Bros bring that war to light with Terminator: Salvation – where adult John Connor (played by Christian Bale) attempts to organize a human resistance force which could prove to be humankind's last true hope for survival in the war against their intelligent robot overlords.
Is this on par with
Terminator
or
Terminator 2 Judgment Day
? Absolutely not. However given the absence of the series lead (aside from a small cameo), McG created a film set in post apolocalyptic terminator world the best he could -- he achieved this with a few great elements.
The first element is the cast. Instead of settling for "average" or just "above average" actors, McG set out to get the best he could. Christian Bale is perfect as the grown up John Connor, and Sam Worthington makes the absence of
Arnold Schwarzenegger
a little better. The rest of the supporting cast, Moon Bloodgood, Common, Helena Boham Carter, Bryce Dallas Howard, and Michael Ironside help flesh out the world beautifully.
The second element (and in my opinion the one that helped the movie the most) is that McG remembered what made the series the way it is today. McG, like a good student, studied Jim Cameron's work, and made sure that he did everything possible to pay tribute and also follow the story of the first two films (unlike a certain director did in Terminator 3).
Finally McG added a great style to Terminator Salvation. Aside from the great action scenes, and "Road Warrior" typesetting, McG let these great actors give their best performances they could; in fact, things were so tense on set at times they led to certain…flair ups that will remain unnamed. If you are really interested just google Christian Bale Terminator Salvation Blow Up.
After
Terminator 3
, it seemed all hope was lost for the Terminator franchise, and no one except Jim Cameron himself could save it. Luckily McG has a lot of passion and studied Jim's work to at least make a film worthy of being part of the Terminator saga.
Continued below is just a small list of some of the great nods that McG gives to the original films.
Nods to the
James Cameron
Terminator films:
Title Credits at the beginning
Ghetto blaster blaring You Could Be Mine by Guns 'N Roses
Factory setting and certain camera angels in final climatic battle
"No Fate But What We Make" phrase
Arnold inside the "terminator factory"
"I'll Be Back" Catch Phrase
"Come With Me If You Want To Live" catch phrase
18 Wheeler Action Scene
Heating then cooling of a terminator
Terminator factory from Terminator 2: Judgement Day trailer
John Connor's scars scene in the beginning future battle of Terminator 2: Judgment Day
Motorcycle jumping off over-ramp
Reese flipping a shotgun
Reese learning how to attach a sawed off shotgun to his arm
For more reviews please visit our film/television review section.
SPONSORED LINKS