Fifty Shades Freed Theatrical Review
Let's face it, the Fifty Shades franchise is nothing that will win any awards nor be remembered for its great acting or dialogue but fans of the books who have been faithful to the films will walk away feeling satisfied nonetheless.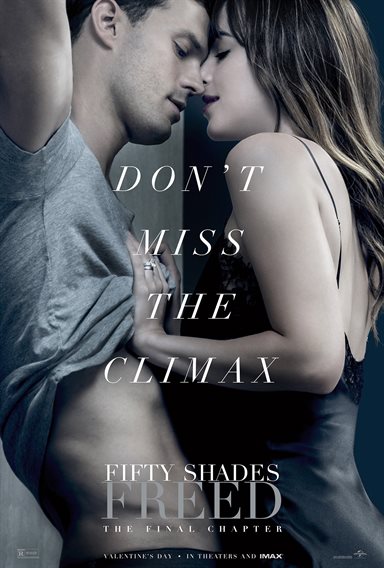 What started out as Twilight fan fiction has become an international phenomenon that has taken on a life of its own. In 2011, E.L. James' little BDSM story got published worldwide and the term "soccer mom porn" was born. The tale of the shy college student, Anastasia Steele (Dakota Johnson; The Social Network) who meets the billionaire, 20 something businessman with particular tastes in the bedroom, Christian Grey (Jamie Dornan; Anthropoid), sparked a frenzy of erotica among 30 and 40 something women creating an uptick in handcuffs, I'm sure. In 2015, the three book series got the movie adaptation treatment and the trilogy of films was born culminating this month with Fifty Shades Freed.

As we pick up the saga, Christian and Ana have traversed the perils of his ex-submissive Leila (Bella Heathcote; Pride and Prejudice and Zombies) and her ex-boss Jack Hyde (Eric Johnson; Smallville), and the film opens with their highly anticipated wedding (fashion note: I'm sure we will be seeing copies of Ana's lovely, off the shoulder, lace wedding dress in bridal stores any day now). Unfortunately, an arson attempt in the computer server room at Grey Enterprises cuts their honeymoon short and they suddenly find themselves back in harm's way.

It seems Jack Hyde has not gone away quietly and he is back with a vengeance, hell-bent on destroying Christian and Ana Grey. Meanwhile, the newlyweds must navigate this newfound status in their relationship with compromises and adjustments needing to be made on both sides. However, the transition seems a little tougher for Ana as she is not used to the wealth and power her new last name wields. Of course, there is also plenty of sexy scenes to go around, some of which are more intimate and erotic than in the previous films and I couldn't' help but sit there wondering what the nature of the relationship between these two actors is really like.

Let's face it, Johnson carries these films with Dornan appearing as window dressing. We can certainly see the evolution of her character and acting over the three films but that in no ways elevates her to the level of Academy Award winners. Dornan is average but he has been throughout the series. His physical appearance doesn't hurt though, and there are some steamy scenes between these two that would make almost anyone hot and bothered. The supporting cast are all fine but no one stands out in any discernable way, either good or bad.

The scenery is as much to behold as the actors themselves with shots throughout Europe, Aspen, and the Northeastern United States. Director James Foley (House of Cards) does a good job of showcasing these picturesque locations making all of us in the audience jealous of Mr. and Mrs. Grey. He also manages to wrap up the three films nicely with some flashbacks of previous moments that flow seamlessly with the current ones. This is one instance that we can clearly see the evolution of Anastasia Steele while putting a neat bow on the trilogy. Fans most definitely won't be disappointed or left feeling let down with this ending.

Let's face it, the franchise is nothing that will win any awards nor be remembered for its great acting or dialogue but fans of the books who have been faithful to the films will walk away feeling satisfied nonetheless. We can say goodbye to these two characters and their unique (yet somewhat unoriginal) relationship and feel fulfilled. This pure fantasy is a guilty pleasure, which has hopefully sparked some amorous adventures between the sheets for more than one marriage and though we aren't necessarily sorry to see it go, there will be those who will miss it.

Grade: C

Purchase your copy of Fifty Shades Freed today at
Download Fifty Shades Freed from the iTunes Store in Digial HD.
MPAA Rating:
R
Running Time:
105 minutes
Distributed By:
Universal Pictures
For more information about Fifty Shades Freed visit the FlickDirect Movie Database.
Read More Reviews For Fifty Shades Freed
About Allison Skornick-Rose