Immortals Theatrical Review
By
Eric English
,
Nov 11, 2011 10:40 PM EST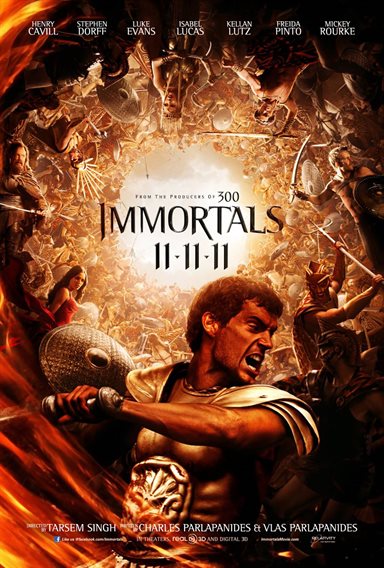 For the new film Immortals directed by Tarsem Singh, looks are everything. A movie can have a lousy screenplay and uninteresting characters, but as long as the costumes are immaculate and the production design superb, then little else matters. Immortals attempts at having as much machismo as 300 but comes up quite short and has about as much mythology as The Clash of the Titans. After films like The Cell and The Fall, Tarsem clearly enjoys creating films with stunning visual but offering little else. This take on tale of Theseus, King Hyperion, and the battle between the Gods of Olympus and the long exiled Titans is no different. It has more than enough material for the director to take liberty with but all the stuff in the middle however, is mindless noise.

After witnessing his mother's murder at the hands of King Hyperion (Mickey Rourke), Theseus (Henry Cavill) vows to destroy the cruel monarch. Little does he know that the angry tyrant is planning on finding the legendary Epirus Bow, a weapon that can unleash the legendary Titans from their underground prisons. The purpose of this is to bring about the end of mankind and defeat Gods such as Zeus (Luke Evans) once and for all. Hyperion raids a local monastery to find the virgin oracle Phaedra (Freida Pinto) who knows of the item's location. He eventually captures Theseus as well. With the help of our hero and a thief named Stavros (Stephen Dorff), the seer escapes. She informs Theseus of his destiny and he becomes determined to prevent Hyperion from retrieving the weapon. He also will not rest until the villain is dead.

If movies can be judged on certain sections, at least part of Immortals is squeal-worthy action. Whenever swords clash, whenever our actors duke it out in incredible slow-motion mayhem, the experience is mesmerizing. Borrowing heavily from the more recent film and TV type of slaughter (lots of CG blood spray and body damage) but also avoiding the light-speed editing that turns fighting into an unwatchable frenzy, Tarsem wows us with his style. From Theseus' failed attempt to save his mother to the last act battle between the Titans and the Gods, the spectacle is beyond belief. It's great. We want more of it and are glad for a last minute hint at the possible heavenly histrionics to come.

But then the actors start speaking and Immortals loses all of its momentum, between a mishmash of bad accents, weird line readings, weak dialogue, and even more mundane emotions it is impossible for any audience member to become fully engrossed. We never once care about Theseus, the beautiful prophetic priestess, or the bloodthirsty nemesis known as Hyperion. Their motives are meaningless, reduced to empty shells in a plot that is simply moving us along to the next hyperactive beat down. While they all look the part, the actors are given nothing to do except be imagery and while it's easy to blame the script, it's actually more of a question of context. Had the director found a way to get us invested in this young man's particular quest, we would follow Immortals anywhere, it just looks that good. Unfortunately, such substance never arrives.

Perhaps a better way to say it is this: Tarsem is fantastic at creating eye-candy, great in fact. Sadly, the kind of texture he's interested in come from bright flashy colors and just wind up rubbing the mainstream movie audience member the wrong way. On the outside, Immortals is something to behold. On the inside, however, everything is dry and dull.


Purchase a DVD/Blu-ray/4K UHD physical copy of Immortals today at Amazon.com
MPAA Rating:
R
Running Time:
110 minutes
Distributed By:
Relativity Media
For more information about Immortals visit the FlickDirect Movie Database.
Read More Reviews For Immortals
About Eric English