Tenet (2020)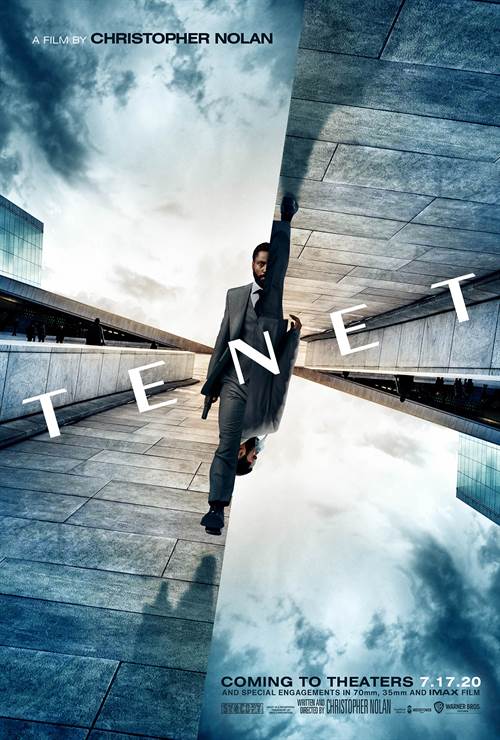 | | |
| --- | --- |
| Director: | |
| Writers: | |
| Cast: | |
| Released: | Thursday, September 3, 2020 |
| Length: | 150 minutes |
| Studio: | Warner Bros. |
| Genre: | Action/Adventure |
| Rating: | Some material may be inappropriate for children under 13. |
Tenet Synopsis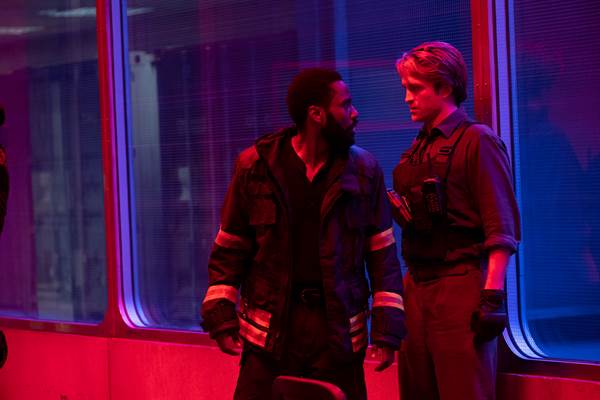 John David Washington is the new Protagonist in Christopher Nolan's original sci-fi action spectacle "Tenet."
Armed with only one word—Tenet—and fighting for the survival of the entire world, the Protagonist journeys through a twilight world of international espionage on a mission that will unfold in something beyond real-time.
Not time travel. Inversion.
The international cast of "Tenet" also includes Robert Pattinson, Elizabeth Debicki, Dimple Kapadia, Aaron Taylor-Johnson, Clémence Poésy, with Michael Caine and Kenneth Branagh.
Nolan wrote and directed the film, utilizing a mixture of IMAX® and 70mm film to bring the story to the screen. "Tenet" is produced by Emma Thomas and Nolan. Thomas Hayslip served as executive producer.
Nolan's behind-the-scenes creative team included director of photography Hoyte van Hoytema, production designer Nathan Crowley, editor Jennifer Lame, costume designer Jeffrey Kurland, visual effects supervisor Andrew Jackson, and special effects supervisor Scott Fisher. The score is composed by Ludwig Göransson.
"Tenet" was filmed on location across seven countries.

Purchase DVD/Blu-ray/4K UHD physical copy of Tenet today at Amazon.com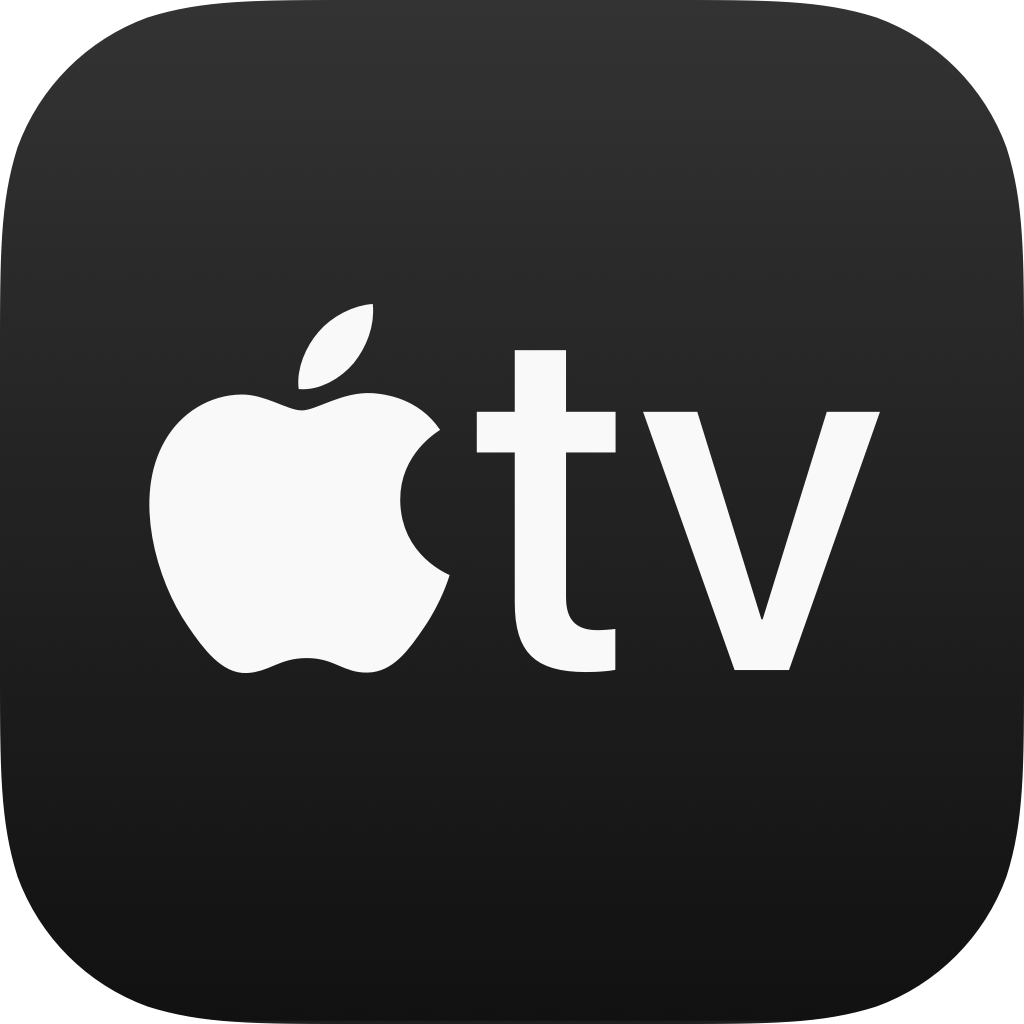 Stream Tenet in Digital HD/4K from the AppleTV store.
Listen to the Tenet soundtrack on Apple Music.
Tenet images are © Warner Bros.. All Rights Reserved.
Warner Bros Announces Tenet 4K and Blu-ray Release
11/5/2020 3:27 PM EST
Warner Bros. has announced that "Tenet", which is currently playing in wherever theatres are open, will be available in time for the holidays on 4K, Blu Ray, DVD, and Digital on December 15."Tenet" features an international ensemble cast led by John David Washington ("BlacKkKlansman," TV's "Ballers") as the Protagonist.  The film also stars Robert Pattinson (the "Twilight" films, "The Lighthouse,"...
More>>
Win Tickets To See Christopher Nolan's Tenet In Miami, Florida
9/21/2020 9:22 AM EST
Hey movie goers…great news!!  Movie theaters are once again open for business!!!  And one this year's most highly anticipated films, TENET, is ready to be viewed on the big screen.  Written and Directed by Christopher Nolan (Inception), TENET takes the audience on a unique journey that will blow your mind.  Warner Bros. Pictures, in conjunction with FlickDirect, would like to give five lucky winne...
More>>
Tenet Set for Premier in 70 Countries with Labor Day Weekend US ...
7/27/2020 1:58 PM EST
Warner Bros. has announced that will be releasing Christopher Nolan's "Tenet" worldwide beginning on August 26. The film will open in over 70 countries including Canada on August 27 and the U.S. on September 3.There's no word yet on exactly what cities in the U.S. will show the film, as it depends entirely on what locations are able to do so safely. AMC theatres will open sometime in mid to late A...
More>>
Warner Bros. Puts Tenet Release on Hold Again
7/20/2020 1:00 PM EST
Warner Bros. has announced that they have temporarily removed "Tenet" from the theatrical release list. With the ongoing COVID-19 pandemic, the studio has said that they will be going for an unconventional rollout, which the planning for is currently in the works. This approach may include an opening in foreign markets first, as well as opening when and where it is possible to do so instead of wai...
More>>
AMC Postpones Opening of Cinemas
6/29/2020 5:02 PM EST
AMC has announced that they will postpone the opening of their cinemas until the end of July due to COVID-19. With many films still postponing release dates, theatres just can't justify opening before these major theatrical releases are ready to premiere. On July 30, AMC will open its first 450 cinemas and the rest will open in early August. AMC CEO Adam Aron said in a statement, "We continue to d...
More>>
Tenet Release Pushed Back to August 12
6/26/2020 9:39 AM EST
Warner Bros. has announced that "Tenet", the upcoming Christopher Nolan film, has had its release delayed yet again. The film will now premiere on August 12, instead of July 31.  The new date is in response to the recent surge of CVOID-19 cases."Warner Bros. is committed to bringing Tenet to audiences in theaters, on the big screen, when exhibitors are ready and public health officials say it's ti...
More>>
Tenet 4K Review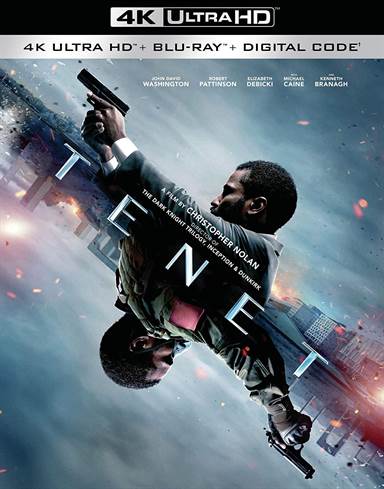 If you look up the definition of the word tenet you will find the following: a principle, belief, or doctrine generally held to be true especially one held in common by members of an organization, movement, or profession. If you ask director Christopher Nolan (Inception) his definition of Tenet, he will probably tell you it is a movie that was a labor of love and took him almost twenty years to make, from his original concept to showing in theaters. Touted as one of the 2020s most anticipated films, it, unfortunately, didn't live up to expectations, thanks, in part, to a global pandemic that all but shut down the entertainment industry.
The Protagonist (John David Washington; BlacKkKlansman) is a CIA agent who is part of an undercover operation to foil a plot at the Kyiv Opera House in the Ukraine. In the midst of everything, he is saved by a masked soldier who "unfires" a bullet through one of the gunmen. The Protagonist is then recruited by a group called Tenet and shown bullets and weapons with "inverted" entropy allowing them to move backwards in time. The scientist tells the Protagonist they were made in the future and inverted by a Russian businessman, Andrei Sator (Kenneth Branagh; Henry V).
The Protagonist tries to get close to Sator through his estranged wife, and art dealer named Kat (Elizabeth Debicki; Guardians of the Galaxy Vol. 2). He learns there is an algorithm controlled by Sator that is meant to end the world and Sator plans to kill himself, and the world because he is dying of cancer. Kat figures out when Sator is going to end his life and she, the Protagonist, his handler, Neil (Robert Pattinson; Twilight), and one of two sets of troops travel back to stop Sator. Meanwhile, the second set of troops is moving forward to find the artifact and pull it apart so no one can "invert" weapons.
Washington is decent as the Protagonist but not as good as he was as Ron Stallworth in BlacKkKlansman. Pattinson is quite the surprise though, shedding his teenage angst/ sparkly skin of a certain, well-known, vampire. DeBicki is solemn and stoic which is a familiar role for her. She has a presence about her that makes one drawn to her though and that "it factor" comes through in this movie. Branagh is an incredible actor and his portrayal of the ruthless, heartless, and maniacal Sator is right on the mark.
The production is impressive as scenes were filmed both forwards and backwards in order to create the "inverted" world the protagonist is trying to stop. The 4K video is presented in HDR10 with Native 4K resolution and 1.78:1 aspect ratio. Details are incredibly sharp, and the scenery is majestic and splendid. The annoying part of the video is that it constantly switches from the regular aspect ratio to IMAX and back again, which can be very frustrating.
The DTS-HD Master Audio 5.1 is more than solid as gunshots and bombs explode from every speaker. However, it does make one wonder why it wasn't presented in Dolby Atmos. Of course, Nolan dedicates an entire disc to the extras. He takes the hour-plus Looking at the World in a New Way: The Making of Tenet and breaks it into thirteen parts which includes: The Principle of Belief, Mobilizing the Troupe, The Approach, The Proving Window, The Roadmap, Entropy In Action, Traversing The Globe, How Big A Plane?, The Dress Code, Constructing The Twilight World, The Final Battle, Cohesion, and Doesn't Us Being Here Now Mean It Never Happened?
Unless you are a rocket scientist (and maybe not even then) will you understand everything about inversion entropy the first time you watch Tenet. While the movie has elements of being a masterpiece, it requires multiple viewings to begin to try and fully understand the science behind it.
Perhaps, if the pandemic had not hit, Tenet would have been one of 2020's blockbusters, but we will never know for sure. All I can say is it's an interesting concept that is a little too long and confusing.
Grade: B
-- Allison Rose
Read More Tenet Reviews
For more reviews please visit our film/television review section.
#TENET John David Washington is the new Protagonist in Christopher Nolan's original sci-fi action spectacle "Tenet."Armed with only one word—Tenet—and...

John David Washington is the new Protagonist in Christopher Nolan's original sci-fi action spectacle "Tenet."Armed with only one word—Tenet—and fighti...
SPONSORED LINKS