Tenet (2020)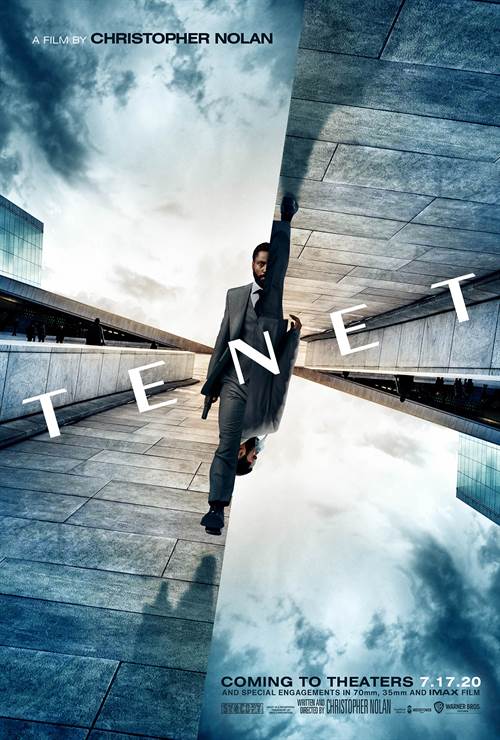 Share this:
| | |
| --- | --- |
| Director: | |
| Writers: | Christopher Nolan |
| Cast: | |
| Released: | Thursday, September 3, 2020 |
| Studio: | Warner Bros. |
| Genre: | Action/Adventure |
| Rating: | This Film Is Not Yet Rated |
Synopsis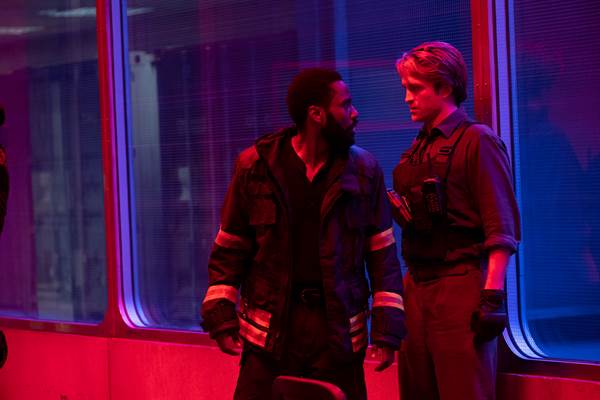 John David Washington is the new Protagonist in Christopher Nolan's original sci-fi action spectacle "Tenet."
Armed with only one word—Tenet—and fighting for the survival of the entire world, the Protagonist journeys through a twilight world of international espionage on a mission that will unfold in something beyond real time.
Not time travel. Inversion.
The international cast of "Tenet" also includes Robert Pattinson, Elizabeth Debicki, Dimple Kapadia, Aaron Taylor-Johnson, Clémence Poésy, with Michael Caine and Kenneth Branagh.
Nolan wrote and directed the film, utilizing a mixture of IMAX® and 70mm film to bring the story to the screen. "Tenet" is produced by Emma Thomas and Nolan. Thomas Hayslip served as executive producer.
Nolan's behind-the-scenes creative team included director of photography Hoyte van Hoytema, production designer Nathan Crowley, editor Jennifer Lame, costume designer Jeffrey Kurland, visual effects supervisor Andrew Jackson, and special effects supervisor Scott Fisher. The score is composed by Ludwig Göransson.
"Tenet" was filmed on location across seven countries.
Tenet images are © Warner Bros.. All Rights Reserved.


Tenet Set for Premier in 70 Countries with Labor Day Weekend US ...
7/27/2020 1:58 PM EDT
Warner Bros. has announced that will be releasing Christopher Nolan's "Tenet" worldwide beginning on August 26. The film will open in over 70 countries including Canada on August 27 and the U.S. on September 3.There's no word yet on exactly what cities in the U.S. will show the film, as it depends entirely on what locations are able to do so safely. AMC theatres will open sometime in mid to late A...
More>>
Warner Bros. Puts Tenet Release on Hold Again
7/20/2020 1:00 PM EDT
Warner Bros. has announced that they have temporarily removed "Tenet" from the theatrical release list. With the ongoing COVID-19 pandemic, the studio has said that they will be going for an unconventional rollout, which the planning for is currently in the works. This approach may include an opening in foreign markets first, as well as opening when and where it is possible to do so instead of wai...
More>>
AMC Postpones Opening of Cinemas
6/29/2020 5:02 PM EDT
AMC has announced that they will postpone the opening of their cinemas until the end of July due to COVID-19. With many films still postponing release dates, theatres just can't justify opening before these major theatrical releases are ready to premiere. On July 30, AMC will open its first 450 cinemas and the rest will open in early August. AMC CEO Adam Aron said in a statement, "We continue to d...
More>>
Tenet Release Pushed Back to August 12
6/26/2020 9:39 AM EDT
Warner Bros. has announced that "Tenet", the upcoming Christopher Nolan film, has had its release delayed yet again. The film will now premiere on August 12, instead of July 31.  The new date is in response to the recent surge of CVOID-19 cases."Warner Bros. is committed to bringing Tenet to audiences in theaters, on the big screen, when exhibitors are ready and public health officials say it's ti...
More>>
SPONSORED LINKS