Tenet (2020)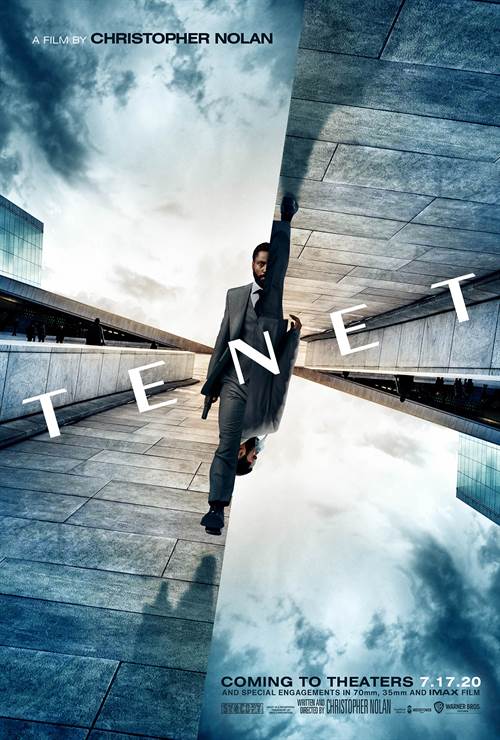 Share this:
| | |
| --- | --- |
| Director: | |
| Writers: | |
| Cast: | |
| Released: | Thursday, September 3, 2020 |
| Length: | 150 minutes |
| Studio: | Warner Bros. |
| Genre: | Action/Adventure |
| Rating: | Some material may be inappropriate for children under 13. |
Synopsis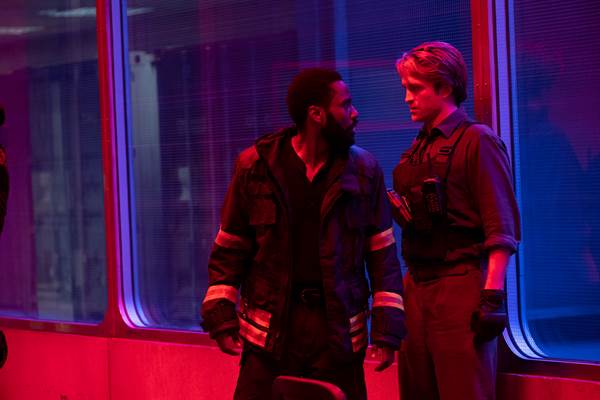 John David Washington is the new Protagonist in Christopher Nolan's original sci-fi action spectacle "Tenet."
Armed with only one word—Tenet—and fighting for the survival of the entire world, the Protagonist journeys through a twilight world of international espionage on a mission that will unfold in something beyond real-time.
Not time travel. Inversion.
The international cast of "Tenet" also includes Robert Pattinson, Elizabeth Debicki, Dimple Kapadia, Aaron Taylor-Johnson, Clémence Poésy, with Michael Caine and Kenneth Branagh.
Nolan wrote and directed the film, utilizing a mixture of IMAX® and 70mm film to bring the story to the screen. "Tenet" is produced by Emma Thomas and Nolan. Thomas Hayslip served as executive producer.
Nolan's behind-the-scenes creative team included director of photography Hoyte van Hoytema, production designer Nathan Crowley, editor Jennifer Lame, costume designer Jeffrey Kurland, visual effects supervisor Andrew Jackson, and special effects supervisor Scott Fisher. The score is composed by Ludwig Göransson.
"Tenet" was filmed on location across seven countries.

Purchase DVD/Blu-ray/4K UHD physical copy of Tenet today at Amazon.com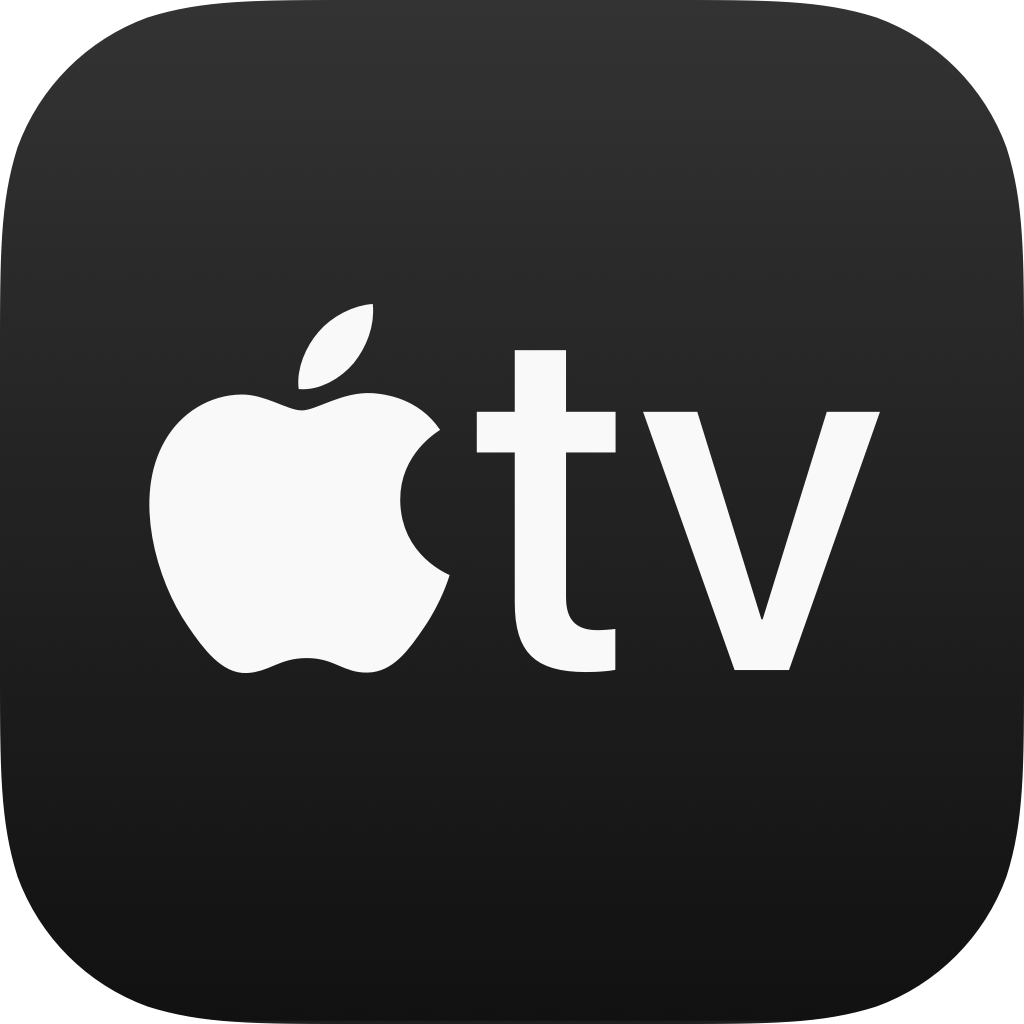 Download Tenet in Digital HD/4K from the iTunes store.
Listen to the Tenet soundtrack on Apple Music.
Tenet images are © Warner Bros.. All Rights Reserved.


Warner Bros Announces Tenet 4K and Blu-ray Release
11/5/2020 3:27 PM EDT
Warner Bros. has announced that "Tenet", which is currently playing in wherever theatres are open, will be available in time for the holidays on 4K, Blu Ray, DVD, and Digital on December 15."Tenet" features an international ensemble cast led by John David Washington ("BlacKkKlansman," TV's "Ballers") as the Protagonist.  The film also stars Robert Pattinson (the "Twilight" films, "The Lighthouse,"...
More>>
Win Tickets To See Christopher Nolan's Tenet In Miami, Florida
9/21/2020 9:22 AM EDT
Hey movie goers…great news!!  Movie theaters are once again open for business!!!  And one this year's most highly anticipated films, TENET, is ready to be viewed on the big screen.  Written and Directed by Christopher Nolan (Inception), TENET takes the audience on a unique journey that will blow your mind.  Warner Bros. Pictures, in conjunction with FlickDirect, would like to give five lucky winne...
More>>
Tenet Set for Premier in 70 Countries with Labor Day Weekend US ...
7/27/2020 1:58 PM EDT
Warner Bros. has announced that will be releasing Christopher Nolan's "Tenet" worldwide beginning on August 26. The film will open in over 70 countries including Canada on August 27 and the U.S. on September 3.There's no word yet on exactly what cities in the U.S. will show the film, as it depends entirely on what locations are able to do so safely. AMC theatres will open sometime in mid to late A...
More>>
Warner Bros. Puts Tenet Release on Hold Again
7/20/2020 1:00 PM EDT
Warner Bros. has announced that they have temporarily removed "Tenet" from the theatrical release list. With the ongoing COVID-19 pandemic, the studio has said that they will be going for an unconventional rollout, which the planning for is currently in the works. This approach may include an opening in foreign markets first, as well as opening when and where it is possible to do so instead of wai...
More>>
AMC Postpones Opening of Cinemas
6/29/2020 5:02 PM EDT
AMC has announced that they will postpone the opening of their cinemas until the end of July due to COVID-19. With many films still postponing release dates, theatres just can't justify opening before these major theatrical releases are ready to premiere. On July 30, AMC will open its first 450 cinemas and the rest will open in early August. AMC CEO Adam Aron said in a statement, "We continue to d...
More>>
Tenet Release Pushed Back to August 12
6/26/2020 9:39 AM EDT
Warner Bros. has announced that "Tenet", the upcoming Christopher Nolan film, has had its release delayed yet again. The film will now premiere on August 12, instead of July 31.  The new date is in response to the recent surge of CVOID-19 cases."Warner Bros. is committed to bringing Tenet to audiences in theaters, on the big screen, when exhibitors are ready and public health officials say it's ti...
More>>
Tenet Theatrical Review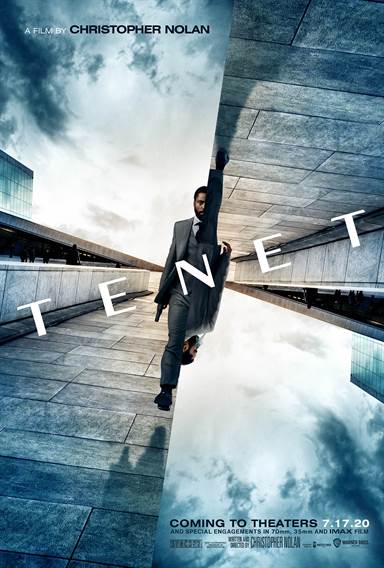 Director Christopher Nolan (Inception) has always wanted to make a James Bond-type spy thriller. We saw him toy with the idea in The Dark Knight Rises, and finally this year, a year riddled with issues, Tenet, Nolan's take on a James Bond story, comes to the theaters during a crazy time in the world.
Tenet is a very hard film to define (which is why it is so intriguing). It is a mixture of a spy thriller, with science-fiction elements, where our protagonist is trying to save the world from its final war, World War III. Just from the intriguing plot alone, and having one of the best directors of our time, Tenet would be worthwhile but as a bonus, it offers an amazing cast including John David Washington (BlacKkKlansman), Robert Pattinson (The Lighthouse), Elizabeth Debicki (Widows) and Kenneth Branagh (Murder on the Orient Express).
Tenet has had a very rough ride to the silver screen. First Christopher Nolan took five years writing it, then a very long production schedule around the world (as Nolan likes to shoot real visuals and not rely on computerized special effect) delayed to final product even more. And, of course, there was 2020, and the COVID-19 pandemic. Warner Bros stood fast against releasing it directly to streaming channels so they kept on moving around the date and finally decided, even though the pandemic is still going on, to release it internationally last week and this weekend in the United States, pending local laws on movie theaters. However, the most satisfying part of the ride is that when it finally did make it to screens, including IMAX on forty reels that weighed 90lbs each, it was a mind-blowing ride that will stay in one's head for days after (and will long be studied in film history classes across the globe).
It is very hard for a film to succeed in every possible aspect of storytelling, but Tenet provides that for the viewer. While half the fun of the moving is not knowing the plot when you start watching it, It is one of Nolan's best scripts in a long time, with many twists and turns that keep you guessing even after the credits roll (I will still need a few more viewings to fully grasp everything going on.)
John David Washington is an actor to be watched more in the future. Carrying most of Tenet on his back, Washington is charismatic, physically daring, and an individual who always has the wheels turning in his head. His chemistry with Pattinson, Debicki, Branagh is undeniable and makes the film flow so much better. Pattinson continues to prove he is more than a vampire that glistens in the sunlight, while Debicki demonstrates that she deserves to be a leading lady more often. Meanwhile, Branagh pulls off a very memorable villain. Then here is the real kicker…most of them did all their own stunts in the film.
With plenty of action and explosions (and really amazing special effect) the beauty of the movie is that all of the scenes, including a 747 airplane explosion, were mostly done practically, on set, with the actors. A lot of scenes were shot forwards and backwards, even having the actors saying they're dialog backwards. There is only a total of 280 VFX shots in the film making it one of the lowest in modern history (even less than today's comedies).
While Nolan usually uses Hans Zimmer (The Man of Steel) to compose his films, Zimmer was unfortunately tied up with Dune, so Nolan went with the next best thing - Academy Award-winning composer, Ludwig Göransson, who is known for his amazing work on The Black Panther film. His soundtrack, infused with a great new song by Travis Scott entitled The Plan (produced by Ludwig Göransson), is one in which you can feel all the energy pulsing throughout the film. The song is also used so perfectly in Tenet's climax and has you pumped up throughout the movie, all the way through to its completion.
While Tenet is an amazing film, it will definitely take multiple viewings to finally fully understand the story and Nolan's vision. If you can safely see it in theater, I highly recommend going out and doing so the first chance you get. If that isn't an option right now, I recommend waiting to see the movie in that format,
Grade: A+
Read More Tenet Reviews
For more reviews please visit our film/television review section.
SPONSORED LINKS