Andor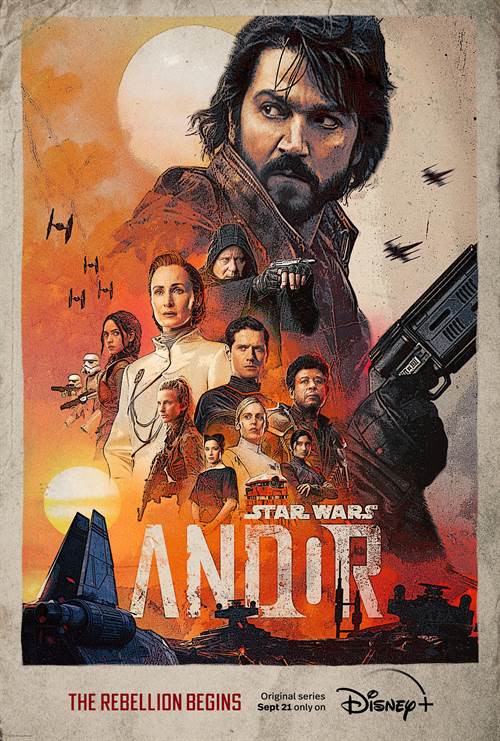 Share this:
| | |
| --- | --- |
| Writers: | |
| Cast: | |
| Air Date: | Coming Soon |
| Studio: | Walt Disney Pictures |
| Genre: | Television |
| Rating: | This Television Show Is Not Yet Rated |
Synopsis
"Everything I did, I did for the Rebellion." Andor, an Original Series set in the Star Wars universe, is streaming in 2022 on Disney+.
Andor images are © Walt Disney Pictures. All Rights Reserved.
Star Wars: The Empire Strikes (Symphonic Suite from the Original...
8/14/2021 12:53 PM EST
Composer John Williams was born in 1932 in Queens, New York.  Over the span of a seventy-year career, he became a composer, conductor, pianist, and trombonist and has won an astounding twenty-five Grammys.  He has also been nominated for fifty-two Academy awards, placing him just behind Walt Disney for the most Oscar nominations.  His 1977 score for Star Wars was chosen as the greatest film score ...
More>>
Star Wars: The Bad Batch Gets a Season 2 Renewal From Disney+
8/5/2021 2:05 PM EST
"Fans have enthusiastically embraced the action and drama of "Star Wars: The Bad Batch," and we are excited to see the Star Wars animated universe continue to expand on Disney+. As the dedicated streaming home for the Star Wars franchise, we can't wait for the second season of this fan-favorite animated series," said Michael Paull, President of Disney+ and ESPN+.Executive producer Dave Filoni said...
More>>
Loki Writer Michael Waldron to Write New Star Wars Film
1/7/2021 1:44 PM EST
It's being said that Michael Waldron ("Doctor Strange In The Multiverse Of Madness") has been chosen to pen a new "Star Wars" feature film. This would be just one part of the recent deal that Waldron and Walt Disney Studios struck.The writer was also involved in the Disney+ series "Loki", as a head writer and executive producer. There is a chance that this new deal could also bring him back for "L...
More>>
LEGO Star Wars Holiday Special Coming to Disney Plus
10/15/2020 1:12 PM EST
On November 17, Disney+ will be bringing us the "LEGO Star Wars Holiday Special". November 17th is also known as the fan-favorite holiday Life Day first introduced in the 1978 "Star Wars Holiday Special"."The LEGO Star Wars Holiday Special" reunites Rey, Finn, Poe, Chewie, Rose, and the droids for a joyous feast on Life Day. Rey sets off on a new adventure with BB-8 to gain a deeper knowledge of t...
More>>
Black Mirror Director Toby Haynes to Take Over on Rogue One Spinoff
9/23/2020 9:57 AM EST
"Black Mirror's" Tony Haynes has taken over as director for the upcoming Disney+ "Rogue One" spinoff series. Tony Gilroy has departed the project because of travel restrictions that are in place due to COVID-19.Haynes already had connections to the project, as he was going to direct some future episodes. He is also located in the UK, where the series is being shot. The series will follow the backs...
More>>
New Animated Series Star Wars The Bad Batch Coming to Disney Plu...
7/13/2020 1:52 PM EST
Disney+ has announced that they will be adding a new animated series to its lineup - "Star Wars: The Bad Batch". The series will premiere in 2021.The series follows the elite and experimental clones of the Bad Batch (first introduced in "The Clone Wars") as they find their way in a rapidly changing galaxy in the immediate aftermath of the Clone War. Members of Bad Batch - a unique squad of clones ...
More>>
New Star Wars Feature Film Coming from Academy Award Winner Taik...
5/4/2020 1:45 PM EST
It has been announced that Academy Award® winner Taika Waititi will be directing and co-writing a new "Star Wars" feature film for theatrical release. Waititi recently won Best Adapted Screenplay for "Jojo Rabbit" and directed the widely-acclaimed first season finale episode of "The Mandalorian" on Disney+. Academy Award nominee Krysty Wilson-Cairns will co-write with Waititi.In addition, Emmy®-no...
More>>
The Rise of Skywalker Heading to Disney Plus on May 4th
4/27/2020 10:23 AM EST
"Star Wars: The Rise of Skywalker", the final chapter in the Skywalker Saga, will be coming to Disney+ two months early. The release will be in honor of "May the 4th," affectionately known by fans around the world as "Star Wars Day." Now, for the first time, fans will be able to view the entire saga in one place.The film stars Carrie Fisher, Mark Hamill, Adam Driver, Daisy Ridley, John Boyega, Osc...
More>>
Rise of the Skywalker Digitally Released Ahead of Schedule
3/14/2020 10:10 PM EST
Earlier, we wrote about Disney+ releasing "Frozen 2" three months early and now you can also catch "Star Wars: The Rise of Skywalker". The studio's digital release, which was slated for Tuesday, is available right now to buy on Amazon, Apple TV, Google Play, and Vudu.For fans who would rather wait and rent the film, it will be available to do so on March 31. You can also purchase the Blu-ray, DVD,...
More>>
Live Stream Star Wars: The Rise of Skywalker World Premier Event...
12/16/2019 3:05 PM EST
Tonight, the World Premiere of Star Wars: The Rise of Skywalker, the highly anticipated conclusion of the Skywalker saga-the iconic story that has spanned four decades over nine episodes and spawned legions of fans worldwide, will take place. The event will be live-streamed with moments powered by Verizon 5G starting tonight at 5:30 p.m. PT / 8:30 p.m. ET on StarWars.com!Verizon, Disney StudioLAB ...
More>>
David Benioff and D.B. Weiss Leave New Star Wars Trilogy Project
10/29/2019 9:51 AM EST
David Benioff and D.B. Weiss, from "Game of Thrones" fame, have decided to step away from their deal with Disney's Lucasfilm to do a trilogy in 2022."We love Star Wars. When George Lucas built it, he built us too. Getting to talk about Star Wars with him and the current Star Wars team was the thrill of a lifetime, and we will always be indebted to the saga that changed everything," they said in a ...
More>>
Kevin Feige Developing New Star Wars Film
9/26/2019 11:08 AM EST
It's been reported that Kevin Feige will be developing a "Star Wars" film. The news was confirmed by Disney."We are excited about the projects Kathy and the Lucasfilm team are working on, not only in terms of Star Wars, but also Indiana Jones and reaching into other parts of the company including Children of Blood and Bone with Emma Watts and Fox. With the close of the Skywalker Saga, Kathy is pur...
More>>
"Everything I did, I did for the Rebellion." Andor, an Original Series set in the Star Wars universe...
SPONSORED LINKS