The French Dispatch (2021)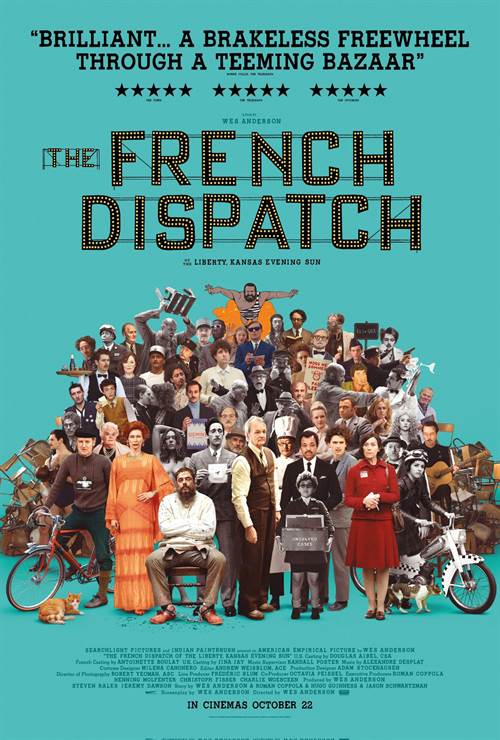 Share this:
| | |
| --- | --- |
| Director: | |
| Writers: | |
| Cast: | |
| Released: | Friday, October 22, 2021 |
| Length: | 107 minutes |
| Studio: | Searchlight Pictures |
| Genre: | Drama, Comedy |
| Rating: | Under 17 requires accompanying parent or adult guardian. |
Synopsis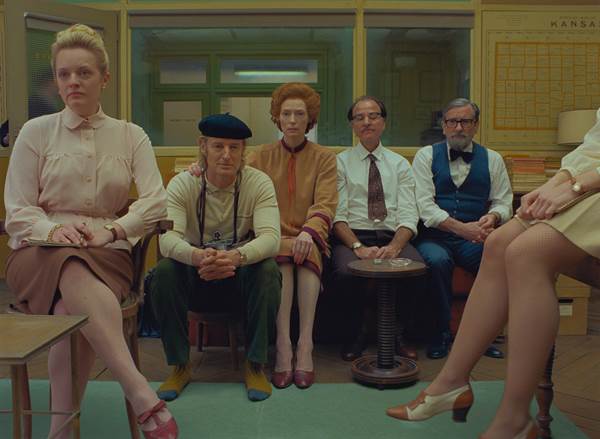 A love letter to journalists set in an outpost of an American newspaper in a fictional 20th-century French city that brings to life a collection of stories published in "The French Dispatch."
The French Dispatch images are © Searchlight Pictures. All Rights Reserved.
See a Free Screening of Wes Anderson's The French Dispatch in Fl...
10/21/2021 10:33 PM EST
Wes Anderson has a distinctive style as a director that makes him one of a kind.  His films are always entertaining, well made, and full of A-list actors.  His latest release, THE FRENCH DISPATCH, pays homage to the journalists of old in the way only Anderson can..The movie opens in limited release on October 22, 2021, but comes out across the country the following week.Searchlight Pictures, in co...
More>>
The French Dispatch Theatrical Review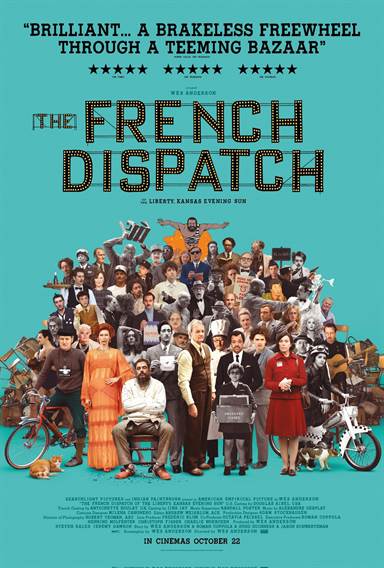 Wesley "Wes" Anderson may be one of the United States' newest geniuses when it comes to writing and directing films. Movies such as Rushmore, The Royal Tenenbaums, and Isle of Dogs have made him a household name and a much sought-after filmmaker. Nominated for seven Oscars, his style is easily recognizable with almost any movie he writes/directs. He is known to include large ensemble casts filled with well-known Hollywood stars and many actors hope to work with him. His latest film, The French Dispatch, heads to theaters today and boasts an all-star cast, quirky dialogue, and beautifully shot scenes in his signature style.
The French Dispatch is a post-World War II, publication that is an offshoot of the Liberty, Kansas Evening Sun newspaper. Run by Arthur Howitzer, Jr. (Bill Murray; Groundhog's Day), it offers readers a slice of life in France as viewed through the eyes of various staff writers. Herbsaint Sazerac (Owen Wilson; Wedding Crashers) writes a piece on travel as seen from his bicycle. He creates a narrative that is a sort of love letter to his adopted country.
The next section is the Concrete Masterpiece, a series of paintings commissioned by Art dealer Julien Cadazio (Adrien Brody; The Pianist) who sees great potential in inmate Moses Rosenthaler (Benicio Del Toro; Sicario). Rosenthaler, locked up in a prison for the criminally insane, murdered and dismembered two bar patrons. He is also a talented artist who eventually creates his masterpiece – a series of pictures painted on the prison wall.
The last two vignettes are Revisions to a Manifesto and The Private Dining Room of the Police Commissioner. The first is a loose interpretation of the May 68 Student occupation protests and the latter is a fictional tale of the meal prepared by the Police commissioners' chef for the people who kidnapped the commissioner's son.
As already mentioned, Anderson is known to assemble incredible casts for his films and The French Dispatch is no exception. Besides Murray, Del Toro, Wilson, and Brody, the ensemble includes Frances McDormand (Three Billboards Outside Ebbing, Missouri), Timothée Chalamet (Dune), Tilda Swinton (Avengers: Endgame), Elizabeth Moss (The Handmaid's Tale), Jeffrey Wright (Westworld), and Léa Seydoux (No Time to Die). The combination of these talented people with a sharp and witty script makes this film worth viewing. Anderson also knows how to get the best from his actors, helping them to deliver wonderful performances.
Anderson's style is uniquely his own with sharp angles and quick snippets peppered throughout his films. His use of cartoon interludes is humorous, very effective, and somewhat reminiscent of his animated feature, Isle of Dogs. His vision isn't always apparent but there are no doubts his movies are cerebral yet enjoyable. His technique draws the viewer in and keeps ahold of them even when they aren't completely sure of what it is they are watching. He certainly has a vision and an interesting way of looking at the world. Many critics have even called him an example of the auteur.
The French Dispatch pays homage to journalists, especially those working for literary magazines, like The New Yorker, of which Anderson is an avid reader. It also is an intellectual film that makes you think about what you are watching and hearing and how it makes you feel. Anderson's movies are ones that need to be stored away in the recesses of one's brain after viewing only to be unpacked and dissected days later.
If you go to the movies for action, superhero, slasher films, then chances are you won't like The French Dispatch but if you like to absorb your comedy/dramas and love "Oscar bait" type films, then you will thoroughly enjoy almost any of Wes Anderson's work.
As a side note, I would not be surprised if twenty years from now college students will be studying the movies of Wes Anderson in their film classes.
Grade: B+
-- Allison Rose
For more reviews please visit our film/television review section.
SPONSORED LINKS