Water for Elephants (2011)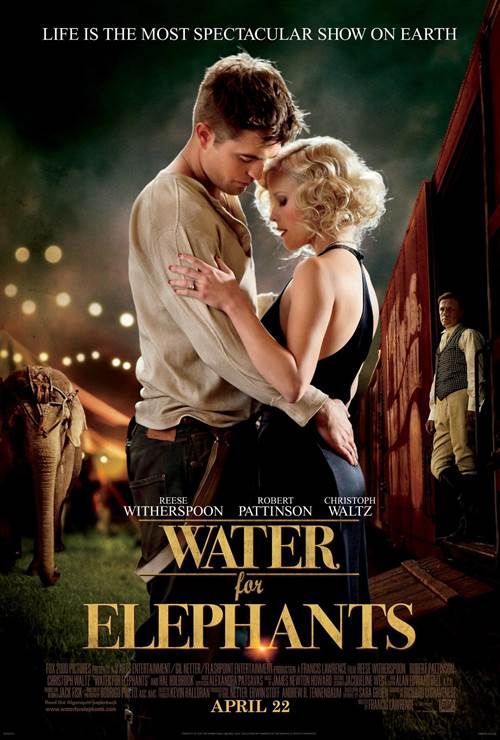 Share this:
| | |
| --- | --- |
| Director: | |
| Writers: | Sara Gruen, Richard LaGravenese |
| Cast: | |
| Released: | Friday, April 22, 2011 |
| Length: | 120 minutes |
| Studio: | 20th Century Studios |
| Genre: | Drama |
| Rating: | Some material may be inappropriate for children under 13. |
Synopsis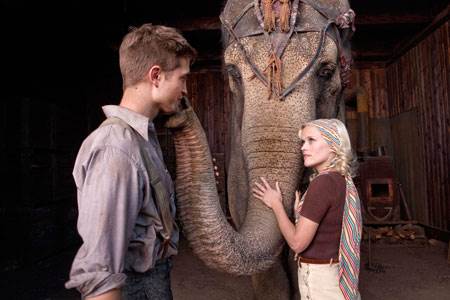 Based on the acclaimed bestseller, Water for Elephants presents an unexpected romance in a uniquely compelling setting. Veterinary school student Jacob meets and falls in love with Marlena, a star performer in a circus of a bygone era. They discover beauty amidst the world of the Big Top, and come together through their compassion for a special elephant. Against all odds -- including the wrath of Marlena's charismatic but dangerous husband, August -- Jacob and Marlena find lifelong love.
Purchase DVD/Blu-ray/4K physical copy of Water for Elephants today at
Download Water for Elephants in Digital HD/4K from the iTunes store.
Water for Elephants images are © 20th Century Studios. All Rights Reserved.


Check Out Live Coverage for "Water For Elephants"!
4/15/2011 5:06 PM EST
This Sunday, there will be an exclusive scene shown from the upcoming film, "Water for Elephants", on Color.com. According to the site, Fox will be partnering with the company to bring fans across the world real-time access to red carpet  premiere (Sunday at 7pm) photos on their site.Color is a free mobile app for iPhones (coming soon for Androids and Windows 7) that allows people to capture photo...
More>>
Water for Elephants Theatrical Review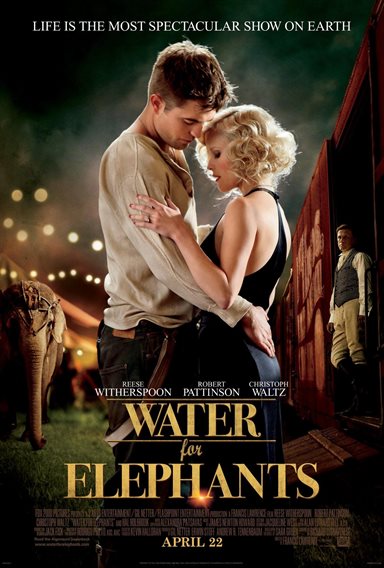 Water for Elephants stars Robert Pattinson and Reese Witherspoon as two people who find love amidst the Great Depression while working for a traveling circus. The movie is based on the acclaimed bestseller by Sara Gruen and directed by Francis Lawrence.

Pattinson plays Jacob Jankowski, a veterinary student looking forward to starting his career. Tragedy strikes when Jacob's parents are killed in an accident and Jacob, in a last minute decision, decides to abandon his studies. He runs away and one night hops aboard a passing train. He discovers that the train he boarded is in actuality a traveling circus that has seen better days.

After some initial difficulties he is accepted into the group when they discover that he was training in the care of animals. He is placed in charge of the menagerie of animals the circus has and it is there he meets Marlena (Reese Witerspoon). She is in charge of the horse act of the show and is married to August (Christoph Waltz) the animal trainer. August comes off extremely charming and it is clear that he has the approval of everyone in the troupe, perhaps except for Marlena. It is soon discovered that while August is fascinating he has a cruel streak hiding underneath.

He is exceptionally cruel to the animals he is meant to train and since he possesses the trust of those he works with, there has never been any reason to question his methods. The real story here is the love story that builds between Marlena and Jacob. They develop a bond over an unpleasant elephant by the name of Rosie, who has given all of those who attempt to train her, a hard time. Jacob truly has within him a deep and honest love for animals and it is that which allows him to find a way to reach Rosie where others could not.

This draws the attention of Marlena and as she gets to know Jacob more her feelings for him deepen and the same goes for him in regards to her. As their feelings grow Jacob realizes that Marlena is not truly happy with August. The longer they spend time together the more difficult it becomes for them to resist the feelings they have for one another. Jacob finally decides that he won't spend another day without Marlena and asks her to come away with him, but Jacob does not account for August and his dangerous personality.

Water for Elephants tells a beautiful tale of love during a time when even acquiring a simple meal was nearly impossible. Given the time period the movie takes place in, it does a fantastic job of creating a rich look to the places it presents. Every scene, even those depicting true hardship, has a crisp and sharp look to it. The two leads in the film give worthy performances; Witherspoon has proven herself over the years to be a versatile and capable actress. Here she does a delivers another solid performance against a male lead that, so far, has been limited by the Twilight films in that it gives no room for range or depth.

Pattinson himself does well bringing a sense of caring and love that his character carry's for the animals he takes care of. The large problem with the film is the chemistry between the leads. While we know they are supposed to find love with one another and it does happen in the film, it never actually feels like they should be getting together. It simply happens because that is what they are supposed to do, the script says it and so they play along.

It's this flaw in the film that really keeps it from becoming something more than what it is; otherwise the movie does an adequate job of creating a story of two people overcoming incredible odds during a time when even love was a luxury that few could afford.

-- Eric English
Read More Water for Elephants Reviews
For more reviews please visit our film/television review section.
SPONSORED LINKS