Haywire (2012)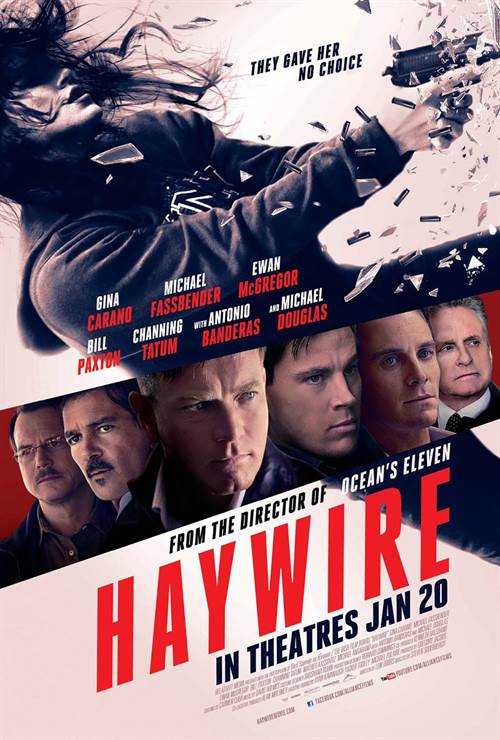 | | |
| --- | --- |
| Director: | |
| Writers: | |
| Cast: | |
| Released: | Friday, January 20, 2012 |
| Length: | 92 minutes |
| Studio: | Relativity Media |
| Genre: | Action/Adventure |
| Rating: | Under 17 requires accompanying parent or adult guardian. |
Synopsis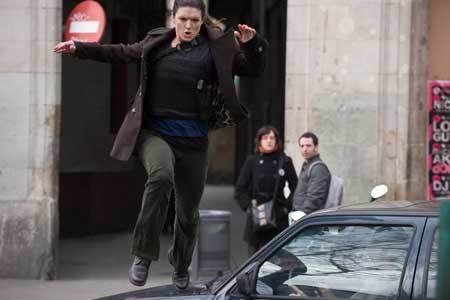 Mallory Kane is a highly trained operative who works for a government security contractor in the dirtiest, most dangerous corners of the world. After successfully freeing a Chinese journalist held hostage, she is double crossed and left for dead by someone close to her in her own agency. Suddenly the target of skilled assassins who know her every move, Mallory must find the truth in order to stay alive.

Using her black-ops military training, she devises an ingenious—and dangerous—trap. But when things go haywire, Mallory realizes she'll be killed in the blink of an eye unless she finds a way to turn the tables on her ruthless adversary.

Purchase DVD/Blu-ray/4K UHD physical copy of Haywire today at Amazon.com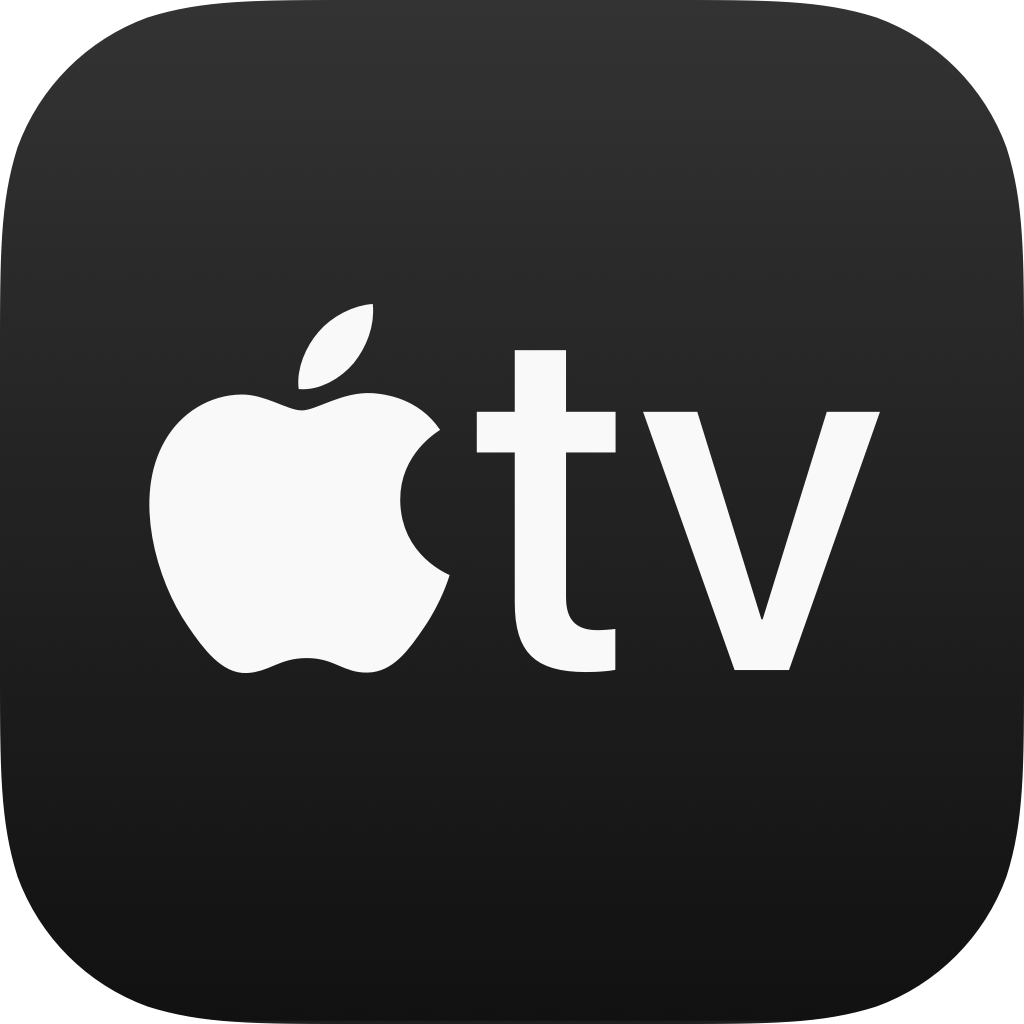 Download Haywire in Digital HD/4K from the iTunes store.
Haywire images are © Relativity Media. All Rights Reserved.
Haywire Theatrical Review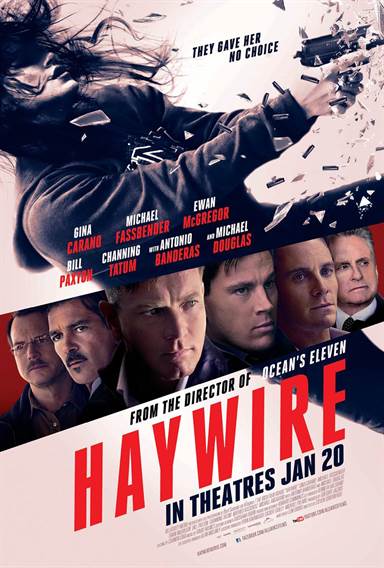 From a ravenous mixed martial arts maven to a star overnight Gina Carano takes acting to new heights in Haywire a spy thriller from Academy Award winning director Steven Soderbergh. Her screen presence gets so lively that I couldn't keep my eyes off the screen. Knowing that the blows she has to give her adversaries have a lot of impact on her character Carano doesn't hold back a thing. She may be new to acting, but that's only the tip of her talent. It's just too bad that other factors beyond her control cause the film to 'tap out'.

The film centers on spy for hire Mallory Kane (Carano) who's the top female in her trade. In the opening scene, confused as to why she finds herself being hunted Mallory's immediate thought involves a recent rescue job she completed in Barcelona, Spain. At a café in upstate New York she has agreed to meet with her boss Kenneth (Ewan McGregor), but instead gets a visit from Aaron (Channing Tatum) a sidekick on the Barcelona job. When he becomes intimidating to her she takes Aaron down in a brutal fight, kidnaps a café patron (Scott played by Michael Angarano) and his car, and takes off down the highway being chassed by State Troopers. When CIA feds try to eliminate Mallory, she's on the run trying to find out why she has been tagged as a rogue.

The fun in this film comes with the kick-ass mixed martial arts fights between Mallory and her adversaries, all of which are supposed to be the good guys. The fury she uses must have been sweet to Soderbergh because he caught every move and punch she made on film. Whoever goes up against her, finds him meeting disaster fist, foot and gun. I like the way Soderbergh keeps the focus on Carano's fine fighting talent never giving her a girly look except when he wants to tease his audience. The fight scene between Mallory and her fellow operative Paul (Michael Fassbender) could certainly be labeled a classic.

Haywire has a simple storyline so Soderbergh tells it in a kind of Pulp Fiction circle where we find the main character already on the run. Flashing back we are fed information on the job in Barcelona and a revealing plot point in Dublin Ireland before jumping into the present. It does get a little annoying because after you realize who she represents and a little about the job, the rest is predictable.

Oh, and that hard rock head banging music that's in the theatrical trailer, well don't expect any of it in the movie. Instead Soderbergh, for reasons I am still scratching my head wondering why, chose to use jazz, a little mellow rock, and some country twang during his fight scenes. No you did not read me wrong, it was a bummer, a complete faux pas. Enough so, it hurt the action sequences big time. Who chases someone across rooftops to the melody of a piano, bass, sax and wire brushes on a snare drum?

Some of the cast members are questionable since there presence in the movie playing menial parts becomes nothing more than a name on the marquee. Antonio Banderas, Michael Douglas and Bill Paxton, each an A-list actor in his own right, took a back seat to the newbie Carano flashing there smiles across the screen so swiftly that I'm sure the audience felt a little cheated. Nah! Carano didn't need no stinking A-listers, she would have kicked butt just as she does in the Women's MMA.

Haywire has been rated R by the MPAA for some violence. What, "some violence"? The whole film is violent from start to finish, that's what makes this an action thriller. And, what about the language, adult situations and brutality in the film? Things are getting loosely goosey at the MPAA.

FINAL ANALYSIS: A predictive plot and poor choice of music gives this film a roundhouse kick for the tap out. (C ) Sorry Gina…I know, I'll watch my back.

-- John Delia
For more reviews please visit our film/television review section.
Mallory Kane is a highly trained operative who works for a government security contractor in the dir...
SPONSORED LINKS