Fantastic Four (2005)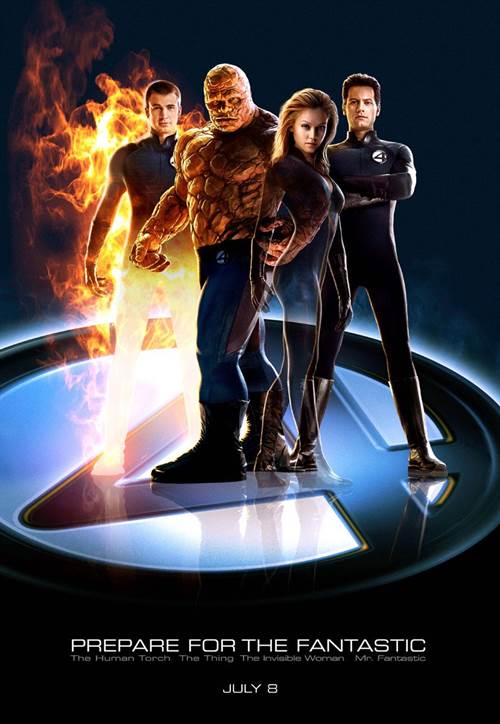 | | |
| --- | --- |
| Director: | |
| Writers: | |
| Cast: | |
| Released: | Friday, July 8, 2005 |
| Length: | 105 minutes |
| Studio: | 20th Century Fox |
| Genre: | Sci-Fi/Fantasy, Action/Adventure |
| Rating: | Some material may be inappropriate for children under 13. |
Fantastic Four Synopsis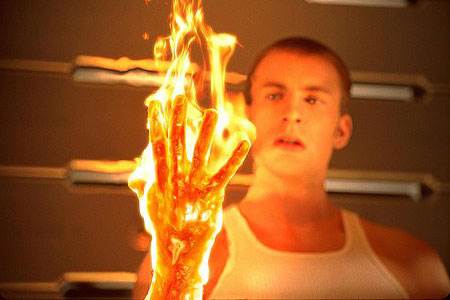 When an experimental space voyage goes awry, four people are changed by cosmic rays. Reed Richards, inventor and leader of the group gains the ability to stretch his body, and takes the name, Mr. Fantastic. His girlfriend, Sue Storm, gains the ability to turn invisible and create force fields, calling herself the Invisible Woman. Her younger brother Johnny Storm gains the ability to control fire, including covering his own body with flame, becoming the Human Torch. Pilot Ben Grimm is turned into a super-strong rock creature calling himself Thing. Together, they use their unique powers to explore the strange aspects of the world, and to foil the evil plans of Doctor Doom.

Purchase DVD/Blu-ray/4K UHD physical copy of Fantastic Four today at Amazon.com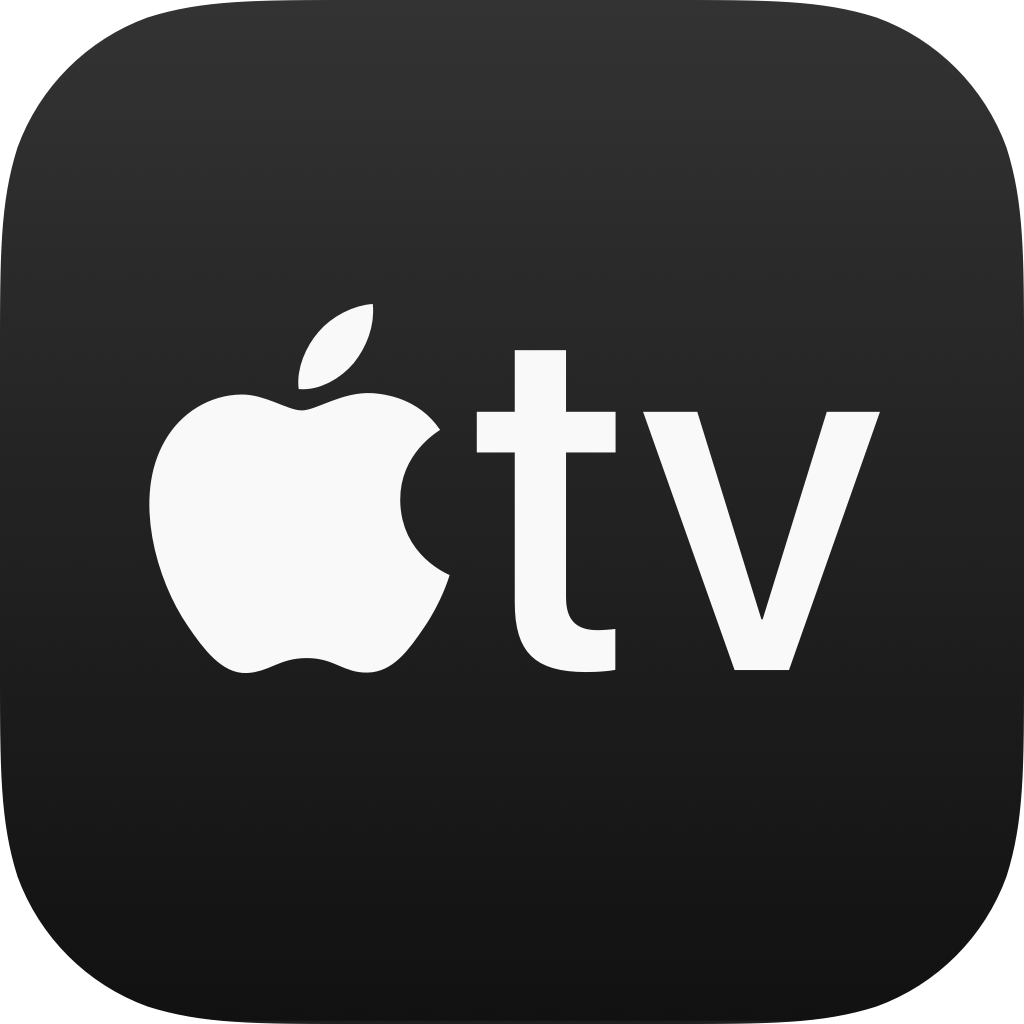 Stream Fantastic Four in Digital HD/4K from the AppleTV store.
Fantastic Four images are © 20th Century Fox. All Rights Reserved.
WandaVision's Matt Shakman to Direct Fantastic Four
8/26/2022 2:00 PM EST
WandaVision's Matt Shakman is reportedly in early talks to direct the upcoming Fantastic Four film.Jon Watts was on board to helm the project but left in the spring after coming off filming "Spider-Man: No Way Home". The "Fantastic Four" franchise has had a few reboots over the years, with the most recent one starring Miles Teller as Reed Richards, Michael B. Jordan as Human Torch, Kate Mara as Su...
More>>
Analysts Predict $60 Million Loss for Fantastic Four
8/11/2015 12:28 PM EST
20th Century Fox could be writing off more than $60 million on the newest incarnation of the Fantastic Four franchise.The film, which cost $120 million, earned only a mere $26 million domestically during its opening weekend. This number didn't even reach the low estimate of $27 million that experts were predicting.  Barton Crockett, an analyst at FBR & Co., said this amounts to "a negative start t...
More>>
Toby Kebbell to Play Doctor Doom in Fantastic Four
4/2/2014 1:24 PM EST
Toby Kebbell, who has acted in films "War Horse" and "The East", has been chosen to play Doctor Doom for the upcoming "Fantastic Four" film.The reboot will feature the four as young men and women and is slated for a June 19, 2015 release. A sequel will be released in Summer of 2017.Kebbell also stars in "Dawn of the Planet of the Apes", which will be released in July. Countdown to the release of F...
More>>
Fantastic Four Reboot Cast Chosen
2/20/2014 3:54 PM EST
It looks like the new "Fantastic Four" lineup has been cast, according to reports.Currently, Miles Teller, Michael B. Jordan, Kate Mara and Jamie Bell are all rumored to be nearing deals with 20th Century Fox. The studio had no comment about the news, however. Supposedly, Bell will be playing Ben Grimm (The Thing), Jordan will be playing Johnny Storm (the Human Torch), Mara will be playing Sue Sto...
More>>
Fantastic Four Reboot in Pre-Production
4/4/2013 2:15 PM EST
Josh Trank,  director of "Fantastic Four",  announced via Twitter yesterday that pre-production has started on the film. "The Fantastic Four reboot has arrived. Starting pre-production for a September 2013 start in Vancouver. #yvrshoots"Some fans are hoping that the reboot goes ina bit different of a direction that the previous two "Fantastic Four" films, having a bit more of a darker tone, perhap...
More>>
Matthew Vaughn Signs Up For Fantastic Four Reboot
2/25/2013 12:26 PM EST
Matthew Vaughn,  who directed "X-Men: First Class", has signed on to produce the upcoming "Fantastic Four" reboot. marvel's mark Millar announced the news via Twitter in Friday. Josh Trank (Chronicle) is attached to direct the film, which is due out in March 2015.  Everything is still in the planning stages for the film, so not much more information is available as of yet.Vaughn also produced "Kic...
More>>
Marvel's Fantastic Four Getting Ready For Reboot
9/1/2009 3:28 PM EST
According to Variety, "Fantastic Four" will be coming back to the big screen. 20th Century Fox already is moving ahead with the plans but hasn't given any information about what's in store for the "Four". The revamped film will be written by "green Lantern" scribe, Michael Green, and will be produced by Akiva Goldsman, of 'Heroes" fame. There is no word on whether or not any of the original cast (...
More>>
Fantastic Four Prequel To Feature Galactus
3/4/2008 11:11 AM EST
Fans of Galactus, the world devouring entity from the Silver Surfer comics, will soon be shown in his true light.  A prequel to the "Fantastic Four: Rise of the Silver Surfer" has been planned to showcase the giant character, which was only briefly shown in the Fantastic Four film.J. Michael Straczynski told reporters at the Wondercon Spotlight panel that Galactus' character was being held off on ...
More>>
Featured Song: A Perfect Circle -- Counting Bodies Like Sheep To The Rhythm Of The War Drums -- https://apple.co/3kRdZGJ...
SPONSORED LINKS