Dredd (2012)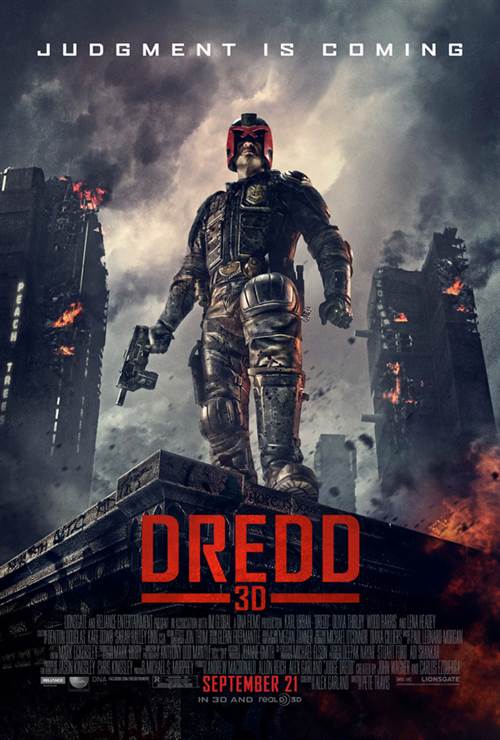 Share this:
| | |
| --- | --- |
| Director: | |
| Writers: | |
| Cast: | |
| Released: | Friday, September 21, 2012 |
| Length: | 95 minutes |
| Studio: | Lionsgate |
| Genre: | Sci-Fi/Fantasy |
| Rating: | Under 17 requires accompanying parent or adult guardian. |
Synopsis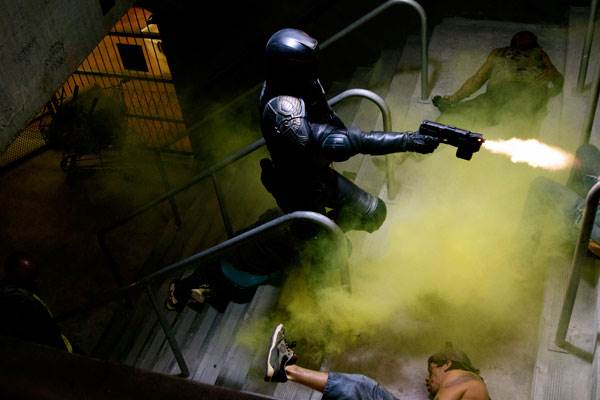 The future America is an irradiated waste land. On its East Coast, running from Boston to Washington DC, lies Mega City One- a vast, violent metropolis where criminals rule the chaotic streets. The only force of order lies with the urban cops called "Judges" who possess the combined powers of judge, jury and instant executioner. Known and feared throughout the city, Dredd (Karl Urban) is the ultimate Judge, challenged with ridding the city of its latest scourge – a dangerous drug epidemic that has users of "Slo-Mo" experiencing reality at a fraction of its normal speed.

During a routine day on the job, Dredd is assigned to train and evaluate Cassandra Anderson (Olivia Thirlby), a rookie with powerful psychic abilities thanks to a genetic mutation. A heinous crime calls them to a neighborhood where fellow Judges rarely dare to venture- a 200 story vertical slum controlled by prostitute turned drug lord Ma-Ma (Lena Headey) and her ruthless clan. When they capture one of the clan's inner circle, Ma-Ma overtakes the compound's control center and wages a dirty, vicious war against the Judges that proves she will stop at nothing to protect her empire. With the body count climbing and no way out, Dredd and Anderson must confront the odds and engage in the relentless battle for their survival.

Purchase DVD/Blu-ray/4K UHD physical copy of Dredd today at Amazon.com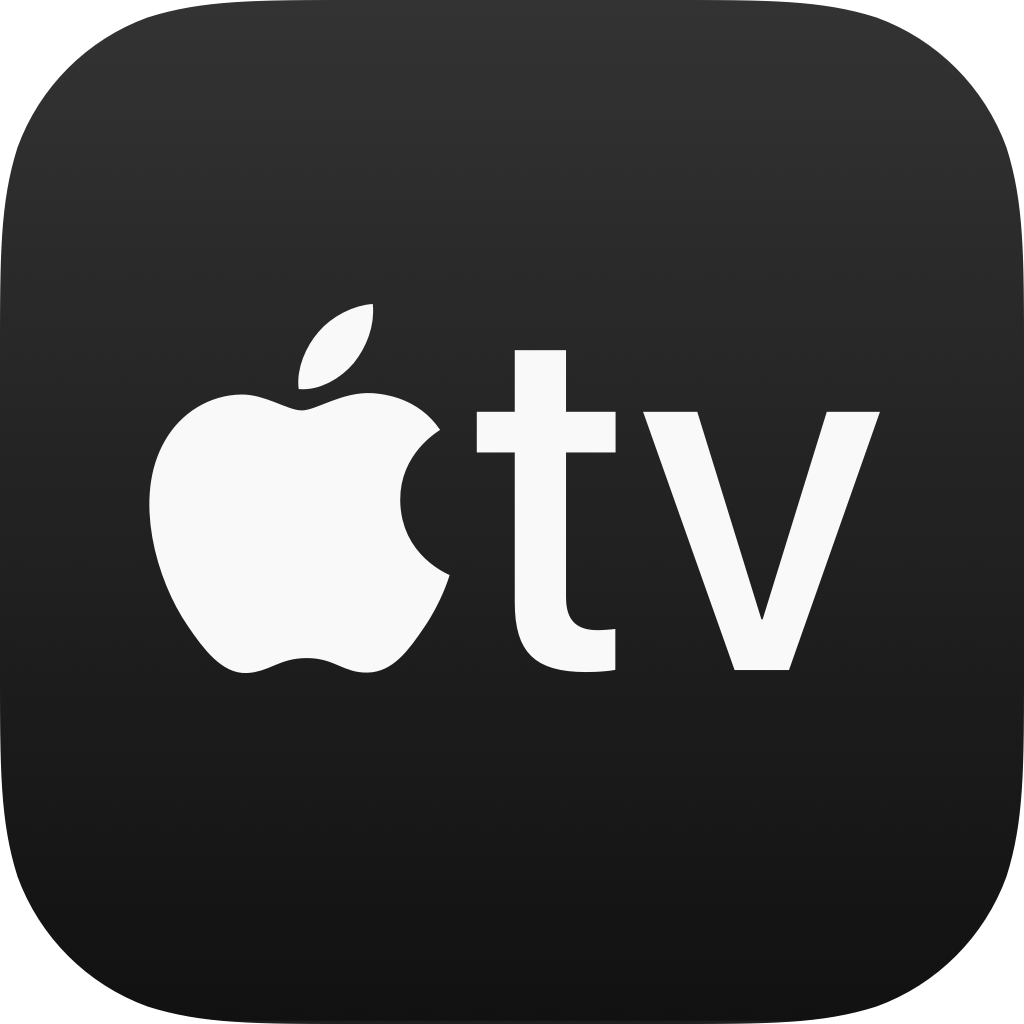 Download Dredd in Digital HD/4K from the iTunes store.
Dredd images are © Lionsgate. All Rights Reserved.
Petition for Dredd Sequel Available to Sign Online
7/25/2013 3:56 PM EST
Karl Urban, who starred in the film adaptation of the Judge Dredd comic, "Dredd", was recently discussing the film and the audience it found after being released on home video.  The film has become one of the highest selling Blu-ray titles of the year.  He also commented on how the demand for a sequel has increased.    Well, if you are one of these fans, there's good news.  Comics publishers 2000A...
More>>
No Sequel to Dredd Says Producer
3/28/2013 1:55 PM EST
Adi Shankar, producer of "Dredd" recently put any rumors to rest about a possible sequel to last year's release.  During an interview, Shankar stated, quite frankly, why the film won't happen."It's because the movie totally bombed & R-rated movies are a tough sell to begin with. If Dredd becomes a cult hit it will be awesome. Last September was a terrible month: Dredd bombed and then Looper became...
More>>
Dredd 4K Ultra HD Review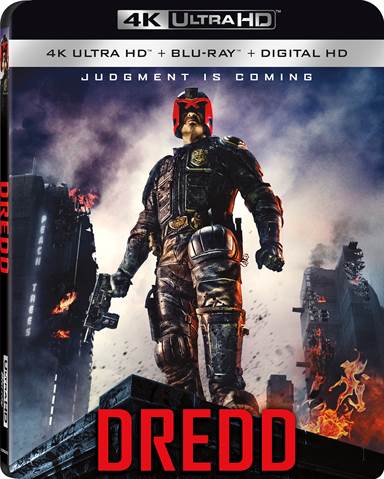 Judge Dredd made his debut in British comic books as early as the late 1970's as a law enforcement officer in Mega City One, a dystopian society set sometime in the future. His authority includes arresting, convicting, sentencing and, if necessary, executing criminals in an effort to keep the peace. Then in 1995 Sylvester Stallone (Rocky) brought him to the big screen with Armand Assante (Private Benjamin) as his nemesis to mixed reviews. Fans of the original felt the character and story weren't true to the original comic book and that was the end of it, until now. Reimagined in 2012, Dredd once again hit movie theaters, this time leaning more closely to the comic book story.

Judge Dredd (Karl Urban; Star Trek Beyond) is one of those law enforcement officers with a reputation for being ruthless, yet very good, so it is no surprise when he is assigned a probationary rookie, Anderson (Olivia Thirlby; Juno), with a "special gift". Needless to say, he is less than thrilled to have this "newbie" tagging along but seems impressed by her psychic abilities.

When reports of multiple homicides at Peach Trees - one of the most violent Blocks in the City complex – are called in, Dredd and Anderson got to check it out and apprehend a suspect. However, before they can leave the building with the perpetrator Ma-Ma (Lean Headey; Game of Thrones), the head of the most dangerous gang in Block One, has the building locked down and the Law Enforcement agents suddenly find themselves hunted by numerous groups of criminals. Trapped, and without communication to headquarters, they must outsmart Ma-Ma and her henchman to survive.

Dredd, unlike its 1995 counterpart, tends to stay truer to the comic book version of the story. Dredd is mean and calculating and none too helpful to his rookie partner as they wind their way through a 200 story apartment complex encountering life or death threats around every corner. This version is extremely bloody, violent and fairly graphic to appease fans of the comic book who felt the original movie was too tame.

Urban does a great job as Dredd using mostly tonal inflection to convey his thoughts and emotions as his face is covered by a mask for the entire filmmaking facial expressions all but useless. While his character is meant to be stoic for the most part, he manages to offer the occasional joke. Thirlby blends a combination of fear, determination and pure grit that makes her holistically human to the audience. Headey is simply unaffected and bad ass as the antagonist in this scenario. She is callous and unapologetic, which is necessary to portray the harshness of the cruel environment in which she chooses to live.

The 2160p high definition video quality of the 4K UHD is outstanding in this case. The bold hues of the colors, especially the blood splatter, are excellent and the black tones are deep and true. The Dolby Atmos audio is exceptional as well with the dialogue clear in the center channels and the effects surrounding you from all angles. Every explosion shakes the ground giving the viewer a fully immersive experience.

The combo pack offers the film in 4K, 3D, and 2D as well as a digital copy. The extras can be found on both discs and include Mega-City Masters: 35 years of Judge Dredd, the 3rd Dimension, Days of Chaos: The Visual Effects of Dredd 3D, Dredd feature, Welcome to Peach Trees, Dredd's Gear, and Dredd Motion Comic Prequel. While some of the extras are more informative than others, all of them give some insight into the comic book series and the character.

Fans of action films will certainly get an adrenaline rush from Dredd and, obviously, fans of the original comic book series will be appeased with this new version. With lots of violence and blood, this movie is not for the weak of heart though.

Grade: B


Read More Dredd Reviews
For more reviews please visit our film/television review section.
Karl Urban, discusses with FlickDirect what it was like to take on the iconic role of Judge Dredd in...

The future America is an irradiated waste land. On its East Coast, running from Boston to Washington...
SPONSORED LINKS