Dredd (2012)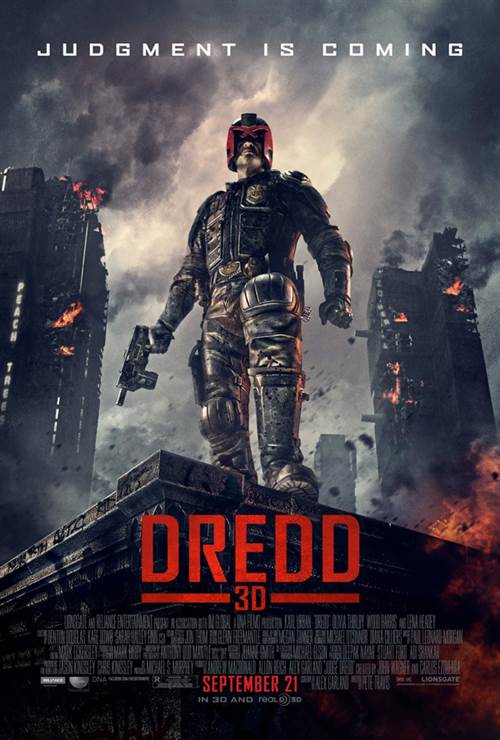 Share this:
| | |
| --- | --- |
| Director: | |
| Writers: | Carlos Ezquerra, Alex Garland, John Wagner |
| Cast: | |
| Released: | Friday, September 21, 2012 |
| Length: | 95 minutes |
| Studio: | Lionsgate |
| Genre: | Sci-Fi/Fantasy |
| Rating: | Under 17 requires accompanying parent or adult guardian. |
Synopsis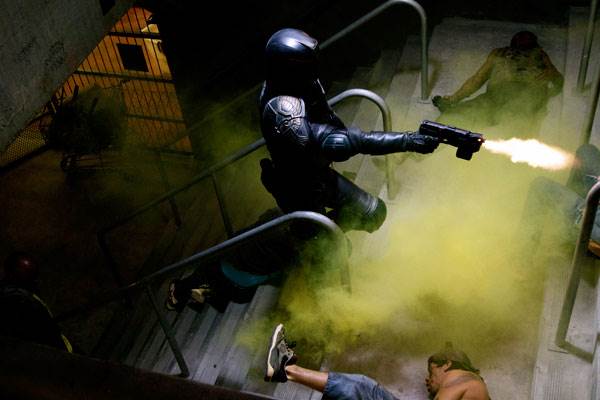 The future America is an irradiated waste land. On its East Coast, running from Boston to Washington DC, lies Mega City One- a vast, violent metropolis where criminals rule the chaotic streets. The only force of order lies with the urban cops called "Judges" who possess the combined powers of judge, jury and instant executioner. Known and feared throughout the city, Dredd (Karl Urban) is the ultimate Judge, challenged with ridding the city of its latest scourge – a dangerous drug epidemic that has users of "Slo-Mo" experiencing reality at a fraction of its normal speed.

During a routine day on the job, Dredd is assigned to train and evaluate Cassandra Anderson (Olivia Thirlby), a rookie with powerful psychic abilities thanks to a genetic mutation. A heinous crime calls them to a neighborhood where fellow Judges rarely dare to venture- a 200 story vertical slum controlled by prostitute turned drug lord Ma-Ma (Lena Headey) and her ruthless clan. When they capture one of the clan's inner circle, Ma-Ma overtakes the compound's control center and wages a dirty, vicious war against the Judges that proves she will stop at nothing to protect her empire. With the body count climbing and no way out, Dredd and Anderson must confront the odds and engage in the relentless battle for their survival.
Purchase DVD/Blu-ray/4K physical copy of Dredd today at
Download Dredd in Digital HD/4K from the iTunes store.
Dredd images are © Lionsgate. All Rights Reserved.


Petition for Dredd Sequel Available to Sign Online
7/25/2013 3:56 PM EDT
Karl Urban, who starred in the film adaptation of the Judge Dredd comic, "Dredd", was recently discussing the film and the audience it found after being released on home video.  The film has become one of the highest selling Blu-ray titles of the year.  He also commented on how the demand for a sequel has increased.    Well, if you are one of these fans, there's good news.  Comics publishers 2000A...
More>>
No Sequel to Dredd Says Producer
3/28/2013 1:55 PM EDT
Adi Shankar, producer of "Dredd" recently put any rumors to rest about a possible sequel to last year's release.  During an interview, Shankar stated, quite frankly, why the film won't happen."It's because the movie totally bombed & R-rated movies are a tough sell to begin with. If Dredd becomes a cult hit it will be awesome. Last September was a terrible month: Dredd bombed and then Looper became...
More>>
Dredd Theatrical Review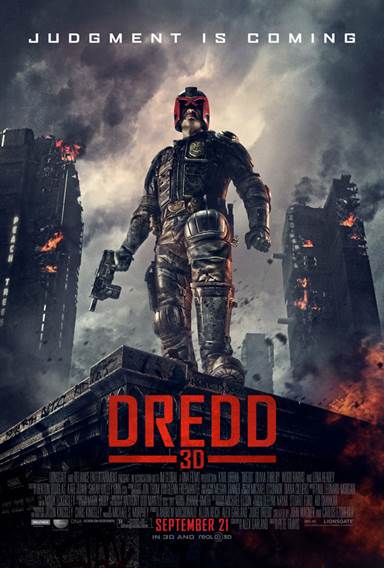 Back in the 90's a movie was made called Judge Dredd. Based off the UK comic of the same name, it starred Sylvester Stallone as the title character. But that is not what we're going to discuss here. What we will review is the much better adaptation that hits theaters September 21. It stars Karl Urban, Lena Headey, and Olivia Thirlby. Simply put: it's everything you want in an action film.
The premise is easy to follow. Sometime in the future, the majority of the country is a wasteland. The only surviving city, called Mega City 1, runs from Boston straight down to D.C. With such a large area to cover, drugs and crime run rampant. The only form of government is the Hall of Justice which enacts the laws which the cops, or Judges as they're known, carry out. Judge Dredd (Urban) is our titular hero. A man of few words, his actions speak for themselves. If you're hoping to get a good look at his mug in this film, forget it. The helmet never comes off and that makes the movie all the better. His new trainee is Anderson (Thirlby) a young girl with a unique ability to hear thoughts. Their first day out they answer a call about a triple homicide inside a large tenement called Peach Trees. The building, while is inhabited by mostly honest folk, is run by Ma-Ma (Headey), a former prostitute turned drug lord, she runs a tight ship, cooking up a new drug called Slo-mo which severely slows down the brain's perception of reality.

When Dredd and Anderson arrest the man responsible for the homicide, Ma-Ma doesn't want them to leave because he can implicate her in the murders. So she has her henchman lock down the building and recruits anyone available to take out the Judges. Thus ensues a barrage of bullets and blood. Any fan who lost faith after the first film will feel vindicated after seeing this.

Urban really took to this role and his performance as Dredd takes the cake. He said recently in an interview that he took extra steps in preparation by going back to the comics themselves to get a sense of the character. Even before filming had begun he was already walking around in the Dredd costume, again to get a sense of how he would have to move in the suit so that it looked as natural as possible. Clearly, he took the role as seriously as anyone can and knowing that only makes the movie more exciting to watch.

Visually the film looks very impressive, the scenes with the Slo-mo effect have an extra pop, seeming to sparkle from the light. The same can be said for the audio, from the opening sequence where Dredd is cruising on his motorcycle to gun fights inside the building, you are assaulted with noise bringing you right into the heart of the action.

Dredd is the classic action movie that any guy will love, a stalwart man-of-few-words who defines himself by his code of conduct. In a sense, this hearkens back to old westerns, where our hero isn't a lovable goodie-goodie who gets the girl in the end but instead is a man who deals out retribution to those who deserve it and wants nothing in return. His is a life of solitude and he could care less. If you're in the mood for that kind of film, if you're in the mood to leave the theater feeling energized after seeing a great movie then you need to see Dredd ASAP.


Read More Dredd Reviews
For more reviews please visit our film/television review section.
Karl Urban, discusses with FlickDirect what it was like to take on the iconic role of Judge Dredd in...

The future America is an irradiated waste land. On its East Coast, running from Boston to Washington...
SPONSORED LINKS
Comments

Courtesy of
Movie Hype App
movieguynathan
Needed some mindless action tonight.
5/22/2014 10:14 PM EDT
movieguynathan
Can't sleep. Re watching one of last years best films.
4/8/2013 11:10 PM EDT
jeffc0x
Awesome
3/27/2013 11:03 PM EDT