Taken 2 (2012)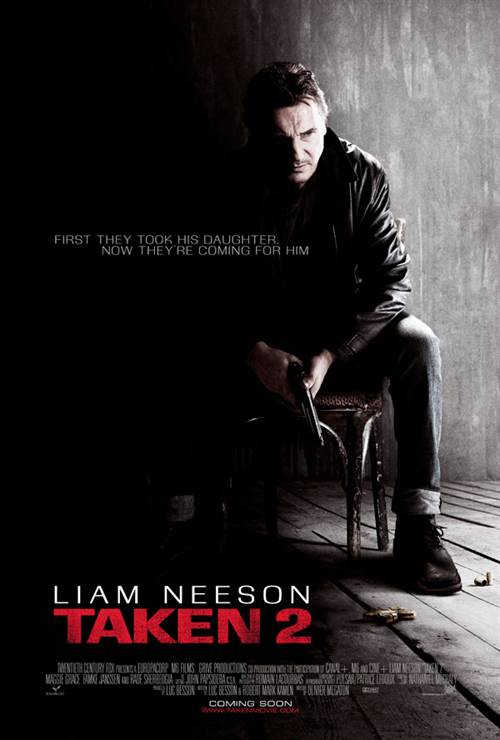 Share this:
| | |
| --- | --- |
| Director: | |
| Cast: | |
| Released: | Friday, October 5, 2012 |
| Length: | 92 minutes |
| Studio: | 20th Century Fox |
| Genre: | Action/Adventure |
| Rating: | Some material may be inappropriate for children under 13. |
Synopsis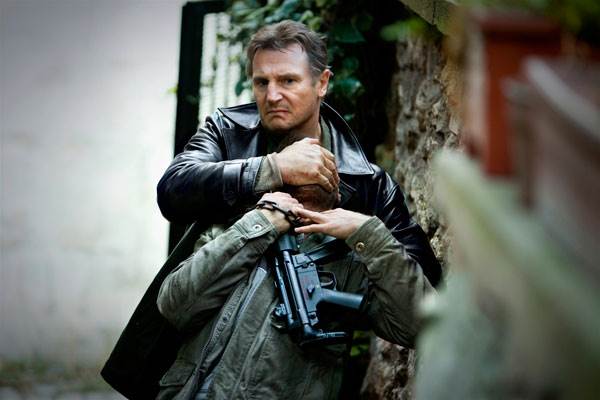 Liam Neeson returns as Bryan Mills, the retired CIA agent with a "particular set of skills" who stopped at nothing to save his daughter Kim from kidnappers in TAKEN. When the father of one of the villains Bryan killed swears revenge, and takes his wife hostage in Istanbul, Bryan uses the same advanced level of special forces tactics to get his family to safety and systematically take out the kidnappers one by one.

Purchase DVD/Blu-ray/4K UHD physical copy of Taken 2 today at Amazon.com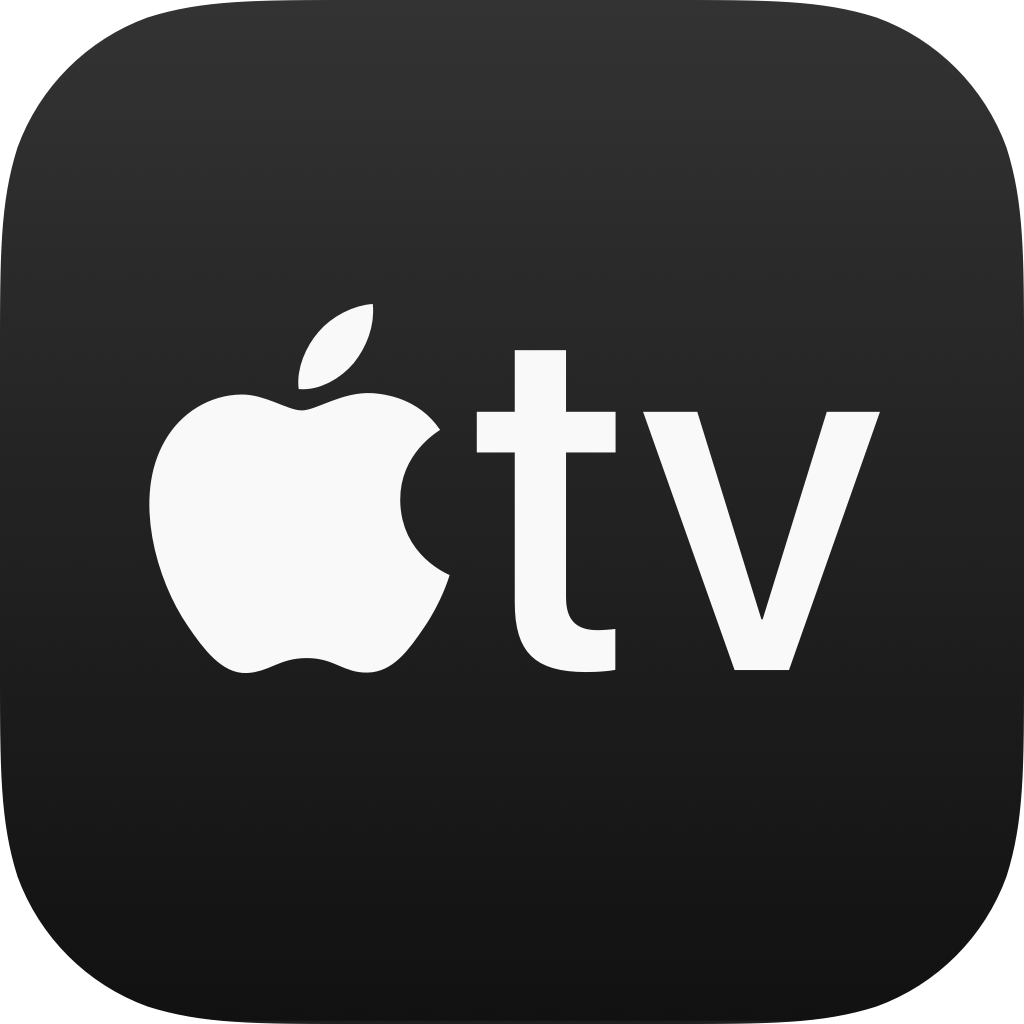 Download Taken 2 in Digital HD/4K from the iTunes store.
Taken 2 images are © 20th Century Fox. All Rights Reserved.
Taken Being Adapted for Small Screen
9/18/2015 12:23 AM EST
Taken, the Liam Neeson driven franchise, will be turned into a TV series for NBC.The show will be a prequel to the films, and will be a drama about Bryan Mills, the CIA operative. The show will feature a young Mills, before he gets married. It will follow Mills as he learns the ropes and becomes a man who has acquired "a very particular set of skills".  It will also be set in modern day, not in th...
More>>
Liam Neeson Signs on for Taken 3
6/25/2013 10:38 AM EST
It's been no secret that a third "Taken" film has been in the cards for a while, but now Deadline has confirmed that Liam Neeson will once again return as the over-protective father, Bryan Mills, for a whopping $20 million.Also reported to be in negotiations for the movie are Maggie Grace, who plays Mills's daughter Kim, and Famke Janssen, Kim's mother. It has already been reported that "Taken 2" ...
More>>
Enter for a Chance to win a Blu-ray copy of Taken 2
1/10/2013 3:16 PM EST
Liam Neeson Returns in the Action-Packed Sequel from Producer Luc Besson Arriving on Blu-ray Combo Pack and DVD January 15!In order to win your very own copy of Taken 2 on Blu-ray, simply answer the following question below and follow FlickDirect on Twitter,  Google+<span style="color: r...
More>>
Taken 3 Could Happen Despite Neeson's Reservations
10/10/2012 2:50 PM EST
With the second Taken movie occupying top spot on both sides of the Atlantic, it was not going to be long before news of a possible third movie in the franchise was going to be talked about.Screen writer Robert Mark Kamen has confirmed work has already started on the third installment speaking to Hollywood.com "We didn't start talking about it until we saw the numbers, but then we said, okay. I th...
More>>
Taken 2 Blu-ray Review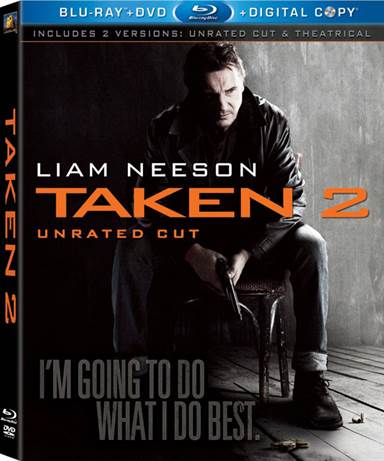 In the first movie, Liam Neeson's character Bryan, is called into action after his daughter is kidnapped by a human trafficking ring while in France. This movie starts exactly where the other one ended, with the father of the kidnappers from the first movie vowing revenge over his son's fresh grave. Apparently revenge means kidnapping Bryan and his whole family, not just killing them – otherwise this movie wouldn't have lasted more than 30 minutes. Don't get me wrong – from a straight-forward action/suspense movie, Taken 2 is great. I just couldn't get into the story from a believability standpoint.
Bryan's daughter, Kim, who was kidnapped in the first movie, is still a teenager, and also, according to the beginning of the movie, this is taking place within days of the first movie.
Yet she is acting like nothing happened to her
. The only time you see her go back into what happened is when her father tells her he has been taken. At the same time, I am supposed to believe that these terrorists were able to plan out hideouts, city routes and have strategically placed corrupt officials ready to kidnap Bryan's entire family – even though Bryan didn't know that his ex-wife and daughter were coming to visit as a surprise. If they had just focused on Bryan, with his ex-wife as icing on the cake, I would have believed that – but when they had people focused on looking for his daughter at the same time it went into unbelievable mode. You have to take some suspension of disbelief when watching a movie but sometimes, like in this case, it goes too far and you can't get it back.
Now even though the story isn't up to par, the actors didn't hold back. Liam Neeson is wonderful again, reprising his role as Bryan. He brings the emotions of not only being a cold-blooded killer to the table, but also the emotions of a loving father who still cares for and loves his ex-wife. You see that time and time again when he has to choose between the two and how he interacts with them in the scenes. Maggie Grace plays his daughter Kim, also reprising her role. For someone who was at risk of being typecast after Lost, she has really come out as a credible actor especially with her brief role in Breaking Dawn and in this movie. She brings an extra flair for someone who is thrust into the situation. I'm not going to blame her for her actions at the beginning of the film as she didn't write it. She portrays the growth Kim goes through during the movie from being a helpless damsel in distress to tough girl; with even a little nod to a subplot that begins and ends the movie. Famke Janssen also reprises her role as Lenore, Kim's mother and Bryan's ex-wife. While she is a key part of the movie, her role in it is downplayed and we don't get to see much of her skills except for a few brief scenes, which she does very well.
Like most modern Blu-ray's these days, the picture is flawless and the color really shines through; however, it looks like 20
th
Century Fox slacked a bit with the audio. While it boasts a DTS-HD Master Audio 5.1, it seems to lack the audio punch you find in most modern action films these days.
I gave it the final grade because of the story which like I mentioned seemed forced, and I would have given it a worse grade if not for the wonderful acting done by the three leads.
Special Feature Included on the Blu-ray release:
Unrated and Theatrical Cut
Black Ops Field Manual and Kill Counter
Tools of the Trade
Deleted and Extended Scenes
Alternative Ending
FX Piece
DVD/Digital Copy
UltraViolet
Read More Taken 2 Reviews
For more reviews please visit our film/television review section.
Liam Neeson returns as Bryan Mills, the retired CIA agent with a "particular set of skills" who stop...

Liam Neeson returns as Bryan Mills, the retired CIA agent with a "particular set of skills" who stop...
SPONSORED LINKS