Goon (2012)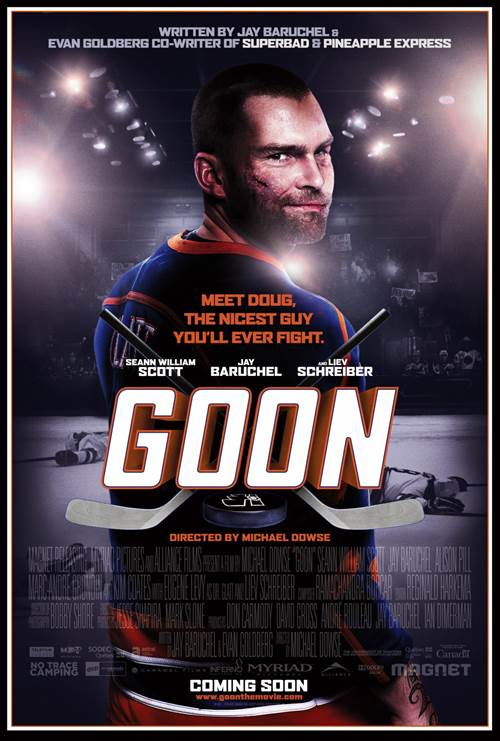 | | |
| --- | --- |
| Director: | |
| Cast: | |
| Released: | Friday, March 30, 2012 |
| Length: | 91 minutes |
| Studio: | Magnolia Pictures |
| Genre: | Comedy |
| Rating: | Under 17 requires accompanying parent or adult guardian. |
Goon Synopsis
Doug Glatt, a slacker who discovers he has a talent for brawling is approached by a minor league hockey coach and invited to join the team as the "muscle." Despite the fact that Glatt can't skate his best friend, Pat, convinces him to give it a shot, and Glatt becomes a hero to the team and their fans, until the league's reigning goon becomes threatened by Glatt's success and decides to even the score.

Purchase DVD/Blu-ray/4K UHD physical copy of Goon today at Amazon.com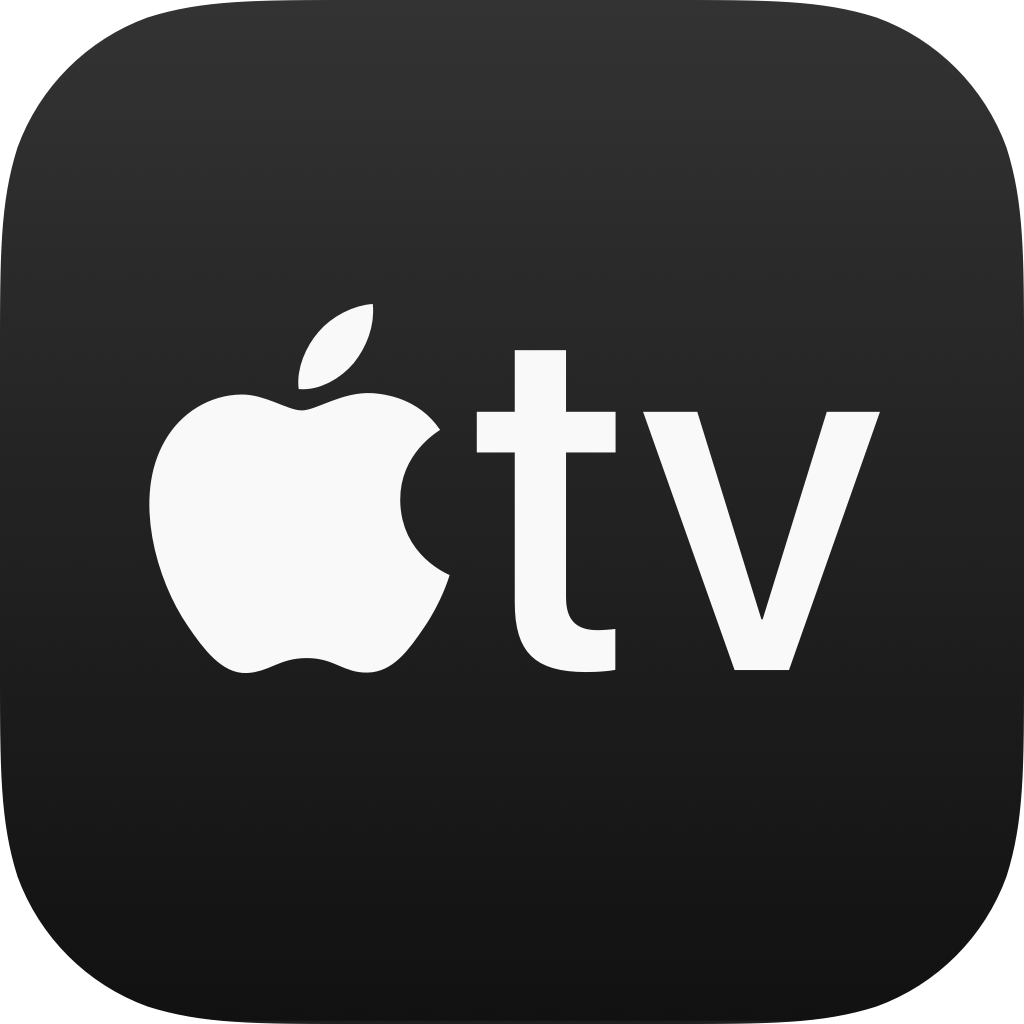 Stream Goon in Digital HD/4K from the AppleTV store.
Goon images are © Magnolia Pictures. All Rights Reserved.
Goon Theatrical Review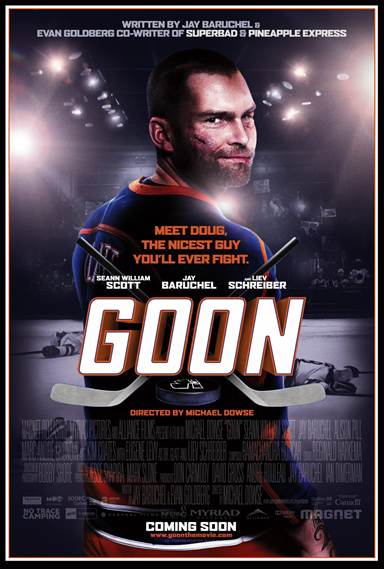 As much as "Moneyball" wasn't about baseball, "Goon" isn't really about the game of hockey. There's plenty of tense action on the ice to enjoy, but the picture is more fascinated with the elements of violence that dominate the sport, celebrating the bloodletting and glove-tossing escalation, forming a gladiator sport of sorts with all of the punches and airborne teeth. Thankfully "Goon" is a comedy, and a successfully exaggerated one at that, buffering the hurt with a considerable portion of laughs. Obviously, the feature is a must-see for any puck nut, as the script superbly observes the details of hockey life. Those will little interest in ice-based action may not be carried away by the experience, but the movie is silly enough to stand on its own.

A dimwit from Massachusetts, Doug Glatt (Seann William Scott) is depressed about his work as a bar bouncer, a vocation which disappoints his father (Eugene Levy). With encouragement from spastic pal Ryan (Jay Baruchel), Doug finds his place on the ice with a minor league hockey team in need of a player experienced in blunt force trauma. Using his fight gifts to help the team to victory, Doug becomes a star player, soon called up to taste the big time in Canada with the Halifax Highlanders. A courteous enforcer, Doug has trouble fitting in with his distressed team, hoping to befriend troubled burnout Laflamme (Marc-Andre Grondin), while confronted with the threat of antagonistic league menace Ross "The Boss" Rhea (Liev Schreiber). Finding love with Eva (Alison Pill), a promiscuous local woman, Doug uncovers the confidence and inspiration required to become a legend, smashing in the teeth of anyone who skates in his way.

Surprisingly, the picture is based on a book, with screenwriters Jay Baruchel and Evan Goldberg bringing "Goon: The True Story of an Unlikely Journey into Minor League Hockey" to the big screen. Fictionalizing the legend of Doug Smith, an amateur boxer who didn't even learn to skate until he was 19 years old, "Goon" plays up the volatility of hockey, where players always seem to be locked in combat, taking pride in their busted faces and time in the penalty box. It's a lived-in world for director Michael Dowse ("It's All Gone Pete Tong") to survey, providing the movie with a layer of minor league reality to help accentuate the jokes, scripted by two men clearly enamored with the details of scraps and taunts, along with locker room camaraderie and tour bus bathroom procedures. "Goon" is put together with clear love, despite a story bathed in aggression and bloodshed.

Doug is no monster, making him a unique character for this type of movie. Polite and respectful of his place on the team, the goon uses his fight force for good, protecting the Highlanders on the ice under the guidance of Coach Hortense (Kim Coates), who uses Doug as a weapon of retribution, pounding those on the opposing team who take cheap shots. The script is infatuated with Doug's simpleton behaviors, extending to his tentative courtship of Eva, who's completely won over by the lug's aura of kindness. Despite his childlike view of the world, Doug isn't portrayed as an idiot, blessed with a sense of moral obligation and self-awareness that helps him to grow as a player, trying to be more than just a punch-happy figure of revenge. The dimensions of the character are captured acceptably by Scott, who provides gentleness to the brute, while relaxed enough to play the straight man to the madness of hockey.

"Goon" is a comedy, and a ridiculous one at that, embracing how tumultuous civilian life infiltrates game attitudes, while having fun with Doug's slowness of thought and skating speed. Pill also scores in a big way in her supporting role, bravely committing to Eva's deplorable sweetness in a scene-stealing performance. While it never reaches exhilarating comedic highs, Dowse maintains an emphatic vision for the picture, inflating his limited budget to interesting peaks of operatic conflict, as Doug and Ross work their way to a final confrontation, pitting goon vs. goon. Pumping in the Puccini, the director lifts the movie off the ground, giving the feature an identity that's worth paying attention to.

One has to wonder why this film never made it to a wide release because it has enough comedic and heart warming elements to become a decent hit. Apparently in the world of film even a goon is an unsung hero.

For more reviews please visit our film/television review section.
SPONSORED LINKS