Robocop (2014)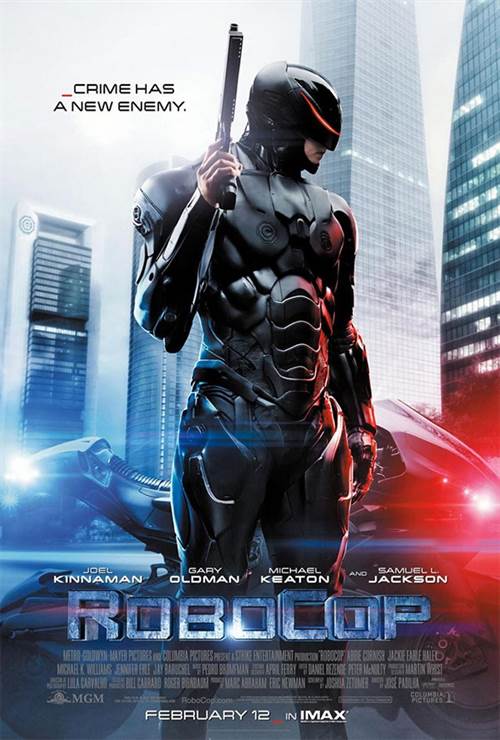 Share this:
| | |
| --- | --- |
| Director: | |
| Cast: | |
| Released: | Wednesday, February 12, 2014 |
| Length: | 102 minutes |
| Studio: | Columbia Pictures |
| Genre: | Sci-Fi/Fantasy, Action/Adventure |
| Rating: | Some material may be inappropriate for children under 13. |
Synopsis
In RoboCop, the year is 2028 and multinational conglomerate OmniCorp is at the center of robot technology. Their drones are winning American wars around the globe and now they want to bring this technology to the home front. Alex Murphy (Kinnaman) is a loving husband, father and good cop doing his best to stem the tide of crime and corruption in Detroit. After he is critically injured in the line of duty, OmniCorp utilizes their remarkable science of robotics to save Alex's life. He returns to the streets of his beloved city with amazing new abilities, but with issues a regular man has never had to face before.

Purchase DVD/Blu-ray/4K UHD physical copy of Robocop today at Amazon.com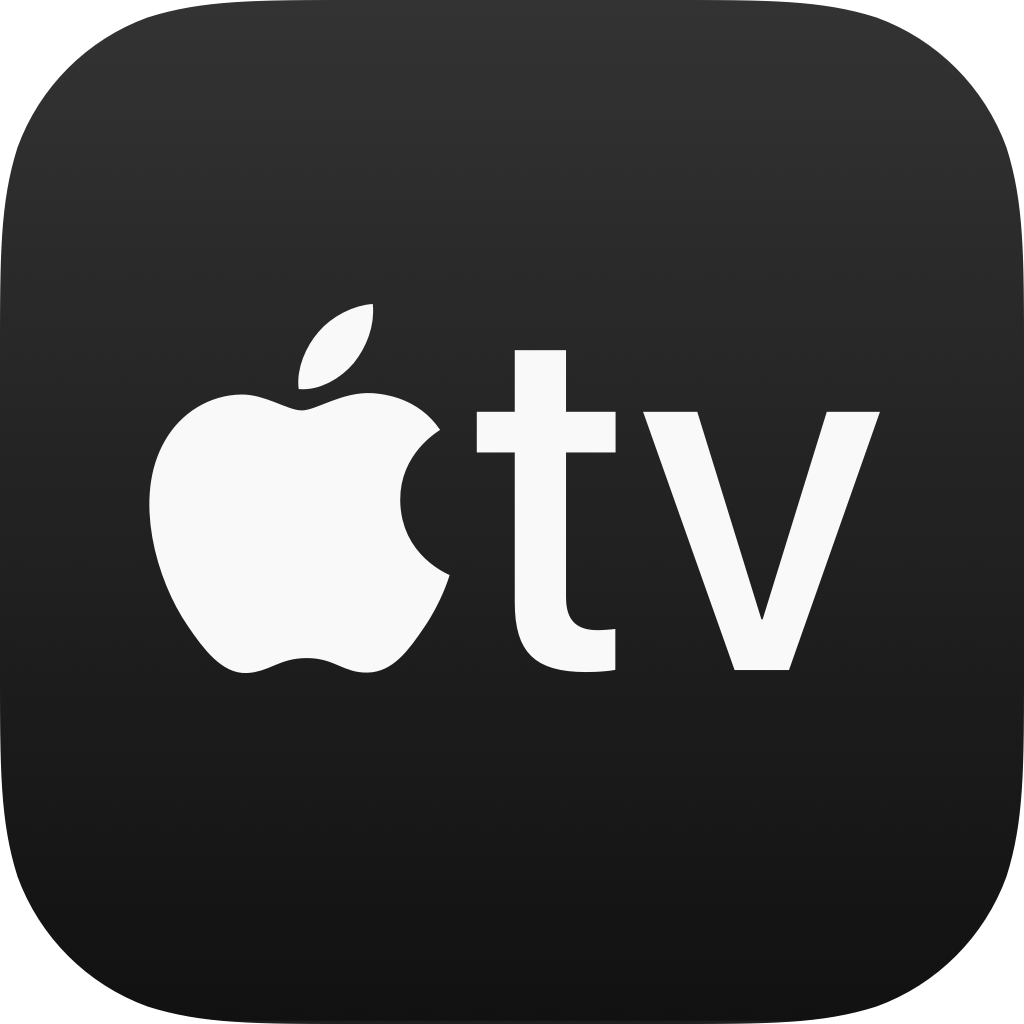 Download Robocop in Digital HD/4K from the iTunes store.
Robocop images are © Columbia Pictures. All Rights Reserved.
Neill Blomkamp Discusses RoboCop Sequel
2/13/2019 2:51 PM EST
Director Neill Blomkamp recently spoke about the upcoming RoboCop sequel, RoboCop Returns, a project that he will be bringing to life for MGM.Ed Neumeier and Michael Miner, the original creators, have signed on to write and produce the film. The 1987 original was directed by Paul Verhoeven. Blomkamp spoke of how he wants the project to turn out."If I can be honest to what Paul Verhoeven did and al...
More>>
Production Begins This Weekend on RoboCop Reboot
9/13/2012 3:08 PM EST
This Saturday, September 15th, production will begin on "RoboCop" in Toronto, Canada.Based on the 1987 film of the same name, it will star Joel Kinnaman, Gary Oldman, Michael Keaton, and Samuel L. Jackson. Jose Padilha will be directing the screenplay by Josh Zetumer and Nick Schenk.Speaking about the announcement, Padilha said, "It's exciting to think that we're going to be starting production on...
More>>
Michael Keaton Joins RoboCop Remake
8/30/2012 10:10 AM EST
Michael Keaton has joined the cast of the upcoming film, "RoboCop". he is set to play the role of Raymond Sellars, the CEO of the company that builds RoboCop.Originally,  the role was to be played by Hugh Laurie, but he dropped out for making the deal final.Jose Padilha, director of the film, said,  "Michael is the final addition to the amazing cast we have assembled for this film and it is so gre...
More>>
Hugh Laurie to Join Robocop Cast
6/13/2012 10:50 AM EST
The star of" House M.D.", Hugh Laurie, is in negotiations to star in the upcoming Robocop. It's understood that the British actor will play the villain, the evil CEO of Omnicorp who puts profit before anything else, up against Joel Kinnaman Robocop.Along with Kinnaman, Laurie will be teaming up with Gary Oldman who plays the law enforcing cyborg scientific creator and Samuel L. Jackson a media mag...
More>>
Samuel L. Jackson to Star in Robocop
6/7/2012 11:30 AM EST
Samuel L. Jackson is the latest star to join the cast of the upcoming "Robocop" reboot. The ultra cool acting legend will be playing the role of Pat Novak, a media mogul and extremely powerful man.The reboot will also star Joel Kinnaman as the title role of Robocop, a man who brought back from near death and changed into a cyborg police officer.The film will be directed by Jose Padihla, and will b...
More>>
Oldman and Kinnaman to Star in Robocop Reboot
5/24/2012 3:12 PM EST
MGM's "Robocop" reboot will be starring Gary Oldman and Joel Kinnaman according to Heat Vision.Oldman will be playing the role of Norton, the creator of Robocop, and Norton will play Robocop, formerly Alex Murphy.Being released in the summer of 2013, Robocop will be directed by Jose Padilha based on a script by James Vanderbilt (The Amazing Spiderman); meanwhile Gary Oldman's next appearance on th...
More>>
Schenk Signs on to RoboCop
2/1/2012 3:21 PM EST
Nick Schenk, who penned "Gran Torino", has signed on with MGM to work on the script for their upcoming "RoboCop" reboot.Directing the film will be Jose Padilha, who Schenk is currently working with on the film, "Tri-Border".Shooting is expected to begin this summer....
More>>
Robocop Theatrical Review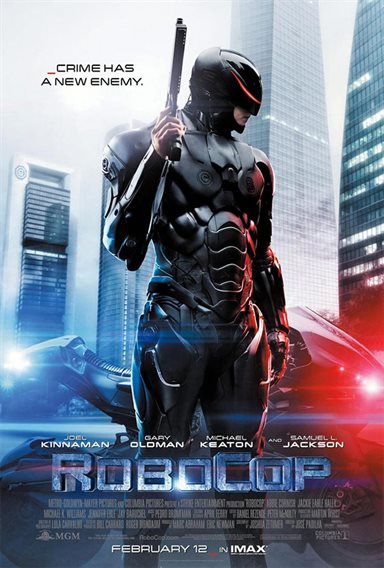 In the year 2028, OmniCorp rules the world in robot technologies. Their robots are deployed all around the globe keeping law and order on the streets, except in one country, America. The U.S. has the Dreyfuss Act -- a law forbidding the use of drones on its street. OmniCorp's CEO, Raymond Sellars (Michael Keaton), sees a way of getting around the law and comes up with the idea of a drone with the feelings of a human, a RoboCop. With the help of his chief scientist Dr. Dennett Norton (Gary Oldman), OmniCorp starts to search for a candidate and discovers Alex Murphy (Joel Kinnaman), a cop from Detroit who was targeted by criminal gangs and left for dead after a car bomb explosion on his driveway.

José Padilha's movie is based around the Sellars and Norton characters rather than Alex Murphy. The focus is the greed of a CEO of one of the largest companies in the world playing a delicate game of chess with his chief scientist, who tries to play the ethical move, but doesn't realise he is being outmoved until it is too late, and play it well they do. Both were shining lights, along with Samuel L Jackson, in what was a fairly frigid cast lineup. In fairness, Joel Kinnaman's portrayal of Alex Murphy isn't too bad, but that's as far as I would go in praise.

As a RoboCop fan, I thinks it's a shame, as I really wanted this movie to stand on its own without people saying it hasn't got this or it hasn't got that from the original movie, but the truth is you can't remake a movie without that happening, so unfortunately fans of Paul Verhoeven RoboCop are going to be disappointed. True, we live in a different age than that of the late 80's, and to get the PG-13 rating (12A in the UK) that studios crave, the violence that's on the streets to justify OmniCorp's presence on every street corner is not present at all.

Sure some things have improved -- the CGI and action sequences are as you would expect miles better! A great fight scene between some of the ED-20s and Murphy really was the high point. Many things from the 1987 movie do survive. The politics of whether it's right to have these drones on the streets and the ethics remain, but gone are the satire and raw violence that made Verhoeven RoboCop such a success and still loved by many some 25 years or more on today.
-- Paul Kates
Read More Robocop Reviews
For more reviews please visit our film/television review section.
In RoboCop, the year is 2028 and multinational conglomerate OmniCorp is at the center of robot techn...
SPONSORED LINKS