Robocop (2014)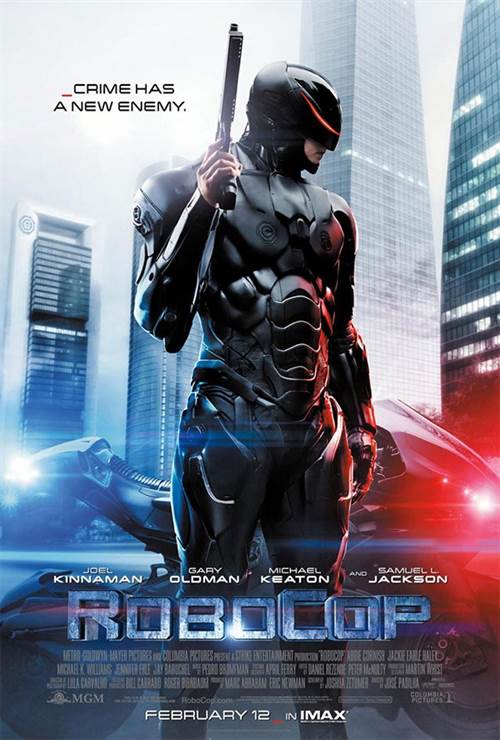 | | |
| --- | --- |
| Director: | |
| Writers: | |
| Cast: | |
| Released: | Wednesday, February 12, 2014 |
| Length: | 102 minutes |
| Studio: | Columbia Pictures |
| Genre: | Sci-Fi/Fantasy, Action/Adventure |
| Rating: | Some material may be inappropriate for children under 13. |
Robocop Synopsis
In RoboCop, the year is 2028 and multinational conglomerate OmniCorp is at the center of robot technology. Their drones are winning American wars around the globe and now they want to bring this technology to the home front. Alex Murphy (Kinnaman) is a loving husband, father and good cop doing his best to stem the tide of crime and corruption in Detroit. After he is critically injured in the line of duty, OmniCorp utilizes their remarkable science of robotics to save Alex's life. He returns to the streets of his beloved city with amazing new abilities, but with issues a regular man has never had to face before.
Robocop images are © Columbia Pictures. All Rights Reserved.
Neill Blomkamp Discusses RoboCop Sequel
2/13/2019 2:51 PM EST
Director Neill Blomkamp recently spoke about the upcoming RoboCop sequel, RoboCop Returns, a project that he will be bringing to life for MGM.Ed Neumeier and Michael Miner, the original creators, have signed on to write and produce the film. The 1987...
| Full Article
Production Begins This Weekend on RoboCop Reboot
9/13/2012 3:08 PM EST
This Saturday, September 15th, production will begin on "RoboCop" in Toronto, Canada.Based on the 1987 film of the same name, it will star Joel Kinnaman, Gary Oldman, Michael Keaton, and Samuel L. Jackson. Jose Padilha will be directing the screenpla...
| Full Article
Michael Keaton Joins RoboCop Remake
8/30/2012 10:10 AM EST
Michael Keaton has joined the cast of the upcoming film, "RoboCop". he is set to play the role of Raymond Sellars, the CEO of the company that builds RoboCop.Originally,  the role was to be played by Hugh Laurie, but he dropped out for making the dea...
| Full Article
Hugh Laurie to Join Robocop Cast
6/13/2012 10:50 AM EST
The star of" House M.D.", Hugh Laurie, is in negotiations to star in the upcoming Robocop. It's understood that the British actor will play the villain, the evil CEO of Omnicorp who puts profit before anything else, up against Joel Kinnaman Robocop.A...
| Full Article
Samuel L. Jackson to Star in Robocop
6/7/2012 11:30 AM EST
Samuel L. Jackson is the latest star to join the cast of the upcoming "Robocop" reboot. The ultra cool acting legend will be playing the role of Pat Novak, a media mogul and extremely powerful man.The reboot will also star Joel Kinnaman as the title ...
| Full Article
Oldman and Kinnaman to Star in Robocop Reboot
5/24/2012 3:12 PM EST
MGM's "Robocop" reboot will be starring Gary Oldman and Joel Kinnaman according to Heat Vision.Oldman will be playing the role of Norton, the creator of Robocop, and Norton will play Robocop, formerly Alex Murphy.Being released in the summer of 2013,...
| Full Article
Schenk Signs on to RoboCop
2/1/2012 3:21 PM EST
Nick Schenk, who penned "Gran Torino", has signed on with MGM to work on the script for their upcoming "RoboCop" reboot.Directing the film will be Jose Padilha, who Schenk is currently working with on the film, "Tri-Border".Shooting is expected to be...
| Full Article
Physical Media: Blu-ray Review
The end result of the Robocop remake is that it simply wasn't necessary but it isn't bad. If you're going to watch it at home, though, the Blu-ray is well worth the cost.

Movie / Film Review
RoboCop Is A Disaster.
SPONSORED LINKS