Oz: The Great and Powerful (2013)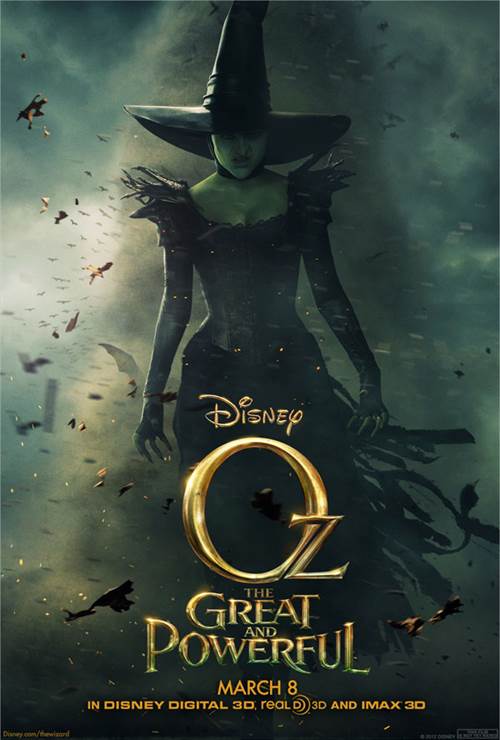 Share this:
| | |
| --- | --- |
| Director: | |
| Writers: | Mitchell Kapner, David Lindsay-Abaire |
| Cast: | |
| Released: | Friday, March 8, 2013 |
| Length: | 131 minutes |
| Studio: | Walt Disney Pictures |
| Genre: | Sci-Fi/Fantasy, Action/Adventure |
| Rating: | Some material may not be suitable for children. |
Synopsis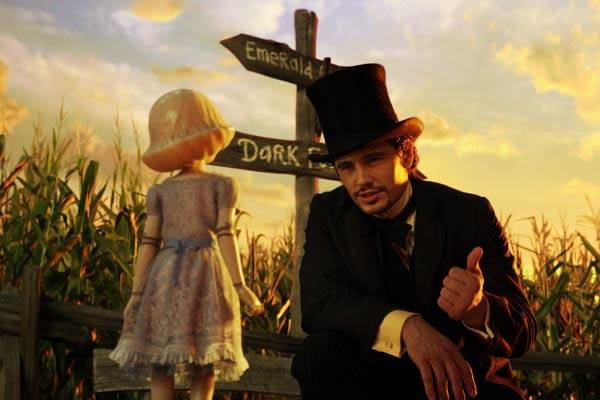 Disney's fantastical adventure "Oz The Great and Powerful," directed by Sam Raimi, imagines the origins of L. Frank Baum's beloved character, the Wizard of Oz. When Oscar Diggs (James Franco), a small-time circus magician with dubious ethics, is hurled away from dusty Kansas to the vibrant Land of Oz, he thinks he's hit the jackpot—fame and fortune are his for the taking—that is until he meets three witches, Theodora (Mila Kunis), Evanora (Rachel Weisz) and Glinda (Michelle Williams), who are not convinced he is the great wizard everyone's been expecting. Reluctantly drawn into the epic problems facing the Land of Oz and its inhabitants, Oscar must find out who is good and who is evil before it is too late. Putting his magical arts to use through illusion, ingenuity—and even a bit of wizardry—Oscar transforms himself not only into the great and powerful Wizard of Oz but into a better man as well.
Purchase DVD/Blu-ray/4K physical copy of Oz: The Great and Powerful today at
Download Oz: The Great and Powerful in Digital HD/4K from the iTunes store.
Oz: The Great and Powerful images are © Walt Disney Pictures. All Rights Reserved.


Journey to Oz Balloon Tour Takes to the Skies for Disney's Oz th...
2/12/2013 1:56 PM EST
BURBANK, CALIF. (February 12, 2013)-Disney announced today the launch of the "Journey to Oz Balloon Tour," sponsored by leading multichannel retailer HSN and IMAX Corporation, in support of its upcoming fantastical adventure "Oz The Great and Powerful," opening in U.S. theaters and IMAX® on March 8, 2013. The colorful, "Oz The Great and Powerful"-emblazoned hot-air balloon began its tour this morn...
More>>
Oz: The Great and Powerful Theatrical Review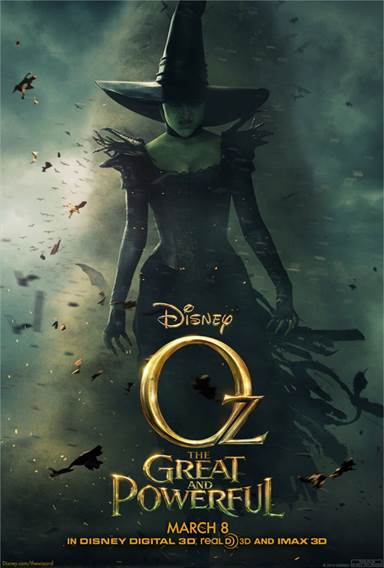 The bold, dazzling and dramatic Oz the Great and Powerful opens this weekend with immense possibilities of being the top gainer so far this year. Nearly critic proof, the film should bask in great returns at the box office. However, although the film is a masterpiece of cinematography and CGI, the acting and direction never really reaches an acceptable peak for cinematic prominence.

The movie follows pretty closely to a beginning to the original Wizard of Oz. In this prequel we find Oscar Diggs (James Franco) working in a side show as a magician with a traveling circus. A tornado comes while Diggs is escaping some very upset circus performers due to his misleading of young women and he jumps into his hot air balloon and gets blown away to a strange land. Here he meets the witch Theodora who mistakes him for Oz the expected ruler of the land. The two along with a monkey called Finley (voiced by Zach Braff) and a patched up porcelain doll called China Girl (voiced by Joey King) head for the Emerald City along the yellow brick road.

They arrive at the city and are welcomed by two witches, Theodora's sister Evanora (Rachel Weisz) who currently rules over the city and Glenda (Michelle Williams) the good witch. During their introduction at the castle we see that both Theadora and Evanora are at odds with Glenda and their hospitality turns hostile toward her. Oz gets introduced to Evanora's assistants Master Tinker (Bill Cobbs) and Knuck (Tony Cox) who we find out later are not as friendly as they initially look. When Theodora and Evanora suspect that this man is not the great wizard they are expecting, Oz and Glenda get driven-off to Glenda's castle. So starts an adventure of power, ingenuity and magic.

The special effects, computer graphics imaging and cinematography are exquisite. From the bubble transports to the flying witches everything looks as realistic as you would expect it to be in the enchanted land. The animation of China Girl is brilliant with her porcelain look, the charming doll moves and talks like she's human. The flying monkey Finley provides the friend that Oz needs to keep himself centered and on track. Very capable of helping Oz along with his ability to move about with wings, the furry friend gets him out some tight situations.

The depicted landscapes, forests, flowers and castle are very creative, vibrant and striking. The costumers make the population of Oz from munchkins to towns people an integral part of the strange place helping to generate a feel of fantasy. There's magical attention to detail of the sets and make-up, especially the witches who get transformed as the movie plays out. From gorgeous Glenda to the hideous sister witches, the crew does an amazing job.

What's missing from this Oz comes early on in the movie, songs. At first I couldn't make out why there was no "Follow the Yellow Brick Road" ditty as Oz and the witch Theodora stroll down the famous walkway toward the Emerald City. Well I figured the filmmakers would wait a bit and then introduce the song, but never did. Hmm, I thought, they want to be original so soon we will get a new creative song from one of the characters in the film. To make a long story short, not even the monkey sings a song let alone good witch Glenda, or dare I say it, Oz himself.

The length of the film that lumbers over two hours hurts its youngster factor rambling with a lot of dialogue superfluous to the film. The Wizard of Oz was a lengthy hour and 41 minutes and that was a stretch for the tots back in the day. In addition, the witches and flying baboons are very scary, too much for 6 and under. There's one scene near the beginning when Oz first arrives with he and Theodora fleeing from an impending attack. To hide they run into a cave and while they are inside only this hideous growling can be heard with claws protruding over the edge, then a scare from a grotesque face of a crazed baboon. If that's not enough to send a child to the lobby, the wicked witch gives some demented looks with her vile rhetoric.

Some of the acting gets weak, especially that of James Franco who I feel is miscast. Robert Downey Jr who was the first choice to play, bowed out after an incident involving a dead plant and Johnny Depp refused in lieu of his playing Tonto in The Lone Ranger. With the action pool slowly getting empty, Sam Raimi chose the kindly Franco to play the role of the 'powerful' Oz. While his performance is not a complete bust, it lacks in force and appeal.

The film has been rated PG by the MPAA for sequences of action and scary images, and brief mild language. Upping the fear factor to extend the audience may have been a mistake since the Wizard of Oz had a G rating with no offensive material. It did contain however, a very tame attack by flying monkeys, but had a normal witch face make-up on the actor.

FINAL ANALYSIS: Acceptable to older children, but you may want to bring your child's comfy pillow along for those who may not make it through the full feature. (C )

-- John Delia
Read More Oz: The Great and Powerful Reviews
John Delia (B) (Oz the Great and Powerful 3D Blu-ray Review)
For more reviews please visit our film/television review section.
Disney's fantastical adventure "Oz The Great and Powerful," directed by Sam Raimi, imagin...

Disney's fantastical adventure "Oz The Great and Powerful," directed by Sam Raimi,...
SPONSORED LINKS
Comments

Courtesy of
Movie Hype App
love
It rocks do you like it
7/2/2013 2:16 PM EST
obed_edum
Funny... There were several scenes that got me rolling hard.
7/1/2013 5:08 PM EST
oralis
Love it
6/26/2013 3:35 AM EST
oscar1994
Bellow
6/25/2013 12:53 AM EST
dimples7043
And it's good not great.
6/24/2013 4:08 PM EST
fabrizzio
Buena pelicula
6/24/2013 12:55 AM EST
tande1000
Supi
6/23/2013 11:50 AM EST
amar
Play
6/19/2013 6:35 AM EST
izzy_omg78
Good movie
6/19/2013 4:32 AM EST
dm9166
Good Movie
6/14/2013 10:35 PM EST
snowman
Enjoyed it
6/9/2013 6:00 PM EST
elizabet090903
I love the wizard of oz and now this one!!!!!!!!! :)
6/5/2013 5:49 PM EST
movieguynathan
Family movie night.
6/3/2013 6:22 PM EST
abood
I love it so much
5/31/2013 5:53 PM EST
spider6826
So good
5/30/2013 4:58 AM EST