The Watch (2012)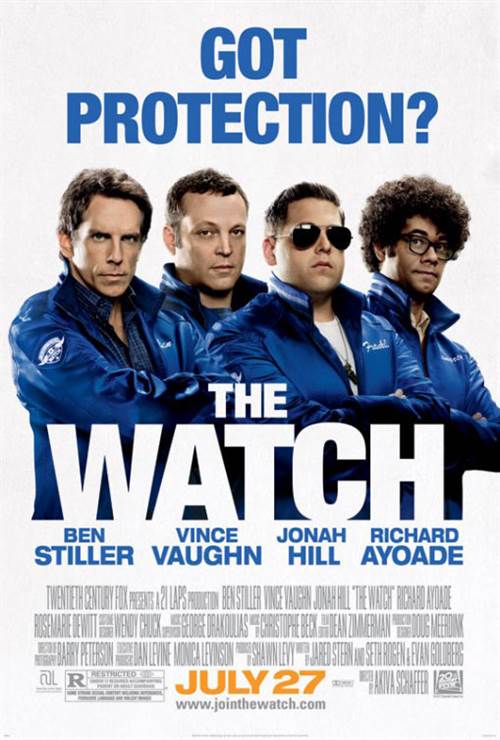 Share this:
| | |
| --- | --- |
| Director: | |
| Writers: | Jared Stern, Seth Rogen, Evan Goldberg |
| Cast: | |
| Released: | Friday, July 27, 2012 |
| Length: | 113 minutes |
| Studio: | 20th Century Studios |
| Genre: | Comedy |
| Rating: | Under 17 requires accompanying parent or adult guardian. |
Synopsis
Four everyday suburban guys come together to form a neighborhood watch group, but only as an excuse to escape their humdrum lives, one night a week. When they accidentally discover that their town has become overrun with aliens posing as ordinary suburbanites, they have no choice but to save their neighborhood -- and the world -- from total extermination.
Purchase DVD/Blu-ray/4K physical copy of The Watch today at
Download The Watch in Digital HD/4K from the iTunes store.
The Watch images are © 20th Century Studios. All Rights Reserved.


The Watch Theatrical Review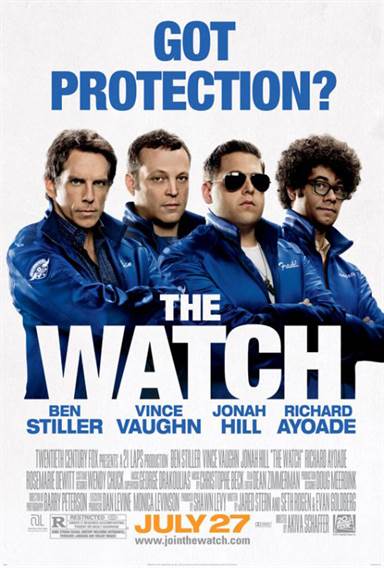 The screwball film The Watch tries hard to entertain, but sinks below average even with its fine cast of witty pros. The film struggles, trying to make the scanty script work by upping the crude and rude level with a lot of off color sight gags, a good measure of dumbness and strong sexual innuendos. The only reason for making the trek to your local theater to see The Watch; only if you just can't get enough of Ben Stiller, Vince Vaughn and Jonah Hill.

Evan (Stiller) runs the local Cosco in a small town in Ohio and his employees love him. He even won Manager of the Year from the company. On the way to work one morning he finds the police at his store who inform him that Chucho his security guard has been murdered. With no immediate suspect, Evan decides to form a Neighborhood Watch group to protect the town and see if he can catch the culprit.

At a local High School Football game he announces his intentions and asks for potential members to attend a meeting at his home. Three men show up to his house, Bob (Vaughn) a married man with a promiscuous teen daughter, Franklin (Hill) a policeman wannabe, and Jamarcus (Richard Ayoade) a nerdy misfit. Evan reluctantly makes a bond with the three men and thus forms his crime watchers. After many faux pas and a lot of ridicule, the men start to think twice about their effectiveness. When evidence starts to surface that aliens are invading the Earth with the town being ground zero, things start getting out of control.

While Stiller, Vaughn and Hill attempt to work magic on the hackneyed script (imagine Super 8 with comedians) they never seem to create a high level of excitement. The story features each of the characters with quirky personality and social problems. Evan invents his leadership by forming clubs. Being the person who brought the group together gives him the satisfaction of being in control. With Bob it's his toys and the playroom that give him pride. He joins the neighborhood watch just to show off his cool cellar filled with games, a bar and big screen televisions. Wacky at times, Franklin's a mama's boy who has missed his chance at being a cop, but still treasures his stash of weapons.

Much like his movie Hot Rod, director Akiva Schaffer brings The Watch down to an elementary school mentality. This kind of comedy works in some films, but with this cast it's nothing new, very ordinary and 'I've seen it already'. What Schaffer does well however are the nice special effects, computer graphics and wacky goop. I love the way he handles the design of the aliens, their mobility, ferocity and the butt of a lot of jokes.

The movie really never takes off, bombing in the comedic department big time. It's certainly not as good as the movie Ted where the laughter never stops from one scene to the next. Schaffer's direction also seemed out of control, possibly letting his cast ad lib their way through too many scenes. Each of the major actors looked like they were trying to outdo each other and in many instances made the comedy lethargic. This is Shaffer's first with high quality, egocentric stars and in my estimation, did not have the ability to take the power away from the trio.

On the upside, a new star comes to the forefront with a magnetic performance that gives some life to the otherwise ridiculous film. Richard Ayoade steels the movie with a nerdy performance that offsets much of the silliness with some real comedy that works. He's probably the only actor that Schaffer was allowed to mold into the character that fit the role.

The big surprise here comes with the writers of this nonsense. Jared Stern (Mr. Popper's Penguins), Seth Rogen (Superbad), Evan Goldberg (Pineapple Express) are noted comedy jocks who know a good storyline and how it should be played out. Now add comedy superstars Steller, Vaughn and Hill's constant adlibs to the mix. Where I feel things went wrong with the whole filming comes from the old saying, "too many cooks spoil the broth".

FINAL ANALYSIS: A could have been, should have been comedy that never does. (D)

-- John Delia
Read More The Watch Reviews
For more reviews please visit our film/television review section.
SPONSORED LINKS