The Amazing Spider-Man 2 (2014)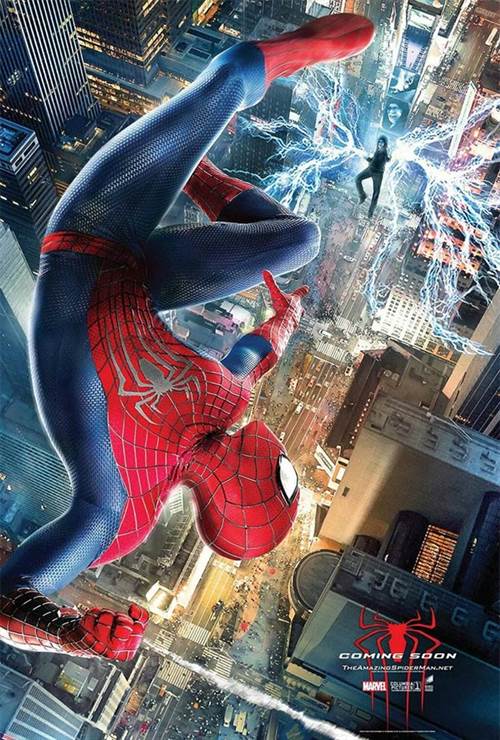 Share this:
| | |
| --- | --- |
| Director: | |
| Writers: | Alex Kurtzman,Roberto Orci, Jeff Pinkner,James Vanderbilt |
| Cast: | |
| Released: | Friday, May 2, 2014 |
| Length: | 141 minutes |
| Studio: | Columbia Pictures |
| Genre: | Sci-Fi/Fantasy, Action/Adventure |
| Rating: | Some material may be inappropriate for children under 13. |
Synopsis
In The Amazing Spider-Man™ 2, for Peter Parker (Andrew Garfield), life is busy – between taking out the bad guys as Spider-Man and spending time with the person he loves, Gwen (Emma Stone), high school graduation can't come quickly enough. Peter hasn't forgotten about the promise he made to Gwen's father to protect her by staying away – but that's a promise he just can't keep. Things will change for Peter when a new villain, Electro (Jamie Foxx), emerges, an old friend, Harry Osborn (Dane DeHaan), returns, and Peter uncovers new clues about his past.
Purchase DVD/Blu-ray/4K physical copy of The Amazing Spider-Man 2 today at
Download The Amazing Spider-Man 2 in Digital HD/4K from the iTunes store.
The Amazing Spider-Man 2 images are © Columbia Pictures. All Rights Reserved.


Doctor Strange to Make Appearance in Next Spider-Man Film
10/8/2020 4:01 PM EST
Looks like Doctor Strange will be making an appearance in the next installment of "Spider-Man". It's being reported that Benedict Cumberbatch is in talks to reprise his role for the film.Tom Holland, along with Zendaya, Marisa Tomei, Tony Revolori and Jacob Batalon will, most likely, all return to reprise their roles in the film.It's also being said that Cumberbatch will film his part in "Spider-M...
More>>
Jon Watts In Talks to Direct Next Spider-Man Film
9/27/2019 4:22 PM EST
Jon Watts is in talks to direct the upcoming third film in the "Spider-Man Homecoming" series. The news comes after the announcement about Marvel and Sony remaining partners on the project.This is all good news, but not too surprising. It appears that the deal was possibly held up due to the issues between Sony and Marvel.Watts directed the two previous films, which were box office hits. "Spider-M...
More>>
Spider-Man to Continue in the Marvel Universe
9/27/2019 2:59 PM EST
The Spider-Man fans of the world can now breath a collective sigh of relief. In case you haven't heard by now, Sony and Marvel have decided to continue their partnership with the Spider-Man franchise. The announcement was made today that Marvel Studios' Kevin Feige will be producing the upcoming third film in the "Spider-Man: Homecoming" series.The news comes after a "break-up" of sorts between th...
More>>
Sony Responds to Kevin Feige Spider-Man Drama
8/21/2019 11:34 AM EST
After a reported standoff between Sony and Disney about their Spider-Man partnership, and the departure of Kevin Feige as the films' producer, Sony has released a statement via Twitter regarding the matter. The statement is as follows:"Much of today's news about Spider-Man has mischaracterized recent discussions about Kevin Feige's involvement in the franchise. We are disappointed, but respect Dis...
More>>
Tom Holland Surprises Guests as Disneyland Park
5/9/2019 5:26 PM EST
When you go to a Disney park, you expect a certain amount of magic in your trip. Well, guests of the Disneyland Resort got just that when posing for pictures with Spider-Man. The seemingly normal fan experience turned into something quite different!As fans posed for their picture, Spider-Man: Far From Home stars Zendaya, Jake Gyllenhaal, and Jacob Batalon, unknowingly crept up behind them to pose ...
More>>
Marvel Legend Stan Lee Dies at 95
11/12/2018 2:44 PM EST
Marvel's comic book legend Stan Lee has died. He was 95.Lee was responsible for co-creating numerous Marvel characters including Spider-Man, The Hulk, X-Men Iron Man, Thor, Daredevil, Captain America, Avengers and the Fantastic Four. Even after leaving Marvel, he retained a title of chairman emeritus for the rest of his life, receiving producing credits and making cameo appearances in various Marv...
More>>
Zendaya Lands Role of Mary Jane Watson in Spider-Man:Homecoming
8/19/2016 10:17 AM EST
A few months ago, it was announced that Disney star Zendaya would be playing a lead role in the up coming Spider-Man: Homecoming, and now it has been reported by many sources that she will, in fact, be playing the role of Mary Jane Watson.This current Spider-Man reboot will star Tom Holland as Peter Parker, and the film will be focusing on his high school years.Holland made his debut as Spidey in ...
More>>
Marisa Tomei Top Pick for Aunt May in Spider-Man
7/8/2015 2:44 PM EST
Marvel and Sony have set their eyes on Marisa Tomei to portray the lovable Aunt May for the upcoming Spider-Man franchise reboot.  While there isn't any deal-making news to speak of, according to reports, they have made Tomei an offer just last week.Tomei would join Tom Holland who was recently cast to play Peter Parker.Jon Watts has been chosen to direct, but a screenwriter has yet to be chosen t...
More>>
Tom Holland Cast as Peter Parker for new Spider-Man Films
6/23/2015 12:44 PM EST
The new Spider-Man has been found.Tom Holland, who starred in The Impossible, has been cast as Peter Parker for the upcoming Spider-Man franchise.  Before that, however, he will be playing Spidey in the upcoming Captain America: Civil War, where he will be debuting his portrayal of the famous web slinger.The first film of the franchise is slated for a July 28, 2017 release. ...
More>>
Sony Announces Plans for Animated Spider-Man Film
4/22/2015 11:18 PM EST
Sony has announced that they will be releasing an animated version of Spider-Man, and the team behind The Lego Movie, directors Phil Lord and Chris Miller,  will be taking the helm.The announcement was made at CinemaCon, in Las Vegas, by Sony Pictures chairman Tom Rothman.  He said,  "The film will exist independently of the projects in the live-action Spider-Man universe, all of which are continu...
More>>
Marvel/Sony Revamping Spider-Man Franchise
3/3/2015 10:28 AM EST
There will be yet another Spider-Man franchise developed, thanks to a new Marvel and Sony deal.This new incarnation may be directed and written by Drew Goddard, as he is currently in negotiations. It is said that Spider-Man will appear in a separate Marvel film to relaunch the franchise before the release of his stand alone film.  Andrew Garfield will not be returning as the title role, and the fi...
More>>
Disney Scrambles for Schedule Changes Amid Spider-Man Release Da...
2/10/2015 3:35 PM EST
Disney has now shuffled around their film release schedule after Sony and Marvel's announcement of their upcoming new Spider-Man franchise.  The first film of the latest reincarnation of the Spider-Man franchise will be released on July 28, 2007.  Disney had Thor:Ragnarok slated for release the same day, but now has changed the date to November 3, 2017.  These has set back the release dates of sev...
More>>
In The Amazing Spider-Man™ 2, for Peter Parker (Andrew Garfield), life is busy – between...
SPONSORED LINKS
Comments

Courtesy of
Movie Hype App
movieman24
Cannot wait for Amazing Spiderman 3 I wonder what happens in this Movie I hope Parker brakes his friendship with Harry in this Movie
12/23/2014 12:35 AM EST
moviefanthe1st
hhahahahajahhhahaha d****** Gwen died I laughed
9/28/2014 12:42 PM EST
movieguynathan
Maybe this gets better on Blu
9/28/2014 10:59 AM EST
kinghenri
Nice movie :-).
7/18/2014 7:49 AM EST
angel000
So cool
6/18/2014 3:25 AM EST
bardhii4
Yea
6/1/2014 2:04 PM EST
jxzado
Not so good
5/21/2014 9:08 PM EST
moaied12
The moive was so cool
5/18/2014 9:01 PM EST
itthornton
The best movie I ever saw
5/18/2014 2:42 AM EST
movieguynathan
At least we had one decent film before they ruined the franchise.
5/17/2014 6:43 PM EST
movieguynathan
Finally seeing this film with @victoriahanson
5/17/2014 3:42 PM EST
balvirchandi
I love this movie
5/11/2014 11:32 PM EST
marcusmoviemaniac
Can't believe Gwen died!
5/11/2014 7:03 AM EST
kiwi8476
Great and wonderful movie but sad at the end )= can't wait to find out what happens in the third.
5/11/2014 4:29 AM EST
purplepiledriver
Great movie
5/5/2014 9:15 PM EST