Tomb Raider (2018)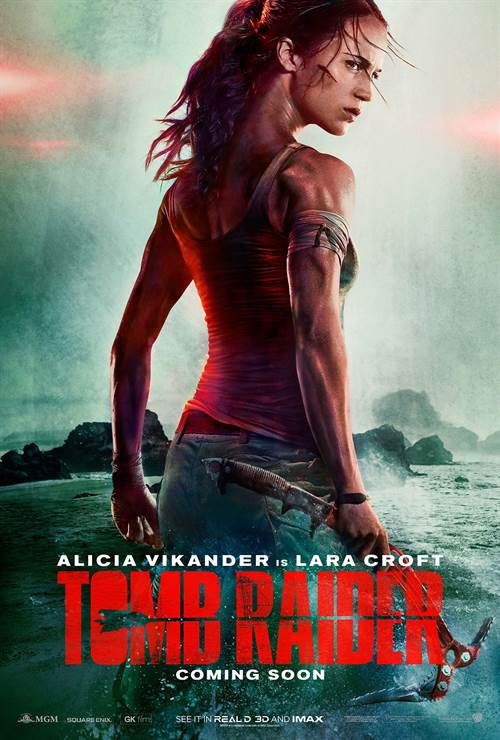 Share this:
| | |
| --- | --- |
| Director: | |
| Writers: | |
| Cast: | |
| Released: | Friday, March 16, 2018 |
| Length: | 118 minutes |
| Studio: | Warner Bros. |
| Genre: | Action/Adventure |
| Rating: | Some material may be inappropriate for children under 13. |
Synopsis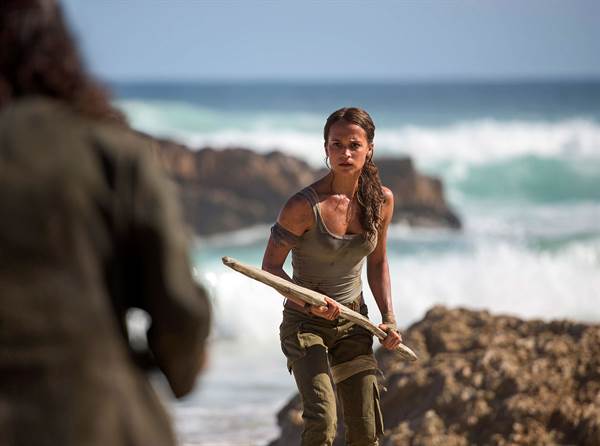 Lara Croft is the fiercely independent daughter of an eccentric adventurer who vanished when she was scarcely a teen. Now a young woman of 21 without any real focus or purpose, Lara navigates the chaotic streets of trendy East London as a bike courier, barely making the rent, and takes college courses, rarely making it to class. Determined to forge her own path, she refuses to take the reins of her father's global empire just as staunchly as she rejects the idea that he's truly gone. Advised to face the facts and move forward after seven years without him, even Lara can't understand what drives her to finally solve the puzzle of his mysterious death.

Going explicitly against his final wishes, she leaves everything she knows behind in search of her dad's last-known destination: a fabled tomb on a mythical island that might be somewhere off the coast of Japan. But her mission will not be an easy one; just reaching the island will be extremely treacherous. Suddenly, the stakes couldn't be higher for Lara, who—against the odds and armed with only her sharp mind, blind faith and inherently stubborn spirit—must learn to push herself beyond her limits as she journeys into the unknown. If she survives this perilous adventure, it could be the making of her, earning her the name tomb raider.

Purchase DVD/Blu-ray/4K UHD physical copy of Tomb Raider today at Amazon.com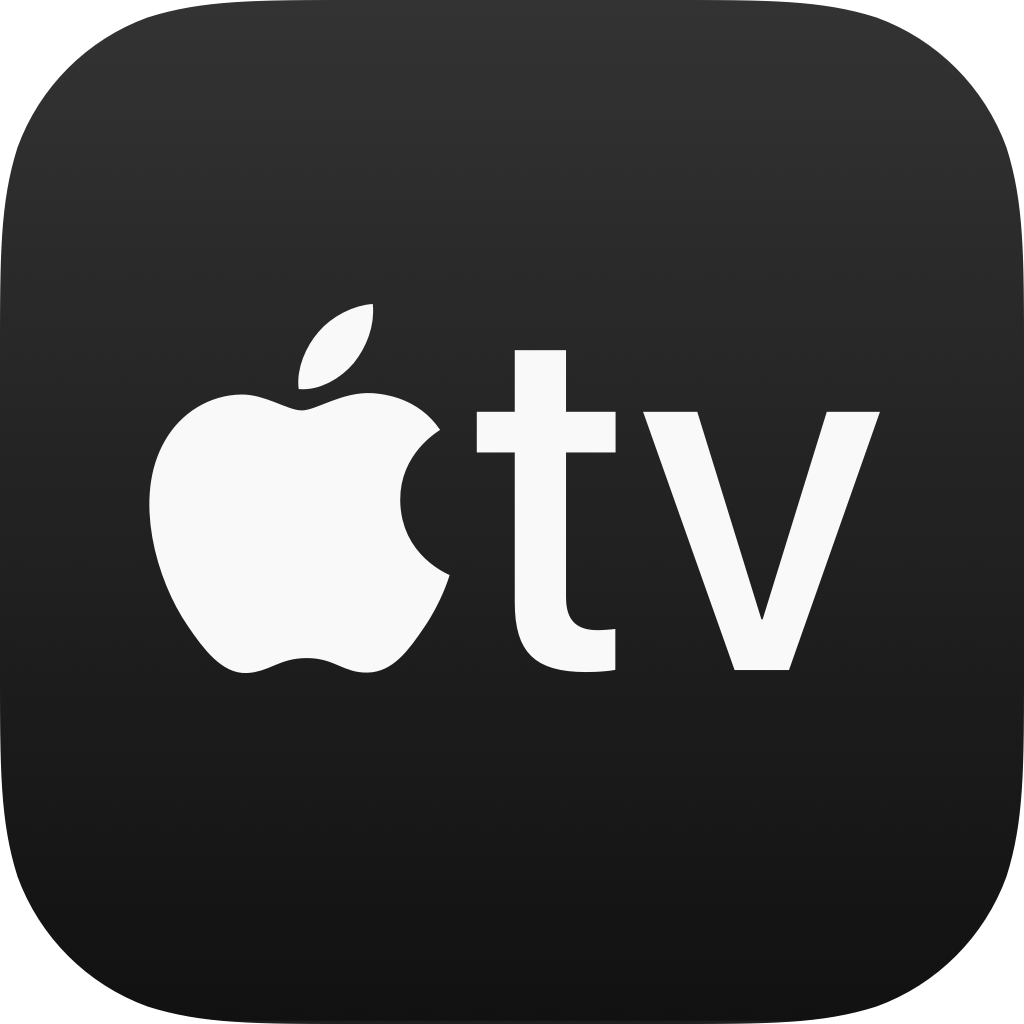 Download Tomb Raider in Digital HD/4K from the iTunes store.
Tomb Raider images are © Warner Bros.. All Rights Reserved.
Tomb Raider 2 In the Works with New Script Writer
4/17/2019 2:30 PM EST
MGM and Warner Bros. are gearing up to get another "Tomb Raider" off the ground. The studios have hired Amy Jump to write the script for the sequel.Jump is best known for her work with director and partner Ben Wheatley, including "Free Fire", "Kill List", "A Field In England", "Sightseers", and "High-Rise". Alicia Vikander's first shot at portraying Lara Croft proved successful, with the first fil...
More>>
Alicia Vikander Cast as Lara Croft
4/28/2016 5:16 PM EST
The role of Lara Croft was cast today for the upcoming reboot of the Tomb Raider franchise.  Alicia Vikander will be playing the young Lara Croft in her first adventure. There were a few notable contenders for the role including Daisy Ridley, Cara Delevigne, Emilia Clarke and Saoirse Ronan.  The role was originally portrayed by Angelina Jolie in the first film released in 2001.  Tomb Raider was or...
More>>
Daisy Ridley in Running for Lara Croft Lead in Tomb Raider Reboot
3/10/2016 12:46 PM EST
Daisy Ridley has certainly made quite a name for herself as Rey in Star Wars: Episode VII - The Force Awakens, and now, she may be taking on a whole new type of action role.  The 23 year old is currently in the running to star a new Tomb Raider film as Lara Croft.No negotiations have been officially discussed yet, and it is said that the producers are keeping their options open.  The role was orig...
More>>
MGM Hires Buffy Scribe for Tomb Raider
6/13/2013 2:17 PM EST
MGM's "Tomb Raider" is inching closer and closer to production, and now, they have hired  Marti Noxton (Buffy the Vampire Slayer) to write the script.The plot is still under wraps, but is said to likely follow Lara Croft on one of her international adventures.  The first two film starred Angelina Jolie.The resurgence of popularity is likely due to the release of the newest video game installment, ...
More>>
New Tomb Raider Film Making Progress
3/28/2013 11:18 AM EST
The new "Tomb Raider" film, which has been plugging along at a slow pace, has gotten a bit of a boost from the latest video game release.The game has sold 3.4 million copies, and while some say that number is disappointing, the fact that the game is from an older franchise shows that the sales aren't quite as bad as they think.  It also shows that people are still interested in the franchise, and ...
More>>
Tomb Raider Reboot on the Horizon
3/7/2013 9:48 AM EST
This week, the gaming world welcomes back its greatest heroine, Lara Croft, of Tome Raider fame, and with it also comes the news that Crystal Dynamics, the game producers, and GK Films are looking at rebooting movie franchise also.Head of the studio at Crystal Dynamics, Darrell Gallagher, said of working with GK Films, "They are working from this new take that we've given them, It's a good partner...
More>>
Tomb Raider Theatrical Review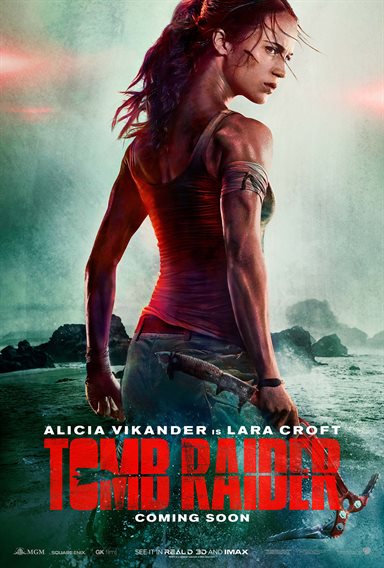 In 1996, gamers worldwide were introduced to Lara Croft in the video game
Tomb Raider
. Described as "Indiana Jones with breasts", she became an instant hit with the heavily male based demographic. In 2001, Paramount Pictures brought Croft to life in the form of Angelina Jolie (
Wanted; Mr. & Mrs. Smith
) when
Lara Croft: Tomb Raider
hit theaters that summer. While garnering mixed reviews, the movie earned a sequel in 2003 called
Lara Croft Tomb Raider: The Cradle of Life
. Then, in 2013, the video game got a reboot and now Warner Bros. has done the same for the film series with
Tomb Raider
set to be released nationwide this week.
Lara Croft (Alicia Vikander; Ex Machina, The Danish Girl) seems to have lost her way after her father's disappearance while on an expedition off the coast of Japan. Refusing to believe he was dead, she wouldn't sign the paperwork to earn her inheritance and struggled for years. As she is about to give in, she is given a puzzle that unlocks a clue and a key her father, Lord Richard Croft (Dominic West; The Wire), left for her. In his hidden office, Lara discovers her father was more than he seemed and was actually researching a "supernatural" Queen who brought death everywhere she went. The legend states she was buried alive on a hidden island that Croft was determined to find.
With his notes in hand (even though he left her strict instructions to burn them), Lara heads off to find this elusive island and find out what actually happened to him. When she discovers the island by accident, she finds a lot more than she could have ever imagined. Suddenly a fugitive, Lara must traverse an unfamiliar and unforgiving jungle, fight the bad guys with a strength she didn't even know she had, and finally let her father go forever.
Vikander had been on an upward trajectory career-wise for the last few years and playing this well-known action heroine is just another feather in her cap. She expertly delivers both the emotional and physical power needed to make Lara Croft come to life. West is also good as her father but Walter Goggins (Justified) is terrifying as the antagonist. His cold, cruel demeanor will chill you from within. Supporting cast members Kristin Scott Thomas (Four Weddings and a Funeral) and Daniel Wu (Warcraft: The Beginning) also add to the overall fight of good vs. evil.
The story itself is somewhat interesting but the delivery is lackluster at best. The film starts off slow and doesn't pick up steam until halfway through when Croft and Lu Ren (Wu) are unceremoniously shipwrecked on the island. The quick movements and frenetic shots utilized by director Roar Uthaug (The Wave) are all over the place and I remember at one point in the beginning of the movie thinking "it's a good thing I'm not epileptic because the flashes of scenes would probably send someone into a seizure".
The only parts of Tomb Raider I really enjoyed were the puzzles and the discovery of what really was behind the "Death Queen" and her entombment. In those moments, I was reminded of NationalTreasure, a Dan Brown Novel and, of course, Indiana Jones. To his credit, Uthaug doesn't drag the action sequences out too long but some of his other takes could have easily been shortened without much difference in the overall look and feel of the movie. Sadly, they have set up the ending to leave room for numerous sequels, which this film does not warrant.
Tomb Raider didn't need a reboot and it certainly doesn't need another film. It wasn't awful but it wasn't anything to write home about either.
Grade: B-
Read More Tomb Raider Reviews
For more reviews please visit our film/television review section.
SPONSORED LINKS