Lara Croft: Tomb Raider (2001)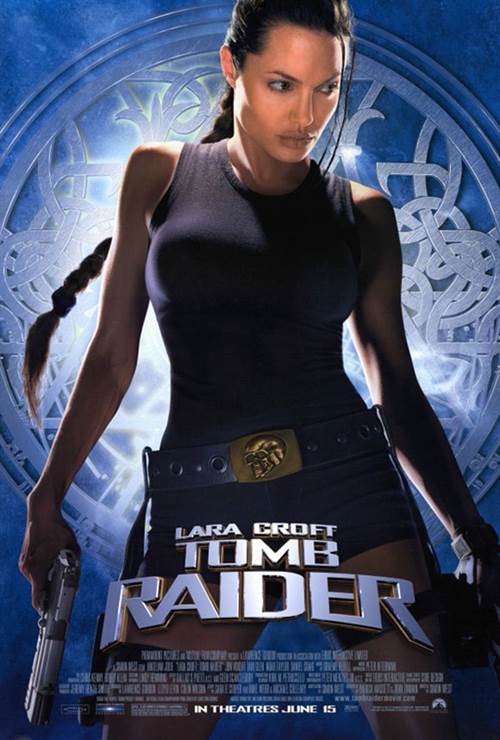 | | |
| --- | --- |
| Director: | |
| Writers: | |
| Cast: | |
| Released: | Friday, June 15, 2001 |
| Length: | 100 minutes |
| Studio: | Paramount Pictures |
| Genre: | Sci-Fi/Fantasy, Action/Adventure |
| Rating: | Some material may be inappropriate for children under 13. |
Lara Croft: Tomb Raider Synopsis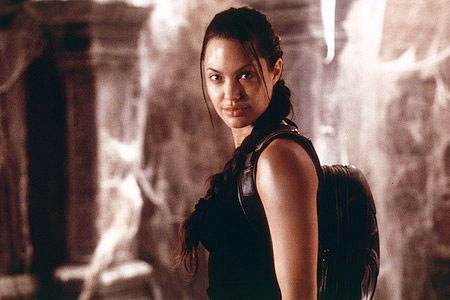 Lara Croft (Angelina Jolie) was born into wealth and groomed at the most elite schools. She travels to dangerous and mysterious locales around the globe in search of rare, lost crypts and long-forgotten empires. She speaks numerous languages, is highly trained for combat and answers to no one, obeying only a desire for adventure.

Purchase DVD/Blu-ray/4K UHD physical copy of Lara Croft: Tomb Raider today at Amazon.com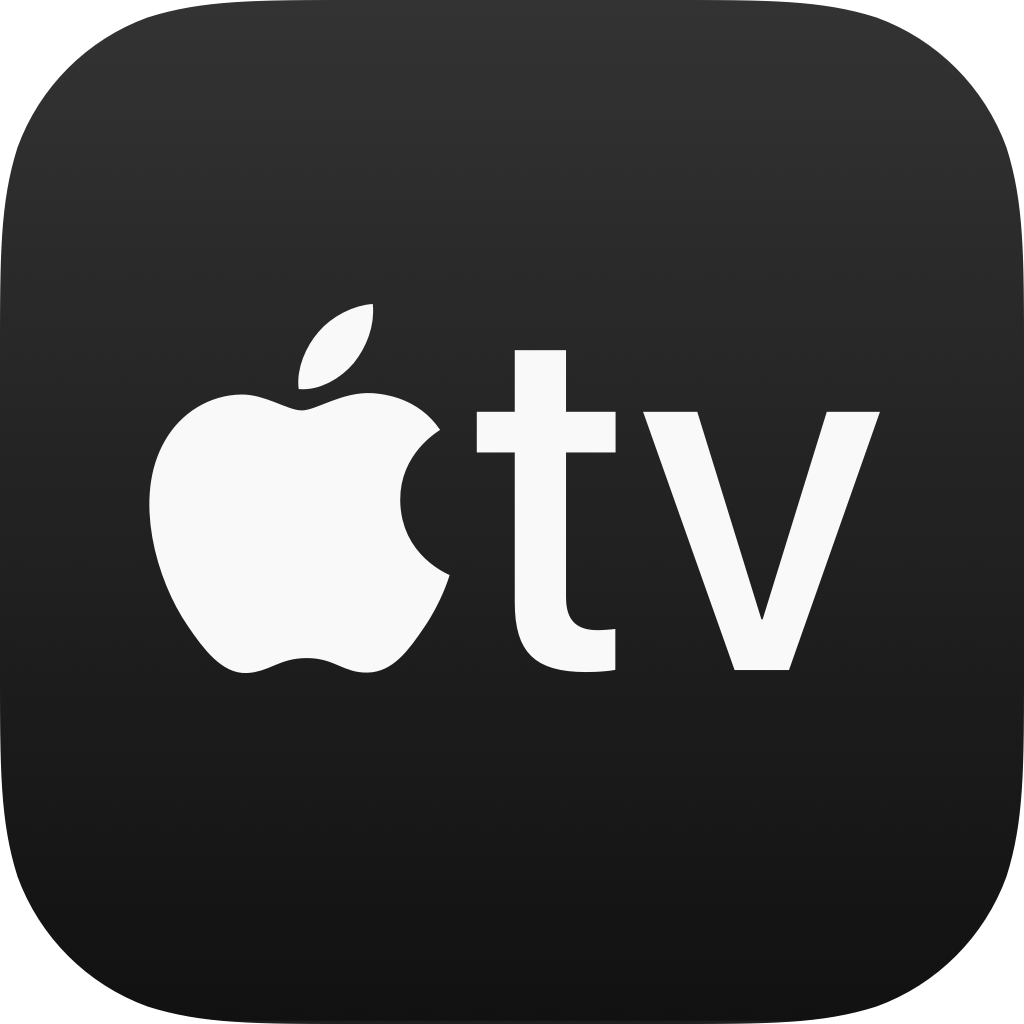 Stream Lara Croft: Tomb Raider in Digital HD/4K from the AppleTV store.
Listen to the Lara Croft: Tomb Raider soundtrack on Apple Music.
Lara Croft: Tomb Raider images are © Paramount Pictures. All Rights Reserved.
Daisy Ridley in Running for Lara Croft Lead in Tomb Raider Reboot
3/10/2016 12:46 PM EST
Daisy Ridley has certainly made quite a name for herself as Rey in Star Wars: Episode VII - The Force Awakens, and now, she may be taking on a whole new type of action role.  The 23 year old is currently in the running to star a new Tomb Raider film as Lara Croft.No negotiations have been officially discussed yet, and it is said that the producers are keeping their options open.  The role was orig...
More>>
MGM Hires Buffy Scribe for Tomb Raider
6/13/2013 2:17 PM EST
MGM's "Tomb Raider" is inching closer and closer to production, and now, they have hired  Marti Noxton (Buffy the Vampire Slayer) to write the script.The plot is still under wraps, but is said to likely follow Lara Croft on one of her international adventures.  The first two film starred Angelina Jolie.The resurgence of popularity is likely due to the release of the newest video game installment, ...
More>>
New Tomb Raider Film Making Progress
3/28/2013 11:18 AM EST
The new "Tomb Raider" film, which has been plugging along at a slow pace, has gotten a bit of a boost from the latest video game release.The game has sold 3.4 million copies, and while some say that number is disappointing, the fact that the game is from an older franchise shows that the sales aren't quite as bad as they think.  It also shows that people are still interested in the franchise, and ...
More>>
Tomb Raider Reboot on the Horizon
3/7/2013 9:48 AM EST
This week, the gaming world welcomes back its greatest heroine, Lara Croft, of Tome Raider fame, and with it also comes the news that Crystal Dynamics, the game producers, and GK Films are looking at rebooting movie franchise also.Head of the studio at Crystal Dynamics, Darrell Gallagher, said of working with GK Films, "They are working from this new take that we've given them, It's a good partner...
More>>
Lara Croft: Tomb Raider 4K Review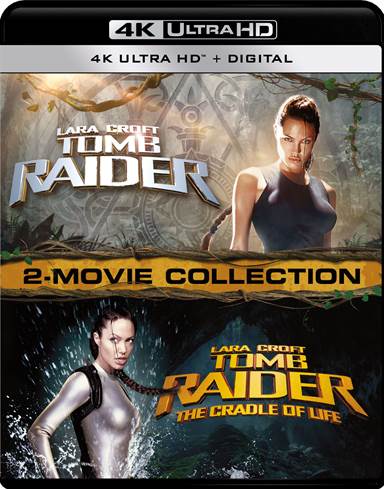 In the last thirty years, video games have become a multi-billion-dollar industry. Of course, that means at some point, they would probably get the feature film treatment. For Tomb Raider, that became a reality in 2001 when a relatively unknown Angelina Jolie (Eternals) starred in Lara Croft: Tomb Raider. The highly anticipated action-adventure film, while critically panned, was a box office hit and in true Hollywood fashion, it produced a sequel in 2003 and then a reboot fifteen years later. With twenty years passed since the original film debuted, Paramount Pictures has created a 4K combo pack of Lara Croft: Tomb Raider and Lara Croft Tomb Raider: The Cradle of Life for purchase.
Lara Croft, the daughter of famed ancient artifacts hunter, Lord Richard Croft (John Voight; Midnight Cowboy), has taken up his quest since his mysterious disappearance when she was a girl. When her father appears to her in a dream one night, talking about the planetary alignment that only happens once every five thousand years, she knows it is a sign to take action. Even more so when she hears a clock ticking inside the wall of her family's manor and discovers it, only to realize the ancient clock just started ticking – as the planets begin to move into place.
She starts making inquiries about the clock, which leads to her home being invaded and the clock stolen. Lara, out to stop those who took the clock, journeys to the ends of the earth (literally) to find the pieces of the puzzle. Of course, others are also looking for the artifact so they could control time (and therefore rule the world) and Lara finds herself in a race to get to the artifact before they do.
Jolie was in tip-top shape for this role, and she did a very good job bringing this video game icon to life. Interestingly, she takes on a British accent while Daniel Craig (Spectre), who portrays Alex West, speaks with an American accent. Another little bit of trivia is that Voight plays Lara Croft's father, and he is Jolie's real-life father (though they supposedly have a strained relationship). The rest of the cast is good and does the best they can with the dialogue they were given. Director Simon West (Con Air) makes some interesting shot choices. Unfortunately, they don't always pay off as some of the pacing is slow and occasionally the editing is choppy.
The HDR: Dolby Vision video quality is excellent considering it was scanned from the 35mm source material. Colors are deep and textured and, for the most part, the special effects seem realistic with minimal exceptions. The DTS-HD Master Audio 5.1 is an improvement from the original release in 2006. The dialogue sits comfortably in the center channel while the sound effects utilize all of the surround speakers making the viewing/listening experience all-encompassing. The only extra on the disc is commentary by director Simon West, which is disappointing since previous releases had other extras that were not included here.
Lara Croft: Tomb Raider was a critical disappointment, but Jolie was praised for her performance. Sadly, she couldn't save this film with its uneven plot, bad dialogue, and poor acting performances from other cast members. While the 4K transfer is an improvement, the film itself leaves much to be desired.
Pairing the two movies in one package was good marketing by Paramount as fans of the video game and/or Jolie will only have to pay once for both movies, unless, of course, you want all the extras not found in this set.
Grade: C-
For more reviews please visit our film/television review section.
SPONSORED LINKS