The Second Best Exotic Marigold Hotel (2015)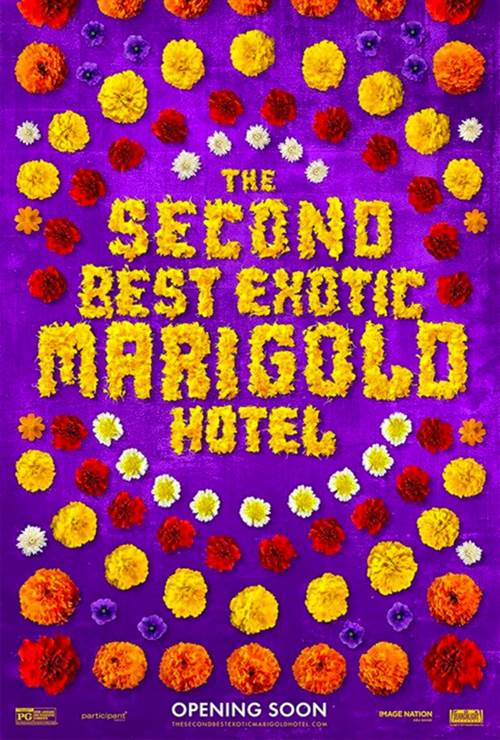 Share this:
| | |
| --- | --- |
| Director: | |
| Cast: | |
| Released: | Friday, March 6, 2015 |
| Length: | 122 minutes |
| Studio: | Searchlight Pictures |
| Genre: | Action/Adventure |
| Rating: | Some material may not be suitable for children. |
Synopsis
THE SECOND BEST EXOTIC MARIGOLD HOTEL is the expansionist dream of Sonny (Dev Patel), and it's making more claims on his time than he has available, considering his imminent marriage to the love of his life, Sunaina (Tina Desai). Sonny has his eye on a promising property now that his first venture, The Best Exotic Marigold Hotel for the Elderly and Beautiful, has only a single remaining vacancy - posing a rooming predicament for fresh arrivals Guy (Richard Gere) and Lavinia (Tamsin Greig). Evelyn and Douglas (Judi Dench and Bill Nighy) have now joined the Jaipur workforce, and are wondering where their regular dates for Chilla pancakes will lead, while Norman and Carol (Ronald Pickup and Diana Hardcastle) are negotiating the tricky waters of an exclusive relationship, as Madge (Celia Imrie) juggles two eligible and very wealthy suitors. Perhaps the only one who may know the answers is newly installed co-manager of the hotel, Muriel (Maggie Smith), the keeper of everyone's secrets. As the demands of a traditional Indian wedding threaten to engulf them all, an unexpected way forward presents itself.

Purchase DVD/Blu-ray/4K UHD physical copy of The Second Best Exotic Marigold Hotel today at Amazon.com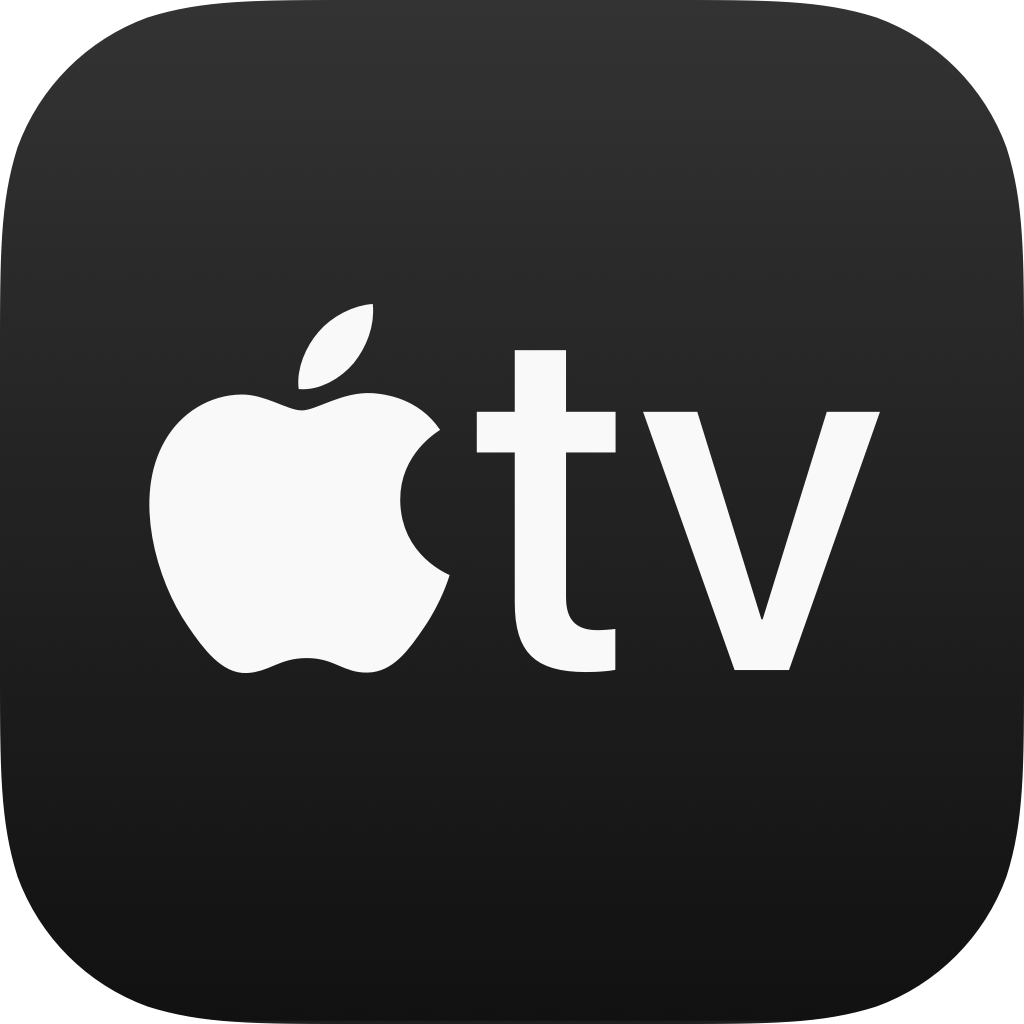 Download The Second Best Exotic Marigold Hotel in Digital HD/4K from the iTunes store.
The Second Best Exotic Marigold Hotel images are © Searchlight Pictures. All Rights Reserved.
The Second Best Exotic Marigold Hotel Blu-ray Review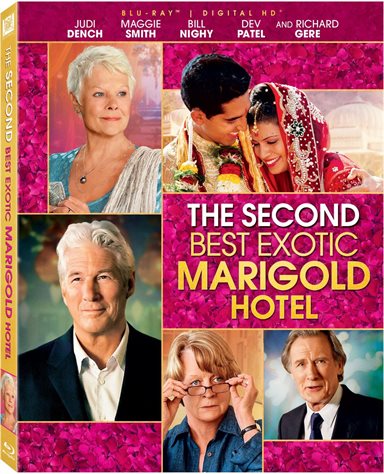 I know the saying is "third time's a charm", but, for Fox Searchlight, it seems to be the second go around is charming, or at least just as charming, as the first. The surprise hit of 2012 is back, along with the entire cast, for The Second Best Exotic Marigold Hotel. Starring some of Britain's most talented actors, this is one sequel that is just about as good as the first movie.
As with all good business ventures, companies are always looking to expand and find the right investors. This is where we find Sonny (Dev Patel; Slumdog Millionaire) and Muriel (Maggie Smith; Harry Potter and the Deathly Hallows) at the start of the film. The best exotic marigold hotel has been up and running for 8 months and they head to California to seek investors to finance their second hotel in India and, at the same time, Sonny is planning his wedding to Sunaina (Tina Desai; Sense8). When the investors tell Sonny they will send someone to visit their hotel, he assumes it is the handsome American, Guy Chambers (Richard Gere; Pretty Woman).
Trying to impress Chambers, Sonny becomes unbearable to be around. Add in the fact that he loses the building for the second hotel to another contractor, and he sees his world unraveling. Meanwhile, the inhabitants of the original hotel are having issues of their own.
Evelyn (Judi Dench; Skyfall) is trying to determine if she should engage in a relationship with Douglas (Bill Nighy; Pirates of the Caribbean: At World's End) while she accepts a full time job with the company for which she works. Madge (Celia Imrie; Bridget Jones' Diary) is torn between her two suitors, both of whom want to marry her. Finally, Norman (Ronald Pickup; Prince of Persia) thinks he may have accidentally taken out a "hit" on his girlfriend Carol (Diana Hardcastle; Doctors).
One of the draws of this film is the fantastic cast. With a veritable who's who of British acting royalty, there is not a moment where you aren't in awe of their acting skills. Adding Richard Gere to this group was inspired and he blends in beautifully.
The other draw is the setting. India is a feast of colors and sounds and delicacies that bombard the senses from every direction. Had this film been shot in another country, I doubt it would have had the same impact, feel, and culture.
Of course, the setting is enhanced by the 1080p video quality which helps to make India even more stunning. The visuals on this Blu-ray are truly breathtaking at points. The DTS-HD Master Audio 5.1 allows you to hear all the highs and lows in the music and is pretty much what you would expect.
The Blu-ray extras include featurettes about the story, the cast, the hotel, romance, the wedding, and India. All are very informative and worthy of their 3 minute running times. They add some cute behind the scenes moments and insights without being overbearing.
Taking on the task of trying to live up to the first hit film couldn't have been easy for writer Ol Parker (Now Is Good) but he does a great job of intertwining the story lines while keeping everything fresh and interesting. At no point does the movie drag and sensitive subjects are dealt with in a thoughtful manner.
The movie is really a testament to today's older population enjoying their retirement years while giving the audience a sense of renewed life and energy. It was enjoyable, humorous and heartwarming and the cast alone is with watching. It might not live up to the high standards of the first film but it is definitely a noteworthy sequel. Grade: B
For more reviews please visit our film/television review section.
THE SECOND BEST EXOTIC MARIGOLD HOTEL is the expansionist dream of Sonny (Dev Patel), and it's m...
SPONSORED LINKS