Pacific Rim: Uprising (2018)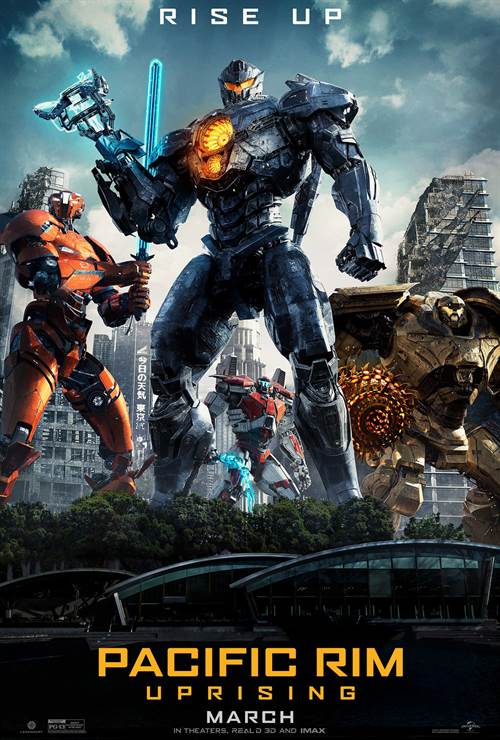 Share this:
| | |
| --- | --- |
| Director: | |
| Writers: | |
| Cast: | |
| Released: | Friday, March 23, 2018 |
| Length: | 111 minutes |
| Studio: | Universal Pictures |
| Genre: | Sci-Fi/Fantasy, Action/Adventure |
| Rating: | Some material may be inappropriate for children under 13. |
Synopsis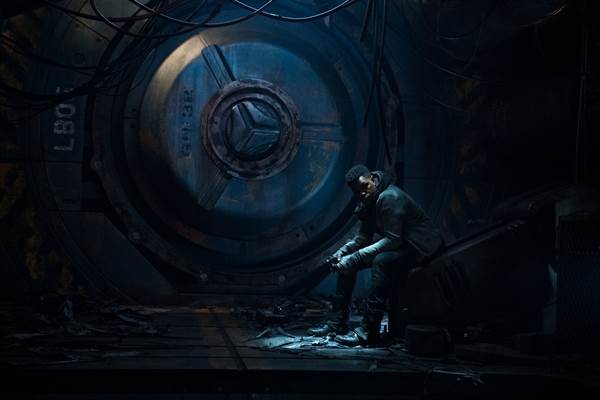 PACIFIC RIM UPRISING director Steven S. DeKnight will be joined by stars John Boyega, Scott Eastwood, Burn Gorman and Cailee Spaeny—as well as moderator Aaron Sagers, SYFY WIRE's editor-at-large—to discuss the upcoming action-adventure from Legendary and introduce the world premiere of the new trailer. The follow-up to 2013's cinematic epic of monsters and mechs, the film will inspire a new generation to become the biggest heroes to ever walk the earth. Also starring Jing Tian, Rinko Kikuchi, Adria Arjona and Charlie Day.

Purchase DVD/Blu-ray/4K UHD physical copy of Pacific Rim: Uprising today at Amazon.com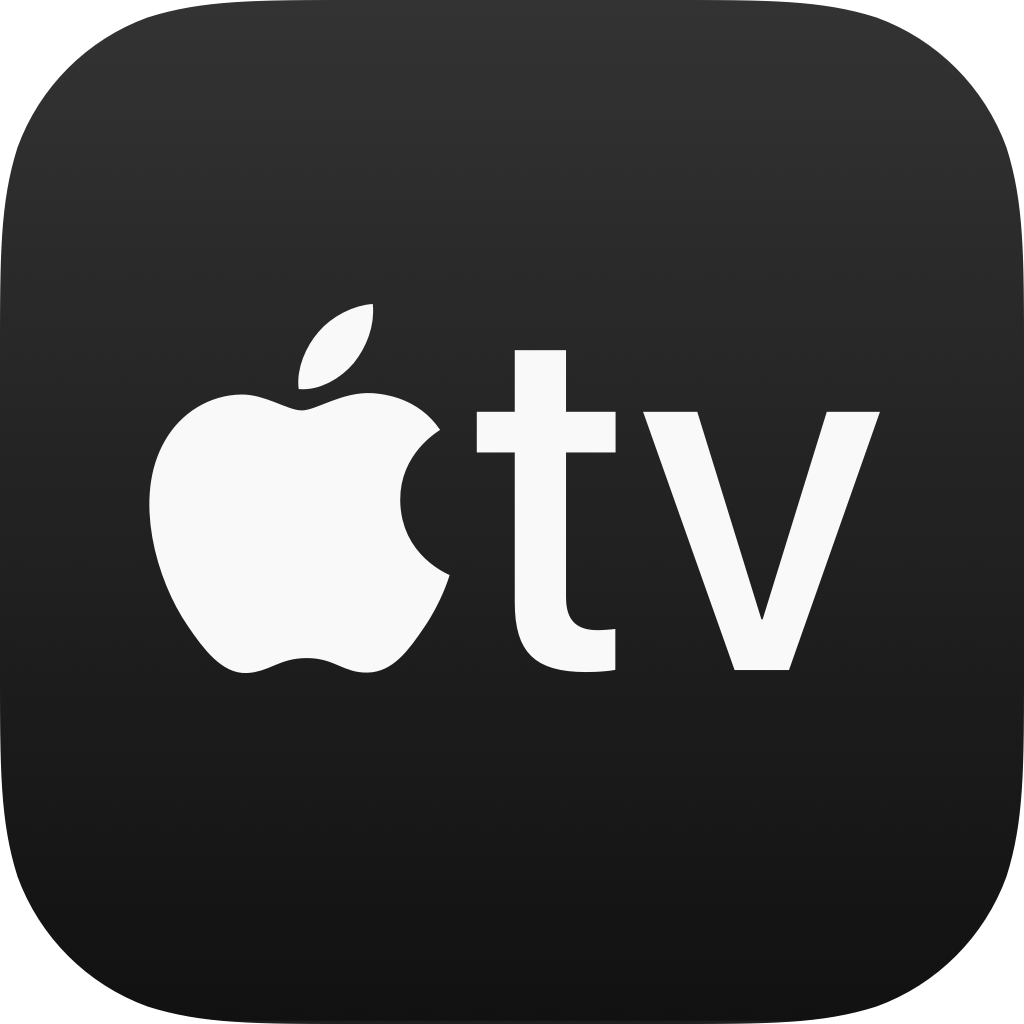 Download Pacific Rim: Uprising in Digital HD/4K from the iTunes store.
Listen to the Pacific Rim: Uprising soundtrack on Apple Music.
Pacific Rim: Uprising images are © Universal Pictures. All Rights Reserved.
Pacific Rim Sequel On Hold Indefinitely
9/16/2015 4:46 PM EST
Looks like we won't be getting that "Pacific Rim" sequel, after all.Legendary Pictures announced that they have put the sequel on hold indefinitely.The sequel was announced last year by Guillermo del Toro,  and the plan was to begin filming in November of this year, and release the film in August 2017.  The original film cost about $190 million to make, and the sales weren't quite as good as expec...
More>>
Guillermo del Toro to Release Pacific Rim Sequel as Well as Thir...
10/17/2014 10:44 AM EST
Legendary Pictures has announced that they will be releasing a sequel to Pacific Rim as well as a third film for the franchise. The company plans on releasing the sequel in 2017, despite the fact that the film only grossed $101 million after spending $200 million to make the film.  However, they feel strongly  that the cult popularity of the film will bring in the numbers.  While plot details are ...
More>>
Guillermo del Toro Confirms Pacific Rim Sequel
6/27/2014 10:33 AM EST
Guillermo del Toro has confirmed that there will be a sequel to the sci-fi thriller, "Pacific Rim".  "The characters I love will return. Raleigh, Mako, Newt, Gottlieb and who knows, maybe even Hannibal Chau - but we are taking them into a fresh territory that will display amazing sights and battles. The first film set the stage and now we're ready to have a blast."  He went on to add, "We are happ...
More>>
Pacific Rim: Uprising Theatrical Review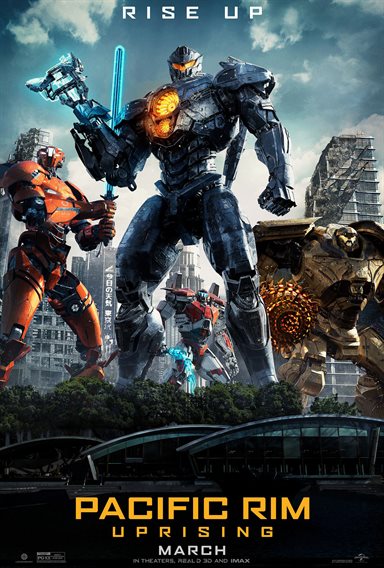 In 2013, Writer/Director (and recent academy award winner) Guillermo Del Toro (
The Shape of Water
) introduced us to the Kaiju – alien creatures from another dimension who set out to destroy humanity and take over Earth. To combat these creatures, humans developed humongous robots called jaegers that require two, neurologically synced pilots to work. Of course, by the end of the movie the breach was destroyed so there was no way for the aliens to reach us, Earth was saved and humans prevailed - though not without loss of life. You would think that was the end of the story but writer/director Steven DeKnight (
Daredevil
) brings us back into this world with Universal Pictures' sequel,
Pacific Rim: Uprising
.
Jake Pentecost (John Boyega; Star Wars: The Last Jedi), the son of the late, great Stacker Pentecost (Idris Elba; Thor) is a scavenger in the post-Kaiju war America. He has no desire to live up to his father's reputation, as they were big shoes to fill. However, when he follows a fellow scavenger named Amara (newcomer Cailee Spaeny) he finds himself back in the Army training facility he was kicked out of years prior. There to greet him with not so open arms is his former partner, Nate Lambert (Scott Eastwood; Suicide Squad) and a bunch of recruits including Amara. All Jake wants to do is complete his "sentence" so he can go back to his former life.
However, when a new set of drone Jaegers go crazy during a demonstration, the military find themselves once again in a battle with the Kaiju. Unfortunately, the military base is all but destroyed and most of the Rangers are injured so Jake and Nate must lead the recruits out to the battleground to take down this new super Kaiju that was created by none other than Dr. Geiszler (Fist Fight) – a shocking revelation in and of itself. Together they must stop the monster from once again destroying Earth.
While much of the cast is young they are pretty good for the most part. Spaeny is emotive and plays Amara as the complex young woman the story portrays her to be. Boyega is what we have come to expect from him as he once again plays rogue military personnel. Eastwood is fine but the resemblance to his father in his younger days is almost distracting at times. I know he can't help how he looks (good family genes) but it's almost a little creepy. Day has a great role in this film and he plays it well. Unfortunately, the script leaves something to be desired and some of the dialogue uttered by Jake and Nate is rather groan-worthy.
As director, DeKnight does his best to keep the audience focused and entertained but there were moments I was unsure where we were geographically in the movie so there was some choppiness in that sense. I also thought the final battle scene when on longer than necessary but I often feel that way in these types of films (though I didn't have that complaint during the original Pacific Rim). For action fans though, they won't be disappointed.
While not as good as the original (sadly they generally aren't), Pacific Rim: Uprising offers a couple of laughs, some fairly strong action sequences and a seemingly plausible story continued from the original. Fans of the first film will like the sequel well enough but I'm hoping they decide not to make a third installment, even though they set the ending up for one nicely.
Grade: C
For more reviews please visit our film/television review section.
Do you have it takes to become a cadet and fight Kaiju? Find out with Austin Putnam's review of...

PACIFIC RIM UPRISING director Steven S. DeKnight will be joined by stars John Boyega, Scott Eastwood...

PACIFIC RIM UPRISING director Steven S. DeKnight will be joined by stars John Boyega, Scott Eastwood...
SPONSORED LINKS