The Finest Hours (2016)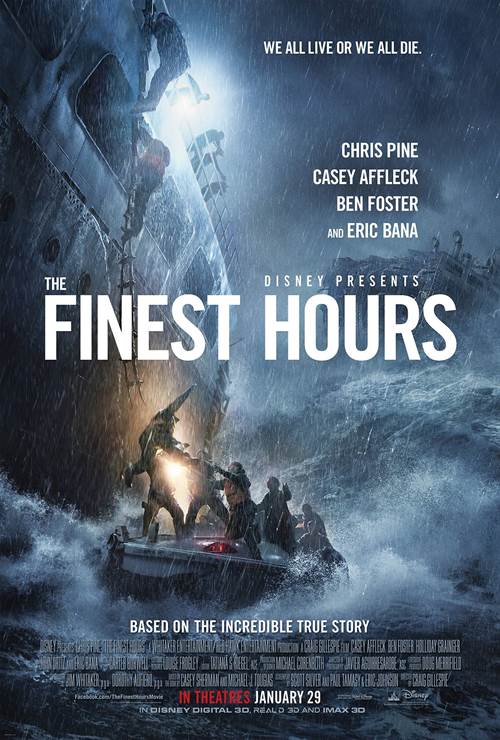 Share this:
| | |
| --- | --- |
| Director: | |
| Writers: | Scott Silver, Paul Tamasy, Eric Johnson, Casey Sherman, Michael J. Tougias |
| Cast: | |
| Released: | Friday, January 29, 2016 |
| Length: | 117 minutes |
| Studio: | Walt Disney Pictures |
| Genre: | Action/Adventure |
| Rating: | Some material may be inappropriate for children under 13. |
Synopsis
On February 18, 1952, a massive nor'easter struck New England, pummeling towns along the Eastern seaboard and wreaking havoc on the ships caught in its deadly path, including the SS Pendleton, a T-2 oil tanker bound for Boston, which was literally ripped in half, trapping more than 30 sailors inside its rapidly-sinking stern. As the senior officer on board, first assistant engineer Ray Sybert (Casey Affleck) soon realizes it is up to him to take charge of the frightened crew and inspire the men to set aside their differences and work together to ride out one of the worst storms to ever hit the East Coast. Meanwhile, as word of the disaster reaches the U.S. Coast Guard station in Chatham, Massachusetts, Warrant Officer Daniel Cluff (Eric Bana) orders a daring operation to rescue the stranded men. Despite overwhelming odds, four men, led by Coast Guard Captain Bernie Webber (Chris Pine), set out in a wooden lifeboat with an ill-equipped engine and little, if any, means of navigation, facing frigid temperatures, 60-foot high waves and hurricane-force winds.
Purchase DVD/Blu-ray/4K physical copy of The Finest Hours today at
Download The Finest Hours in Digital HD/4K from the iTunes store.
The Finest Hours images are © Walt Disney Pictures. All Rights Reserved.


The Finest Hours Theatrical Review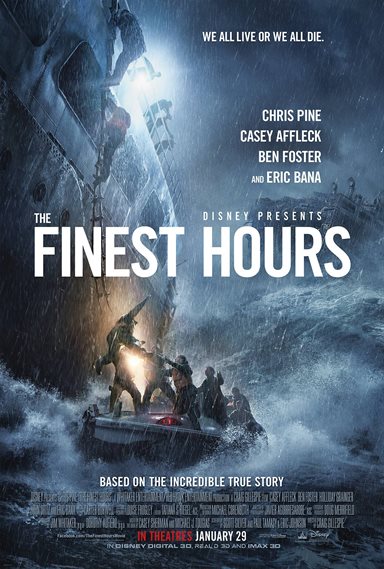 Disney's
The Finest Hours
dramatizes the events of one of the most harrowing Coast Guard rescue missions off the Massachusetts coast in 1952. Still regarded as one the most heroic and successful rescues in Coast Guard history, the events of February 18 inspired both book and now the film, which opens in theaters on January 29th. Based on a true story,
The Finest Hours
combines courage, bravery, fear and love in an effort to take on Mother Nature and, not only win, but merely survive.
Bernard "Bernie" Webber was a member of the U.S. Coast Guard stationed in Chatham, Massachusetts. When his commanding officer instructed him to take a 36 foot life boat out into open water during a Nor' Easter, he knew it was suicide. However, he and 3 other members set out to find the stern of the T-2 Oil Tanker Pendleton, one of two tankers that split in half during the dangerous storm. With the canopy, windshield and compass torn off by the dangerous waves, they had little chance of making a successful rescue.
While based on real life events, Disney took some liberties with the story. For example, they wove a nice little love story into the film as Miriam, Bernie's newly minted fiancé, fights with his commanding officer to bring Bernie home, while in real life Bernie and Miriam were already married and she was home, sick in bed barely aware of the dangerous situation her husband was in. Also, the one life unfortunately lost, "Tiny", was actually the last member of the crew to leave the sinking ship but in the movie he was half way through those being rescued. This was done purposefully to make a more dramatic and meaningful scene.
I thought Disney did a great job of casting the film and was surprised by Chris Pine's (Star Trek) performance. I'm used to see him playing the cocky, sure of himself, ladies' man, but this time he portrayed a shy, insecure young man afraid to break the rules (for the most part). I thought Casey Affleck (Interstellar), as the Pendleton's engineer Ray Sybert, was terrific and Holliday Granger (The Borgias) was a little spit fire as Bernie's love interest, Miriam.
The special effects team did a great job depicting the broken tanker, giving us glimpses into the dark and deep, mangled hull of the ship. The 3D was also well done, immersing the audience in the blinding snow and massive swells of the storm. There were times I felt overwhelmed by the sea and mildly confused as to what I was watching, but those moments were minimal. I also had flashbacks a few times to a similar film, The Perfect Storm, as I watched the small ship battle to crest the waves barreling down upon them.
The Finest Hours had a little bit of something for everyone - from a love story to suspense and intensity to some action sequences taking place on the open seas. And, while I still wonder what the title has to do with the overall story, I found the intensity of the movie gripping more than once during the two hours. However, for all its Disney "schmaltz" and engaging story, I walked away feeling there was more to tell that had been left out. The Finest Hours could have been more uplifting and inspiring than it ended up being, which, in the end, was a little disappointing.
Grade: C+
Read More The Finest Hours Reviews
For more reviews please visit our film/television review section.
On February 18, 1952, a massive nor'easter struck New England, pummeling towns along the Easte...
SPONSORED LINKS
Comments

Courtesy of
Movie Hype App
coreyanthony26
What A Great Rescue Mission Great Thing I Was Only A Movie Fan that Saw This Movie Cause I don't want to be in that situation
3/6/2016 4:14 PM EST
movieman24
Really Great Story and Really Strong Inspirational Movie Ever Told
2/2/2016 2:36 PM EST
ali121
Chris pine...'nuff said
1/26/2016 6:29 PM EST
spmallee
Hurricane Jeanne and Francis were the worst storms because they directly hit where I was living at the time in Florida! #thefinesthours
1/19/2016 8:38 PM EST
duckster60
#thefinesthours the worst storm was my first Florida hurricane which was Wilma 13 days without power
1/18/2016 8:23 PM EST
vfedele
#thefinesthours worst storm I ever experienced was Hurricane Andrew, total devastation!
1/18/2016 5:21 PM EST
grumpyfatman
#thefinesthours Hurricane Frances 2004, house flooded, roads under water for 9 days. Took 2 years for repairs..during the eye, went outside and the land was gone!!
1/18/2016 5:19 PM EST