Ice Age: Collision Course (2016)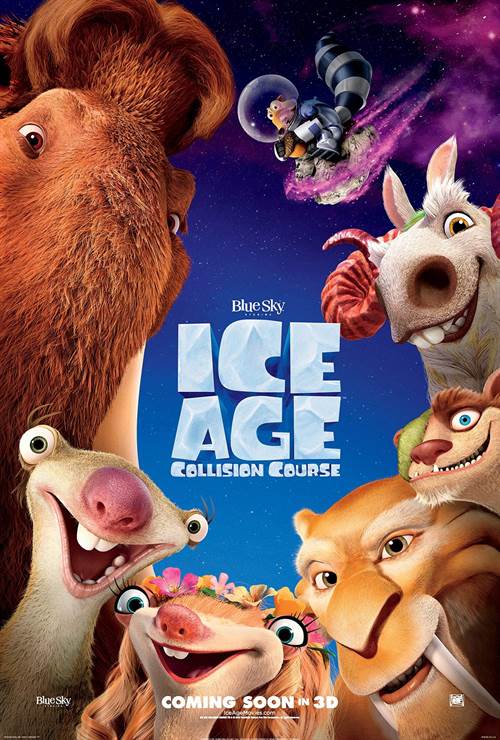 | | |
| --- | --- |
| Director: | |
| Writers: | |
| Cast: | |
| Released: | Friday, July 22, 2016 |
| Length: | 94 minutes |
| Studio: | 20th Century Studios |
| Genre: | Family |
| Rating: | Some material may not be suitable for children. |
Ice Age: Collision Course Synopsis
Scrat's epic pursuit of the elusive acorn catapults him into the universe where he accidentally sets off a series of cosmic events that transform and threaten the Ice Age World. To save themselves, Sid, Manny, Diego, and the rest of the herd must leave their home and embark on a quest full of comedy and adventure, travelling to exotic new lands and encountering a host of colourful new characters.

Purchase DVD/Blu-ray/4K UHD physical copy of Ice Age: Collision Course today at Amazon.com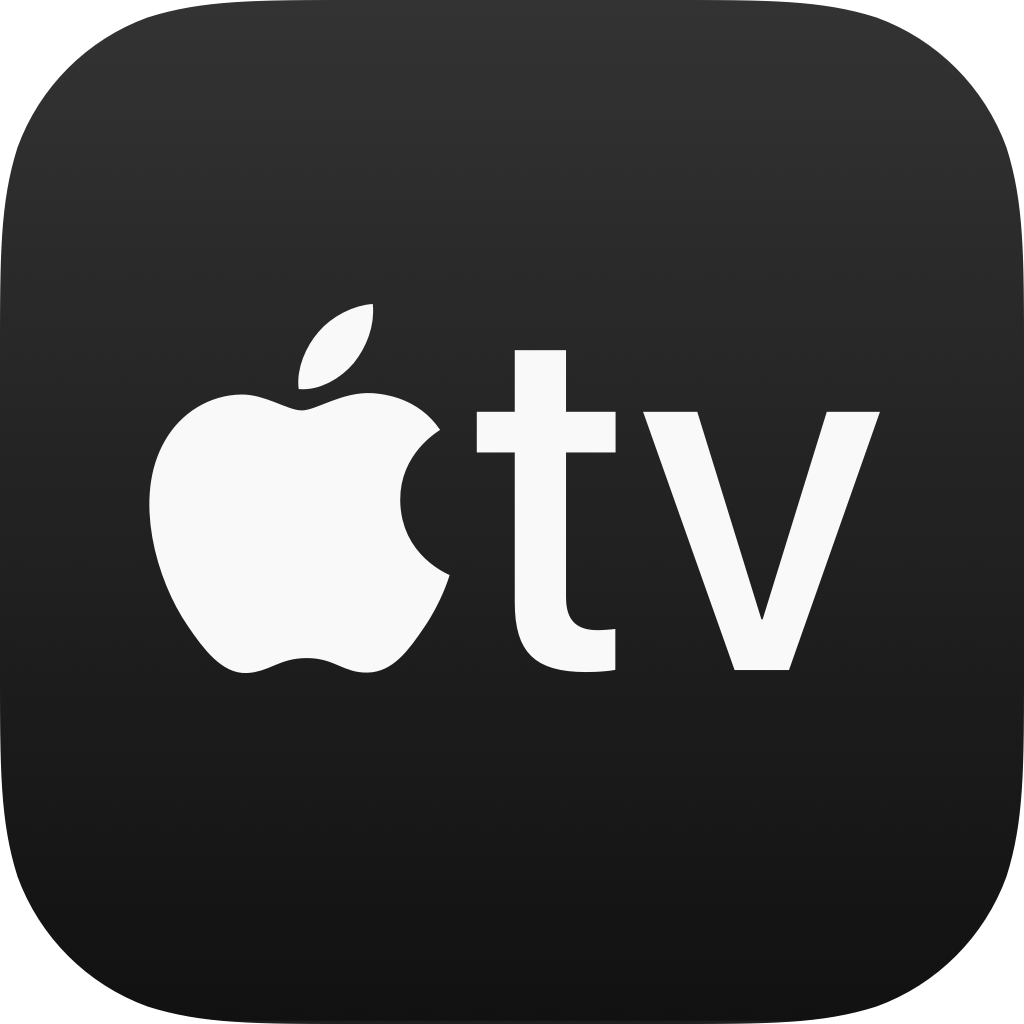 Stream Ice Age: Collision Course in Digital HD/4K from the AppleTV store.
Ice Age: Collision Course images are © 20th Century Fox. All Rights Reserved.
Ice Age: A Mammoth Christmas Special Helps Audiences Keep The Fr...
12/14/2011 9:40 AM EST
As the holidays approach we can expect the usual stream of Christmas specials with the general message of peace on Earth and goodwill towards man. Along with all of the classics we grew up with come new ones, incorporating characters that have more recently entered our lives and hearts. The Ice Age series is one of the newest to jump on the holiday bandwagon.With eight months to go before Sid, Man...
More>>
Twentieth Century Fox To Break Guinness World Record For Tallest...
10/26/2009 10:50 PM EST
To coincide with the release of the Ice Age 3 Dawn of the Dinosaurs Blu-ray disc and DVD, Twentieth Century Fox Home Entertainment will attempt to break the Guinness World Record for Tallest Ice Sculpture at the opening of the ice skating rink, ICE at Santa Monica.Fun Facts: The Scrat Ice Sculpture will stand at 45 feet tall Over 133,000 lbs. of ice will be used, gathered across 4 states ...
More>>
Send A Valetine's Card Wtih Ice Age: Dawn of the Dinosaurs
2/13/2009 7:40 PM EST
20th Century Fox has set up a brand new website for their upcoming film, "Ice Age: Dawn of the Dinosaurs", which is set to be released in July of 2009.  Head on over to check out the site and play their exclusive game, "Bubble Trouble".  You can also send free Valentine's e-cards to all your family and friends!!!....
More>>
Ice Age: Collision Course 4K Review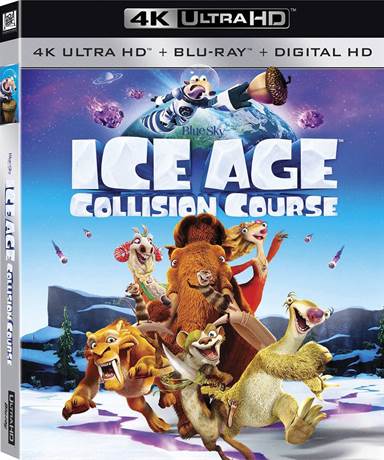 It's what we've all been waiting for all these years. I mean, the franchise films all start out with it and end with it. We've seen shorts of it. The anticipation has been almost crippling. The public has demanded it and 20th Century Fox has delivered. Yes, Scrat and his acorn are back. Finally.
Directors Galen T. Chu and Mike Thurmeier continue this epic series for both families and date nights alike. Cute, captivating and funny, Chu has great perception for what will work and keeps his audience engaged. Living in a frozen paradise, our favorite characters, Sid, Manny and Diego, are back, bringing new characters with them. Sid, our favorite sloth (Jon Leguizamo) is still pursuing love, Diego (Denis Leary; Sex&Drugs&Rock&Roll) is still our favorite brooding sabertooth tiger, and Manny (Ray Romano; Vinyl) is still hanging on in his marriage by the skin of his teeth- as typical of a modern marriage (and trying to figure out his role as a father with a married daughter). As we follow Scrat's adventures into creating the solar system, and creating the asteroid that destroyed the Ice Age, Manny and his friends move underground to escape the devastation and where we reacquaint ourselves with old friends and meet new ones.
As always, Manny is optimistic that the small asteroid shower is over, but is soon introduced to the prophecy by old weasel Buck (Simon Pegg; Star Trek: Beyond). The prophecy is literally written in stone and says that the end is coming. Then, as usual, when asked to take on something scary, Manny is apprehensive but speaks up for his family that they will face the danger to defeat the prophecy.
While the storyline was reminiscent of the prior films, the 4K Blu-ray will get me every time. 4K technology has truly enhanced the video viewing concept and scenes almost look 3D at times, even though this is not a 3D film. While in the animation you can see the painted backgrounds versus a live film, the picture still "pops" and the colors are vibrant. The 2160p resolution and 2.40:1 aspect ratio is brilliant and the clarity is amazing. Couple the 4K with the Dolby Atmos and Dolby TrueHD 7.1 and you have a spectacular video presentation. The audio mix is good for the most part and the explosions and impacts in space are well placed and not overdone. As I've said in prior reviews, if you haven't yet invested in a 4K Blu-ray player and TV, you may want to add them both to your holiday wish list.
Special Features include:
Scrat: Space Out Mini-Movie - This almost 15 minute mini-movie is exactly what we have all been waiting for. Scrat meets the solar system! Or, is it, the solar system meets Scrat?
Ice Age: The Story So Far - is almost 14 minutes of watching and reliving the moments of how our favorite characters, Sid, Manny and Diego, became a family.
Scratasia: Scrat's Solo Adventures - watch Scrat throughout the movies try to get his acorn.
Mysteries of the Scratazons - think Scrat was a probable Squirrel? Think again! He comes from another world and there are more of them! A can't miss feature!
Star Signs of the Animal Kingdom - a hilarious take on the celestial formations in our sky.
The Science of it All: Degrasse Tyson Debunks - Tyson is an astrophysicist and the Director of The Hayden Planetarium. Spend almost 10 Minutes listening to this brilliant gentleman explain space travel and scientific theories in a way that the children watching the movie will understand. Not only is Tyson funny in his presentation, but his information is invaluable in today's time to enlighten our children's minds. If science teachers taught our children the way Tyson gave his presentation, every child would want to be a scientist or astronaut.
Gallery- view a slideshow of photo stills
While the movie itself is a repeat of the prior installments (happiness, an impending disaster ready to wipe our friends off the face of the Earth, optimism that they will overcome the disaster, almost failing, and then ultimately succeeding), the saving point of this installment is Scrat and the Acorn. Entertaining enough for the young ones and for adults who just want to sit back and watch a familiar story, Ice Age Collision Course would fall short without the Scrat storyline developed within the movie. I think it's time for Fox to move on with this franchise. Be prepared, though, to ponder the question "Could Scrat really have been the architect of the Big Bang Theory?"
Grade: B
For more reviews please visit our film/television review section.
SPONSORED LINKS