Twilight (2008)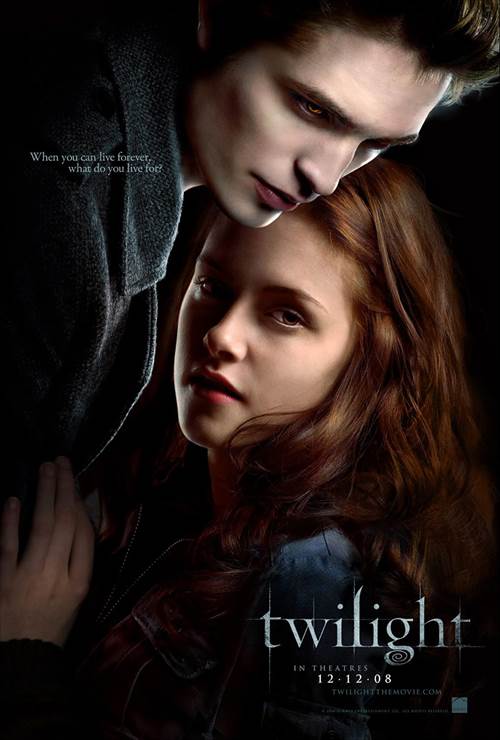 Share this:
| | |
| --- | --- |
| Director: | |
| Writers: | |
| Cast: | |
| Released: | Friday, November 21, 2008 |
| Length: | 120 minutes |
| Studio: | Summit Entertainment |
| Genre: | Sci-Fi/Fantasy |
| Rating: | Some material may be inappropriate for children under 13. |
Synopsis
Bella Swan (Kristen Stewart) has always been a little bit different, never caring about fitting in with the trendy girls at her Phoenix high school. When her mother remarries and sends Bella to live with her father in the rainy little town of Forks, Washington, she doesn't expect much of anything to change. Then she meets the mysterious and dazzlingly beautiful Edward Cullen (Robert Pattinson), a boy unlike any she's ever met. Intelligent and witty, he sees straight into her soul. Soon, Bella and Edward are swept up in a passionate and decidedly unorthodox romance. Edward can run faster than a mountain lion, he can stop a moving car with his bare hands - and he hasn't aged since 1918. Like all vampires, he's immortal. The closer the two get, the more Edward must struggle to resist the primal pull of her scent, which could send him into an uncontrollable frenzy. But what will Edward & Bella do when other, mortal vampire enemies, come to town, looking for her?

Purchase DVD/Blu-ray/4K UHD physical copy of Twilight today at Amazon.com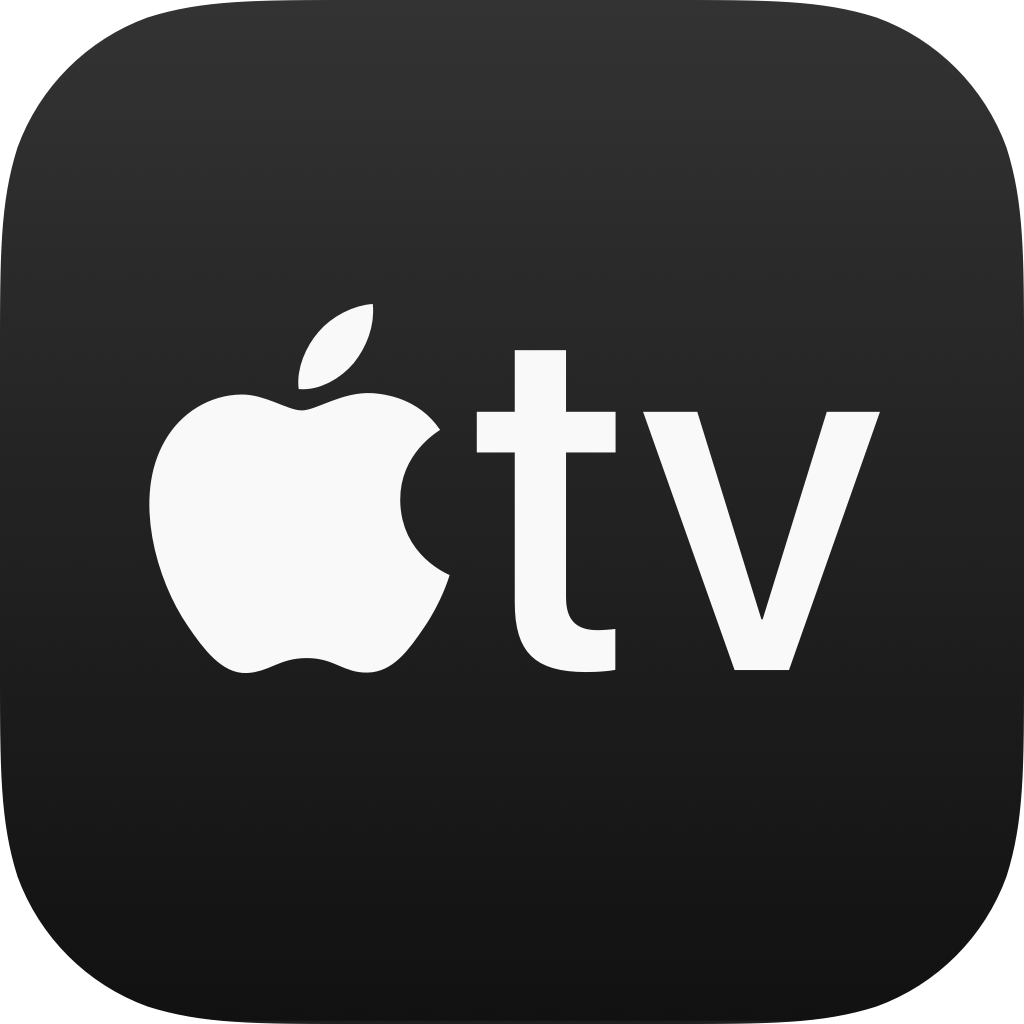 Download Twilight in Digital HD/4K from the iTunes store.
Twilight images are © Summit Entertainment. All Rights Reserved.
Terrorist Attempt On Twilight: Breaking Dawn Discovered
11/16/2012 6:08 PM EDT
November 16, 2012- It was just learned by FlickDirect that Blaec Lammers has been arrested and charged with a crime involving the film The Twilight Saga: Breaking Dawn Part 2. Lammers has been taken into custody in Bolivar, Mo, after his mother contacted the police afraid that her 20-year-old son had bought weapons. He has been charged with first degree assault, making a terrorist threat and armed...
More>>
Twighlight Fans Set Up Camp for Monday's Premier
11/8/2012 2:32 PM EDT
Die hard "Twilight" fans are already lining up for the release of the next film in the franchise, "Breaking Dawn Part 2".These fans, from around the world, are heading to the Summit Entertainment-hosted camp at Nokia Theater in Downtown LA. There are 2,200 spots open, making this the largest camp to date in the history of the franchise.  The fans who camp will have the opportunity to get a glimpse...
More>>
Lionsgate Announces The Twilight Saga: Breaking Dawn - Part 2 Te...
3/9/2012 11:32 AM EDT
The full teaser trailer for "The Twilight Saga: Breaking Dawn - Part 2" will be released online Monday, March 26th at 3am US-PT/6am US-ET, according to Lionsgate.Fans will be able to get a sneak peek on March 20th at 3am US-PT/6am US-ET, will a small amount of footage being released.The trailer will also be released on March 23rd during showings of "The Hunger Games"....
More>>
Twilight Saga Screenwriter Melissa Rosenberg Talks About Breakin...
6/22/2010 2:52 PM EDT
MTV News recently spoke with "Twilight" Saga screenwriter Melissa Rosenberg about the upcoming films for "Breaking Dawn". Since ti is now known that the latest installment will be broken up into two films, there are many questions about what will be included in each. The novel has a lot of sex as well as a gory birthing scene; probably not the best material for a PG-13 film. Rosenberg says that th...
More>>
Taylor Launter Brings An Exclusive Never Before Seen Clip From N...
11/15/2009 8:33 PM EDT
BURBANK, Calif. - November, 2009  -  On Monday, November 16, fans of "Twilight" will get a double treat when Taylor Lautner brings a never before seen clip from "The Twilight Saga: New Moon" to premiere on "The Jay Leno Show" (Monday-Friday, 10-11 p.m. ET).  The exclusive clip will feature Lautner and co-star Kristen Stewart. Also, on Monday's show Heather Locklear checks in for a "Ten @ Ten" from...
More>>
Twlight Follow-up, New Moon, Update
12/2/2008 10:31 AM EDT
In a recent interview in Kiis FM, Kristen Stewart told host Ryan Seacrest that production for the follow up "Twilight" movie, New Moon,  will begin in March.  The film is set for a 2010 release."A lot of the book takes place in Italy, and I think we're going to get to go to Italy, which is so cool," Stewart says. "For a while there, they were like, Oh, we don't know if we have the money, but now I...
More>>
Twilight Theatrical Review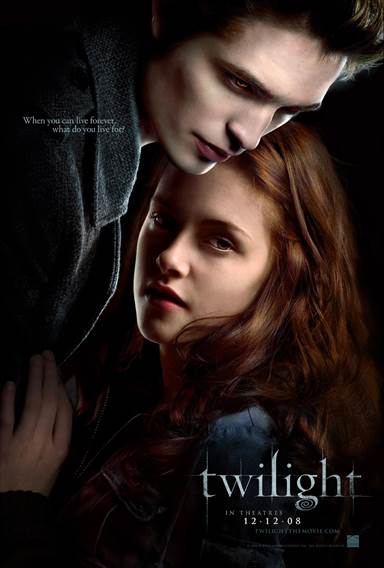 In judging a movie, you have to make allownaces for the type of movie it is. If it is derived from a much beloved book, that is one thing. If it's a high school flick, that is another. A vampire movie -- still more baggage! Twilight, coming from a populr book series by Stephanie Meyer, is all of these. Trying to judge it on its own foundations is tricky.

For one thing, as a vampire movie, we expect "tragic" Byronic heroes -- cool, empowered, dark anti-heroes who suffer their 'tragic' nature (they are immortal, pretty, and super strong ... and have an exciting night life: tragic!). Twilight one-ups this when we see their true forms and ... they are even prettier!

In a high school movie, there are usual themes of alienation, not being understood by grownups and parents, and not fitting in. In Twilight, though, there is narry an evil cheerleader in sight (and this is an unmitigated good thing by this point). Instead, 'Bella (Kristen Stewart) is vied for by the boys of the school, liked by the girls, and understood -- or at least accepted, by her parents.

She still manages a little teenaged angst.

Vampire movies have certain 'bloodlines' (yes, sorry). I want to call out Lost Boys and Interview with a Vampire. I also want to call out Nosferatu as one of the few movies where vampires were not sexy (we could, for example, trace that lineage to From Dawn 'Til Dusk to get vampires which are ugly and monstrous -- even if the vampire queen was an eyeful).

Twilight takes after Lost Boys in its forever young vibe, the high-school coming of age elements its character has, and the emphasis on "vampire families." It ditches the absurdity and the humor of Lost Boys and replaces it with a lot more of the vampire culture and their point of view.

Ultimately Twilight is a wish-fulfillment love-story in the teenaged genre with gothic overtones. In this, it succeeds brilliantly. Perhaps the most cringe-inducing element, if you can get past the teenaged vampire romance, is the product-placement for the Volvo C30 coup that bad-boy vampire Edwards drives. Never has such a laconically cool, tough-guy driven such a domestically styled car!

I'm certainly not the target audience for the movie, and I'm going to step back from simply ripping it for the angsty "see my true-self before you trust me" when the true-self turns out to be glowing diamond like. Instead I want to focus on what it does well.

For one thing, it gets Bella's father, Charlie Swan (Billy Burke), right. It's refreshing to see a father figure who isn't either overly wise or overly dumb. His understated hands-off -- but still clearly loving (he buys new tires for her truck -- and gives her pepper spray -- even if he doesn't know how to be touchy/feely); character gives the movie credibility that vampires suck away.

The vampire family is interesting to watch and listen to. Their implied threat -- any nearby human could become lunch if they lose control -- makes the interplay interesting. There is an amoral center to them; even the "better" ones -- that's good to watch. There's an animalistic wildness to them that works.

Finally, the construction of the story is perhaps not "tight", but it doesn't fall apart instantly either. Why is a 108-year-old vampire interested in a 17- year-old high-school girl? There's a reason -- perhaps even a believable one. Twilight may not live up to the standards of an adult movie with grown-up characters, but it is not especially trying to be. It has good pacing, great casting (the search for the actors was extensive) and it feels comfortably like the start of a series, while still giving us an ending.

Vampires work so well as a teenager metaphor that I think it would be unfair and too hard on its excesses. It's true that I found Buffy The Vampire Slayer (the TV show) more sophisticated than Twilight, but for a two-hour movie (without the depth that the TV allows), I am going to go ahead and say it was all right.

Finally, I want to note that a lot of the critics have gigged Twilight for "lacking bite." While the show may lack real tragedy, I think that forcing us to sit through forty-five minutes of a movie waiting for somethig predictably bad to happen is a poor substitute for narrative depth. Twilight is a romance with vampires; an angst teenaged romance. It isn't an action movie, and it is not really much of a drama. Whatever is wrong with the movie, I do not think that it comes from a lack of sufficient bad things happening. Despite some wire-fu fighting scenes and a few murders, the movie, ultimtately, is gentler than that.
-- Marco Chacon
Read More Twilight Reviews
For more reviews please visit our film/television review section.
SPONSORED LINKS