Zombieland (2009)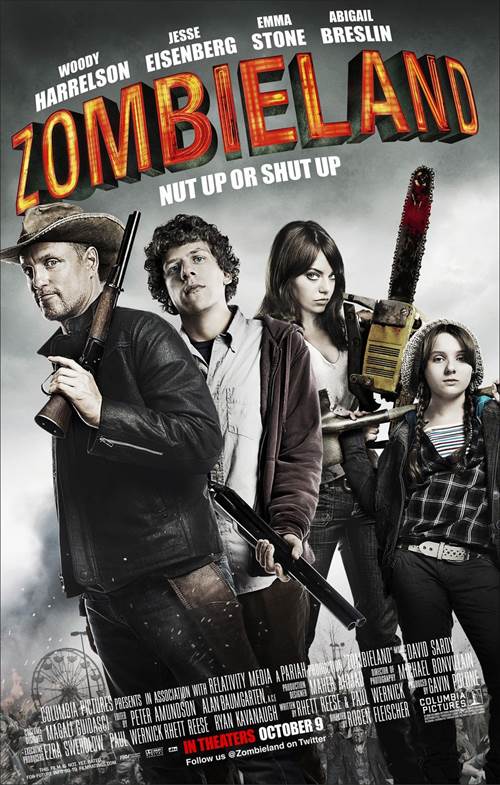 Share this:
| | |
| --- | --- |
| Director: | |
| Writers: | Rhett Reese, Paul Wernick |
| Cast: | |
| Released: | Friday, October 2, 2009 |
| Length: | 81 minutes |
| Studio: | Columbia Pictures |
| Genre: | Sci-Fi/Fantasy, Comedy |
| Rating: | Under 17 requires accompanying parent or adult guardian. |
Synopsis
In the horror comedy Zombieland focuses on two men who have found a way to survive a world overrun by zombies. Columbus is a big wuss -- but when you're afraid of being eaten by zombies, fear can keep you alive. Tallahassee is an AK-toting, zombie-slaying' bad ass whose single determination is to get the last Twinkie on earth. As they join forces with Wichita and Little Rock, who have also found unique ways to survive the zombie mayhem, they will have to determine which is worse: relying on each other or succumbing to the zombies.

Purchase DVD/Blu-ray/4K UHD physical copy of Zombieland today at Amazon.com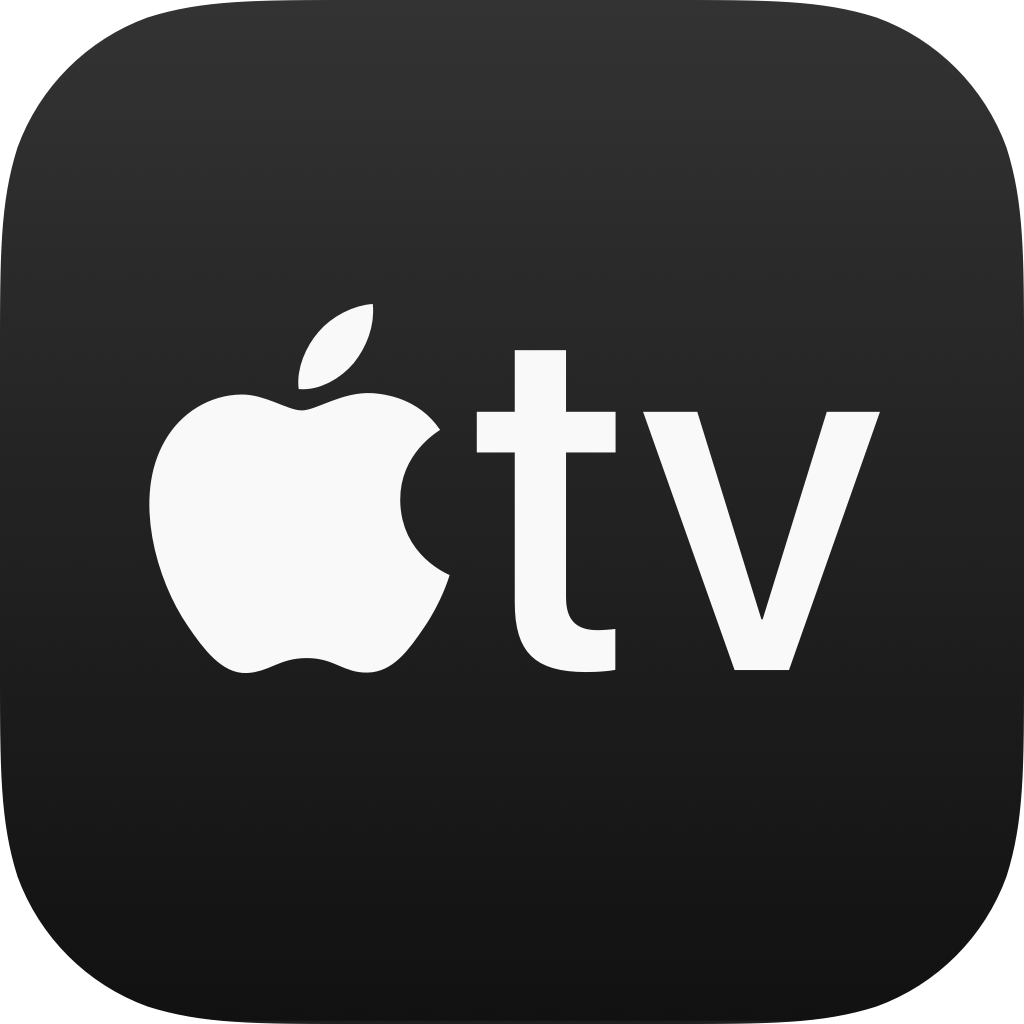 Download Zombieland in Digital HD/4K from the iTunes store.
Zombieland images are © Columbia Pictures. All Rights Reserved.


Zombieland Series in the Works
1/24/2013 4:18 PM EDT
Amazon is reportedly in negotiations with Sony Pictures TV to create a half hour comedy series based on "Zombieland".  The show will be written by the film's writers, Rhett Reese and Paul Wernick, as well as co-executive produced. This would fulfill the original vision for Zombieland, which was developed for CBS back in 2005.  The series was passed on by CBS and Syfy, so they turned the project in...
More>>
Zombieland Sequel Status Not Looking Good
1/13/2013 2:12 PM EDT
Ruben Fleischer, who was out doing press for "Gangster Squad", says that his planned "Zombieland" sequel has come to a halt."I hate to do it, but I can say that there's no immediate plans to make the movie. There's no script, really, so the likelihood of it happening is slim. But I would not wanna put a nail in that coffin. It's not that the studio is not excited, it's that we took one shot at the...
More>>
Zombieland Theatrical Review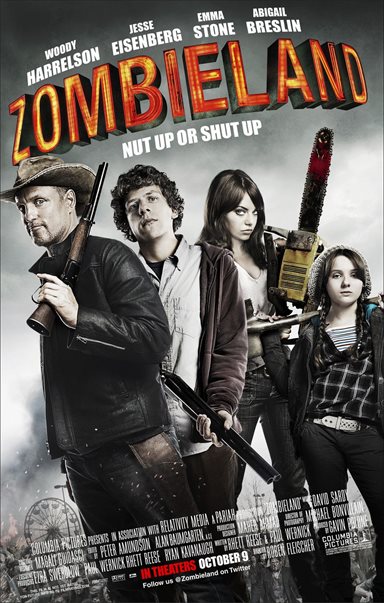 First of all, it's cards on the table time. Zombieland is only the second zombie flick I've ever seen. I know. I know. I'm sorry. 28 days later is the other one. Not even one of the "Dead" series. They're on my Netflix cue and have been for quite some time. I just haven't gotten around to them. Things come up, y'know? Wha'd'ya do? I also saw Planet Terror, but I'm nearly done blocking that from my memory so it doesn't count. That all being said I got to go to an advanced screening of this film, sat down with some popcorn and soda (as is appropriate) and thoroughly enjoyed Zombieland.
Before the film started, a gentleman, I'm assuming from the studio, got up in front of the theater, asked for our attention and told us we were one of the first audiences to see this film. He said that the film was incomplete and had imperfections that would be fixed before it gets released. I did notice some CGI that needed work, the color correction wasn't finished, some night scenes were very grainy, and there may be some editing and music cues that will be fine-tuned. None of it was really distracting, but I am intrigued to see how different the final product will be. Of the CGI that was there, it looks like they are taking a page from the "Zack Snyder's style of filming violence"– extreme slow motion and blood that looks like cherry Jell-o. Even the opening credit's style was nearly identical to what Snyder did in Watchmen, except each vignette shows either a zombie kill or a zombie chase - all set to Knights of Cydonia by Muse. It is effective, so I don't blame them for ripping it off. I am lead to believe that zombies come in two flavors: fast and slow. The ones in this film are fast, sprinting at people and ripping them apart in gory ways, all while bodily fluids of all disgusting sorts spew from their gaping maws.
Our narrator (yes, there is heavy voice over throughout the entire film and, somewhere, Robert McKee is shaking his head) is Jesse Eisenberg as Columbus. This being Jesse's second "–land" film of the year, he is making a nice niche of being Michael Sera's understudy. However, I prefer Eisenberg over Sera since Sera seems to not be able to get past the awkward stammering shtick. In this film Jesse does the unconfident shtick but he adds in personality - some heart and some guts added convincingly when the story calls for it. I see Eisenberg someday being Woody Allen's alter ego in one of Allen's films. When we meet him, Columbus is on his own as the zombie apocalypse has turned everyone he knows into a flesh-eating monster. Along the way, he has created 32 rules for staying alive. These rules get posted on the screen as they are used, often to very comic effect.
Before the film gets too far into Omega Man territory, Columbus meets Tallahassee. All the main characters are named for the cities they come from…or are heading to…it was unclear. This is supposed to keep them from getting too close to one another in case one of them gets bit and the rest need to put them away. Woody Harrelson, no doubt summoning Mikey Knox back up from where he lay, plays Tallahassee to Snake Plissken perfection. He is an unapologetic sociopathic bad ass with a heart of gold, played to the hilt to go down in history with the best of them. Pure fun. As Columbus is being dragged on Tallahassee's ongoing quest to find one more Twinkie to consume, they meet sisters, Wichita (Emma Stone) and Little Rock (Abigail Breslin). There are many trust issues between the four survivors that threaten to tear them apart for the rest of the flick but the girls become the motives for the guys for the rest of the film.
This film is not a horror film – it's a action/comedy in the Shawn of the Dead vein. On top of that, it's a road trip and their destination is wherever they see hope on the horizon. Wichita and Little Rock are on their way to an amusement park near Los Angeles called Pacific Playland. It is a place that held good memories for them both and it becomes the main set piece for the finale. But before getting there they decide to crash in a Beverly Hills mansion they believe is unoccupied. This leads to one of the funniest parts of the film and one of the best cameos I've seen in a long time. I'll say no more here, for to say more would be to spoil the fun. Suffice it to say this movie is filled with all sorts of pop references which may date the film, but which will not take anything away from it.
Zombies on film are often used as metaphors. From indictments of the Vietnam War, commentaries on the Civil Rights movement or critiques of our own consumer-based culture, zombies have been stand-ins for many many things. So what are the filmmakers trying to portray with the undead here? Thankfully, they say it plainly in the last line of the film. "Without other people, you might as well be a zombie." And with that they set up a sequel very nicely. If it comes, I'll be there on opening weekend.
-- Marco Duran
Read More Zombieland Reviews
For more reviews please visit our film/television review section.
SPONSORED LINKS