Rio (2011)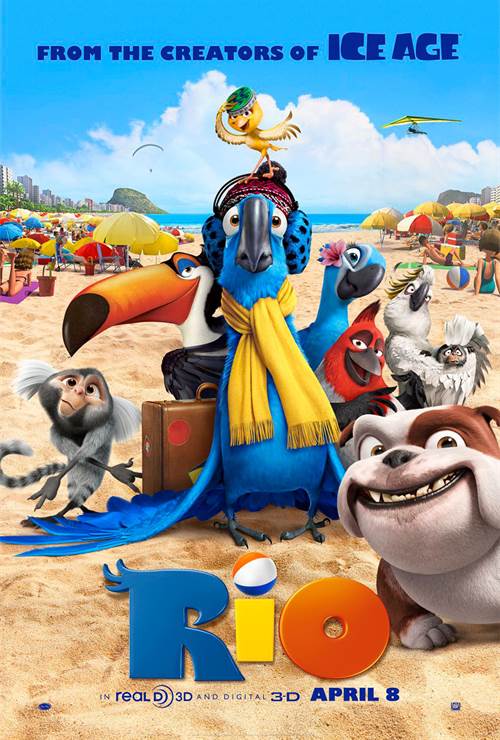 | | |
| --- | --- |
| Director: | |
| Writers: | |
| Cast: | |
| Released: | Friday, April 15, 2011 |
| Length: | 96 minutes |
| Studio: | 20th Century Studios |
| Genre: | Family |
| Rating: | General audiences. All ages admitted. |
Rio Synopsis
Rio is a 3-D animation feature from the makers of the Ice Age films. Set in the magnificent city of Rio de Janeiro and the lush rainforest of Brazil, the comedy-adventure centers on Blu, a rare macaw who thinks he is the last of his kind. When Blu discovers there's another - and that she's a she - he leaves the comforts of his cage in small town Minnesota and heads to Rio. But it's far from love at first sight between the domesticated and flight-challenged Blu and the fiercely independent, high-flying female, Jewel. Unexpectedly thrown together, they embark on an adventure of a lifetime, where they learn about friendship, love, courage, and being open to life's many wonders. RIO brings together a menagerie of vivid characters, a heart-warming story, colorful backdrops, energizing Latin and contemporary music, and family-friendly song and dance.

Purchase DVD/Blu-ray/4K UHD physical copy of Rio today at Amazon.com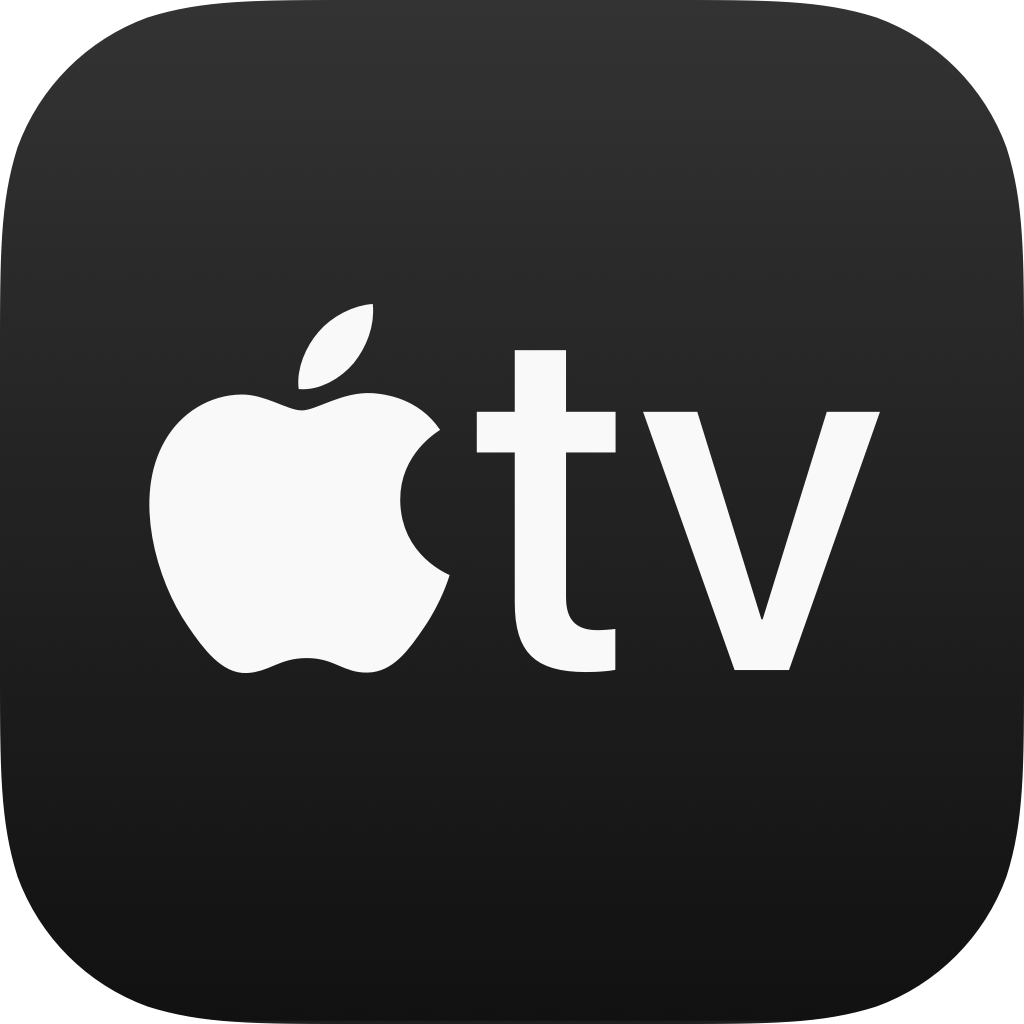 Download Rio in Digital HD/4K from the iTunes store.
Rio images are © 20th Century Fox. All Rights Reserved.
Twentieth Century Fox Animation Announces Rio 2 Casting
2/25/2013 10:52 AM EST
LOS ANGELES, CA, (February, 2013) - The starring voice cast of Twentieth Century Fox's 2011 animated smash RIO is reuniting for the follow-up, RIO 2, and they are joined by a flock of top actors and musical talents new to the franchise, it was announced today by Vanessa Morrison, president of Twentieth Century Fox Animation.  The film is now in production at Blue Sky Studios. Twentieth Century Fox...
More>>
Rio Sequel on the Horizon
1/27/2012 4:30 PM EST
There appears to be a "Rio" sequel in the works.According to Sergio Mendes, who wrote the Oscar nominated song "Real in Rio" for the film, has said as much. "Fox has been talking about (it) and it looks like it's going to happen. We're going to have a meeting I think next week and Carlos [Saldanha, Director] is coming to town to tell us the story, and it looks like it's a go".There is currently no...
More>>
Rio DVD Review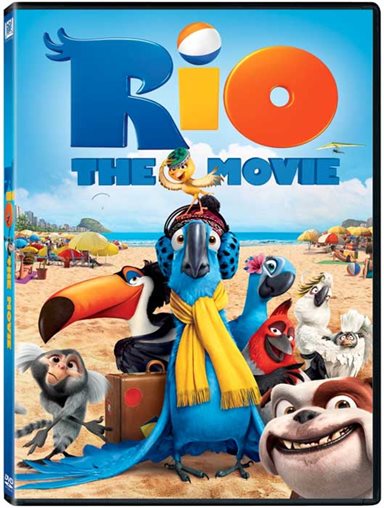 Colorful, fun, and entertaining are the some of the (tamer) first words that come to mind when thinking about Rio De Janeiro Brazil. "Rio", from the creators of Ice Age, is a story about a Blue McCaw from Minnesota whose adventures lead him to Brazil for a , you guessed it, colorful, fun, and entertaining romp the whole family will enjoy!
The latest in a long string of animal centric animated features, Rio really gets it right in many aspects of the genre including the story. Captured from birth in the bird smuggling trade, "Blu" voiced by Jesse Eisenberg) accidentally comes into the possession of a young girl in the cold north of Minnesota. Here Blu grows up sheltered behind the "force field" glass of his owners bookshop, never learning to fly and becoming the "butt", literally, of the outside birds jokes. One day an ornithologist (that's fancy for bird scientist) shows up wanting to take Blue as his owner to Rio De Janeiro Brazil as he is the last male blue Macaw on earth. The shy, reserved bookstore owner reluctantly agrees as the adventure begins.
Once in Rio Blu and his would be girlfriend are captured by more , albeit , less competent bird smugglers and spend the rest of the film attempting to escape their clutches through many set pieces including the famous "Rio Carnival" which is central to the culture and the film.
Most of the plot/and jokes are constructed around "fish out of water" circumstances for both Blue and his owner. There is of course a love story central to the plot with the sole purpose of Blue going to Rio to be to meet and fall in love with the "tough as nails" Jewel (voiced by Anne Hathaway). Much like other animated features there is a plethora of "side" characters who meet and help (or hurt) Blue along the way. Some of the more memorable include Luis (voiced by Tracey Morgan) a dog with a drooling problem, and the antagonist cockatoo Nigel who gets his own catchy musical number.
The music, like that of South America, is spectacular in the film. The samba rhythms and dancing culture of Brazil shine in the movie from the opening scene to the final credits and you'll be humming the main tune long after you finish watching. While not on par with Disney musical features, famous artists such as Will.I.Am and Jamie Foxx lend their talents to the production ad lyrical magic.
The animation and art design are both whimsical and cutting edge with many of the scenes looking almost too real to be a cartoon. Any parent will dream of a vacation on the beaches of Rio after seeing the spectacular vistas this movie offers (and kids will want to go too, if just for the chance to catch a glimpse of Blu!)
The only real disappointing feature of this DVD release is the DVD itself. The special features are very limited and include two Music Videos, a Jukebox feature, and one deleted scene. If you are expecting a making of feature, cast and crew interviews, or any other features that you've probably come to expect you are going to have to look into the blu-ray, which seems to be the idea behind releasing such a limited DVD. The film really shines on its own however, so if you have no interest in these other, extraneous features, by all means get this DVD! You also get 15 bonus levels of "Angry Birds Rio" for your computer or devices, so if you are a fan (who isn't) of Angry Birds that is an extra bonus for you
For the tech junkies, the DVD specifications are pretty standard. Subtitled in English and Spanish with audio represented in English 5.1 Dolby Digital. English 5.1 Dolby digital descriptive audio, Spanish Dolby surround, and French Dolby Surround. The DVD is dual layer with a wide screen 2:40 to 1 presentation. A brisk running time of 96 minutes is perfect for a film like this as it won't drag on for either parents or kids.
Rio is a really great for the entire family, whether you want to escape to Rio De Jinero as a parent, or laugh along with the adventures of Blu and the gang, you'll be flapping your wings for joy. Rated G, the film does have some darker scenes and a little bit of crude humor but its nothing your little ones will question or be frightened of. Very highly recommended for a family movie night in...if only it was in Rio!
-- Eric English
For more reviews please visit our film/television review section.
SPONSORED LINKS