Now You See Me Theatrical Review
Now You See Me Is A very entertaining film with a cool plot and amazing magic tricks.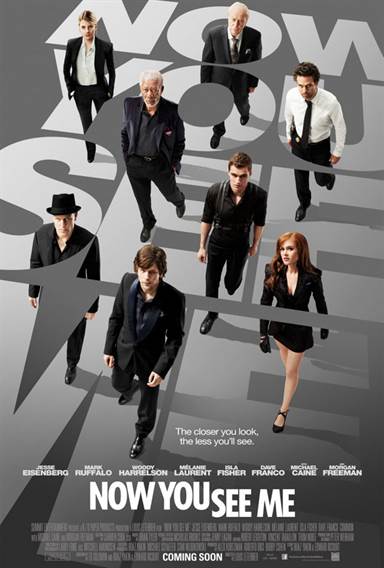 There have been some good film's featuring magicians, but it's been quite awhile since a bright one has come along to challenge their forerunners. Opening this weekend is Now You See Me and it's a fast moving, quick thinking, mindbender that's fueled by a mysterious story and played out by a great cast. If you like intrigue, mystery, magic and action and not wary of the fact that we are in a world captivated by CGI (although the producers say all the magic in Now You See Me is done live before the camera), then rush to a theater near you for some different kind of action.

The movie centers on the Four Horsemen a band of magicians who team up to excite their audiences from all angles. J.Daniel Atlas (Jesse Eisenberg) features the wizardry of illusion making things appear by creating the image in your mind, Merritt McKinney (Woody Harrelson) uses hypnotism as his method putting it to work on the brain of his mark, Henley Reeves (Isla Fisher) makes her living as an escape artist tantalizing her audiences with near death feats and Jack Wilder (Dave Franco) a street smart pick pocket and escape artist gets taken under the team's wing as their trainee.

Their first big show puts them in the limelight pulling off a bank heist in Paris, France from their stage in America. To top it off, they drop the Euros they robbed into their audience. The police are not happy about their theft, so they assign FBI Special Agent Dylan Rhodes (Mark Ruffalo) to the case. Looking after their own interest, the International Police send detective Alma Dray (Mélanie Laurent) to work with Rhodes much to his chagrin.

The two are baffled by the tricks of the captured thieves, but are still certain that they can get a conviction. However, their interrogation goes from bad to worse and they have to release them without enough 'real' proof turning them over to their benefactor rich multi-millionaire Arthur Tressler (Michael Caine). When the quartet strikes again, Rhodes seeks help from former wizard turned traitor Thaddeus Bradley (Morgan Freeman) the master of showing how all tricks work.

I like the way director Louis Leterrier (The Transporter) gets his movie going showing the street magic of his Four Horsemen. The tricks are fun to watch and get you in the mood for what is about to unravel. The crimes carried out with the help of his characters magical abilities get more exciting and imaginative as the movie goes on easily holding the attention of the audience watching the film. He works well with his actors allowing them some latitude to show off their charm and egos making their characters appealing and upbeat.

The featured actor here, Jesse Eisenberg as Atlas brings his character to the forefront as the master of the group. He's the main protagonist leading the three others in the quartet through the master plan. I like his performance very much keeping the story tight with the other actors using their fine acting abilities to make their characters either distract or create havoc. That said however, without the fine performances Harrelson, fisher and Franco the film would not have worked as well.

Now You See Me has been rated PG-13 by the MPAA for language, some action and sexual content. The film moves along at a very fast clip and that's a good thing. I couldn't find a time when it dragged a bit, the story is exciting and the robberies are creative. The producers say that the tricks are performed live before a camera and very little if any CGI was used, just passing it along.

FINAL ANALYSIS: A very entertaining film with a cool plot and amazing magic tricks. (B)

Purchase your copy of Now You See Me today at
Download Now You See Me from the iTunes Store in Digial HD.