Resident Evil: Extinction Theatrical Review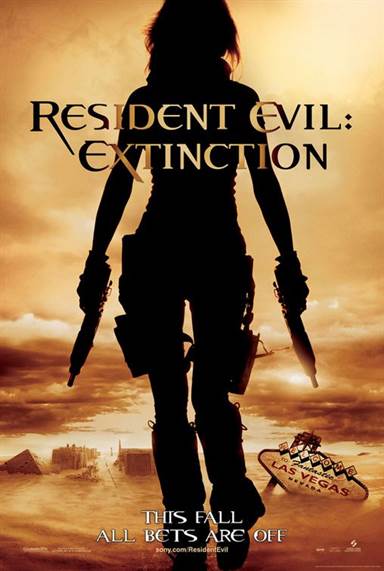 It is the month of September, and like clockwork another Resident Evil movie has been unleashed in the theater. This go round Alice and the gang this head out of their familiar territory of Raccoon City and into the real world in Resident Evil: Extinction.

Last time we saw Alice, she had just escaped from the Umbrella Corporation with new found powers and abilities. Now, five years later, Alice is one of the few humans (if you could still call her that) left on earth who are just trying to survive.

Each Resident Evil movie has its own twist on the zombie genre and this one is no exception. We start the movie with Alice coming to an abandoned town looking for survivors, with the film having the aura of the Road Warrior rather than a horror film. Don't worry, young zombieites, very soon all hell breaks loose and there is no doubt this film has all you come to expect with a Resident Evil film, action, horror, and more….

Along with our old friends Alice (Milla Jovovich), Carlos Olivera (Oded Fehr), L.J. (Mike Epps) returning for this third installment we are introduced to a new band of survivors led by Claire (Ali Larter) who is most recently known from her role as Niki Sanders in the hit television show Heroes. However, the character Jill Valentine, the second female lead from Resident evil Apocalypse, is for some reason missing from this film entirely with no explanation. But all hope is not lost as Larter's character fills the shoes with ease.

For this outing film producer, Paul Anderson, choose Russell Mulcahy (of Highlander fame) to direct the film and his exceptional directing skills shows. The Resident Evil series has never been one to focus that much on plot or drama. The series usually relies on it's great action and hyperkinetic filming to be the focal point. However, this time the film actually has a very cohesive story and takes time out from the action to focus on character development.

All in all this third film is a great addition to the Resident Evil series and you can be sure there will be more to come with the way it performed at the box-office this weekend.
Purchase your copy of Resident Evil: Extinction today at
Download Resident Evil: Extinction from the iTunes Store in Digial HD.
About Nathan M Rose
comments powered by

Disqus
Today's iTunes Digital HD Deals