Resident Evil: Extinction (2007)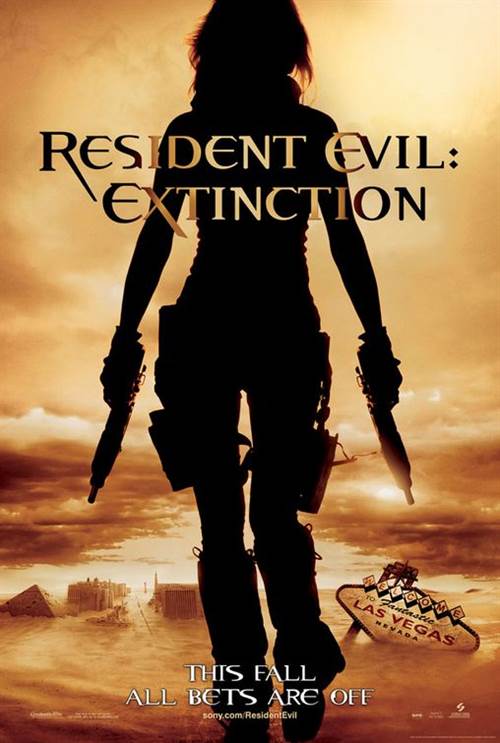 | | |
| --- | --- |
| Director: | |
| Cast: | |
| Released: | Friday, September 21, 2007 |
| Length: | 95 minutes |
| Studio: | Screen Gems |
| Genre: | Horror, Sci-Fi/Fantasy |
| Rating: | Under 17 requires accompanying parent or adult guardian. |
Resident Evil: Extinction Synopsis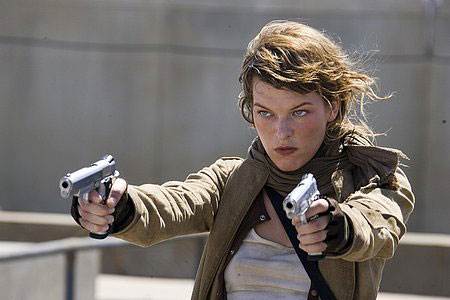 Alice (Milla Jovovich), now in hiding in the Nevada desert, once again joins forces with Carlos Olivera (Oded Fehr) and L.J. (Mike Epps), along with new survivors Claire (Ali Larter), K-Mart (Spencer Locke) and Nurse Betty (Ashanti) to try to eliminate the deadly virus that threatens to make every human being undead... and to seek justice.
Since being captured by the Umbrella Corporation, Alice has been subjected to biogenic experimentation and becomes genetically altered, with super-human strengths, senses and dexterity. These skills, and more, will be needed if anyone is to remain alive".

Purchase DVD/Blu-ray/4K UHD physical copy of Resident Evil: Extinction today at Amazon.com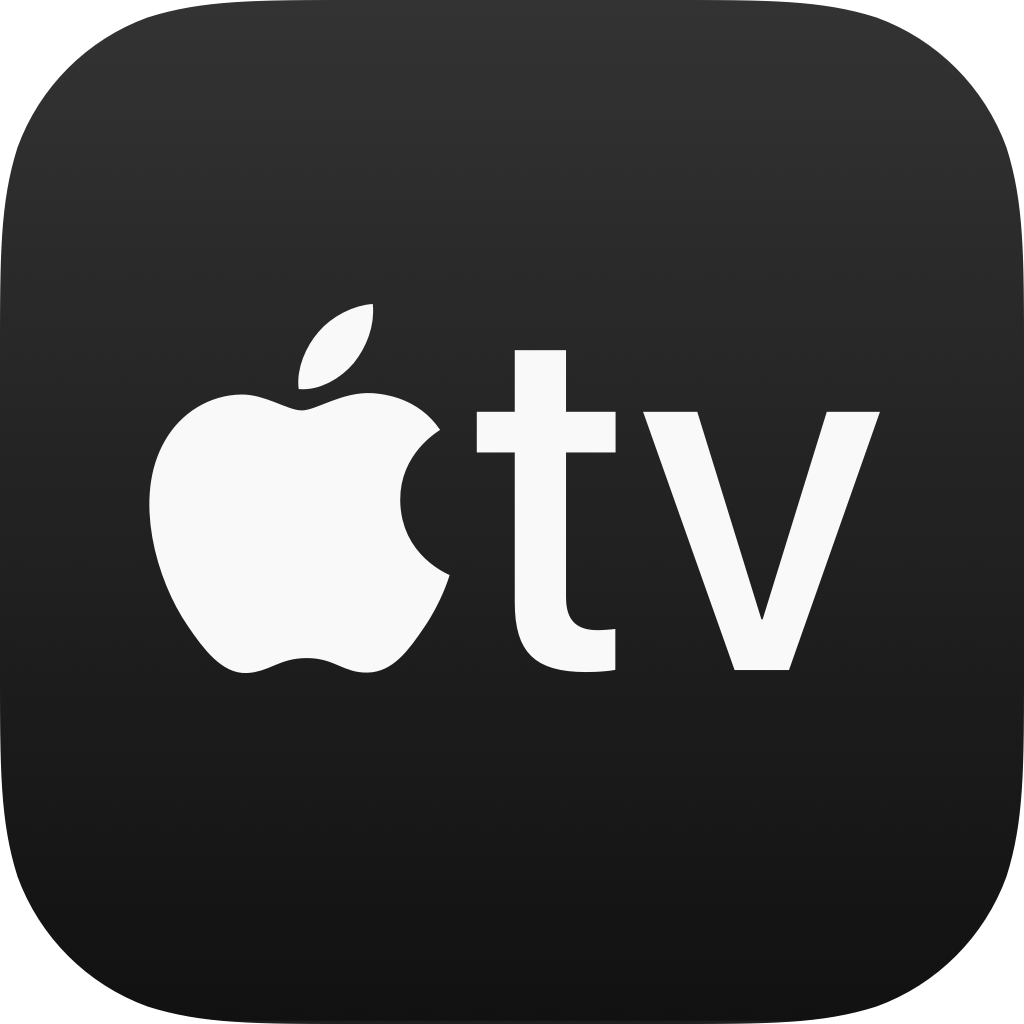 Stream Resident Evil: Extinction in Digital HD/4K from the AppleTV store.
Listen to the Resident Evil: Extinction soundtrack on Apple Music.
Resident Evil: Extinction images are © Screen Gems. All Rights Reserved.
Resident Evil Origin Film in the Works
10/6/2020 4:50 PM EST
Another "Resident Evil" film is in the works. Constantin Film and writer-director Johannes Roberts have said that an official origin story is currently in the works."With this movie, I really wanted to go back to the original first two games and re-create the terrifying visceral experience I had when I first played them whilst at the same time telling a grounded human story about a small dying Ame...
More>>
Resident Evil Series Coming to Netflix
8/27/2020 11:38 AM EST
The "Resident Evil" franchise has now expanded to television. The series has been greenlit by Netflix for 8 episodes. The series has been written by Supernatural executive producer and co-showrunner Andrew Dabb and will feature two new storylines."Resident Evil is my favorite game of all time. I'm incredibly excited to tell a new chapter in this amazing story and bring the first-ever Resident Evil...
More>>
Resident Evil Franchise Will Continue After All
5/21/2017 11:01 PM EST
Fans of Resident Evil rejoice! It was confirmed at Cannes by Martin Moszkowicz, chairman of the board at Constantin Film, that there will be more to the successful franchise.  There haven't been any details released about casting, plot or director, but fans will no doubt flock to the theaters to see the reboot. "Resident Evil: The Final Chapter", which was slated to be the last film in the franchi...
More>>
Paul W.S. Anderson to Direct Sixth Resident Evil
3/14/2013 4:11 PM EST
It has been reported that Paul W.S. Anderson has been confirmed to be directing the upcoming sixth film of the "Resident Evil" franchise.The film begins production this fall, and will once again star Milla Jovovich.  There is no word yet on any other cast members at this point.  This is said to be the last film of the franchise."Resident Evil 6" is slated for a September 12, 2014 release. Countdow...
More>>
Twelve Injured On Set of Resident Evil: Retribution
10/12/2011 4:34 PM EST
It has been reported that there were some mishaps on the set of the upcoming film "Resident Evil: Retribution". Production is currently taking place in Toronto at Cinespace Film Studios.Apparently, while filming a scene on a high wheeled platform, some extras fell as they were being moved to another platform. Twelve people were taken to the hospital, but no life threatening injuries occurred. Give...
More>>
Another Installment of "Resident Evil" Due Out in 2012
3/5/2011 11:10 AM EST
Sony Pictures has announced that they will be releasing a fifth installment of the "Resident Evil" franchise.Despite mediocre reviews, the franchise has managed to increase sales with each release. Last year's "Resident Evil Afterlife" earned about $10 million more domestically, and approximately $139 million more worldwide, than its previous release.The fifth installment will be released on Septe...
More>>
Screen Gems posts plotline for Resident Evil: Afterlife
10/12/2009 8:17 PM EST
Screen Gems has recently posted a plotline for the upcoming film, "Resident Evil: Afterlife". The film is scheduled to be released on August 27, 2010. The film will be starring Milla Jovovich, Ali Larter, Spencer Locke, Wentworth Miller, Shawn Roberts, Boris Kodjoe, Kim Coates, Norman Yeung and Kasey Barnfield. The following is what Screen Gems had posted: In a world ravaged by a virus infection, ...
More>>
Resident Evil:Afterlife Casting Update
9/23/2009 12:50 PM EST
Casting for "Resident Evil:Afterlife", the fourth in the franchise's series, is starting to take shape. According to Blackfilm, Wentworth Miller (Prison Break) and Ali Larter (Heroes) have joined the cast.Boris Kodjoe, who is also in the film, told Blackfilm a little about the upcoming project.  He said, "I play the leader of the survivors in Los Angeles. Milla Jovovich's character, Alice, is roam...
More>>
Resident Evil: Degeneration Website Launched
7/17/2008 12:21 PM EST
The official website for the CG-animated film "Resident Evil: Degeneration" has been released by Sony Pictures Home Entertainment. The site includes a production Blog, trailer and synopsis. They also gave this description of the film on the site:The "Umbrella Incident" that took place in Raccoon City was ended with the eradication of the deadly virus by a missile attack ordered by the government. ...
More>>
Resident Evil: Extinction Theatrical Review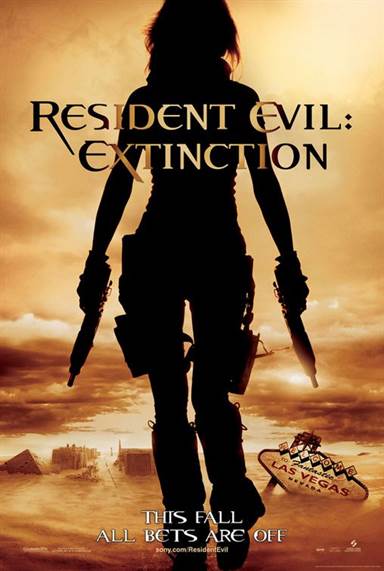 It is the month of September, and like clockwork another Resident Evil movie has been unleashed in the theater. This go round Alice and the gang this head out of their familiar territory of Raccoon City and into the real world in Resident Evil: Extinction.

Last time we saw Alice, she had just escaped from the Umbrella Corporation with new found powers and abilities. Now, five years later, Alice is one of the few humans (if you could still call her that) left on earth who are just trying to survive.

Each Resident Evil movie has its own twist on the zombie genre and this one is no exception. We start the movie with Alice coming to an abandoned town looking for survivors, with the film having the aura of the Road Warrior rather than a horror film. Don't worry, young zombieites, very soon all hell breaks loose and there is no doubt this film has all you come to expect with a Resident Evil film, action, horror, and more….

Along with our old friends Alice (Milla Jovovich), Carlos Olivera (Oded Fehr), L.J. (Mike Epps) returning for this third installment we are introduced to a new band of survivors led by Claire (Ali Larter) who is most recently known from her role as Niki Sanders in the hit television show Heroes. However, the character Jill Valentine, the second female lead from Resident evil Apocalypse, is for some reason missing from this film entirely with no explanation. But all hope is not lost as Larter's character fills the shoes with ease.

For this outing film producer, Paul Anderson, choose Russell Mulcahy (of Highlander fame) to direct the film and his exceptional directing skills shows. The Resident Evil series has never been one to focus that much on plot or drama. The series usually relies on it's great action and hyperkinetic filming to be the focal point. However, this time the film actually has a very cohesive story and takes time out from the action to focus on character development.

All in all this third film is a great addition to the Resident Evil series and you can be sure there will be more to come with the way it performed at the box-office this weekend.
For more reviews please visit our film/television review section.
SPONSORED LINKS