Resident Evil: The Final Chapter (2017)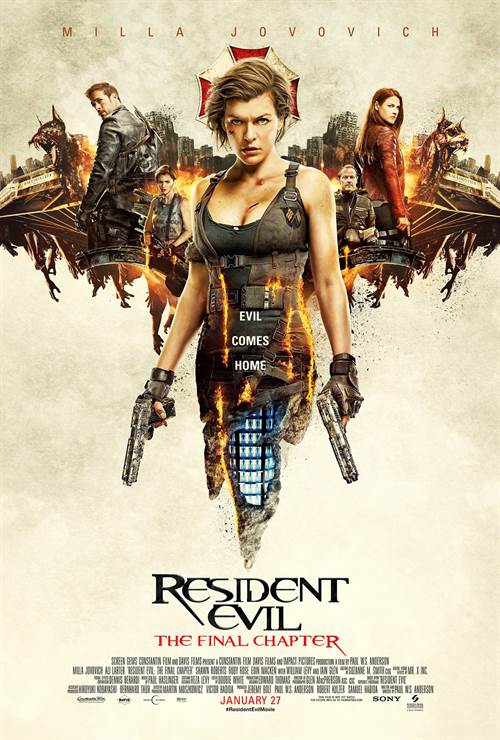 | | |
| --- | --- |
| Director: | |
| Writers: | |
| Cast: | |
| Released: | Friday, January 27, 2017 |
| Length: | 106 minutes |
| Studio: | Screen Gems |
| Genre: | Sci-Fi/Fantasy, Action/Adventure |
| Rating: | Under 17 requires accompanying parent or adult guardian. |
Resident Evil: The Final Chapter Synopsis
Picking up immediately after the events in Resident Evil: Retribution, Alice (Milla Jovovich) is the only survivor of what was meant to be humanity's final stand against the undead. Now, she must return to where the nightmare began - The Hive in Raccoon City, where the Umbrella Corporation is gathering its forces for a final strike against the only remaining survivors of the apocalypse.

Purchase DVD/Blu-ray/4K UHD physical copy of Resident Evil: The Final Chapter today at Amazon.com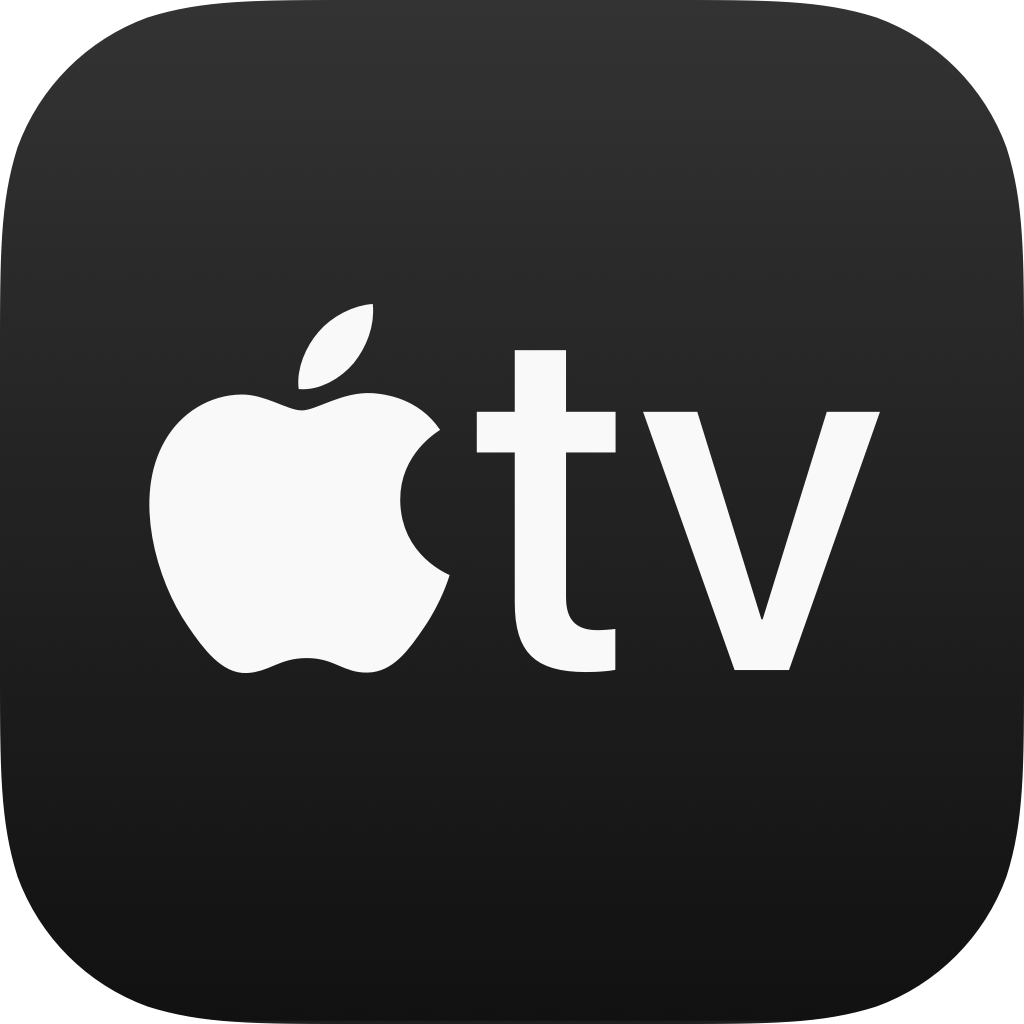 Stream Resident Evil: The Final Chapter in Digital HD/4K from the AppleTV store.
Listen to the Resident Evil: The Final Chapter soundtrack on Apple Music.
Resident Evil: The Final Chapter images are © Screen Gems. All Rights Reserved.
Netflix's Resident Evil Canceled After One Season
8/29/2022 1:59 PM EST
Netflix has canceled "Resident Evil" after one season. The series was based on the popular video game franchise of the same name.The series hasn't had a strong viewership since its release on July 14, and dropped out of the Netflix Top 10 by week three. "Resident Evil" starred Ella Balinska as Jade Wesker, who has been a survivor in the now apocalyptic world after a deadly virus has taken over the...
More>>
Resident Evil Origin Film in the Works
10/6/2020 4:50 PM EST
Another "Resident Evil" film is in the works. Constantin Film and writer-director Johannes Roberts have said that an official origin story is currently in the works."With this movie, I really wanted to go back to the original first two games and re-create the terrifying visceral experience I had when I first played them whilst at the same time telling a grounded human story about a small dying Ame...
More>>
Resident Evil Series Coming to Netflix
8/27/2020 11:38 AM EST
The "Resident Evil" franchise has now expanded to television. The series has been greenlit by Netflix for 8 episodes. The series has been written by Supernatural executive producer and co-showrunner Andrew Dabb and will feature two new storylines."Resident Evil is my favorite game of all time. I'm incredibly excited to tell a new chapter in this amazing story and bring the first-ever Resident Evil...
More>>
Resident Evil Franchise Will Continue After All
5/21/2017 11:01 PM EST
Fans of Resident Evil rejoice! It was confirmed at Cannes by Martin Moszkowicz, chairman of the board at Constantin Film, that there will be more to the successful franchise.  There haven't been any details released about casting, plot or director, but fans will no doubt flock to the theaters to see the reboot. "Resident Evil: The Final Chapter", which was slated to be the last film in the franchi...
More>>
Paul W.S. Anderson to Direct Sixth Resident Evil
3/14/2013 4:11 PM EST
It has been reported that Paul W.S. Anderson has been confirmed to be directing the upcoming sixth film of the "Resident Evil" franchise.The film begins production this fall, and will once again star Milla Jovovich.  There is no word yet on any other cast members at this point.  This is said to be the last film of the franchise."Resident Evil 6" is slated for a September 12, 2014 release. Countdow...
More>>
Twelve Injured On Set of Resident Evil: Retribution
10/12/2011 4:34 PM EST
It has been reported that there were some mishaps on the set of the upcoming film "Resident Evil: Retribution". Production is currently taking place in Toronto at Cinespace Film Studios.Apparently, while filming a scene on a high wheeled platform, some extras fell as they were being moved to another platform. Twelve people were taken to the hospital, but no life threatening injuries occurred. Give...
More>>
Another Installment of "Resident Evil" Due Out in 2012
3/5/2011 11:10 AM EST
Sony Pictures has announced that they will be releasing a fifth installment of the "Resident Evil" franchise.Despite mediocre reviews, the franchise has managed to increase sales with each release. Last year's "Resident Evil Afterlife" earned about $10 million more domestically, and approximately $139 million more worldwide, than its previous release.The fifth installment will be released on Septe...
More>>
Screen Gems posts plotline for Resident Evil: Afterlife
10/12/2009 8:17 PM EST
Screen Gems has recently posted a plotline for the upcoming film, "Resident Evil: Afterlife". The film is scheduled to be released on August 27, 2010. The film will be starring Milla Jovovich, Ali Larter, Spencer Locke, Wentworth Miller, Shawn Roberts, Boris Kodjoe, Kim Coates, Norman Yeung and Kasey Barnfield. The following is what Screen Gems had posted: In a world ravaged by a virus infection, ...
More>>
Resident Evil:Afterlife Casting Update
9/23/2009 12:50 PM EST
Casting for "Resident Evil:Afterlife", the fourth in the franchise's series, is starting to take shape. According to Blackfilm, Wentworth Miller (Prison Break) and Ali Larter (Heroes) have joined the cast.Boris Kodjoe, who is also in the film, told Blackfilm a little about the upcoming project.  He said, "I play the leader of the survivors in Los Angeles. Milla Jovovich's character, Alice, is roam...
More>>
Resident Evil: Degeneration Website Launched
7/17/2008 12:21 PM EST
The official website for the CG-animated film "Resident Evil: Degeneration" has been released by Sony Pictures Home Entertainment. The site includes a production Blog, trailer and synopsis. They also gave this description of the film on the site:The "Umbrella Incident" that took place in Raccoon City was ended with the eradication of the deadly virus by a missile attack ordered by the government. ...
More>>
Resident Evil: The Final Chapter 4K Review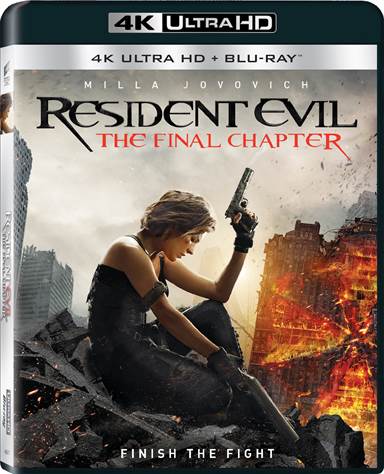 Resident Evil is the longest running female action series in movie history. Based on a video game, the first film made it's way to theaters in 2002 and fifteen years later we have movie number six, Resident Evil: The Final Chapter, hitting stores on 4K, Blu-ray and Digital Download. With crazier stunts, fans of the series will no doubt want to add this video library, right next to all of the games. While the movies don't follow the games that closely, they are still popular worldwide.
Once again we see Alice (Milla Jovovich; The Fifth Element) fighting her way through the streets killing zombies and some newer flying pterodactyl-like creatures. She's as badass as we remember her and can really seem to take down just about anything or anyone. When she ends up in an old warehouse she finds herself faced with the Red Queen (Ever Anderson), only this time the computer-generated psychopath wants to help. She informs Alice there is an antidote cure for the T-virus and that Alice has 48 hours to find it before Umbrella Corporation and Dr. Isaacs (Iain Glen; Game of Thrones) kills everyone left living above ground.
The hitch… the antidote is hidden in the Hive – the underground bunker housing all of the pods holding those who paid to be "saved" once the apocalypse has ended. Alice and friends – Claire (Ali Larter; Heroes), Abigail (Ruby Rose; John Wick: Chapter 2), Razor (Fraser James; Judge John Deed), Christian (William Levy; The Tempest), Doc (Eoin Macken; The Forest), etc., device a plan and find their way into the hive only to be destroyed one by one. Of course (spoiler alert) Alice kills the bad guys, gets the antidote and saves the day.
This type of film holds an appeal for a certain audience and they love every second of it. The gamers will see it just because it's based on a video game (even though supposedly fans of the games don't especially like the films because there are several characters and plot points that don't exist in the games). Action fans will enjoy the intricate choreography of the fight sequences. Milla Jovovich fans will simply see it because of her.
Jovovich is impressive and her battle skills are on point and apparently, she did her own stunts, which is amazing. She commands attention in this film and not just because she is the lead. She has a presence as Alice that is undeniable. The rest of the cast blends well with special mention of Rudy Rose. As an up and comer in Hollywood, she has made her mark on several films including this one.
Director Paul W.S. Anderson (Pompeii) returns once again to helm this project and his style is evident throughout. His quick cut editing is a dream come true if you happen to be someone diagnosed with ADHD otherwise it is simply annoying. The human body, brain, and eyes are not meant to process that much information that quickly so a lot of great shots get lost in the rapid-fire scenes.
The 4K is presented in 2160p high definition video with an aspect ratio of 2.40:1. The muted and dingy color palate has a range of gray and black hues that give the video some nice depth. The Dolby Atmos audio is sharp and clear and the dialogue and weapons don't drown each other out.
The Blu-ray disc comes with several special features including Stunts and Weaponry, Explore the Hive; The Badass Trinity and the Women of Resident Evil and Sneak Peak Of resident Evil: Vendetta. All the extras have some tidbits of information but my favorite is about the strong and talented women.
While the door has been left open for another movie in the continuing saga of Alice and the Umbrella Corporation, I'm not sure if they can really pull it off. However, having said that, Resident Evil: The Final Chapter actually contradicts plot points from the earlier films and nobody seems to care so there may be another one yet.
Regardless, if you are a fan, chances are you will want to own this Combo pack.
Grade: C+
For more reviews please visit our film/television review section.
Resident Evil: The Final Chapter's William Levy sits down FlickDirect's Celebrity Correspondent, Emily Warburton-Adams, to talk about his expe...

Picking up immediately after the events in Resident Evil: Retribution, Alice (Milla Jovovich) is the only survivor of what was meant to be humanity's...
SPONSORED LINKS