Hellboy (2019)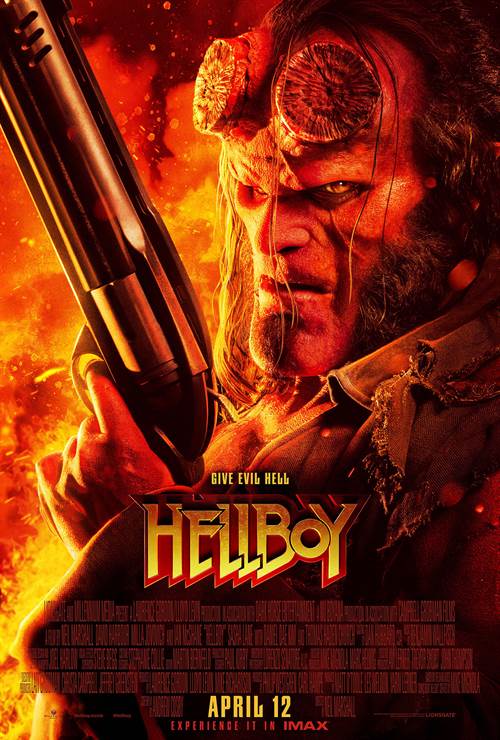 Share this:
| | |
| --- | --- |
| Director: | |
| Writers: | |
| Cast: | |
| Released: | Friday, April 12, 2019 |
| Length: | 120 minutes |
| Studio: | Lionsgate |
| Genre: | Sci-Fi/Fantasy, Action/Adventure |
| Rating: | Under 17 requires accompanying parent or adult guardian. |
This film contains a scene during or after the credits.
Synopsis
Hellboy is back, and he's on fire. From the pages of Mike Mignola's seminal work, this action packed story sees the legendary half-demon superhero (David Harbour, "Stranger Things") called to the English countryside to battle a trio of rampaging giants. There he discovers The Blood Queen, Nimue (Milla Jovovich, Resident Evil series), a resurrected ancient sorceress thirsting to avenge a past betrayal. Suddenly caught in a clash between the supernatural and the human, Hellboy is now hell-bent on stopping Nimue without triggering the end of the world.

Purchase DVD/Blu-ray/4K UHD physical copy of Hellboy today at Amazon.com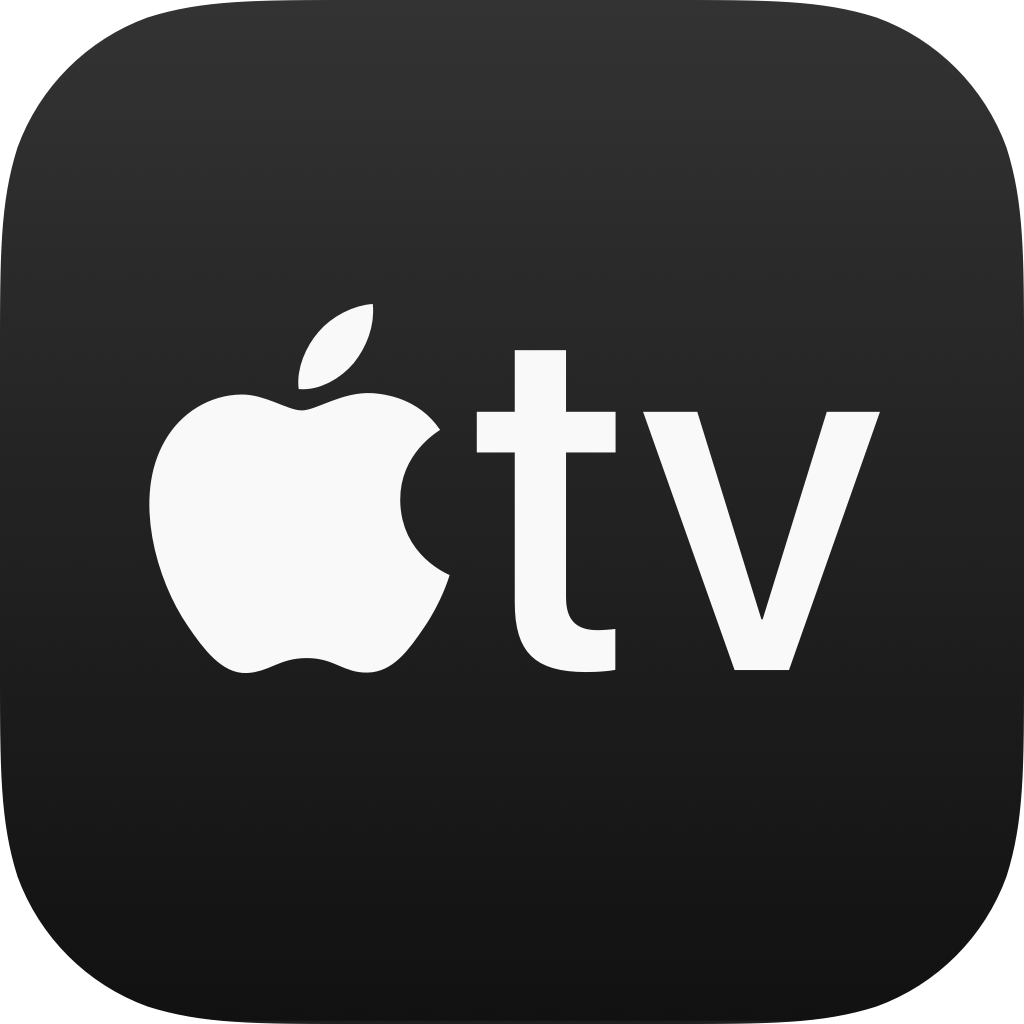 Download Hellboy in Digital HD/4K from the iTunes store.
Listen to the Hellboy soundtrack on Apple Music.
Hellboy images are © Lionsgate. All Rights Reserved.
Ed Skrein Steps Down from Hellboy Role
8/28/2017 3:57 PM EST
Ed Skrein, who joined the cast of the upcoming Hellboy reboot just last week, has decided to step down from the role.Skrein had been cast to play Major Ben Daimio, which is a character of Asian descent. When words got out about the casting choice, people took to social media to voice their disdain for what seemed to be yet another instance of Hollywood whitewashing. Skrein took to Twitter to respo...
More>>
Ron Perlman Discusses Hellboy 3 Tweet
7/9/2015 5:03 PM EST
Last month, Ron Perlman sent out a tweet that gave fans some false hope about the possibility of a Hellboy III film.  While at the Amazon series Hand Of God panel at Comic Con this morning, he took some time to acknowledge the excitement he caused.  Perlman said,  "If there's a real honesty to fan culture relationships, we owe the world the finale of Hellboy. We set up the whole film. It's a deal ...
More>>
Ron Perlman Wants Third Hellboy Made
4/29/2013 4:41 PM EST
Ron Perlman wants to see a third "Hellboy" film, even though the chances of said film are pretty slim to none.Perlman told IGN that he is going to push Guillermo del Toro to do it.   "[Del Toro and I] both walked away from 'Hellboy 2' agreeing that there would never be another one. But, with the passage of time, it became clear to me that he really always designed it as a trilogy.    [Guillermo] h...
More>>
Hellboy 4K Ultra HD Review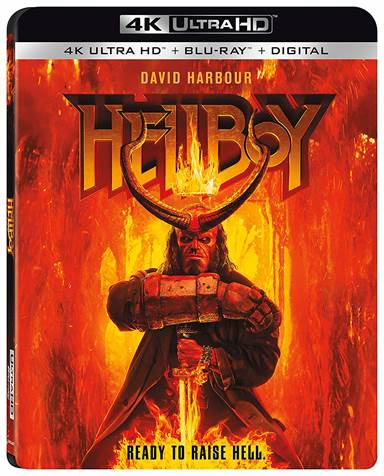 Hellboy first came onto the scene in 1993 with the release of the San Diego Comic-Con Comics #2 and has gone on to make appearances in various film and tv projects including 2004's Hellboy and 2008's Hellboy II: The Golden Army, both starring Ron Perlman. In May 2017, it was announced that a reboot to the franchise would take place starring David Harbour in the lead role. Now, you can own this 4K Blu-ray title for your home entertainment collection.

In this version of the film, we open with Blood Queen Nimue (Milla Jovovich, Resident Evil) releasing a plague on England in the Dark Ages, until she is stopped by King Arthur with the help of a member of Nimue's coven. He dismembers Nimue and scatters her remains across the English countryside. Fast forward to the present day, where we find Hellboy (David Harbour, Stranger Things) in Tiajuana tracking down fellow B.P.R.D. (Bureau for Paranormal Research and Defense) agent Esteban Ruiz (Mario de la Rosa; Money Heist), who has now been changed into a vampire. After reluctantly killing Ruiz, Hellboy is told by his dying comrade that "the end is coming". Shortly after, he finds himself on another assignment - this time to help the Osiris Club hunt down three giants. However, Hellboy soon finds out that he has turned into the hunted and must save himself from those who are out to end his life on top of saving the world, once again.

I enjoyed the original set of Hellboy films and was really looking forward to seeing the reboot, especially with David Harbour as Hellboy. I thought that Harbour really gave a good performance, as well as Ian McShane (who played Hellboy's adoptive father Trevor Bruttenholm), but Milla Jovovich was a bit lackluster considering how powerful her role should have come across. Sasha Lane (who played Alice Monaghan) gave a just-decent performance as did Daniel Dae Kim as Ben Daimio. However, I don't feel like this was entirely the fault of the actors. The script was much campier and jokey than the previous two and it just didn't entirely do it for me. While Hellboy is always adding his sarcastic two cents, I think there is a better way that it could have been presented. The storyline itself was a good one, just perhaps not executed correctly. I will say that this version was definitely gorier than the previous films and added a bit of an edge.

Hellboy is presented in 2160p in it's original 2.40:1 aspect ratio with everything finished in 4K. The uptick in quality from the Blu-ray is easily seen as colors pop and sharpness and clarity are much better overall. There is so much detail you can even see each thread on the costumes the actors wear throughout the production. The audio presented in Dolby Atmos does a nice job with separating the dialog from the special effects. The dialog is crisp and clear while the audio effects really shake the room. The only downfall is that it appears the filmmakers didn't take full advantage of the height speakers on this release which would have only added more depth to the overall viewing experience.

There are not too many extras on this combo pack, it has the usual deleted scenes, some CGI pre-visualization storyboards, and then the meat of the special features - an hour and ten-minute long featurette that dives into all aspects of producing Hellboy.

While this film was a bit of a disappointment to me, overall I still enjoyed it. It was action-packed, even though I thought maybe they could trim it up a bit time-wise, and, in my opinion, had more "horror" elements than the previous films. Definitely worth the watch though.

Grade B-
For more reviews please visit our film/television review section.
Hellboy is back, and he's on fire. From the pages of Mike Mignola's seminal work, this action packed...
SPONSORED LINKS