A Very Harold & Kumar Christmas (2011)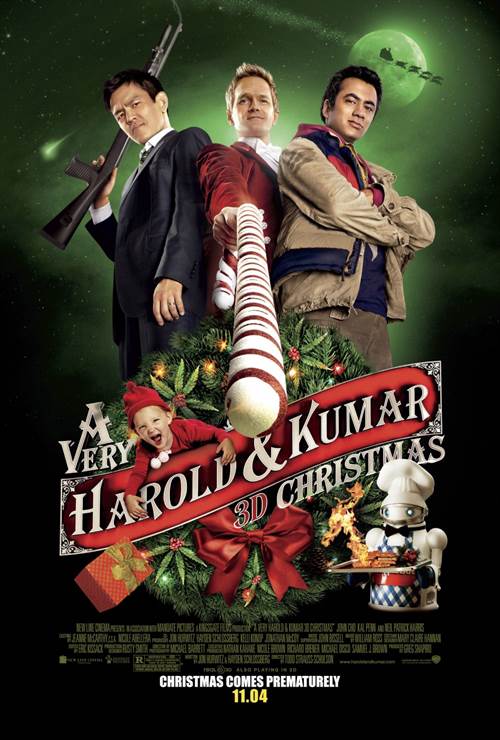 | | |
| --- | --- |
| Director: | |
| Writers: | |
| Cast: | |
| Released: | Friday, November 4, 2011 |
| Length: | 90 minutes |
| Studio: | New Line Cinema |
| Genre: | Comedy |
| Rating: | Under 17 requires accompanying parent or adult guardian. |
A Very Harold & Kumar Christmas Synopsis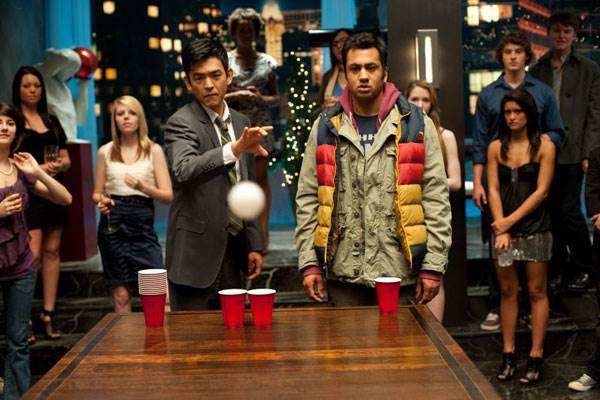 Six years after their last adventure, stoner pals Harold (John Cho) and Kumar (Kal Penn) have grown apart and found new friends. As each is busy making holiday preparations, a mysterious package mistakenly arrives on Kumar's doorstep. Unfortunately, Kumar's attempt to redirect the package to Harold goes up in smoke -- along with a prize Christmas tree belonging to Harold's father-in-law. The pair's journey across New York City to find a replacement tree threatens to blow Christmas Eve sky-high.

Purchase DVD/Blu-ray/4K UHD physical copy of A Very Harold & Kumar Christmas today at Amazon.com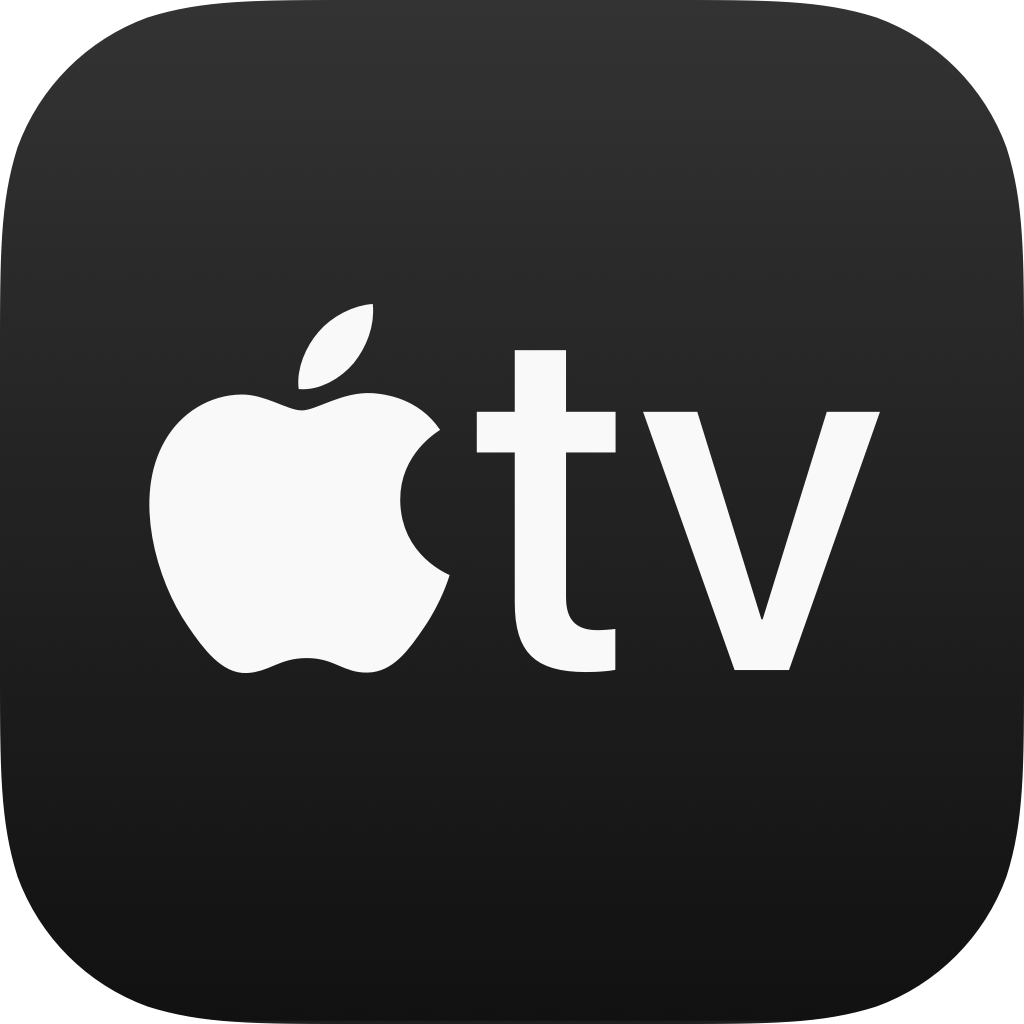 Stream A Very Harold & Kumar Christmas in Digital HD/4K from the AppleTV store.
A Very Harold & Kumar Christmas images are © New Line Cinema. All Rights Reserved.
Harold and Kumar Director Danny Leiner Dies at 57
10/22/2018 10:00 AM EST
Danny Leiner, director of Harold and Kumar Go To White Castle, has died from lung cancer. He was 57. Leiner's credits also included Dude, Where's My Car? and several stints in TV including Felicity, Freaks and Geeks, Party of Five, Gilmore Girls, Arrested Development, The Sopranos, and The Office.Ross Putnam, who worked with Leiner on several projects, confirmed the news on Facebook and spoke abou...
More>>
Production on Harold and Kumar Get Droned Delayed
9/24/2013 10:45 AM EST
"Harold and Kumar get Droned", the next film in the "Harold and Kumar" franchise to be released, will now be delayed. Kal Penn, who took a break from the entertainment world to become the Associate Director in the White House Office of Public Engagement, said that due to rising tensions in the Middle East, production has halted.  He blames President Obama and the handling of the recent Syrian cris...
More>>
Harold and Kumar The Third
7/13/2010 8:43 PM EST
A third "Harold and Kumar" will be hitting theaters next year, and a press release from Mandate Pictures and New Line Cinema gave some details about the film. Among the details was a synopsis for the film: "The story picks up six years after the duo's last adventure. After years of growing apart, Harold Lee (John Cho) and Kumar Patel (Kal Penn) have replaced each other with new best friends and ar...
More>>
A Very Harold & Kumar Christmas Blu-ray Review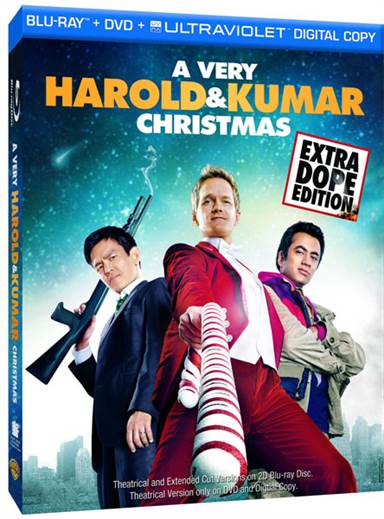 What I didn't expect of
A Very Harold & Kumar 3D Christmas
was to be genuinely laughing at one of the jokes early on. In a blatant display of ubiquitous timeliness, of which most films these days may be accused, a protester was depicted below Harold's (John Cho,
Star Trek
,
FlashForward
) office window picketing with the catchy "Wall Street 2 sucks harder".
Much like that can be said of the opening act of the film overall. We are reintroduced to the finely honed deadpan of Kumar (Kal Penn,
24
,
House M.D.
), updated on the happenings since the franchise's previous film,
Harold & Kumar Escape from Guantanamo Bay
, and firmly established among our new supporting cast.
But hey, it's a Sharp TV! And, unfortunately, it seems that we are also firmly established in the new flavor of 3D gimmickry: making fun of 3D gimmickry. Even as a 2D viewer, it's the most glaring anachronism of the film, as intentionally cheesy 3D was already passé when
Arrested Development
did it in 2006. Even that wore out its welcome over one split-second scene, and here, we go back to that well repeatedly over the whole film.
About 15 minutes in, we hear the "plot music", telling us that the main plot has begun. There's one more faultless scene, Harold and Kumar's first meeting in years, shot in the shade with a slightly incandescent filter to give the picture a markedly cool sheen. They don't talk about much in particular, always a hallmark of the best scenes of dialogue in film. Then, however, it's time to burn it all down, and roll through the rest of the movie in what can best be described as "shenanigans".
Kumar maintains his perpetually cool/oblivious demeanor throughout, but here he is bested by Todd (Thomas Lennon,
Reno 911!
,
Party Down
). Despite his character's straightforward straight-man status, he manages to best Kumar in the deadpan olympics several times, at least while our main characters remain with their backup.
After a few scenes, though, the stars of the show find themselves on their own, casting off their best buds from the beginning of the film in favor of separate scenes. I'm ambivalent about this. On one hand, it works best for the film thematically—they've been using these new friends as crutches to replace the friendship with each other they've lost. It cuts short, however, any further moments for Todd to shine. On the other hand, we don't waste time with the other castoffs, and I would as much like to not mention them as forget them.
Overall, however, the remainder of
A Very Harold & Kumar 3D Christmas
should be treated as a sitcom, albeit one willing to subject its participants to rather extreme situations. Some of these are fine, some best forgotten, particularly the final resolving scenes.
Among the less forgettable moments, though, would be Neil Patrick Harris's (himself,
How I Met Your Mother
,
Dr. Horrible's Sing-Along Blog
) Christmas song medley. Considered by many to be a cursory appearance at this point, I consider it the highlight of the main plot section of the film. The screen time devoted to connecting the real NPH with his H&K character was quite extraordinary, and as if to earn it, he carried his medley past cheesy and back into smile territory. But then again, I like it when sitcoms get schmaltzy.
Blu-ray extras:
An Extended Cut - The Blu-ray edition includes both a 96-minute extended cut and a 90-minute theatrical version. The extended cut only offers a Dolby Digital 5.1 surround track.
Through the Haze with Tom Lennon (HD, 9 minutes
Behind The Scenes of Harold & Kumar's Christmas Claymation Sequence
Deleted Scenes
UltraVioletCopy - As per Warner Bros. now normal release process of the film an UltraViolet copy is included without an iTunes version leaving AppleTV and mac users without a digital option.
Read More A Very Harold & Kumar Christmas Reviews
For more reviews please visit our film/television review section.
SPONSORED LINKS