Clerks (1994)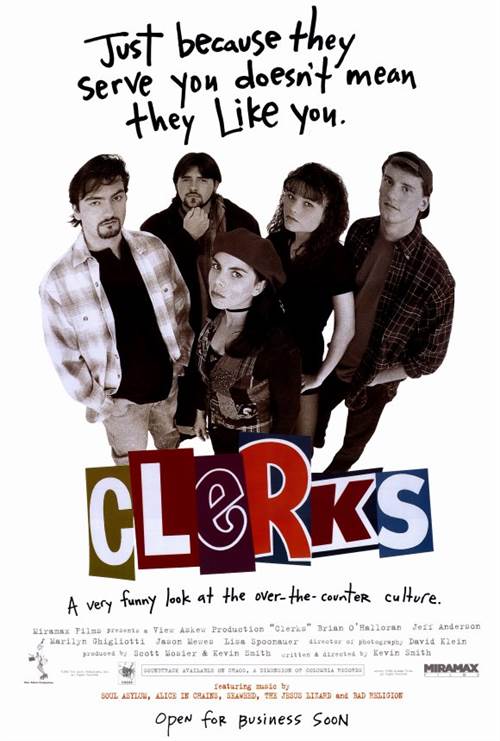 | | |
| --- | --- |
| Director: | |
| Writers: | |
| Cast: | |
| Released: | Wednesday, October 19, 1994 |
| Length: | 92 minutes |
| Studio: | Miramax |
| Genre: | Comedy |
| Rating: | Under 17 requires accompanying parent or adult guardian. |
Clerks Synopsis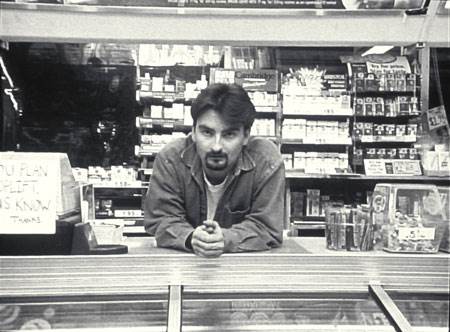 Clerks is the hilarious look at one day in the life of Dante (Brian O' Halloran), a convenience store clerk and his best friend Randal (Jeff Anderson), a video store clerk. Both are ambivalent about their mundane jobs and don't care who knows it. In between the comical parade of peculiar customers, Dante and Randal manage to play roof hockey, attend a funeral and grab some quality time with their girlfriends. When it comes to these two clerks, there's no such thing as a routine day at the office.

Purchase DVD/Blu-ray/4K UHD physical copy of Clerks today at Amazon.com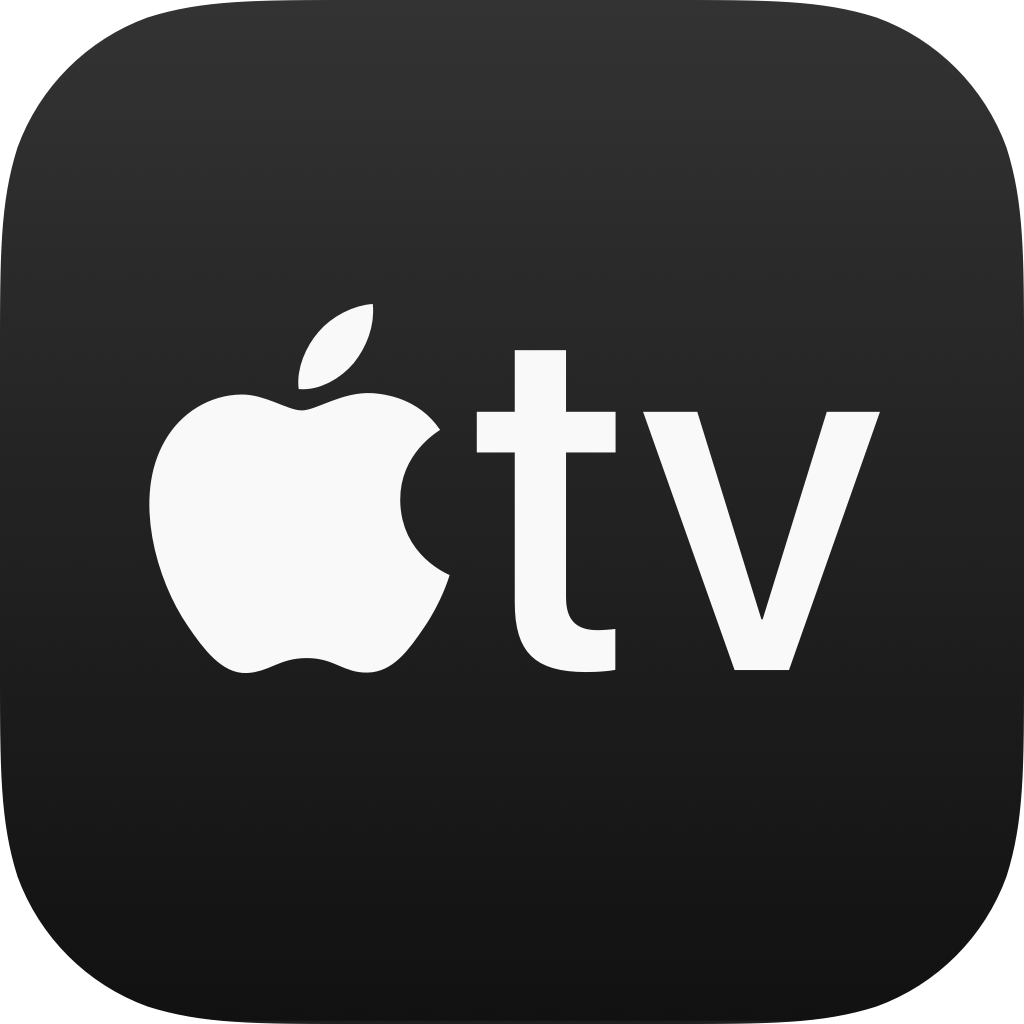 Stream Clerks in Digital HD/4K from the AppleTV store.
Listen to the Clerks soundtrack on Apple Music.
Clerks images are © Miramax Films. All Rights Reserved.
Katie Sarife Cast in Upcoming Annabelle Film
10/17/2018 2:54 PM EST
Katie Sarife has joined the cast of the New Line's upcoming untitled Annabelle project. Production will be starting this week.The film will take place after the Warrens have acquired the Annabelle doll and stores her in their artifacts room, where it won't cause problems. However, Annabelle's power awakens the evil that resides in the room and now the Warren's must protect its new target - their y...
More>>
Kevin Smith Suffers Massive Heart Attack
2/26/2018 10:03 AM EST
Kevin Smith, director of Clerks and Mallrats, announced via Twitter that he suffered a major heart attack last night."After the first show this evening, I had a massive heart attack. The Doctor who saved my life told me I had 100% blockage of my LAD artery (aka "the Widow-Maker"). If I hadn't canceled show 2 to go to the hospital, I would've died tonight. But for now, I'm still above ground!", twe...
More>>
Jay and Silent Bob Making a Big Screen Comeback
2/10/2017 11:25 AM EST
Filmmaker Kevin Smith took to social media yesterday to make an announcement that will surely make a lot of fans happy.  Smith, along with Jason Mewes, will be back in theaters will their beloved characters Jay and Silent Bob in Jay and Silent Bob Reboot.Smith wrote: This is not a drill! This is an actual image from my laptop! Yes, Kids - @jayandsilentbob are coming back! Here's the story: Sadly, ...
More>>
Clerks III Finally Funded and Heading for Production
9/30/2014 9:35 AM EST
Kevin Smith is pretty happy today.  The filmmaker has been trying to get financial backing for a third "Clerks" film, and finally, he has.After deciding to make the third film, Smith had brought the script to Weinstein Company, and they passed. After getting rejected, Smith pressed on and threw himself into his latest project, "Tusk".  While the film hasn't been all that critically or financially ...
More>>
Kevin Smith Announces Clerks 3 Will Be His Last Film
12/10/2012 1:40 PM EST
Kevin Smith has announced via Twitter that his final film, as a director, will be "Clerks 3".  Smith tweeted "So with the HIT SOMEBODY shift, the minute Jeff Anderson signs on, my last cinematic effort as a writer/director will be CLERKS III. #TaDa"Back in 2010, he hinted as much, saying "'Red State' is done. Next step is the hockey movie, 'Hit Somebody.' Then I'm done. There's possibly a 'Clerks ...
More>>
Clerks Theatrical Review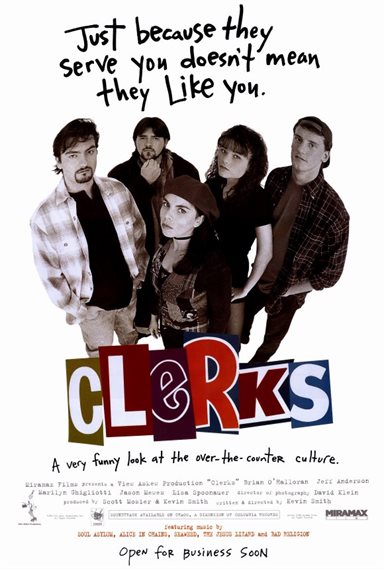 I've got to give Kevin Smith credit--he did something that's very hard to make work. Namely, he put himself in a movie without doing the "look-at-me! I'm-the-director!" thing. In terms of characters to inhabit a film, Silent Bob is one of the best (Mr. Brown wasn't bad either--but that's it: Quentin needs to stay out of his films now, please).

Kevin is also plucky. He shot it with credit card and insurance settlement money. He filmed it at the place where he was working. He used his mom (the Milk Maid) as a character. He made a movie wherein nothing happens--and he got it into theaters. I gotta give him props for that too.

In fact, Kevin overcame one of the major stumbling blocks that assails many first time writers. When my first creative writing (101) teacher assigned our fist story, we were warned: "Do not end it with your character being run over crossing the street!" (he actually named the streets: University and 13th). First time writers, with no idea of how to end their story, tend to do it apocalyptically with the death of the main character. Kevin considered this for Clerks. He didn't do it. Bravo.

But ...

Right. There's the 'but.' I think that my reticence to see it came from feeling that I sort of missed the boat. It slipped under my radar in 1994 (I was finishing up college and in a storm of work) and when I got out, I got a job in fairly short order with an international telecom organization. I guess maybe I didn't feel the right vibe for Clerks. I wasn't exactly in the slacker demographic. I missed it a couple of more times (I'd held it in my hands at a Blockbuster, I think)--but I didn't see it.

So watching it more than a decade later, I know some of the signature jokes. I know the (however unlikely) path of the two secondary characters. I don't spend the whole movie waiting for something to happen and then go "woah--experimental cinema: NOTHING happens!" I even get the 9-chapters/Dante reference (although how, exactly, the circles of hell lined up wasn't clear to me. I guess you could say there's betrayal in the end--but ... meh. Maybe it's not that exact).

This didn't exactly help it. Having heard too much about a movie before watching it never does. Here's what I was struck by.

It's vulgar
Yeah, it is. Moderately creatively (I give more props to South Park, though, who show they really know how to verbally offend when they crank it up. Interestingly, the actor (Jeff Anderson) refused to do his infamous video-ordering scene (a whole buncha vile porn) with a woman ... and (especially) child ... in the same room. So I approve of that. I think it might be one of the vanishingly few movies to actually feature an act of necrophilia (however accidental). It's vulgar. It took super lawyer Allan Dershowitz to argue it down to an R rating without any cuts.

The Acting ... isn't Very Good
I think it's telling that the title guys--and even Jay ... and especially Silent Bob--don't have any roles beyond their Clerks persona's (or, well, darn few). It's true that probably no one could say those lines--that too-clever patois that Buffy (the TV show) approached--without sound a little artificial. Still, while serviceable, I got the feeling that the director was talking to me more than, say, Randal.

I Liked Dante
The main character. And damn, you'd better--if you don't like Dante, I think you're in trouble with the whole film. That isn't to say I, you know, backed him up. I think he was an idiot to dump Veronica. He was overly concerned with her pinball-score numbers of guys she'd ... um ... been with ... and as unlikeable as I found Randall, I think he was basically right about Dante bein' all victimized--when it was his choices that put him there.

But the guy was decently likable. The actor was a good choice.

I Didn't Like Randal
Here's my major disconnect with the movie: Randal speaks with the Voice of the Director(TM) in my opinion. I might be wrong. Maybe way wrong--but I think that Randal is the self-aware perspective that being trapped in the Clerk-zone is a decision each of them has made--and that, absent force, they all suffer whatever they suffer at the hands of their own decisions. This isn't a bad message (in fact, I think it's a true one).

However, Randal also embodies the narcissistic self-indulgent element that all too often goes along with that perspective. And I think the Clerk-verse exonerates him. He is happy with his life. He never, even in the original script, pays for any of his abuse of customers. He's right about Dante. Clearly--as in, the viewer goes "Yeah, you're right about Dante."

This leaves me with one of two unsettling possibilities:
1. Kevin also thinks Randal is a jerk--but despite the fact that he meticulously makes Dante pay for his (far better intended) decisions, he consciously leaves Randal out of it. Maybe Randal is Virgil? Was Virgil really rude?
2. Kevin identifies with Randal and therefore doesn't think he has anything to pay for.

In this case, Kevin is contemptuous of his customers.

In that case, I am Kevin's customer.

End Note: Despite this being my analysis, I didn't feel insulted by Clerks. It's a good film. Smart, respect-worthy, and certainly the opposite of over-produced industrial-stamped cinema. I laughed a few times watching it. I thought the Star Wars commentary was good. But when the credits rolled (and I thought ending it with Dante going to try to patch things up with Veronica was right--if just a little too easy due to Caitlin's sudden, dramatic, exit) I realized that I didn't *quite* connect with it the way many of my friends did.

Maybe it's just that I'm pushing 40 and Clerks was a better bet for someone the same age as the characters? Dunno.
-- Marco Chacon
For more reviews please visit our film/television review section.
SPONSORED LINKS