Despicable Me 2 (2013)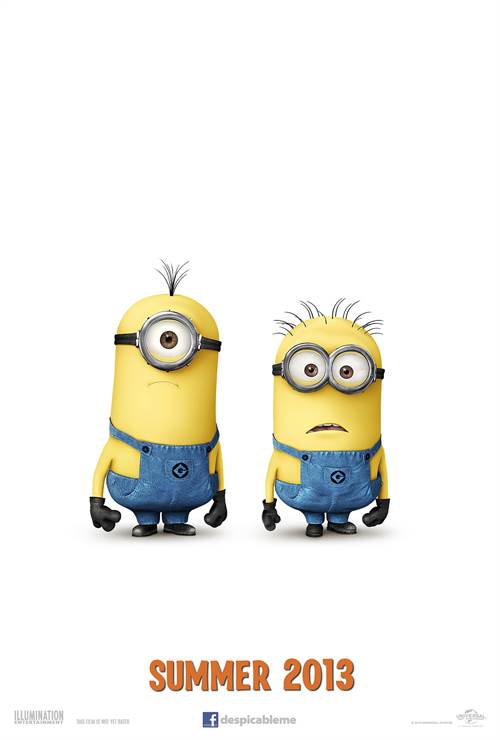 | | |
| --- | --- |
| Director: | |
| Writers: | |
| Cast: | |
| Released: | Wednesday, July 3, 2013 |
| Length: | 98 minutes |
| Studio: | Universal Pictures |
| Genre: | Family |
| Rating: | Some material may not be suitable for children. |
Despicable Me 2 Synopsis
Universal Pictures and Illumination Entertainment's worldwide blockbuster, Despicable Me, delighted audiences around the globe in 2010, grossing more than $540 million and becoming the 10th-biggest animated motion picture in U.S. history. In Summer 2013, get ready for more minion madness in Despicable Me 2. Chris Meledandri and his acclaimed filmmaking team create an all-new comedy animated adventure featuring the return of Gru (Steve Carell), the girls, the unpredictably hilarious minions...and a host of new and outrageously funny characters.
Despicable Me 2 images are © Universal Pictures. All Rights Reserved.
Universal Orlando Resort Announces Villain-Con Minion Blast
12/8/2022 1:11 PM EST
Universal Orlando Resort has announced Illumination's Villain-Con Minion Blast, a first-of-its-kind family attraction inspired by the popular "Minions" franchise. The attraction, which will open in the Summer of 2023, will engage in loads of diabolic...
| Full Article
Win a Digital Copy of MINIONS: THE RISE OF GRU
8/29/2022 10:09 AM EST
Let's face it, whether they annoy you or not, you have to admit they are really cute and even sometimes funny.   Of course, "they" are none other than those yellow, overalls-wearing, mischievous makers - the Minions.  This summer they returned to the...
| Full Article
See an Advance Screening of MINIONS: THE RISE OF GRU in South Fl...
6/23/2022 8:56 PM EST
It has been a dozen years since Steve Carell (The Office) introduced the world to the character of Gru in the animated film, Despicable Me.  Along with Gru, came some very cute girls and even cute, little yellow guys called the Minions.  Since 2010, ...
| Full Article
Despicable Me 3 and Boys & Girls Club of America Partner for "Me...
11/27/2017 12:44 PM EST
Universal Pictures Home Entertainment and the Boys & Girls Clubs of America are teaming up for a "Merry Minions" Holiday Program,  a joint venture designed to celebrate the season with help from the home entertainment release of Despicable Me 3-- the...
| Full Article
Win Complimentary Passes For Two To An Advance Screening of Univ...
6/19/2017 4:24 PM EST
When Despicable Me came to theaters in 2010, no one could have predicted the franchise it would become. It not only warranted a sequel in 2013 but two spinoff movies starring those adorable, little,  yellow guys - the minions.  The movie and the mini...
| Full Article
Despicable Me 2 Shatters Industry Records In Home Entertainment ...
12/18/2013 9:23 AM EST
Universal City, California, December 17, 2013 - Minion mania continues to captivate consumers across North America this holiday season with the news that the home entertainment debut of  Despicable Me 2 generated $80 million in consumer spend across ...
| Full Article
Sandra Bullock to Voice Lead Villain in Minions Film
2/12/2013 3:07 PM EST
Sandra Bullock has been chosen to voice the lead villain in the upcoming film, "Minions"  The film is a spinoff from the Universal Pictures "Despicable Me" franchise.  Bullock will play Scarlet Overkill, a stylish super villain who plans on taking ov...
| Full Article
Despicable Me Minions Get Spinoff Film
8/22/2012 11:44 AM EST
Universal has announced that they will be making a "Despicable Me" spinoff film for the Minions.Before the spinoff is released, the Minions will be seen in "Despicable Me 2", which will be released on July 3, 2013. The as of yet untitled spinoff, whi...
| Full Article
Al Pacino Makes His Animated Debut with Despicable Me 2
2/5/2012 11:45 AM EST
One thing that Al Pacino is familiar with is playing live-action villains such as Big Boy Caprice in Dick Tracy, and Scarface's Tony Montana. In the upcoming film, Universal's Despicable Me 2, he will make his animated film debut as the voice of the ...
| Full Article

Movie / Film Review
They're back again those funny characters that make the animated film Despicable Me 2 a hilarious situation comedy that delivers the laughter. I'm speaking of the pill shaped 'work a bee's' for the villain Gru called Minions. In this sequel they dominate the screen and give most of...
Physical Media: Blu-ray Review
It's not much of an improvement, but "Despicable Me 2" capably delivers the goods with minimal strain.
SPONSORED LINKS