Oblivion (2013)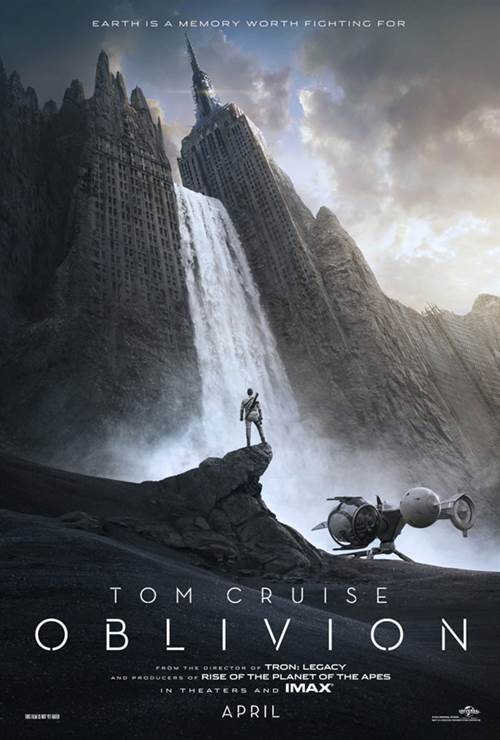 Share this:
| | |
| --- | --- |
| Director: | |
| Writers: | Joseph Kosinski, William Monahan, Karl Gajdusek, Andrea Riseborough, Olga Kurylenko |
| Cast: | |
| Released: | Friday, April 19, 2013 |
| Length: | 125 minutes |
| Studio: | Universal Pictures |
| Genre: | Sci-Fi/Fantasy, Action/Adventure |
| Rating: | Some material may be inappropriate for children under 13. |
Synopsis
Jack Harper (Cruise) is one of the last few drone repairmen stationed on Earth. Part of a massive operation to extract vital resources after decades of war with a terrifying threat known as the Scavs, Jack's mission is nearly complete.

Living in and patrolling the breathtaking skies from thousands of feet above, his soaring existence is brought crashing down when he rescues a beautiful stranger from a downed spacecraft. Her arrival triggers a chain of events that forces him to question everything he knows and puts the fate of humanity in his hands.
Purchase DVD/Blu-ray/4K physical copy of Oblivion today at
Download Oblivion in Digital HD/4K from the iTunes store.
Listen to the Oblivion soundtrack on Apple Music.
Oblivion images are © Universal Pictures. All Rights Reserved.


Win Complimentary Passes to See Universal Pictures OBLIVION
4/9/2013 8:16 PM EST
Universal Pictures is proud to present, Oblivion -- starring Tom Cruise and based on the Graphic Novel Original Concept by Joseph Kosinski (Tron Legacy) to fans in South Florida.Simply click here to enter the sweepstakes and like us on Facebook. All names will be entered into a drawing for two complimentary tickets to see OBLIVION in WEST PALM BEACH, FL.Contest ends April 28th, 2013 11:59 PM EST. ...
More>>
Oblivion Theatrical Review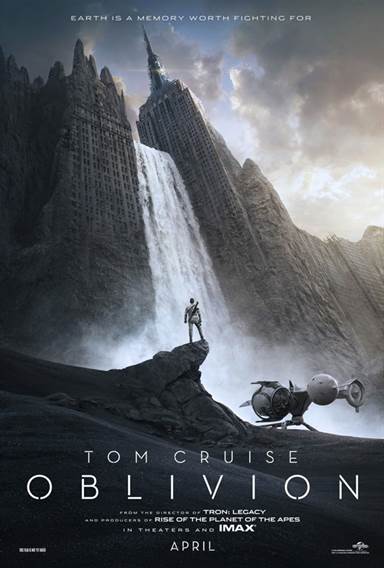 The opening sequence in the movie Oblivion is spectacular showing Earth as a devastated planet and the moon busting apart following an attack by an alien invasion. Well acted by a handful of cast members, the action movie mesmerizes as it spools out its grand design. Both the cinematography and computer graphics are the stars of the film with the quality of the 2009 Star Trek. If you are a rabid fan of science fiction then you should get in line for your ticket now.

It's 2077 and aliens have decimated Earth during a war for supremacy. The reaming people who have claimed victory have been transported to an outpost on another planet while their globe is healing. They have built huge hydro desalinating plants that are using sea water to keep people alive on the outpost.

We find former astronauts Jack (Tom Cruise) and Victoria (Andrea Riseborough) living on a spaceport above Earth working as a team locating and fixing attack drones used to kill remaining aliens that want to destroy the desalinating machines. Although the brains of the two have been wiped of former memories Jack's technological skills are impeccable and he zooms around the planet on his space vehicle replacing cells on the drones and getting them back into action. Home base continues to commend the two for their work.

On one occasion Jack comes across a space vehicle that has crashed on Earth and finds astronauts aboard. Before he can get them to safety however, the drones consider them aliens and kill all but Julia (Olga Kurylenko). When Jack returns to the spaceport with Julia, Victoria indicates to him that home base is against having the intruder and a conflict begins between the two. When Jack starts to get memory flashes he takes matters into his own hands.

The acting in Oblivion is extremely good with Tom Cruise as the highflying astronaut Jack Harper who throws caution to the wind much like his role in Top Gun. Taking magnificent dives into the clouds, speeding over the Earth's surface and making pinpoint landings with his space vehicle Jack's the perfect pilot and technician for the team. Even when he faces off against alien scavengers, he's the best man for the job taking them out with his laser rifle.

As Victoria his extremely intelligent companion, the comely Andrea Riseborough (Never Let Me Go), shows her smarts as a communications specialist and strategist. She talks to Jack and guides him to his destination and reports back to home base on their progress in keeping the Earth free from alien invaders. The lovely Olga Kurylenko (Quantum of Solace) takes on the part of Julia one of the human astronauts that crash on the planet. She's a bewitching woman who tries to get Jack to help her prove that she belongs on Earth.

Director Joseph Kosinski puts his talent to work keeping his characters in motion in this fast paced adventure film. He orchestrates his actors on huge sets, inside a very cool spaceport and during underground skirmishes. His most productive challenge however is the special effects and computer graphics that fits into his film making it look realistic on a worn out planet, during a challenging storm and an alien hideaway that rivals Mad Max Beyond Thunderdome. It's this cinematography that pushes this film to a high rating and especially the IMAX showing that's so thrilling it sometimes takes your breath away. Filling the whole IMAX screen top to bottom and if you are seated just right, you can fly with Cruise and fight battles like never before.

Kosinski takes a simple premise and attempts to turn it into an entertaining adventure. I will say this, it's an extremely good-looking film, but the story may just be too contrived and the ending's a Hollywood wonder. Sci-fi addicts should wallow in the fantasy of it all and probably be the first to forgive the schmaltz and unrealistic segments. Unfortunately, in this respect the film should be critic proof when it comes to the script.

The film has been rated PG-13 by the MPAA for sci-fi action violence, brief strong language and some sensuality/nudity.
FINAL ANALYSIS: Science fiction nuts should take it to the IMAX and you'll be well entertained. (C)
-- John Delia
Read More Oblivion Reviews
For more reviews please visit our film/television review section.
Jack Harper (Cruise) is one of the last few drone repairmen stationed on Earth. Part of a massive o...

Jack Harper (Cruise) is one of the last few drone repairmen stationed on Earth. Part of a massive o...
SPONSORED LINKS