Spider-man 2 (2004)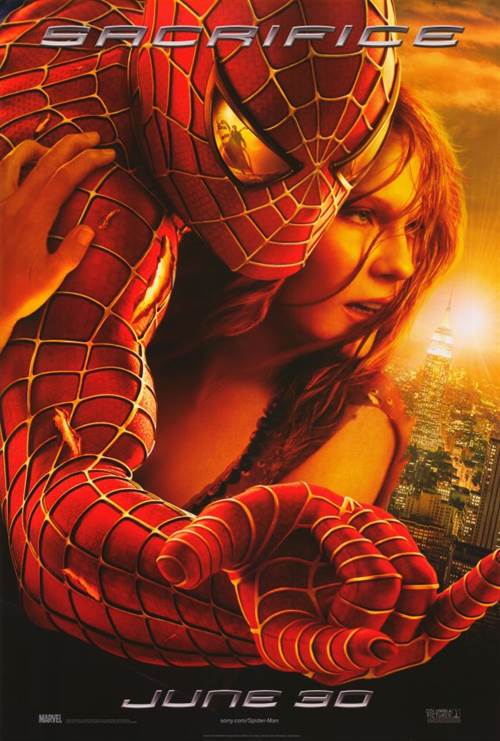 | | |
| --- | --- |
| Director: | |
| Cast: | |
| Released: | Wednesday, June 30, 2004 |
| Length: | 127 minutes |
| Studio: | Columbia Pictures |
| Genre: | Sci-Fi/Fantasy, Action/Adventure |
| Rating: | Some material may be inappropriate for children under 13. |
Spider-man 2 Synopsis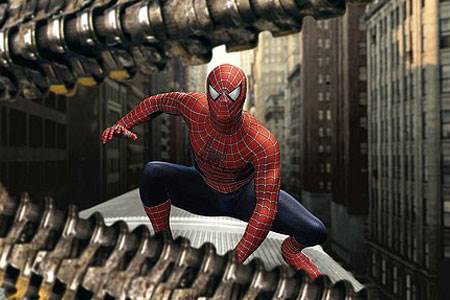 Two years have passed since the mild-mannered Peter Parker (Tobey Maguire) walked away from his longtime love Mary Jane Watson (Kirsten Dunst) and decided to take the road to responsibility as Spider-Man. Peter must face new challenges as he struggles with "the gift and the curse" of his powers while balancing his dual identities as the elusive superhero Spider-Man and life as a college student.
Peter's life-long yearning for M.J. becomes even stronger as he fights the impulse to abandon his secret life and declare his love. In the meantime, M.J. has moved on with her life. She has embarked on an acting career and has a new man in her life. Peter's relationship with his best friend Harry Osborn (James Franco) has been overshadowed by Harry's growing vendetta against Spider-Man, whom he holds responsible for his father's death.
The relationships Peter holds most dear are now in danger of unraveling as he clashes with the powerful, multi-tentacled villain Doctor Octopus aka "Doc Ock" (Alfred Molina). Peter must now learn to accept his fate and harness all his superhero talents in order to stop this diabolical madman in his octagonal tracks.
Spider-man 2 images are © Columbia Pictures. All Rights Reserved.
Tom Holland Taking Break from Social Media to Focus on Mental He...
8/15/2022 11:40 AM EST
"Spider-Man" star Tom Holland has announced that he will be taking a break from social media. The actor says that he needs to focus on his mental health.The actor posted a 3-minute video talking about his issues with social media, saying, "I have tak...
| Full Article
Russell Crowe Joins Cast of Kraven the Hunter
2/9/2022 2:00 PM EST
Russell Crowe has joined the cast of Sony Pictures' Marvel film "Kraven the Hunter". The actor will star alongside Aaron Taylor-Johnson.The film will be directed by J.C. Chandor from a script by Art Marcum, Matt Holloway, and Richard Wenk. Avi Arad a...
| Full Article
Tom Holland to Continue as Spider-Man for Marvel
11/29/2021 12:56 PM EST
Spider-Man producer Amy Pascal has assured fans that Tom Holland will remain as Marvel's Spider-Man. "This is not the last movie that we are going to make with Marvel - [this is not] the last Spider-Man movie," said Pascal. "We are getting ready to m...
| Full Article
Daredevil May be Joining Spider-Man 3 Ensemble
12/9/2020 11:18 AM EST
Rumors are swirling that Charlie Cox's Daredevil will be part of the upcoming Spider-Man 3 film. It's already been announced that Benedict Cumberbatch will appear as Doctor Strange, Alfred Molina as Doctor Octopus, and Jamie Foxx as Electro. If this ...
| Full Article
Alfred Molina to Reprise Role as Doctor Octopus in Next Spider-M...
12/8/2020 2:48 PM EST
It's been announced that Alfred Molina will be reprising his role as Doctor Octopus in the upcoming Spider-Man film. The film will be the third installment of the Tom Holland led films.Molina won't be the only familiar face to return - Jamie Foxx wil...
| Full Article
Doctor Strange to Make Appearance in Next Spider-Man Film
10/8/2020 4:01 PM EST
Looks like Doctor Strange will be making an appearance in the next installment of "Spider-Man". It's being reported that Benedict Cumberbatch is in talks to reprise his role for the film.Tom Holland, along with Zendaya, Marisa Tomei, Tony Revolori an...
| Full Article
Jon Watts In Talks to Direct Next Spider-Man Film
9/27/2019 4:22 PM EST
Jon Watts is in talks to direct the upcoming third film in the "Spider-Man Homecoming" series. The news comes after the announcement about Marvel and Sony remaining partners on the project.This is all good news, but not too surprising. It appears tha...
| Full Article
Spider-Man to Continue in the Marvel Universe
9/27/2019 2:59 PM EST
The Spider-Man fans of the world can now breath a collective sigh of relief. In case you haven't heard by now, Sony and Marvel have decided to continue their partnership with the Spider-Man franchise. The announcement was made today that Marvel Studi...
| Full Article
Sony Responds to Kevin Feige Spider-Man Drama
8/21/2019 11:34 AM EST
After a reported standoff between Sony and Disney about their Spider-Man partnership, and the departure of Kevin Feige as the films' producer, Sony has released a statement via Twitter regarding the matter. The statement is as follows:"Much of today'...
| Full Article
Tom Holland Surprises Guests as Disneyland Park
5/9/2019 5:26 PM EST
When you go to a Disney park, you expect a certain amount of magic in your trip. Well, guests of the Disneyland Resort got just that when posing for pictures with Spider-Man. The seemingly normal fan experience turned into something quite different!A...
| Full Article
Marvel Legend Stan Lee Dies at 95
11/12/2018 2:44 PM EST
Marvel's comic book legend Stan Lee has died. He was 95.Lee was responsible for co-creating numerous Marvel characters including Spider-Man, The Hulk, X-Men Iron Man, Thor, Daredevil, Captain America, Avengers and the Fantastic Four. Even after leavi...
| Full Article
Zendaya Lands Role of Mary Jane Watson in Spider-Man:Homecoming
8/19/2016 10:17 AM EST
A few months ago, it was announced that Disney star Zendaya would be playing a lead role in the up coming Spider-Man: Homecoming, and now it has been reported by many sources that she will, in fact, be playing the role of Mary Jane Watson.This curren...
| Full Article
SPONSORED LINKS