American Assassin (2017)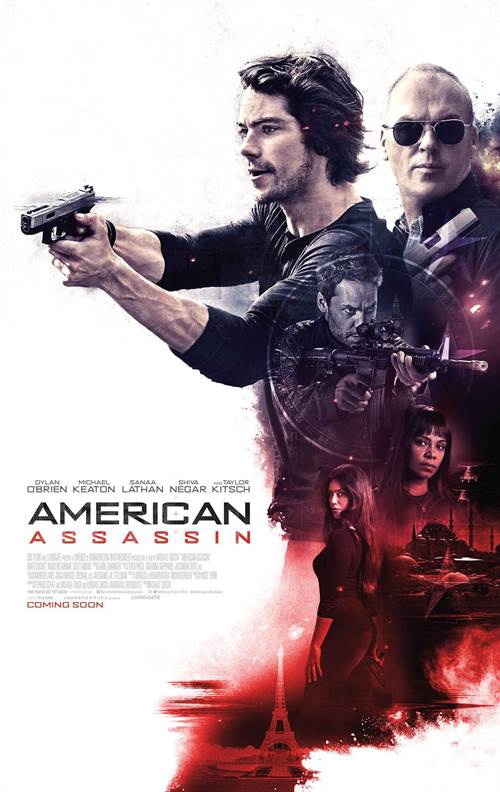 Share this:
| | |
| --- | --- |
| Director: | |
| Writers: | |
| Cast: | |
| Released: | Friday, September 15, 2017 |
| Length: | 111 minutes |
| Studio: | Lionsgate |
| Genre: | Action/Adventure |
| Rating: | Under 17 requires accompanying parent or adult guardian. |
Synopsis
AMERICAN ASSASSIN follows the rise of Mitch Rapp (Dylan O'Brien), a CIA black ops recruit under the instruction of Cold War veteran Stan Hurley (Michael Keaton). The pair is then enlisted by CIA Deputy Director Irene Kennedy (Sanaa Lathan) to investigate a wave of apparently random attacks on both military and civilian targets. Together the three discover a pattern in the violence leading them to a joint mission with a lethal Turkish agent (Shiva Negar) to stop a mysterious operative (Taylor Kitsch) intent on starting a World War in the Middle East.

Purchase DVD/Blu-ray/4K UHD physical copy of American Assassin today at Amazon.com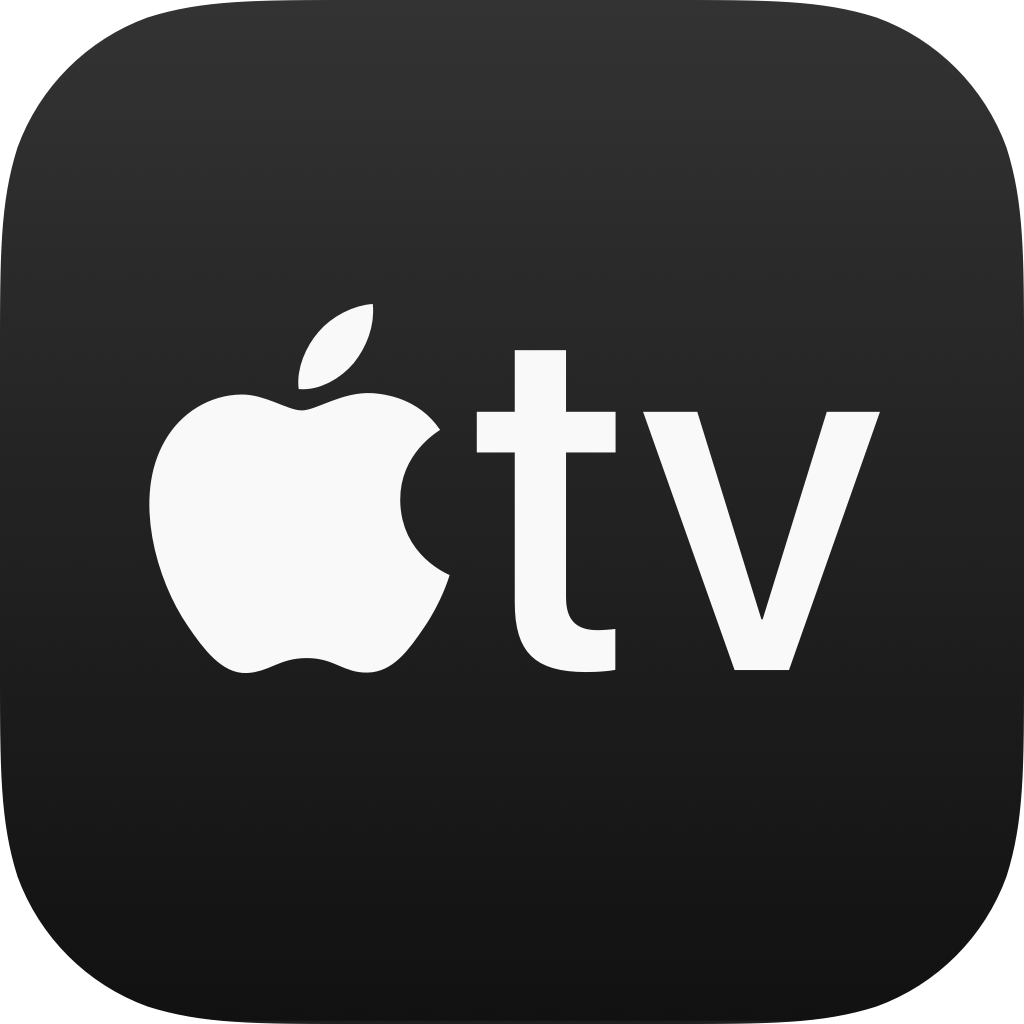 Download American Assassin in Digital HD/4K from the iTunes store.
American Assassin images are © Lionsgate. All Rights Reserved.


American Assassin Set for September 2017 Premiere
3/21/2017 11:01 AM EDT
"American Assassin", the upcoming thriller based on the bestselling Vince Flynn novel series, has announced a release date for September 15, 2017. The Lionsgate/CBS Films project will star Dylan O'Brien as Mitch Rapp, a CIA black ops recruit who carries out covert counter-terrorist operations, and Michael Keaton, who will play Stan Hurley, Rapp's instructor.In the film, CIA Deputy Director Irene K...
More>>
Dylan O'Brien In Talks to Play Lead in American Assassin
5/10/2016 2:21 PM EDT
Dylan O'Brien, who starred in the The Maze Runner films, is currently in negotiations to play the lead role, Mitch Rapp, in the upcoming film American Assassin. The film is the adaptation of the bestselling novel series by Vince Flynn. Mitch Rapp carries out covert counter-terrorist operations for the CIA in the book series, and in this film, we will see him learn and hone his craft from his mento...
More>>
Michael Keaton to Star in American Assassin
3/9/2016 2:34 PM EDT
CBS Films and Lionsgate have announced that Michael Keaton (Birdman, Spotlight) will be starring in the adaptation of Vince Flynn's bestseller American Assassin.He will be portraying Stan Hurley."Stan Hurley is one of the pillars of the Vince Flynn universe and a favorite character for millions of readers, so casting him was a daunting challenge," said director Michael Cuesta, who continued. "To h...
More>>
Vince Flynn Comments on Olympus Has Fallen Similarities to One o...
3/27/2013 1:22 PM EDT
Vince Flynn, best selling political thriller author, has commented on the recently released film "Olympus Has Fallen", after being asked by so many of his fans about the similarities between the film and his book, "Transfer of Power".  Vince released the following statement to his fans:Many of you have emailed me, messaged me on Facebook, posted on my Facebook page and tweeted about the similariti...
More>>
American Assassin 4K Ultra HD Review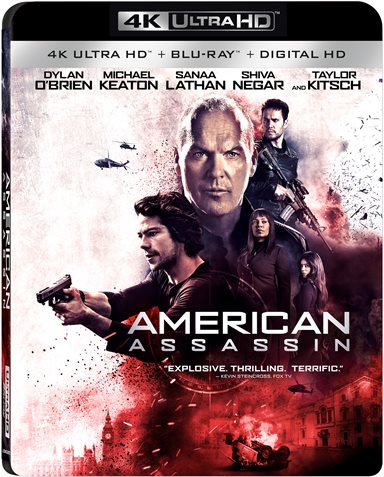 Back in 1999, an up and coming author, Vince Flynn, published a novel entitled
Transfer of Power
with a minor character named, Mitch Rapp. This character captivated the minds and hearts of Flynn's readers. Now, 17 years later, CBS Films and Lionsgate home entertainment have released the first in a new hopeful series,
American Assassin
based on Vince Flynn's Mitch Rapp character.
Being in production since the mid-2000's, Vince Flynn's novels and his character Mitch Rapp has been screaming for a film since his "on-book" debut. Since his second novel, Vince Flynn has featured Rapp as the main character of his books, much to the delight of his readers that have connected so much to the character. A modern-day Jason Bourne, Mitch Rapp is the top operative in the Central Intelligence Network Agency, dealing with modern day terrorists that threaten the security of the world.
Based loosely on the 2010 eleventh novel in the series, American Assassin, the film follows the creation of Mitch Rapp (Dylan O'Brien; Maze Runner: The Death Cure) from the twenty-something carefree adolescence to the cold, sharply trained assassin that helps to defend the world from destruction. While the plot only loosely follows the story in the novel, it still highlights the main plot points of the novel — a tragic event that plays into the life of young Mitch Rapp to drive him to be the man he will become, the insufferable hard-ass teacher/mentor, Stan Hurley (Michael Keaton; Spider-man: Homecoming), and a seemly impossible mission to save the world.
Aside from great casting of O' Brien and Keaton, American Assassin has a very well rounded and gifted cast of actors including Sanaa Lathan (Family Guy, Now You See Me 2), David Suchet (The Bank Job, Agatha Christie's Poirot), and Taylor Kitsch (Only The Brave, True Detective). While the Taylor Kitsch character was made solely for this film and is not in the book, he still provides a solid antagonist for Mitch Rapp's character.
Producer Lorenzo di Bonaventura (Meg, Bumblebee) was interviewed about his thoughts regarding why and how he wanted to see American Assassin brought into being. He mentioned that he missed the films of the 1980s and 1990s that were R rated, realistic, and had a good story, as well as excitement. He continued with those beliefs throughout the production bringing in director Michael Cuesta (Homeland, Kill the Messenger) to help out with his vision. While most of Cuesta work has primarily been in television, he certainly has shown he can handle a feature-length film. Cuesta provides a very fast paced, but deeply emotional story, that conveys most of the general underlying ideas and characters from Flynn's novels — what drives Mitch Rapp pre and post personal tragedy, a re-invented action genre look taking cues from 24 and Jason Bourne, as well as character depth that is normally overlooked with this genre.
Director Michael Cuesta chose a very interesting color palette for American Assassin and the 4K UHD Blu-ray combo pack does an amazing job covering it to the viewer. Throughout the first 2/3 of the film the color palette is very muted. However, once the stories exposition and character development is mostly complete and the film moves into its climax the color palette opens up to be much brighter and includes more vibrant colors. Rounding out the video, the blacks are spot on.
Featuring the same Dolby Atoms soundtrack as it's Blu-ray counterpart, American Assassin has a very wide dynamic range that the film plays with. Action scenes make the viewer feel like they are in the middle of the gunplay while the dialog and score are also heard with excellent clarity.
The American Assassin 4K UHD combo pack comes with the same supplemental features on the 4K and Blu-ray disc. These special features include a series of five 10-15 minutes short featurettes as well as a 30 minutes long Q&A:
Target Acquired: Creating an American Assassin - Inside the creation of the film and the complications of bringing it to the silver screen.
Finding Mitch Rapp: Dylan O'Brien - Casting the character of Mitch Rapp
Transfer of Power: Hurley and Ghost - A look into Michael Keaton and Taylor Kitsch's characters.
Weaponized: Training and Stunts - A deeper look into the stunts and military training used to create authenticity for the film.
In the Field: On Location - This feature showcases some of the foreign locations used throughout the filming.
Alamo Drafthouse Q & A - A Q & A at this famous movie theater featuring Dylan O'Brien and Taylor Kitsch.
Unfortunately, Vince Flynn had passed away before seeing the labor of his love hit the big screen; however, he should be proud of what was accomplished. American Assassin, while not a literal translation, hit all the marks in terms of the creation of the world of Mitch Rapp on the silver screen. It is also quite a refreshing film that takes a break from the standard comic book fare that has taken over the film industry and harkens back to the type of action films that many people long for. One can only hope there are many more films with Mitch Rapp to come.
Grade: A+
For more reviews please visit our film/television review section.
AMERICAN ASSASSIN follows the rise of Mitch Rapp (Dylan O'Brien), a CIA black ops recruit under the...

AMERICAN ASSASSIN follows the rise of Mitch Rapp (Dylan O'Brien), a CIA black ops recruit under the...
SPONSORED LINKS