Godzilla (2014)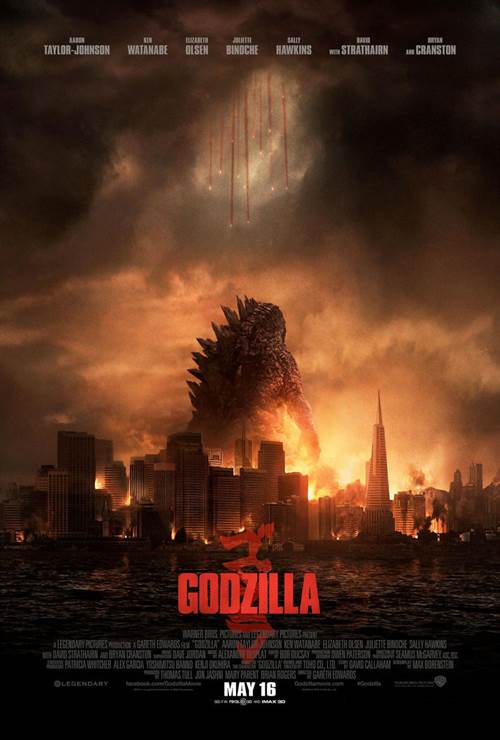 Share this:
| | |
| --- | --- |
| Director: | |
| Writers: | David Callaham,David S. Goyer,Max Borenstein |
| Cast: | |
| Released: | Friday, May 16, 2014 |
| Length: | 123 minutes |
| Studio: | Warner Bros. |
| Genre: | Sci-Fi/Fantasy, Action/Adventure |
| Rating: | Some material may be inappropriate for children under 13. |
Synopsis
An epic rebirth to Toho's iconic Godzilla, this spectacular adventure, from Warner Bros. Pictures and Legendary Pictures, pits the world's most famous monster against malevolent creatures who, bolstered by humanity's scientific arrogance, threaten our very existence.
Purchase DVD/Blu-ray/4K physical copy of Godzilla today at
Download Godzilla in Digital HD/4K from the iTunes store.
Godzilla images are © Warner Bros.. All Rights Reserved.


New Godzilla Film To Be Grounded In Reality
10/9/2012 4:08 PM EDT
Gareth Edwards, who will be directing the "Godzilla" reboot, says that the reason he took it on was to give the film a whole new perspective.   In a recent interview with Total Film, he said, "My main idea was to imagine 'If this really happened, what would it be like?' I want to take a grounded, realistic approach to a Godzilla film."   He went on to say that  "I've never worked this hard, this l...
More>>
Warner Bros Set To Unleash Godzilla on The World Again in 2014
9/14/2012 10:36 AM EDT
"Godzilla" will once again be making an appearance on the big screen. The reboot for the franchise is set to be released May 16, 2014 by Warner Bros and Legendary Pictures.The film will be directed by Gareth Edwards and is being made in partnership with rights owner Toho. It is said that this film will be a more gritty, realistic action film than those previous, and that it will also be in 3D.  Da...
More>>
Godzilla Theatrical Review
It has been 60 years since Ishirô Honda' Godzilla graced the silver screen, and to commemorate the occasion Warner Bros. and Legendary Pictures have brought the "King of Monsters" back to theaters.

Most American's younger than 30 mainly associate the name Godzilla with the 1998 remake by Emmerich and Devlin (Independence Day), which proved to be a disaster, killing an American Godzilla franchise before it even got off the ground. This time around, Gareth Edwards (Monsters) goes back to the monster's Japanese roots, and attempts to do the beast justice.

After a special IMAX introduction to the film, during the credits, audiences are treated to a collection of old film footage showing different parts of Godzilla, and nuclear tests that went on during the 50s.

Fast-forward to modern times where we are first introduced to some of the main characters of our story, as well as an unexplained nuclear event reminiscent of the 2011 Fukushima disaster. This sets the stage for a fun-filled rollercoaster ride for the rest of the film.

Edwards takes a very serious approach to this version of Godzilla. Gone are all the comedy and cheesy lines from the 1998 version, and in its place is a highly dramatic film with actors such as Bryan Cranston (Breaking Bad) and Elizabeth Olsen (Martha Marcy May Marlene, Oldboy) giving amazing performances. That being said, Aaron Taylor-Johnson (Kick-Ass) seems miscast as Ford Brody and Ken Watanabe (Inception, Batman Begins) appears to be phoning in his lines.

If you are expecting to go into Godzilla and sit down to a straightforward monster throw down à la Pacific Rim, you will be sorely disappointed. This film's primary goal, like that of Cloverfield, is to tell the human struggle throughout the film; dealing with Godzilla and the MUTU monsters that have come to life. Most of the monster battle shots are only seen for 30–45 seconds before we flash back to see what a human is up to. This being said, those 30–45 seconds shots are jaw-dropping and gorgeous.

Godzilla's creation and purpose have changed throughout the sixty years he has been on screen, but the same metaphor has always remained and lives as well with this incarnation. "Do not mess with nature"; if you do this now 350-foot-tall beast will set things right. Gaining a bunch of weight from last time around, Godzilla looks simply amazing. The CGI artists have done a great job with the film displaying why Godzilla is the "King of Monsters". Every muscle on his body ripples when he moves and the shots of him using his atomic breath are a real treat to see.

Unfortunately, the same cannot be said for the MUTUs Godzilla is helping to rid the earth of. Their look and feel appears to have been taken directly from Starship Troopers, and when compared to Godzilla, they look like quickly created stick figures.

My only gripe about the film is that Godzilla only gets about 10–20 minutes of screen time, with the majority focused on human interactions and the MUTUs. This approach to storytelling (aka the Steven Spielberg playbook) is great as a buildup; however, there should always be a payoff by the end of the film, and this is where it falls apart a bit.

That being said, Godzilla works, and hopefully it will squeeze enough money out of the worldwide movie audience to allow for a sequel to be made before X-Men: Days of Future Past comes in and sucks the life out of it.
Read More Godzilla Reviews
For more reviews please visit our film/television review section.
SPONSORED LINKS
Comments

Courtesy of
Movie Hype App
josiahblizzard
So good
11/28/2015 3:11 PM EDT
batgirl228
Oooooh Yeah!!!
3/15/2015 6:19 PM EDT
mimiscute
On this Hot afternoon!
10/5/2014 7:49 PM EDT
pixel_magic
Tarde lluviosa de cine en casa
8/23/2014 7:20 PM EDT
gpb
Is it on DVD yet
6/18/2014 7:18 PM EDT
juliorowe
Julio
5/27/2014 8:15 AM EDT
saulmoreno21
ROAR!
5/23/2014 8:26 PM EDT
jefflynn
it was better then I thought. You should watch it.
5/20/2014 12:02 AM EDT
cory_moser
This gonna be epic!
5/19/2014 2:03 PM EDT
gifrey00
Let's see if it's as bad as everyone says...
5/18/2014 1:38 PM EDT
itthornton
Awsome
5/18/2014 2:41 AM EDT
chetoflep
Solid film!
5/17/2014 7:56 PM EDT
je_daii
Godzilla = Epic. From beginning to end I was captivated. Give it 4.5 Stars.
5/17/2014 7:20 PM EDT
mikes330
Awesome
5/17/2014 4:45 PM EDT
mikes330
Amazing! Loved it!!!
5/17/2014 4:45 PM EDT