Beautiful Creatures (2013)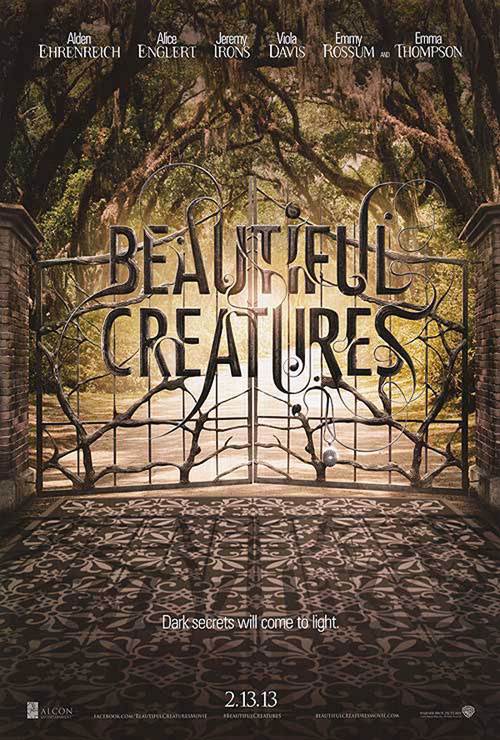 Share this:
| | |
| --- | --- |
| Director: | |
| Writers: | Richard LaGravenese, Kami Garcia Margaret Stohl |
| Cast: | |
| Released: | Thursday, February 14, 2013 |
| Length: | 123 minutes |
| Studio: | Warner Bros. |
| Genre: | Drama |
| Rating: | Some material may be inappropriate for children under 13. |
Synopsis
A hauntingly intense, supernatural love story set in the South, "Beautiful Creatures" is about two star-crossed teenage lovers: Ethan (Ehrenreich), a local boy, and a mysterious new girl, Lena (Englert), who uncover dark secrets about their respective families, their history and their town.
Purchase DVD/Blu-ray/4K physical copy of Beautiful Creatures today at
Download Beautiful Creatures in Digital HD/4K from the iTunes store.
Beautiful Creatures images are © Warner Bros.. All Rights Reserved.


Beautiful Creatures Theatrical Review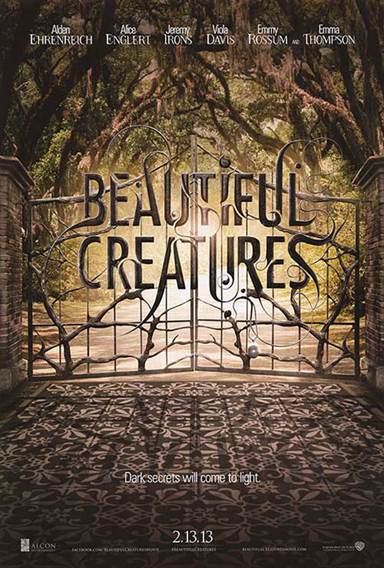 Teen romance comes to the screen once more with the supernatural thriller Beautiful Creatures doing its best to break the mold switching from vampire lust to wooing witchery. It's Twilight only better. The film takes you into the coven of some nasty people who want to preserve their species no matter the cost to their teenage daughter and local mortals. I found the film nicely acted and directed with brilliant cinematography and excellent retro costuming.


Taken from the book of the "Caster Chronicles" written by Kami Garcia and Margaret Stohl the movie Beautiful Creatures centers on 16-year-old Ethan Wait (Alden Ehrenreich), a High School sophomore who has been having weird dreams about a teen with flowing black hair. He's so smitten by the vision that he draws her image in his art portfolio over and over again.


But, his night visions are about to become reality when 15-year-old Lena Duchannes (Alice Englert) enters his classroom as a transfer student. Some of her young classmates recognize her as the niece of Macon Ravenwood (Jeremy Irons) a mysterious local plantation owner that has been the center of continuous lore involving witches. The two become acquainted in spite of the warnings and jealousy by Ethan's ex-girlfriend Emily Asher (Zoey Deutch) starting a series of events that will entwine the star crossed lovers in a mystery surrounding Lena's 16th birthday.


The series of books that include "Beautiful Darkness" and "Beautiful Chaos" are both teen targeted novels that continue the story of Lena and Ethan, much like the ill fated Bella and Edward in "The Twilight Saga". Although Lena and Ethan's story takes a different tack in their world, the element of the supernatural still exists in the "Caster Chronicles" and "The Twilight Saga". While vampires are aggressive killing at the first inkling of danger, witches are more manipulative with their powers. The romance still becomes the thread in both stories with seduction being the weapon of choice.


I prefer the characters in Beautiful Creatures with Englert and Ehrenreich having more of a chemical bond in this story of love, determination and teenage angst. Both actors have charm, Ehrenreich portraying a small town dreamer that won't be turned away and Englert as an ambitious teen who's determined to show her family she can break away from the dark side. Much like Romeo and Juliette, the two turn away from their family for a chance at romance.


Richard LaGravenese, Oscar nominated for his screenwriting of The Fisher King, directs the first of the "Caster Chronicles" and draws his characters together in an admirable romantic tale. Using some spooky special effects, a decaying old south mansion with splashy modern interiors that speak volumes about its inhabitants and cameras that create powerful images of the past, present and future, LaGravenese creates a nice package from his demanding script.


Beautiful Creatures has been rated PG-13 by the MPAA for violence, scary images and some sexual material. While the film leans heavy on a teen audience, adults may enjoy the fine acting of stars Jeremy Irons, Viola Davis and Emma Thompson who take on the supporting roles as antagonists.


FINAL ANALYSIS: A tricky plot that should bewitch young audiences. (B)

-- John Delia
Read More Beautiful Creatures Reviews
For more reviews please visit our film/television review section.
Film Correspondent Penny McLean speaks to Zooey Deutch & Alden Ehrenreich for their new film Bea...

A hauntingly intense, supernatural love story set in the South, "Beautiful Creatures" is a...
SPONSORED LINKS
Comments

Courtesy of
Movie Hype App
dm9166
Pretty good movie
6/28/2013 1:43 AM EDT
kitkat34
Ok movie
5/29/2013 5:10 AM EDT
fandomfreak
The movie wasn't quite what I expected the book was better but it was a great movie!! Can't wait!
5/17/2013 7:52 PM EDT
katieboo702
Looks to good reading the book right now
4/3/2013 10:12 PM EDT
paradise_98
Beautiful creatures... Beautiful film <3
2/24/2013 1:57 PM EDT
snowwhiteisalive
Omg Beautiful Creatures but blve me it's way way way more beautiful idk if it comes y personally i love more wizards than vampire but anyway I think it's one of the best sagas ever, only Harry potter can't be compared with it
2/23/2013 5:19 PM EDT
rosiemullins99
This looks terrible
2/16/2013 2:11 AM EDT
moviestar46
I loved the book and the movie looks great! Can't wait to see it!
2/12/2013 11:42 PM EDT
noxx27
The books amazing, I hope the movie does it justice.
1/27/2013 11:35 PM EDT
eric
Love this poster :)
1/21/2013 1:26 PM EDT